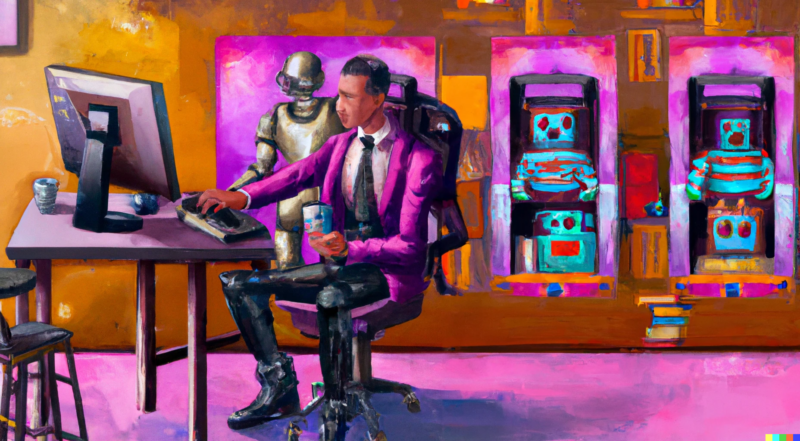 AI tools have really captured the imagination of many tech enthusiasts in 2022, and I see them revolutionizing the way we work and create content over the next few years.
Undoubtedly, some jobs will be rendered obsolete, but on the other hand AI tools will unleash a new wave of creativity and empower people to create.
AI Image Generators
AI image generators are the first AI tools I played around with. They caused a big media stir when they became popular, and there was a lot of negativity and doomsday talk about many jobs being lost and artists being made redundant. I don't think that's warranted, and indeed this is not the first such shift to take place in history.
For example, the printing press and the invention of photography were similar seismic shifts that changed the landscape, but nobody today would argue that they were a net negative on humanity. AI tools are inevitable and are here to stay, so let's see how we can use them to be more creative and improve our lives.
Here are some options for you to check out and possibly try:
DALL-E: This AI program, developed by OpenAI, is capable of generating incredibly detailed and diverse images from text descriptions.
Generative Adversarial Networks (GANs): GANs are a type of AI algorithm that can be used to generate realistic images, such as photographs of people or landscapes.
Dreamer: Developed by DeepMind, Dreamer is an AI system that can generate images based on a set of goals or objectives, such as creating a picture of a specific object or scene.
StyleGAN: This AI system, developed by NVIDIA, can generate highly realistic images of human faces.
There are many other AI image generators available, and the field is constantly evolving, so these are just a few examples of the top AI image generators. The easiest ones to try are probably DALL-E 2 and Stable Diffusion.
I have been using DALL-E 2 for generating images to go along with my blog posts. It's been quick and also lots of fun. I've also tried my hand at creating images just for the fun of producing art. I had never considered myself to have any artistic ability, but together with NFTs and generative art, AI art generators have helped me explore my creative side and spur me on to learn how to draw and become an artist.
Atifact.ai can be used to generate images with the Stable Diffusion engine.
AI Chatbots and Text Generators
OpenAI's ChatGPT was the next thing to make a big splash. Coming from the AI chatbot itself:
OpenAI Chat is a natural language processing (NLP) platform developed by OpenAI. It is designed to enable developers to build AI-powered chatbots and other NLP-based applications. The platform includes a suite of tools and resources that make it easy for developers to create and train AI models, integrate them with their applications, and deploy them to production. OpenAI Chat is based on the GPT-3 language model, which is one of the most advanced and powerful AI systems available. It can be used to create chatbots that can understand and respond to natural language input, and can be customized to perform a wide range of tasks and functions.
Such tools can be used to help in text content creation, and might also eventually replace the way we use search engines.
For now, the biggest use case seems to be in helping writers generate web content in a much quicker way. However, before you fire all your writers are rely on AI exclusively for your site's articles, you must know that Google can easily detect which content has been created with ChatGPT and similar tools.
If you're not generating content with the purpose of SEO in mind, then you don't even have to worry about that aspect. Think about creating content for a brochure website, or non-digital end products, for example.
Here are some tools you can use yourself to analyse whether content has been created by AI or not.
I will also add that human users are also currently able to easily differentiate human vs AI generated content in certain situation (for example poetry). However, the AI can still be used to provide a quick framework for a writer to subsequently customize and enrich.
On the other hand, there are some services such as Content at Scale that generate content that is not detected as AI content by the major tools and Google.
I've used ChatGPT to help me while researching topics and also to help me quickly draft articles that I would then tweak with my own opinions and twists. My conclusion is that such tools help me in creating articles where I would previously have not gotten around to doing so due to limited time and not having enough to say to warrant a blog post. So it's certainly of great assistance to me.
More Use Cases
There are many potential consumer use cases for AI tools. Some common examples include virtual assistants, such as Apple's Siri or Amazon's Alexa, which use natural language processing to understand and respond to voice commands; image and facial recognition technology, which can be used in a variety of applications such as security and social media; and personalized recommendations for products or services, which are commonly used by online retailers and streaming services. Other potential consumer use cases for AI include language translation, automated customer service, and intelligent home automation systems.
On the enterprise side, use cases include data analysis and business intelligence, where AI can be used to process large amounts of data and identify trends and patterns that can inform decision making; automation of repetitive or time-consuming tasks, such as data entry and processing; and predictive maintenance for manufacturing and other industries, where AI can be used to identify potential problems with equipment before they occur. Other potential enterprise use cases for AI include fraud detection, natural language processing for customer service, and supply chain optimization.
If you own a business, it makes sense to start thinking about how AI can improve your company's processes as I believe this will be a major differentiating factor between companies in the near future. Those who will be able to harness the power of AI in the right ways can gain a massive productivity edge over their competitors, not to mention other areas like customer satisfaction.
AI Tool Directories
Have you tried any AI tools yet? What should I try next?