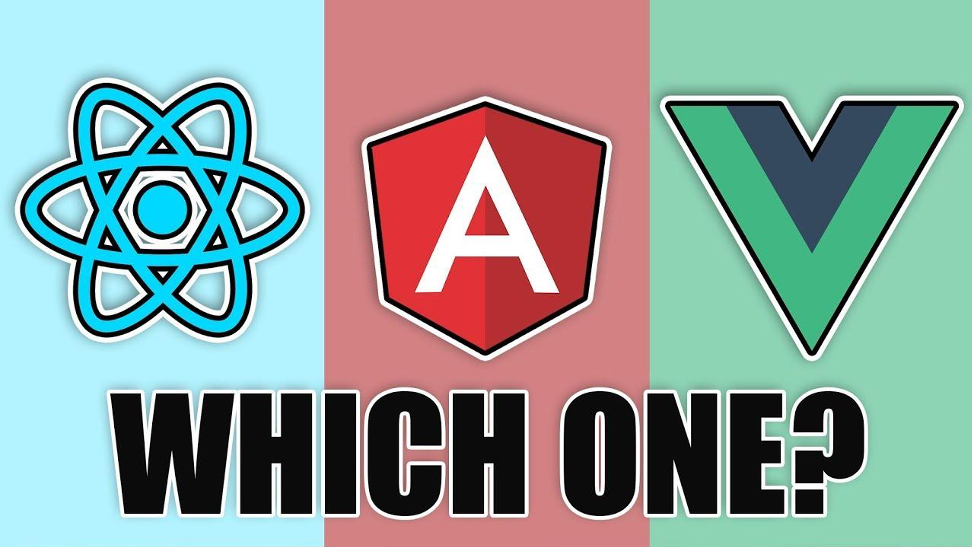 A reliable web framework is a prerequisite for smooth and effortless creation of applications and web resources. There are lots of options available on the market but not all of them perform the same functions and not all of them are equally good.
We're going to narrow down the list of these options to JavaScript Vue, React, and Angular and discuss them in this article.
All of these frameworks are scalable, flexible, and suitable for the creation of a wide variety of web applications. Nevertheless, there are considerable differences between them that need to be taken into account by web developers.
So, Angular vs. React vs. Vue… Which one is the best?
I invite you to familiarize yourself with the strengths and weaknesses of each framework in question and decide which one to pick to create your next killer app.
Vue vs. React vs. Angular: Popularity
Very often the efficiency and overall usefulness of a web development tool is measured by its popularity. The more popular the better. Right? So, let's try to figure out which framework is more popular with web developers.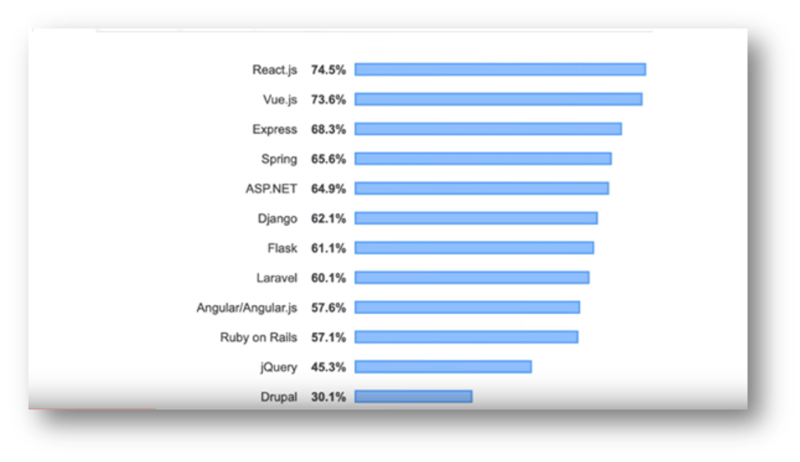 Judging by what the most recent StackOverflow Poll revealed, the majority of individual developers opt for React and Vue when working on their projects. Though chosen by lots of expert programmers, large businesses still regard Angular as their best bet for developing the most in-demand web applications.
If we look at Google Trends statistics, though, we can see that Vue remains the least popular solution for the time being.
Angular vs. React vs. Vue: Performance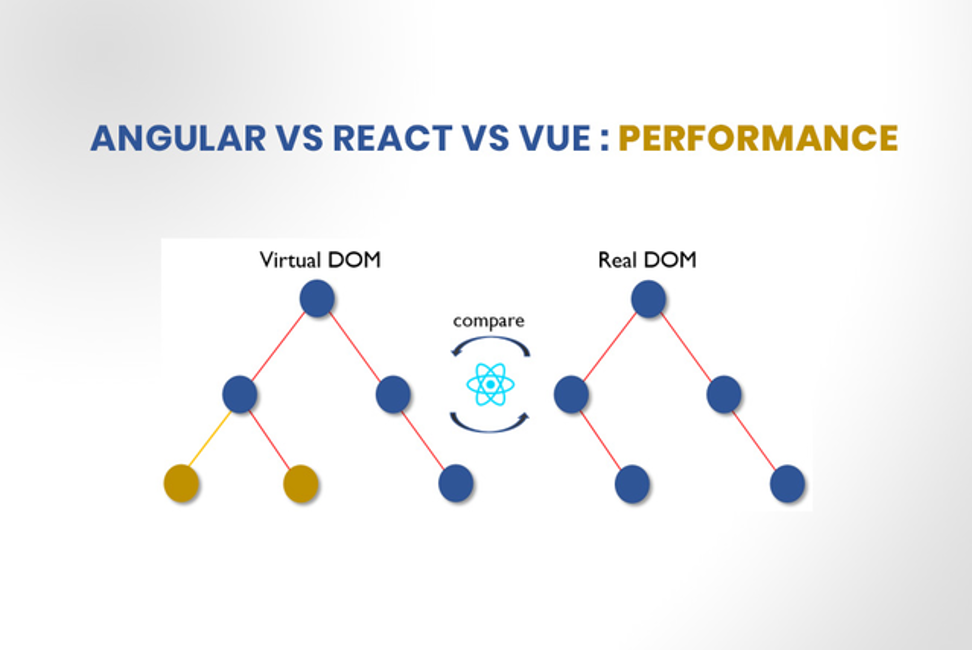 Prior to delving into the subtleties of each framework's performance, let's talk about the DOM. It's closely associated with your app's UI. Therefore, any changes you make on the UI entail changes in the DOM and the app itself.
To better understand the performance of the frameworks in question, let's see how the DOM bears on their overall performance.
Angular.
Due its heavy reliance on the real DOM, lots of programmers find it difficult to handle Angular. It's crucial not to lose the sense of how things flow on your website when using this framework, otherwise, you'll need to revisit the code you've already written again until you can pinpoint the source of the problem and address it. Needless to say, it takes up lots of time and energy. Besides, it has a propensity for bugs. With this in mind, you should be extremely cautious if you're planning on creating dynamic software apps. If something goes wrong, chances are you'll need to be dealing with Angular's slow performance. That being said, this framework remains ideal for large-scale, single-page apps.
React.
Unlike its counterpart discussed above, React relies on the virtual interface. Its cross-browser compatibility and lightweight nature minimize the probability of bug occurrence. Thus, you may enjoy better performance without spending much time coding.
Vue.
Similarly to React, it utilizes the virtual DOM, which predetermines its ability to easily integrate with a wide array of apps and libraries. If you set your sight on developing a bug-free and easy-to-maintain web app of any complicacy.
React vs. Angular vs. Vue:  Top Use Cases
You're not the only person hard-pressed to choose a suitable JavaScript library. With this whole Angular vs React vs Vue question still being unanswered, lots of other developers find themselves in a similar situation when it comes to taking a pick. To make your choice a little bit less complicated, we suggest that you look at the frameworks selected by the most reputable companies in the world of web development.
React.
Initially designed for Facebook to promote the smooth coding process, React is still widely utilized by Zuckerberg's company for creating a variety of its products. Other social media companies, including Instagram and Twitter, also embrace this framework to maintain and scale their platforms. It is also used by WordPress.
Angular.
It is among Google's favorites. The company relies on this component for maximizing the performance of the AdWords app. Such famous web resources as the Guardian, Nike, PayPal, Lego, and Weather.com also utilize this framework to maintain their applications.
Vue.
Vue, in its turn, helps such popular resources as GitLab, Repro, and 9Gag to achieve maximum flexibility and incorporate changes into their apps without damaging the inner architecture.
Angular vs. Vue vs. React: Community Support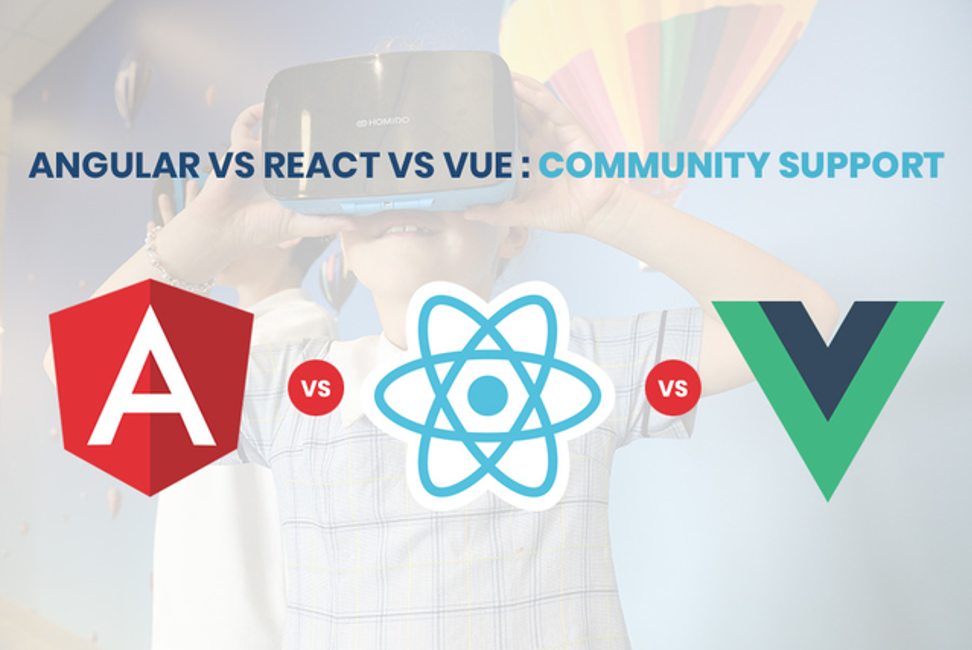 It's difficult to overestimate the role of community support in developing, promoting, and improving web tools. It goes a long way towards helping beginner programmers solve their development-related problems and creating various add-ons aimed at improving the performance and usability of their products.
Take Facebook. The company does its best to provide the best possible support for React. For those who prefer such libraries as the basis for their apps, this is an extremely safe solution as it guarantees that the project won't be abandoned soon.
But in Vue's case, the community support was a bit weak as the framework was established by a single person, not a powerful company. However, recently more and more programmers started to make investments in this project, thus contributing to its popularity.
Angular also boasts the powerful community support, as a good number of its developers work for such giants as Facebook and Google, which, as you know, invest in framework repositories on a regular basis.
So, which one do you choose? Angular or React? Or, maybe, it's Vue you want to try out? If you're still not sure, stay with me.
Angular vs. Vue vs. React: Components
Components are among the most valuable parts of all frameworks and their performance. A component's overall workflow is similar to how it receives the input data and responds to that data.
In the Angular case, these components are called directives which serve as markers for the DOM's elements. They can track and determine each component's behavior. But there's much more to this tool. Not only does it create and render components, but it also adds routing, has state management solution, form validation, etc.
React's styled components make it possible to focus on a single use case, which, in turn, helps optimize the experience for coders and the output for end users. Moreover, React allows for adapting the styling of the component based on the props or a global theme.
Vue provides customization features that allow the user to combine the user interface and component behavior in a single script. Also, it relies on the use of preprocessors rather than Cascading Style Sheets, which currently facilitates the work of developers. Moreover, due to its ability to integrate with other libraries, Vue now has the reputation of one of the most user-friendly web frameworks.
Conclusion
I've tried to provide a detailed description of each of the three frameworks under consideration. As you see, there's no such thing as a one-size-fits-all tool you can use for any project you undertake.
You need to weigh up all the pros and cons when deciding which library to choose. Take your time and pick the one which, to your mind, can best fit your skills, knowledge, and your project's specific needs.
If you're working with WordPress like me, I would suggest React since that's the one chosen by that project, but if you're already familiar with Vue, it could be an alternative option for things like plugins that you are building yourself.