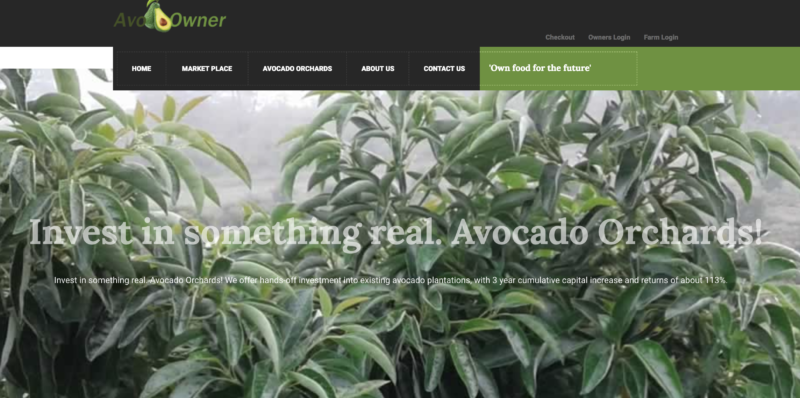 I typically receive 2-3 investment proposals per week, mostly from online investment platforms. Very few end up convincing me enough that I actually invest my money in them.
A friend recently came across an interesting opportunity that he sent over to me to get my opinion.
Here's the quick analysis I made; I think it's a good case study to get an insight into some of the things I look at when evaluating opportunities.
The opportunity in question is a very novel one called Avo Owner. It consists in buying avocado trees in South Africa on a usufruct basis. So you don't own the land but you own the trees and reap profits on the sales of fruit and the appreciating value of the trees themselves.
It might very well be a good investment, but I typically need to see more information before investing in something, especially since it's something that I've never come across before.
I start by taking a look at the homepage and notice an immediate red flag:

The site says that this is a "Safe and secure investment opportunity that will generate a 3 year cumulative capital growth and return of more than 113%".
Whenever a platform guarantees or implies a guarantee of profits like that it's wise to stay away. What if the crops are destroyed by some bad seasonal weather or infestation? And how do I trust this guy with my money?
So far this sounds like anything but a "safe and secure" investment. Investments returns are almost always shown on a yearly basis, so putting a 3 year period to arrive at the 113% is misleading. It also makes little sense; am I getting a 113% capital growth or return from sales of avocados? If not downright scammy it hints at a level of unprofessionalism.
Doing a Google search returns very scant extra information. There's a YouTube video which shows the orchards and the owner of the operation, but it's something they produced themselves. I can see that they were crowdfunded through Seedtribe, although there are no specific details available there either.
Just to explore how the site works, I tried buying a few rows of orchards costing around $10,000. It sent me to the checkout page, asking for some basic information before I hit the button to purchase, as it if were some $10 electronic item you'd purchase online.
Moreover, the checkout page itself is not even secure. Nowadays most sites are completely secured using SSL, but this site doesn't even have the checkout page secured. This prompted me to check out the code of the site, which looks pretty basic and amateurish, and definitely didn't cost much to build, given the shortcuts taken and lack of professionalism in the code.
My conclusion is therefore that the opportunity is quite risky due to the scant information available, and I would definitely not invest in it myself.
If I were absolutely in love with the idea and lived anywhere close to the orchard, I would perhaps actually get to know the owner and then think about doing some investment after having gathered the extra information needed.
However, as an online investment, it simply doesn't make sense in my opinion.