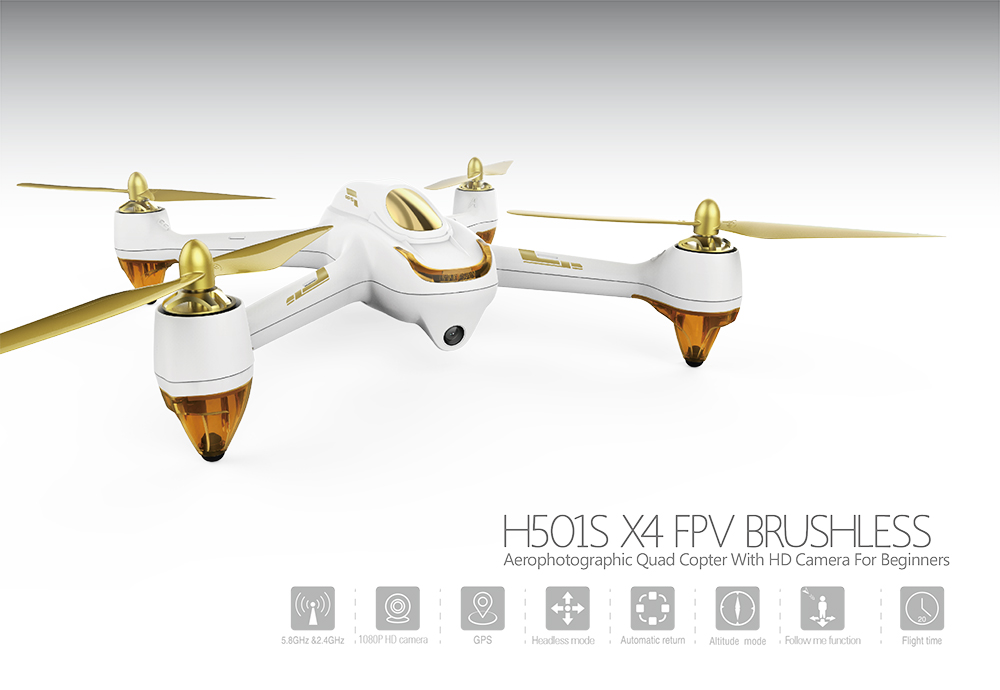 I recently got a Pro version of the Hubsan H501S, which is a fantastic quadcopter at a very affordable price.
This is my second quadcopter, the previous one being the Hubsan H107L. The H501S is a big step up in terms of size and features.
With this more expensive drone, I took some time to learn more about this hobby and the technicalities surrounding it.
Most of my reading ended up being focused on batteries and battery care. The Hubsan H501S comes with one battery for the drone itself, and no batteries for the transmitter. Since one battery gets you around 20 minutes of flying time, I immediately ordered three more LiPo batteries; they're exactly the same as the one that comes with the drone. You can use 4 AA batteries for the transmitter, but I found out that getting a dedicated LiPo battery is much more convenient. It lasts more and is more convenient to charge.
That brings us to the topic of charging. The charger that comes with the H501S is a cheap one that really is not very reliable nor does it take the best care of your batteries. If you want your batteries to be correctly charged each and every time you need to get a high-quality balance charger. I opted for the SkyRC S60, which is a very popular option. It's economical and very easy to transport around due to its compact size.
So what is balance charging anyway? A balance charger will check the voltages of each individual cell in your battery and ensure they all have the same voltage. This is a critical factor to monitor as if one of the cells voltage increases or drops below the required voltage range the battery could get damaged, or worse, catch fire. You don't want your new hobby to end up burning down your house, so do yourself a favor and get the balance charger. One additional function of the SkyRC S60 is that you can discharge batteries to the optimal capacity for storage. It's not the best thing for batteries to be stored at full capacity.
One additional function of the SkyRC S60 is that you can discharge batteries to the optimal capacity for storage. It's not the best thing for batteries to be stored at full capacity.
To connect the transmitter LiPo battery as well as the drone's batteries to the SkyRC S60 charger, you will need a couple of cables:
Next thing I got is a Realacc LiPo battery bag. It's a fireproof bag that you can use to safely store and transport your batteries. It's also a great idea to put the batteries in the bag while charging. Charging time is when most fire accidents happen, so it's a critical time to have the batteries in the bag. If a battery catches fire, the fire will be contained in the bag. Also, never charge these batteries unattended. Make sure you're around to jump in and take action in case of fire or smoke. Always better to keep things safe.
The next accessory to get if you want to get better photos and videos is the gymbal for GoPro cameras. This is especially worth buying if you already have a GoPro (or similar) camera and you want to use it on your drone as well. Although it is referred to as a gymbal on the product page, this is more of a cage for your camera than a real gymbal. You'll get much better photo and video quality, but it's not to be compared to what you'd get with a real (and much more expensive) motorized gymbal.
Finally, as I discovered shortly after receiving the H501S drone, you will need a good solution to carry the drone and all the accessories around, unless you want to use the box it comes (very unpractical and doesn't look cool). The best solution is the hard shell backpack case bag. The protective foam inside is made to fit the standard transmitter but can be easily modified with a sharp knife to fit the advanced transmitter as well. A cheaper alternative is the Realacc suitcase box.
Enjoy your H501S! If you have any questions regarding the accessories, leave a question below.