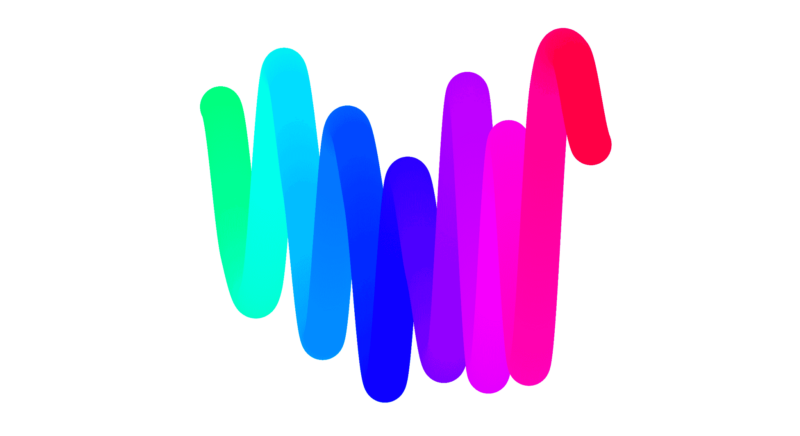 One of the best use cases for NFTs is for token-gated communities.
In this post, I'll share my favorite community NFTs, meaning that these online communities use NFTs as a means of authenticating users to their Discord, assign allow lists, giveaways, real-life meetups etc.
I've taken a lot of inspiration from my experience in these communities when I decided to start my own online community.
PROOF Collective

PROOF Collective is a private, members-only collective of 1,000 dedicated NFT collectors and artists. It is a project by Kevin Rose (the founder of Digg), and that alone is a good reason to join, given Kevin's trajectory in the web space starting from the early 2000s and moving on into Web3 these days. He has an enviable collection of OG NFTs and runs a podcast where he interviews top generative artists – he definitely knows his stuff.
I found the community to be very diverse, extremely helpful and very knowledgeable, especially about the generative art side of NFTs. I feel that generative art is an area that interests me a lot, but I am not yet able to value projects as well as I can in the PFP niche. This makes being in PROOF and being able to even talk to some great artists a big plus for me.
This is just a unique club in the NFT space, and the quality of everything they do is off the charts. To cite an example, have a look at the GRAILS drop and all the work that went into that. They've given a ton of value to their holders in subsequent drops like Moonbirds and Oddities as well. If it's a great community that pays ETH dividends that you're looking for, PROOF is your number one choice.
gmDAO
The gmDAO is a community of NFT collectors, artists & investors created in September 2021 using a fair token distribution. Broadly speaking, the DAO was formed based on the principles of etiquette and mutual respect, making the community a haven within a typically hostile environment. This ultimately resulted in an extremely passionate & engaged member base.
Structurally the DAO consists of 900 members, the majority active within NFT sector, with backgrounds ranging from accredited investors, to renowned generative artists with collections featured on ArtBlocks curated.
The primary goal of gmDAO is to foster & encourage the development of the NFT space, whether through organic marketing, seed funding from the treasury or development from within the DAO itself. The DAO also seeks to provide an edge to members through information not freely available to the market. Lastly, the gmDAO will launch a number of internally managed projects that will act as a revenue source for the community.
The first project was gm.Studio, through which the wildly successful generative project Factura was launched in 2022.
The gm.studio is a generative art platform that claims to be the world's first completely decentralized art platform. It is a direct challenger to Art Blocks and addresses the downsides that platform presents to new artists, namely extremely long application times, poor communication and financial barriers to entry.
The two main methods that these improvements are brought about are:
A blind curation process
Artists pay no fees upfront (the studio handles marketing, deployment & rendering costs)
In this way, every artist starts on the same footing, and the curators/judges have no idea who is the artist behind the project they're looking at. While this sometimes results in famous artists being rejected, it does ensure a more inclusive and fair process.
Grailers DAO

GrailersDAO is a community focused on supporting and collecting high-end "grail" art NFTs (with a particular affinity for generative art and Art Blocks.
Owning a GrailersDAO NFT does not, however, come with fractional ownership of the GrailersDAO NFT grail art collection. Each GrailersDAO NFT provides you with one governance vote over what the DAO does with its treasury. Currently, the treasury is composed of ETH, artworks, and some additional GrailersDAO NFTs.
Owning a GrailersDAO NFT enables you to verify as a holder on Discord which, in turn, provides you access to all members-only channels. The DAO is also working on additional perks for holders, including working directly with artists to produce artworks
GrailersDAO members include some of the world's leading generative artists, some of the world's top digital art collectors, expert Web3 builders, generative art lovers, and many others.
Each GrailersDAO NFT is a piece of generative art by Art Blocks Curated artist Stefano Contiero.
The floor price on this has stayed pretty constant, and I've enjoyed the conversations with artists and other collectors in this Discord.
Collective Strangers

Collective Strangers is a community focused on photography. It is both for those who are photographers or want to take up photography, and for those interested in collecting photography NFTs.
It's a friendly community with its own PFP project as well, and the founder, Eric Rubens, is a well-known photographer who I had the pleasure of interviewing on my podcast.
Bored Breakfast Club

Bored Breakfast Club is at the forefront of a revolutionary business model combining the benefits of blockchain technology with an NFT community to unlock both digital and IRL utility on a consistent basis.
The Bored Breakfast Club consists of 5,000 unique breakfast scenes, living as NFTs on the Ethereum blockchain. This is more of a fun experiment than a very serious investment, although it's already been profitable for me. I like it because it's an innovative idea that consists in delivering free monthly coffee to holders of the NFTs. In essence, Bored Breakfast Club is the first Web3 Coffee Subscription service.
The money to pay for that coffee is generated through the initial sale, secondary sales as well as merch. The founders have always been transparent from the start in saying that this is an experiment that might have to be wrapped up at some point if the flow of funds dries up, but so far they have delivered. I like the fact that it's essentially a community of coffee lovers that I'm very happy to be part of and share my passion for coffee in. The idea of them being banners that could accompany bored apes, one of the biggest collections in the NFT space, is also good. I haven't really seen any bored ape owners use these banners, but then again banners have not really taken off yet.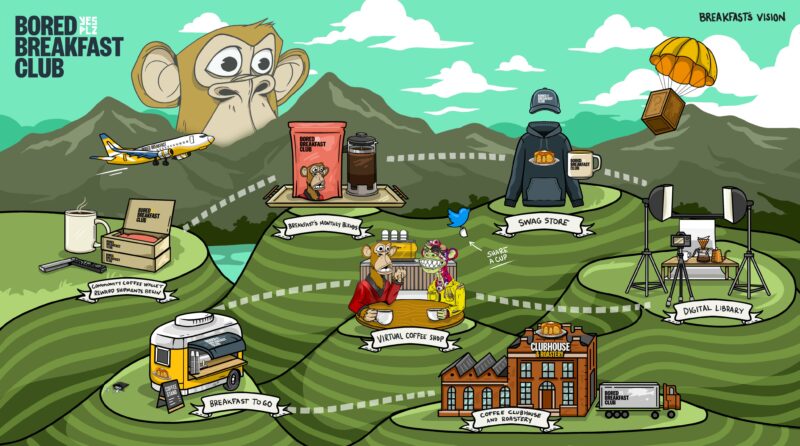 Several of my friends are owners of these tokens, and it's been fun sharing our experiences with the coffee, as well as teasing each other about the delays of receiving them due to the customs bureaucracies and postage inefficiencies in each European country we are based in (the coffee is sent from LA, and postage is thankfully included, so we only have to pay customs duty).
As I mentioned, the funds to keep this project running come from the Community Coffee Wallet. This is an aggregated fund with the sole purpose of supporting free coffee reward shipments worldwide for Bored Breakfast Club NFT holders. The wallet is funded by royalties from secondary market sales, as well as a percentage of profits from other mechanisms, including Reserve Roast sales, Blends with Friends releases, merchandise, and more. Once the wallet reaches a threshold that allows the company behind Bored Breakfast to share a new blend with the Bored Breakfast Club members, they drop a new blend and ship it out for free around the world.
The Community Coffee Wallet funds go toward paying for everything that goes into reward shipments – custom packaging, sourcing the highest quality beans, expert roasting, fulfillment, and of course, free shipping worldwide.
While the first two reward shipments were funded via the project's mint, all future reward shipments will be funded by the Community Coffee Wallet.
Based on the volume of secondary sales transacted to date, and the incremental funding mechanisms developed since mint, the founders are confident that the Community Coffee Wallet will be a sustainable fund to help fuel free coffee via reward shipments for the foreseeable future. I'll definitely be enjoying it till it lasts, but am not counting on that being very long.
Website | Discord | Twitter | OS
Curious Addys Trading Club

Curious Addys Trading Club was the first educational NFT project with a 100% refund baked into the smart contract.
The focus of this project is on building an educational platform for newcomers to crypto.
People who are deeply involved in crypto compare the current state of things to the internet in '95, when only technical people were on the web building stuff and understanding what this new technology could do in the very near future.
What is working today in getting regular people involved in crypto is NFTs and games. People spend thousands of hours playing games that require learning completely arbitrary complex skillsets only useful inside the games themselves. The Curious Addys' team identified Duolingo, an app I use myself to learn languages, as the model to use in order to spread the love and knowledge for crypto. So the idea here is to build the Duolingo for crypto.
However, Duolingo is the Web2 model of making an educational game. curious NFTs are just the Curious Addys' trojan horse to get everyone behind a much bigger vision: creating the killer app to make crypto go mainstream.
The mint price was set at 0.08 ETH.
There's a curious story behind the octopus (watch this documentary to learn more about this fascinating creature) and the name Addy as well. Addy is a curious ADHD octopus crypto companion, filled with boundless energy and hyperactive enthusiasm for learning each and every little thing about crypto. Smart, curious, and all over the place with eight hands to do eight things at once, the founders felt an octopus best embodied the essence of being a bold, brave new pioneer on the crypto frontier.
Mai and Ben, the developers behind this project, are both ADHD, and a large proportion of their friends in crypto are similarly ADHD – crypto is the perfect playground for an ADHD soul, with a million shiny infinitely interesting things to play with and what feels like thousands of things coming out every day. I can kind of identify with that. Contrary to popular stigma, ADHD has been profoundly beneficial for the founders, so they decided to incorporate a tribute into the name of this project.
The message of the founders really resonates with me. I feel that crypto is the biggest technological and financial opportunity of this generation, however, I struggle to get the people I love to be involved and thus benefit from all the good things that crypto brings, because there are several barriers to entry still.
Moreover, in a sea of get-rich-quick schemes and kids with too much money on their hands, this is a project that really shines by doing things differently and feels wholesome, and this is the main reason why I'm 100% in. I might not make any money on this one, but I love being able to be part of this initiative.
Website | Discord | Twitter | OS | Dune
Did I miss out on your favorite NFT community? Let me know in the comments below!