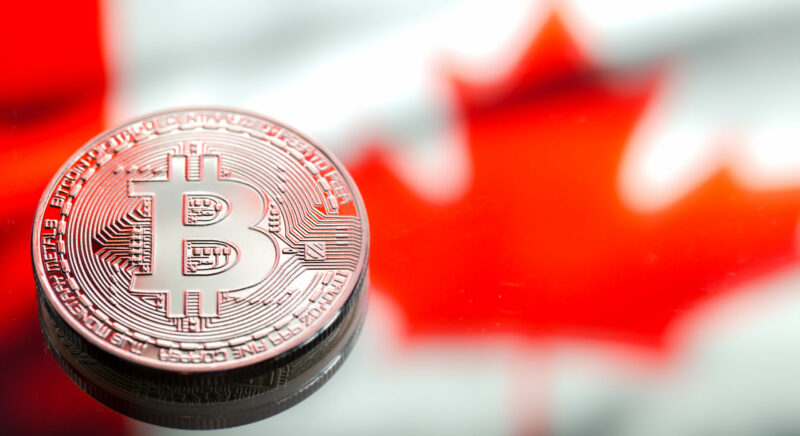 If you want to buy Bitcoin in Canada, you want to make sure that you buy it from the right exchange. We all know what happens when people buy from the wrong places, especially if they intend to keep their crypto on the exchange for any period of time.
The case of Quadriga is a clear warning side. The Canadian exchange, the biggest at the time, ceased operations in 2019, and the company was declared bankrupt with C$215.7 million in liabilities and about C$28 million in assets.
In my opinion, there are currently four leading places for Canadians to get themselves some Bitcoin or other cryptocurrencies. Here are my picks:
CoinSmart – The most accessible crypto exchange in Europe and Canada
CoinSmart takes the cryptic out of crypto. They've designed a platform that caters to Europeans with all levels of crypto literacy. If you're an advanced trader you get all the bells and whistles of an advanced exchange. If you're just getting started, you'll love the platform's ease of use and how everything just falls into place. The best thing I like about CoinSmart is how they don't shy away from providing actual human support. They offer 24/7 omnichannel live support. CoinSmart is probably one of the very few if not the only exchange that does this.
The setup is very smooth and KYC is lightning quick. Their smart trade feature lets you convert one supported coin to any other supported coin without needing to go into Bitcoin first. True one-click trading with very competitive pricing. CoinSmart started in Canada and has quickly grown to Europe.
Euro, USD, CAD supported. Fund through SEPA, Interac, Wire Transfer or buy crypto through credit card.
CoinSmart is safe and secure. In Canada, it is registered with FINTRAC and it also has the necessary licenses in Europe.
If you want to Buy Bitcoin with Euro, give CoinSmart a try.

Binance needs no introduction in the cryptocurrency exchange circle – not least because it is responsible for some of the largest trading volumes globally. For example, in the last 24 hours alone Binance has facilitated over $9 billion in trading volume (as per CoinMarketCap).
While most traders will buy and sell pairs through the main Binance website, the provider also offers a trading app. This is available to download free of charge, and it's compatible with iOS and Android devices.
One of the stand-out features of Binance is that it offers a significant number of cryptocurrency pairs. In fact, this stands at well over 600 pairs at the time of writing.
This means that you will have access to cryptocurrencies of all shapes and sizes. For example, if you're looking to trade the likes of Bitcoin, Ethereum, or Bitcoin Cash – you will benefit from heaps of pairs at your fingertips. Alternatively, if you want to access less liquid projects like Troy, Polymath, or Status, Binance also has you covered.
Trading Structure
Binance does not offer CFD products. On the contrary, you will be buying and selling cryptocurrencies in the traditional sense. You will, however, still be trading pairs.
For example,
You wish to trade Bitcoin against Ethereum. As such, you will need to trade ETH/BTC.
We'll then say that the pair is priced at 0.0348. This means that for every 1 ETH, you get 0.0348 BTC.
Much like real-world currencies, the value of ETH/BTC will go up and down on a second-by-second basis.
You then need to stipulate whether you think the price of the pair will go up (buy order) or down (sell order).
Once you place an order via the Binance trading app, the position will remain open until you decide to close it. Once you do, your profit or loss will be determined by whether you speculated correctly, and by how much.
On top of spot trading pairs, the Binance app also gives you access to more sophisticated products. This includes the platform's Perpetual Futures Contracts, which allows you to apply leverage.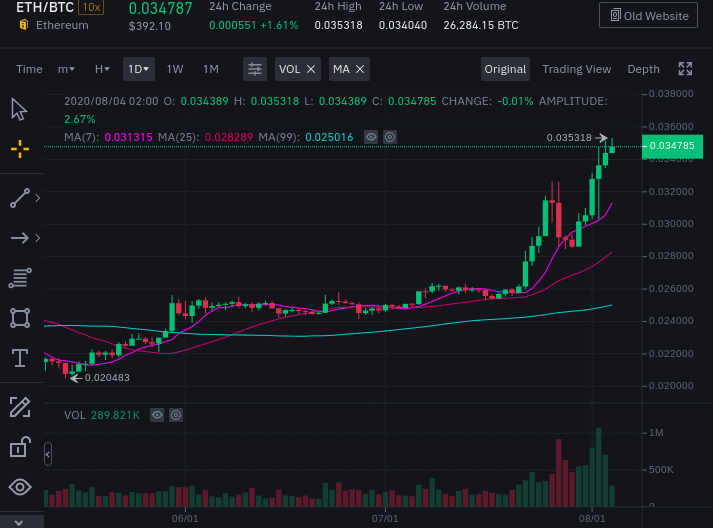 As the structure of the derivatives offered by Binance falls outside of traditional trading regulations, it is able to offer leverage of up to 1:125. This means that a $200 account balance would permit a maximum trade value of $25,000.
Fees and Commissions
In terms of trading fees at Binance, the platform is largely very competitive.
For example:
The highest trading commission charged by the Binance app is 0.1%. This is charged at both ends of the trade. For example, let's say that you trade $500 worth of BTC/XRP. This would cost you just $0.50 in commission. if you then sold the pair when it was valued at $550, you would pay $0.55 in commission. This is extremely competitive.
You can get your trading fees down to even lower percentage rates if you make use of the BNB Coin. This is Binance's native cryptocurrency token.
If you're keen to trade Perpetual Futures Contracts via the Binance app, this starts at just 0.02%.
With that being said, if you plan to deposit fiat currency into Binance with your credit card, this can be costly. This comes out at the higher of 3.5% per transaction or 10 USD.
On the other hand, if you are able to deposit funds with a cryptocurrency, then no fees are charged by Binance. In terms of withdrawing cryptocurrencies, you will pay a charge that is similar to the blockchain mining fee for the respective coin or token.
Safety and Regulation
Binance is not regulated by any single government entity or national regulator. This means that you can never be 100% sure just how safe your money is. On the flip side, Binance does have an excellent reputation in the space and crucially – is responsible for billions of dollars worth of trading volume each and every day.
Although it operates without a license, there are several safeguards in place to ensure your account remains secure. This includes everything from 2FA (Two-Factor Authentication), address whitelisting, cold storage, anti-phishing tools, and 'SAFU'.
The last safeguard is Binance's Secure Asset Fund for Users. This is a reserve pot that grows over time. If the unfortunate happens and Binance is hacked, the pot will be used to compensate victims.
You can read my full Binance review to learn more about this platform.
Kraken – A Top Worldwide Option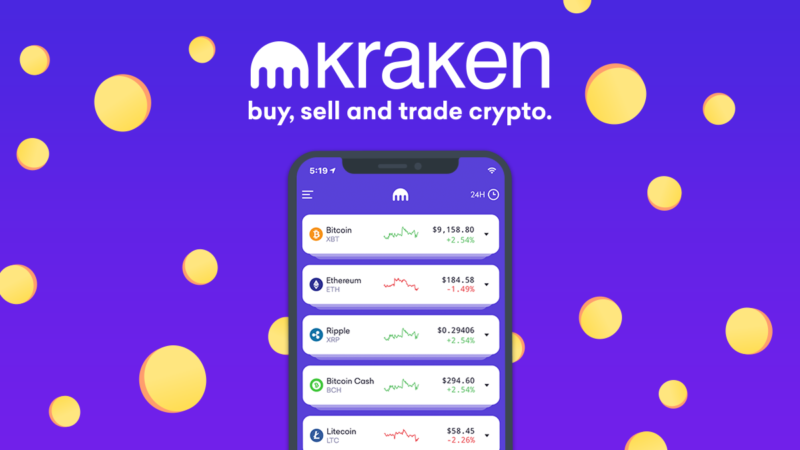 It's somewhat difficult to get away from Kraken. This is because the platform ticks most of the right boxes for crypto investors worldwide. While Coinbase is the biggest USD-volume exchange, Kraken comes in a close second. It dominates the EUR markets in Europe though.
So, in order to buy Bitcoin at Kraken, all you need to is a bank account. The easiest way to make a deposit in USD is to transfer the funds via FedWire or SWIFT.
You can, of course, also transfer other currencies, including GBP, CAD, EUR, JPY, CHF and AUD.
You only need to deposit a minimum of $1 and deposits are free too – so far so good.
In terms of Bitcoin trading fees, Kraken the platform utilizes a market maker/taker system. If you're just planning to use the platform to buy Bitcoin, then you are a market 'taker'. As such, unless you are planning to trade more than $50,000 in a single month, you will pay a commission of 0.26%.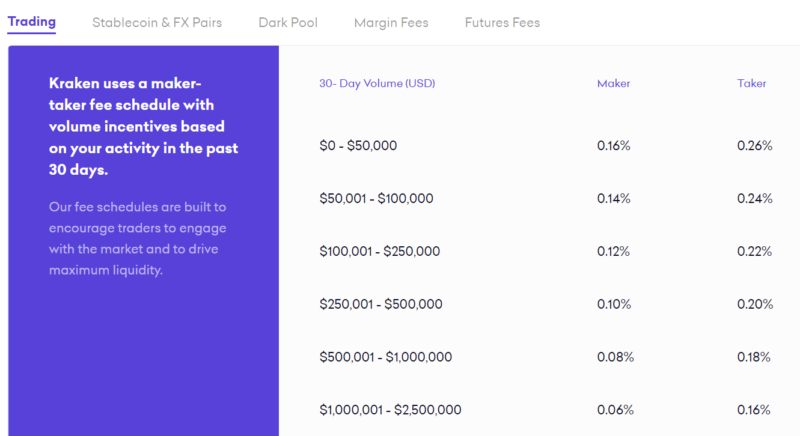 As such, if you were to buy $100 worth of Bitcoin, you would pay a fee of $0.26. Don't forget, you'll also pay a 0.26% commission when you eventually get around to selling your Bitcoin. Nevertheless, buying Bitcoin at Kraken can be done in a hugely cost-effective manner.
In terms of regulation, Kraken isn't licensed in the same way as a traditional online stockbroker or CFD platform. But, launched way back in 2011, the platform is one of the oldest cryptocurrency exchanges in the space.

Crucially, it complies with all U.S. regulations on anti-money laundering, and thus – all users must have their identity verified. Finally, I should also note that Kraken is extremely user-friendly. As such, if this is your first time investing in a cryptocurrency online, Kraken is a good option and alternative to Coinbase. It might not be as easy to use as Coinbase, but the fees are lower.
Read More: You can find my full Kraken review here.