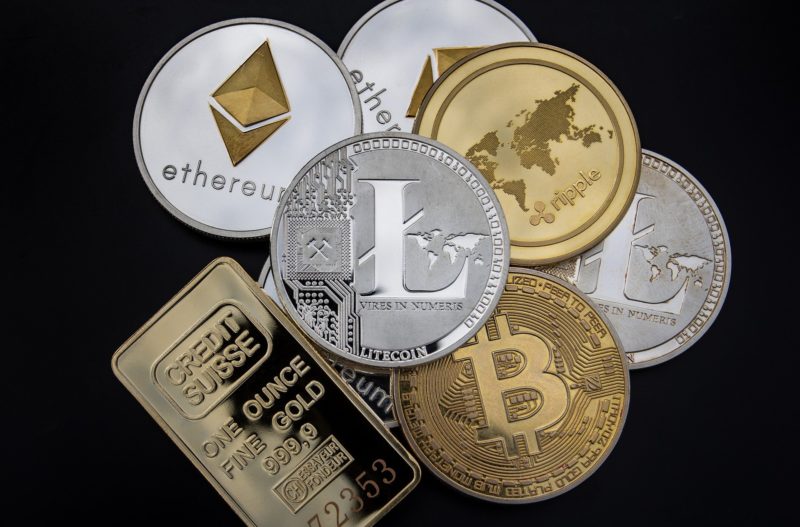 If you're looking to reserve a small proportion of your investment portfolio into alternative assets – you might be considering cryptocurrencies. After all, the industry is now a multi-billion dollar trading arena. Not only does this include the retail investment space – but several institutional markets, too.
With that being said, it can be difficult to know which cryptocurrencies to invest in, not least because the space is now home to over 5,700 digital coins – as per CoinMarketCap.
As such, in this article, I am going to discuss which cryptocurrencies are potentially worth your attention and possibly purchasing from an exchange in 2020. As always, the views expressed are those of my own subjective views – so always perform your own research!
1. Bitcoin – The De-Facto Cryptocurrency of Choice
Make no mistake about it – Bitcoin is the de-factor cryptocurrency choice for many, many reasons. The obvious starting point is that it is the first and original cryptocurrency to brace the world with its presence. Launched in 2009 – Bitcoin was nothing more than a developer's pipedream during its first few years.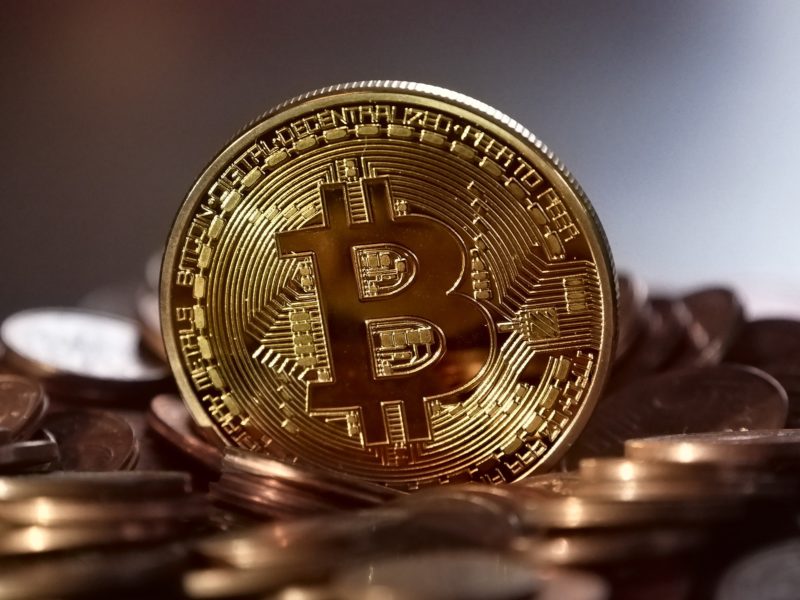 The digital currency could have been purchased for less than a cent back then. In hindsight, this is nothing short of uncanny. Fast forward to late 2017 and the cryptocurrency hit all-time highs of just under $20,000. Sure, Bitcoin has since retracted, but it is by far the most prominent in the digital currency arena.
Consumer Awareness
While the everyday novice might not have heard of the likes of Ethereum, Ripple, or EOS – you can bet your bottom dollar that they have at the very least come across Bitcoin. Whether that's through passing conversion or media attention – the fact of the matter is that Bitcoin is slowly but surely becoming a global phenomenon.
And what comes with mass-interest is a desire to get a foot in the door. In other words, those that are interested in injecting money into cryptocurrencies for the first time are likely to turn to Bitcoin – purely because "they have heard of it".
Largest in Terms of Value and Trading Volume
At the time of writing, CoinMarketCap notes that the total market capitalization of the entire cryptocurrency industry stands at just over $272 billion. Of this figure, Bitcoin represents 62.3%. This equates to a market capitalization of $170 billion.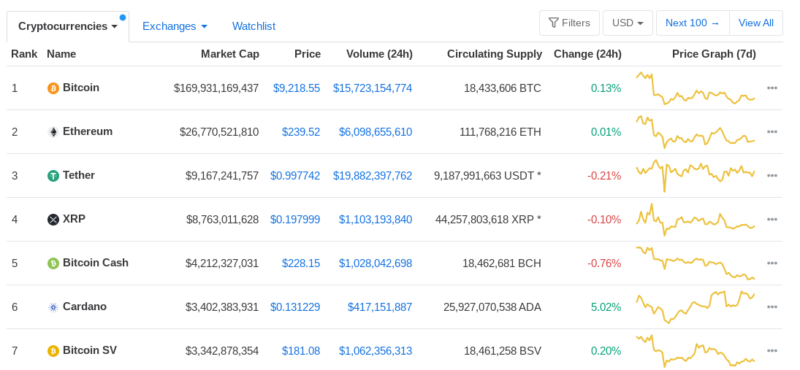 If you were to work your way through the 2,400+ companies that constitute the New York Stock Exchange, just 26 firms have a larger market capitalization than this. In fact, to put this feat into perspective – Bitcoin as an asset class is now worth more than established stocks like Unilever, Citigroup, McDonald's, and Nike!
Although not as much as an indicator, I should also note that the individual value of Bitcoin is significantly higher than its nearest competitors. For example, while Bitcoin is currently priced at $9,200 – Maker and Ethereum are priced at $460 and $239, respectively.
Futures Market and Potential ETF
While it might appear than Bitcoin investments are executed by a specific type of individual, this isn't the case at all. Sure, you have new-age investors that believe in the underlying technology. However, Bitcoin has also made its way to the institutional space.
As you likely know, institutional investors have little interest in the benefits that a decentralized technology like Bitcoin can yield. On the contrary, they are in the business of making money.
As such – and as of late 2017, there is now a fully-fledged Bitcoin futures market. This includes the Chicago Mercantile Exchange (CME)  – which is one of the largest futures exchange globally. Several large-scale institutions are also looking to win approval from the US Securities and Exchange Commission (SEC) for the launch of a Bitcoin ETF.
If and when this does come to fruition, this can only be a good thing for the long-term value of Bitcoin.
2020 Performance Has Been Solid
Looking at the financials, the price action of Bitcoin in 2020 has been super-interesting. More specifically, it is the impact of the coronavirus pandemic that stands out for me. For example, on March 6th, BTC/USD was priced at $9,153. Just six days later, the pair was valued at $4,817.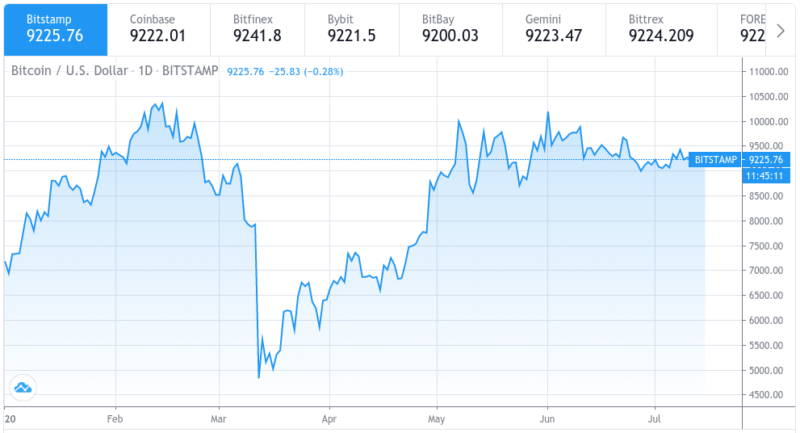 This was nothing short of complete capitulation. In fact, in less than 1 week, BTC/USD dropped by just over 47% – which is staggering. However, what impressed me was just how quickly Bitcoin recovered.
That is to say, come May 6th – Bitcoin had not only recovered its March 6th price of $9,153 – but it managed to break the physiological zone of $10,000 just a few weeks later. In simple terms, the value of Bitcoin more than doubled in just over two months. Since then, BTC/USD has pretty-much remained above $9,000.
There are still a few obstacles to mass adoption, but I think ultimately they are more of an indication of the growth potential in the coming years rather than things that might make Bitcoin fail.
2. Ripple – XRP Possesses the Technology to Rival SWIFT
The next cryptocurrency that could represent an interesting long-term investment is that of Ripple. For those unaware, Ripple is a US-based payments network provider that has its own digital currency – XRP. Launched in 2012, the overarching concept of the project is to revolutionize the cross-border payments system.
At the time of writing, this particular space is still dominated by SWIFT – which is responsible for facilitating trillions of dollars worth of global transactions each and every year.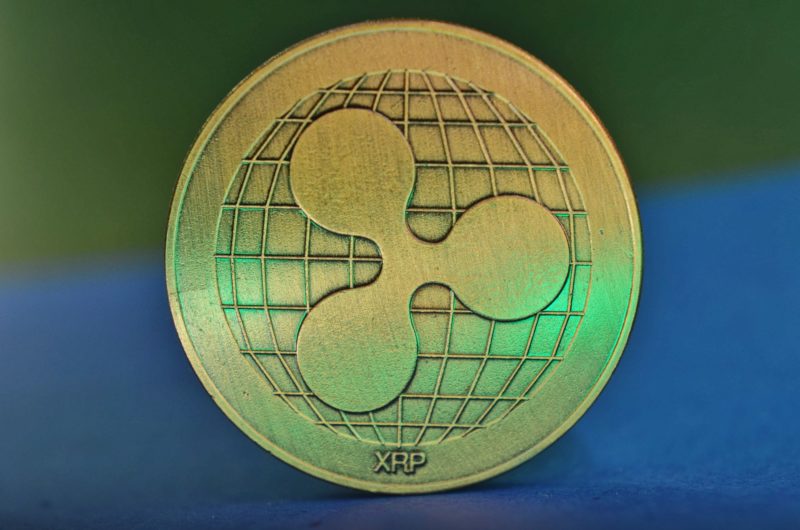 However, if you've ever used the SWIFT network to transfer funds to friends, family, or suppliers yourself – you will know first-hand that the system is extremely lacking. This is because it is slow, expensive, and fraught with red-tape. The key point here is that SWIFT is not actually a system at all. On the contrary, it is simply a middleman between the sender's bank, beneficiary's bank, and subsequent correspondent banks.
Let me elaborate with an example:
Let's suppose that a manufacturer in Russia wishes to pay a raw materials supplier in Kenya
Due to a lack of alternative options, the Russian company is forced to use SWIFT
As such, the sender's bank will transfer the money through SWIFT
SWIFT will then communicate with the sender's correspondent bank
Next in line is the receiver's correspondent bank
The recipient will then forward the funds to the raw materials supplier in Kenya
Without going on a tangent, not only does the above example highlight the inefficiencies of SWIFT (insofar that it required 5 stakeholders to facilitate the transaction), but you then have to factor in the issue of liquidity. After all, both the Russian rouble and Kenyan shilling suffer from super-low liquidity levels.
Taking all of the above into account, the underlying technology offered by Ripple has the potential to facilitate cross-border transactions in a matter of seconds. In fact, it doesn't matter which currencies are being used and demanded by the sender and receiver, as the XRP token forms a bridge between the two.
Banking and Financial Partnerships
In full recognition of just how revolutionary the Ripple technology could be for the cross-border payments industry – the firm has since formed a plethora of notable partnerships.
According to Ripple, this now stands at more than 200+ financial institutions across 40 different countries. This includes everyone from:
American Express
MoneyGram
Santander
SCB
SBI Remit
BeeTech
Interbank
and many more.
Crucially, as more and more financial institutions turn to the Ripple network to facilitate cross-border transactions, the use-case of XRP gets stronger and stronger. This is especially the case when it comes to providing a liquidity bridge between two competing currencies.
Price and Valuation Specifics
Much like the rest of the cryptocurrency industry, the value of Ripple went parabolic in 2017. At the start of the year, a single XRP token would have cost you $0.006. Fast forward to the turn of 2018 and that very same XRP token would have cost you a staggering $3.79.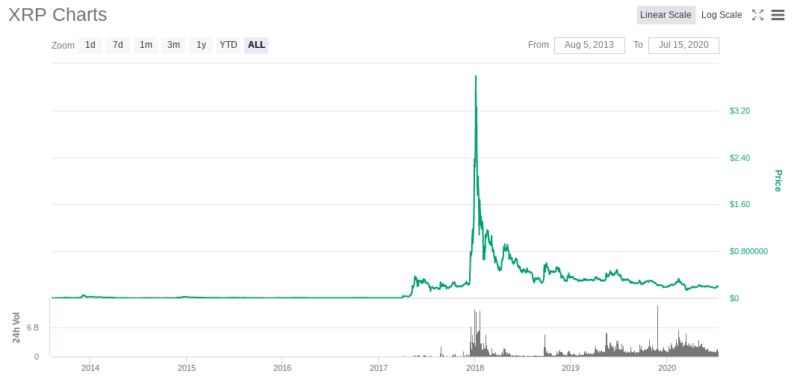 This represents an increase of 63,066% in the space of 13 months. While it is highly unlikely that you will ever see gains like this again, the upside potential is still significant. After all, Ripple's proprietary product is something that would benefit virtually every financial institution in the world.
As such, a reasonable target for investors could be a repeat of its previous all-time high. Reaching this feat would result in a market capitalization of just over $120 billion – based on current circulation levels. Based on a current price of about $0.20 per XRP, this would represent an increase of 1,795%.
There is, however, no guarantee that Ripple will ever regain its prior glories – so do tread with caution.
3. Binance Coin – Utility Token for Multi-Billion Dollar Exchange
This particular pick might surprise the cryptocurrency evangelists in the room, but hear me out! So, the Binance Coin – or simply BNB, is a digital token that is native to the cryptocurrency exchange of the same name. For those unaware, Binance is one of the largest third-party cryptocurrency trading platforms globally.

In fact, Binance itself notes that the platform averaged daily trading volumes of just over $2.8 billion throughout 2019. So how does this relate to the BNB token? Well, put simply, the BNB token has one key purpose – it offers reduced trading fees on the Binance exchange.
Initially, this stood at a reduction of 50%, and this has since been to lowered to 25%. In the near future, this is expected to be reduced once again down to 12.5%. Now, it should be noted that trading fees at Binance are industry-leading, as you will pay an entry-level commission of just 0.1%.
However, serious traders utilizing the platform will benefit tremendously from the discount that BNB coin yields, so in some way, it has an intrinsic value – even if it is just an ERC-20 token.
20% Burn-Rate
Furthermore, and perhaps most importantly – Binance actually 'burns' an allocation of BNB tokens each and every quarter.
The figure is equal to 20% of the operating profits the exchange made in the subsequent quarter, which is huge. As such, this should have a positive impact on the value of the Binance Coin moving forward. After all, the fewer tokens there are in circulation, the less diluted the asset is.
Binance Coin Price Action
One of the most interesting aspects of the Binance Coin as an investment vehicle is the charts. By this, I mean that very, very few digital currencies can boast an upward trajectory quite like the BNB token. More specifically, by taking the time to browse through the charts of the top 10 cryptocurrencies (in terms of market capitalization) – there is a singular trend that remains constant.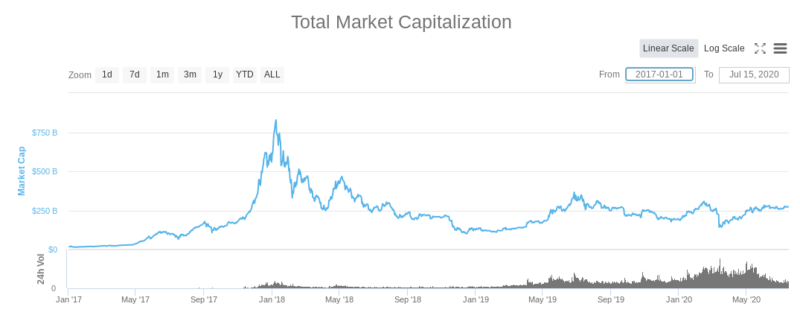 It looks something like this:
Stable upward price action throughout Q1-Q3 2017
Parabolic upward price action in Q4
Significant loss of value in Q1 2018
Flat and somewhat stagnant price action thereon
In simple terms, the vast majority of cryptocurrencies that were active in 2017 and now worth just a fraction of the all-time highs that were experienced in either Q4 2017 or Q1 2018.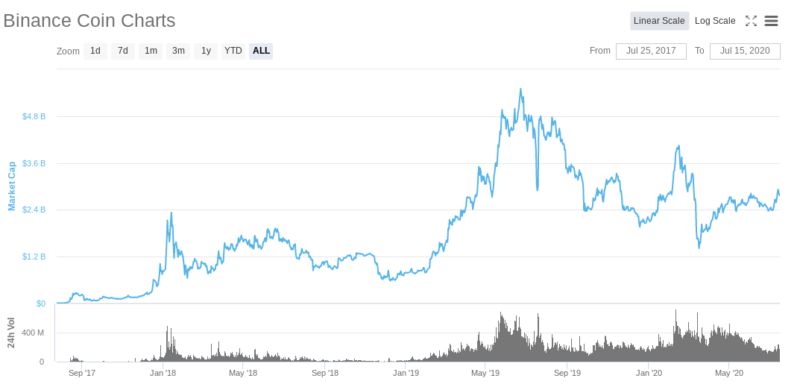 However, this couldn't be further from the truth in the case of the Binance Coin. Sure, the digital currency enjoyed a parabolic upward swing in late 2017 like the rest of the space. But, over the course of the following two and a half years, the digital coin has continued to prosper.
So, in July 2017 the Binance Coin was valued at just over $0.10
While the rest of the digital currency markets were struggling in July 2019, Binance Coin was priced at $13.14.
At the time of writing, the coin is priced at about $18.
In terms of the figures, the Binance Coin is now worth 17,899% higher than it was in July 2017. Although at first glance this might sound like the project has already peaked, I would beg to differ.
After all, the project has a market capitalization of just $2.7 billion – which in reality, is minute. As such, the upside potential could be huge. This is further amplified when you consider the burn-rate that Binance initiates every three months.
Understand the Risks Involved
Cryptocurrencies are certainly an interesting asset class, as many would argue that the phenomenon is yet to reach anywhere near its true potential. With that being said, it is important that you have a firm grasp of the underlying risks. This is because digital currencies are one of the most speculative asset classes in the investment arena.
Although volatility levels have since calmed down a notch, it is still not overly uncommon for a coin to go up or down by more than 10% in a single day of trading. Then, you need to factor in the opportunity costs – as cryptocurrencies do not pay dividends.
Sure, a number of small and unproven projects do distribute additional tokens to holders. But, this doesn't allow you to reinvest the tokens into conventional ventures, as you will be receiving the project's native currency. All in all, it's best to keep your stakes low when it comes to cryptocurrencies.
Investing in Cryptocurrencies Today
If you do decide to make an investment, I recently reviewed online brokerage firm eToro. My findings revealed that you can now invest in 16 different cryptocurrencies on a commission-free basis. Best of all, you can deposit funds with a debit/credit card, e-wallet, or bank account on a fee-free basis. You will, however, need to pay a 0.5% currency conversion fee.
Although you will retain full ownership of the coins, you won't have the capacity to withdraw them out. On the flip side, the broker is regulated by the FCA, ASIC, and CySEC – so you should have no concerns with safety.
Here's what you need to do:
Upload a copy of your ID and proof of address
Meet a minimum deposit of $200 (debit/credit card, e-wallet, bank account)
Invest at least $50 into your chosen cryptocurrency
The coins remain at eToro until you decide to sell them
If you want to be able to withdraw the crypto assets purchased, you will need to go to a crypto exchange.
My favorites are:
Don't forget that with crypto, you have several options of improving your returns. You don't need to be trading daily nor do you need to adopt a pure buy-and-hold approach. One of the most exciting developments in the space is crypto interest accounts and crypto lending. You can read more about the options for earning money on your crypto using services such as BlockFi and YouHodler in my article on the best crypto interest accounts available today.
The Verdict?
In summary, cryptocurrencies operate in a highly speculative investment space. While the returns could be substantial, as could your losses. As a result of this, it is best to reserve just a very small percentage of your investment portfolio into digital currencies.
That way, you won't be overexposed, but at the same time, you can still get a foot in the crypto-door. Ultimately, nobody knows whether digital currencies like Bitcoin are here to stay, so always tread with caution!