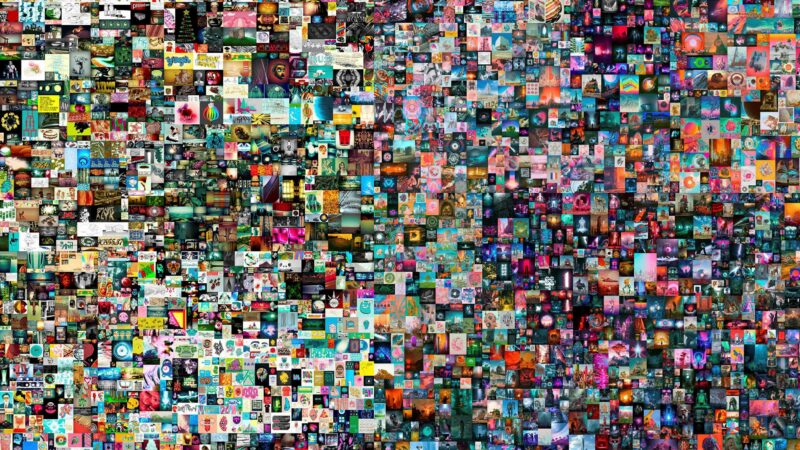 Towards the end of 2021, I went down the NFT (Non-Fungible Token) rabbit hole and absolutely loved it.
I've been working on this article as a way of doing my own research on projects and also sharing what I'm doing with others who might want to do something similar. I am not trying to convince anyone that NFTs are the best investment; if you enjoy learning about NFTs and like some of the projects I mention, you can do your own research and decide for yourself.
NFT technology can be used for many use cases, so for the purposes of this article, I am really talking about its digital art component.
These kinds of NFTs can be found on sites such as OpenSea, SuperRare, Rarible and Foundation.
Read more: What are NFTs? – My guide to investing in NFTs
NFTs are a wonderful world where you can really end up spending all your waking hours immersed in learning, discussing with others on Discord, and admiring the artwork in your portfolio. On the other hand, just keeping up with the channels of a few projects (for example, the ones that you buy into) can be a challenge.
I haven't been captivated by anything in such a way since I first came across Bitcoin itself several years ago.
The NFT space comes with its own lingo (gm, gn, wagmi, ngmi etc) and the main hangout spot (apart from Twitter) is Discord.
Of course, it can be pretty challenging explaining why you're spending so much money on JPEGs to your family and friends, as shown in this semi-joke tweet:
Wife looks @ bank account: Where's all our money?
me: gm
Wife: But where
me: it's in illiquid jpgs that will outperform our bank's interest and the S&P 500 and Eth itself
wife: ok are wgmi?
me: wgmi

gn

— Jacob Martin (@thenftattorney) September 1, 2021
What I Look For When Investing in NFTs
It's essential to research a project properly before investing. These are some of the things I consider before investing in any NFT project.
Team
Having a great founding team is very important for the project. Sometimes the founders are famous, but this is not a requirement. If they don't have a big following, however, they need to make up for it with some other relevant background and a ton of work prior to launch.
Roadmap
Some of us who have been around for a few years remember the ICO days were every company was promising the most outrageous stuff but then so few ever delivered. It's always important to look beyond a project's artwork and learn about what they actually plan to do with the money they raise from selling the tokens.
I like original roadmaps; projects that are trying to do something different, but also very realistic. Tying in with the previous point about the team, I want to make sure that the team has the credentials to actually deliver on what they're promising in the roadmap.
Roadmaps can change and frequently do once a project launches, but it's important to see what the initial idea is, because it gives me an idea of what the founding team's intentions are and what they are capable of dreaming up.
Community
When you buy into an NFT project, you are placing a bet on the community and the team. This is why it's critical to spend some time in an NFT project's Discord before making purchasing decisions.
Discord channels are usually open at least a few weeks before minting begins, so even for new projects, you can get a feel of things. For well-established projects, it is very easy to understand what kinds of people are active in the community and if the project has any serious future plans to add more value.
Mint Price
It is important to know what the mint price is and what gas fees were like at minting, because this is one of the most important aspects for determining the floor price in the early days.
Over time this ceases to be an important factor, but if you're buying off the secondary market in the first few days or weeks after product launch, you should have a good idea of this price that people paid when minting.
Holder Distribution
You can see a list of holders for any ERC-721 NFT project by looking at the contract in Etherscan, and clicking on the "Holders" tab.
There are several tools that will also give you this information, for example, Dune, Nansen and ICY tools. It's best if you don't see too many tokens in any one wallet, as top holders will eventually exit and affect prices.
Keep in mind that the same person or fund might have used several wallets during the buying process, so this metric can be inaccurate or purposefully gamed.
Whale Watching
NFT projects will usually start off with a few whales taking strong positions, tying into the previous point. In the early days, it is important to not only watch the distribution but also the actions of these whales.
If they start dumping and listing many of their tokens at the floor or even lower, things are looking grim (at least short-term) for the price of that project. What they are signifying is that they are only in the project for some quick flipping profits, or that they lost confidence in the team somewhere along the way.
Since whales hold a lot of tokens and have tied up a lot of their ETH in those tokens, they are incentivized to dump at the slightest inkling of a project turning sour, else they are risking losing all their money. Again, tools are your best friend for analyzing this action.
On the other hand, if you see that whales are delisting their tokens or listing them at high prices, that is a positive sign that shows that they are in it for the long run and have no anxiety to sell.
Who is Supporting the Project?
I always look for how many artists are supporting the project. Whales and influencers are also good to have behind a project, however, you should keep in mind that these are typically in projects to turn a profit and seldom have diamond hands.
Liquidity
Some projects, especially the generative art ones (for example some Art Blocks collections) shoot up to very high prices but are extremely illiquid. It is quite normal to see no sales at all happening in certain months, with the most liquid months having a few sales at best. These are dangerous territories unless you are both super-rich and want to hold on to that artwork for life.
Rarity Mechanism
I keep a very close eye on how rarity influences the value of each token. Not all NFTs are very dependent on rarity. For example, HeadDAO tokens theoretically are all worth the same, as they only exist to give you a stake in the DAO. In fact, the artwork is not original, it just reuses the Nouns artwork as it is open source.
If rarity is indeed an important factor, then it becomes one of my major reasons for buying one token over another. On launch/reveal I use tools like Trait Sniper to understand the value of the tokens I own (in the case that I had minted some) and also to snipe underpriced ones.
When sniping, I tend to pick up ones with relatively high rarity but close to the floor, and I also monitor the top 200 to find ones where I really love the art and where the token also looks underpriced. In these cases, I would be ready to hold long-term since I'd really love the art and would use it as a PFP or hang it in my house.
For a new collection, it is generally advisable to favor liquidity, thus buying and flipping (if that's your thing) items at the floor. This has proven to be more profitable than acquiring rare items and hoping that someone comes along with sufficient wealth who really likes your particular token and wants to buy it at a high price.
Some people base their trades on trait floors, but from my conversations thus far it seems that it is easier to turn a profit around trading near the collection's overall floor.
How's the Overall Crypto Market Doing?
At the end of the day, most participants in the NFT space are there to make more money, and by this, we mean more ETH, which is the currency most commonly used to purchase NFTs.
History shows that when ETH is steadily climbing and/or other altcoins are pumping, NFT activity plummets. The reasons are twofold.
Because a lot of altcoin trading happens on DEXes, this drives up the gas fees on Ethereum. With ETH 1.0 we are seeing that there are a lot of scalability issues, so when some application heats up, gas fees go through the roof. This makes the trading of NFTs prohibitively expensive, and thus eliminates a big chunk of potential market participants.
It's particularly rough on new projects, as the minting process typically results in higher fees being paid for gas than for the NFT itself. Most projects actually delay their launch when gas prices are especially high, but a launch can't be delayed more than a few days without losing a lot of momentum and reputation.
Secondly, if altcoins are pumping, traders are likely to be looking at moving their ETH (seen as a low-risk and stable store of value) into riskier coins and ride the wave to ultimately move back to ETH but end up with more of it. Thus, altcoins are a more attractive trade than NFTs in those situations. Gas fees on crypto trades are also lower than minting or trading NFTs (the latter also usually involves a royalty to the creator and a fee to the marketplace).
Moreover, those who are just passively holding ETH see that their investment is growing in fiat-terms and thus feel happy and have no real anxiety to pursue riskier investments in a bid to grow their wealth in fiat-terms.
What Values Does the Collection Promote?
I left this for last as it's a personal criterium of mine that is not really necessary for anyone to be successful (read: make money) with NFTs.
There are a lot of evil-looking artwork projects that I don't see myself ever owning. Jungle Freaks would be one example. I love to involve both my wife and son in my purchase decisions, but I love to especially explain to my son what I'm doing and to get his input on the looks of one NFT over another. I like to print my favorite NFTs and display them around the house too, and with two very young kids around, you don't want anything scary on your walls.
Scariness aside, some projects are just much more family-friendly than others.
Doodles just give off a very positive vibe and have some lovely animations planned.
Robotos frequently has art competitions and provides downloadable coloring sheets, which my son loves to color up and eventually see me hang them in my office.
Kumo's World features a storybook in its roadmap.
Cosmic Cowgirls has a strong focus on empowering women within the NFT space, which I think is a good aim, and Curious Addys not only tries to help women break into the space but actually is built for the sole purpose of helping onboard more people into NFTs and crypto in general.
The PunkScapes community is incredibly humble and helpful, and there are constant initiatives to reward members for their participation.
All these features or goals feel wholesome to me and make me want to be part of each of these projects' communities.
With all that said, it's time to share my favorite NFT projects with you.
Doodles

This is a collection of 10,000 Doodle NFTs which were snapped up within minutes at minting. As of writing there is around 650 ETH in the so-called Doodlebank that sustains the project going forward.
Team
Well-known, although not super famous, artist Scott Martin (aka burnt toast) is the designer of this collection. He previously released some amazing NFT artwork on Foundation that embodies the same style of the doodles.
The second co-founder is Evan Keast, who previously worked at Dapper Labs (the team behind Cryptokitties and NBA Topshot) as well as at Kabam Games.
Roadmap
The Doodlebank contains the roadmap as well as serving as a place for community members to propose things. We can then vote via Snapshot. From what I've seen so far, this is a really streamlined process that will be one of the pillars for this project's growth.
Notable Holders
@Pranksy, @OhhShiny, @beaniemaxi, 9x9x9eth, @mattkalish, @farokh, @Thecryptomist, @hi_sighduck, @tommyk_eth
Check the largest holders on Dune or Golom.
Why I Invested
This was the first project that I looked at pre-mint and instantly fell in love with. I thought it had a great chance of becoming a blue-chip project and loved the positive vibes that the artwork throws off.
Unfortunately, after I woke up at 3 AM to get in on the mint, I fumbled things and did not allocate enough gas for my minting transaction to go through (being a newbie at gas wars). I ended up losing a good amount of ETH as mining fees for the failed transaction.
On the flip side, I then used a couple of rarity tools to get my hands on a few Doodles that I really dug and that looked like members of my family. In the worst-case scenario, we got ourselves some expensive PFPs, so there's less downside like that than if I just minted and got random doodles.
Perhaps that outcome is even better than having just minted them outright.
Back to some more definite reasons why I bought several pieces from this project:
there was a very solid organic build-up to launch, so the Doodles launched with a big community already in place on Discord.
sensible, feet-on-the-ground roadmap
solid plan to handle proposals going forward (here's an example of a proposal to hire an animator)
fair distribution. The first 5000 pieces were reserved for a whitelist, but the rest were distributed fairly during a public mint. As of writing, there are 4600 owners, which is quite good. The BAYC project, by comparison, has 5700 holders.
fun and positive vibe. I generally like happy and playful NFT artworks, and this project is the perfect embodiment of that idea.
nice traits mix. There is a lot of variety due to various face, hair, body, background traits and special effects like rainbows or animals in the rarer examples.
Overall, I was lucky to come across this project in time and put in my purchases in the first day. Prices will fluctuate but I'm very happy with my buys and expect that the price will go up significantly within 3-6 months after launch. This is the period it took for the Cool Cats (a similar project in some ways) to take off. External factors, most importantly the overall crypto market and gas prices will definitely affect the prices of this another projects, so I'm wary of that too.
Things to Watch Out For
The license is quite restrictive when compared to, for example, BAYC. Any commercial use is pretty much impossible. Your only right is that of displaying the NFT that you buy and use it as a profile pic on platforms like Twitter and Discord. Copyright is retained by Doodles LLC, the company behind the Doodles. While the license is restrictive, we have already seen derivative projects as well as holders modifying their PFPs and there was no move from the Doodles team to go after such uses. The actual enforcement and attitude seem to diverge from the terms themselves. For this reason, I've been asking the team to reconsider the license as I think a more open one would be very beneficial for the long-term prospects of the Doodles.
For example, removing the background or mirroring a doodle, for example for the scope of creating a banner with multiple doodles, would technically be infringing on the terms. Animations would be the same. However these have so far been allowed, and possibly even encouraged. The bottom line is that the license is at odds with what the founders actually allow so far.
An NFT project's floor price is very important, and Doodles' floor price might suffer a bit more than others. In my opinion, Doodles have some not-so-attractive trait combinations that will keep the floor down, since they will just be used by flippers trying to make a quick buck on a premium project, rather than buyers who buy because they love the particular artwork of that NFT. The nicer ones will keep rising, as they look amazing, but at first glance the project might look like it has a relatively low value due to a lower floor, which will in turn drive liquidity elsewhere, making the expensive and nicer pieces harder to sell. This is totally my conjecture, so I hope I'm wrong on this and it doesn't affect the project very negatively long term.
Website | Discord | Twitter | OS | Dune dashboard
Cool Cats

Out of the big projects, this is the project that I think has the most similar vibe to the Doodles. I love cats and I like the family-friendly artwork used in this project. Cool Cats have a really great community that I have been enjoying participating in via Discord.
This is an established project that has a stable floor, so there aren't many doubts about its worth.
The Cool Cats website is one of the best I've been exposed to. As a Cool Cat holder, you can view your collection on the site, as well as build banners.
Cool Cats grant a non-exclusive license, which I like. In this aspect, they are much better than the Doodles.
As the owner of a Cool Cat, you basically have the right to do anything you want with your Cool Cat image. Maybe you want to create a t-shirt, go ahead. Perhaps you want your cat on a mug, no problem. You might even want to pay an artist to create a new piece of work, featuring your cat, also ok. You can do all these things and more, as long as you are holding the Cool Cat NFT. You can not sublicense your license to third parties. You can transfer your license by selling your Cool Cat. The new holder will then be the license holder.
Cool Cats have attracted a number of high-profile buyers – including Steve Aoki, who purchased a Bob Ross TV head cat, and Mike Tyson. Leading NFT investor and "Cool Cats Maxi' Farokh also owns a collection of 17 Cool Cats, including two TV Heads and his highly sought-after Afro Rainbow Unicorn cat. The president of TIME Magazine, Keith Grossman, has been a long-time supporter of Cool Cats.
There is some interesting utility coming soon, with the planned launch of $MILK tokens that users can earn by holding a cat, as well as claimable eggs. Check the roadmap for the latest information, but there definitely seems to be a long-term plan to continue adding value to this project.
Website | Discord | Twitter | OS | Dune dashboard
PunkScapes

PunkScapes are 8-bit NFT banners designed to be used on platforms like Twitter, Discord and OpenSea, and designed in a way to match CryptoPunks. It is the biggest banner project on OpenSea.
NFT-verified PFPs/avatars are coming to many platforms, and the same could apply to banners. Several punk owners have also bought PunkScapes. Some of these owners are very active in the PunkScapes Discord too, which is a bonus if you want to chat with these OGs. An example is @etheralto.
There is also a growing trend of PFP projects offering "transparent background" options so that you could easily put the background of your choice behind them. An example is Sneaky Vampire Syndicate.
The price has been somewhat suppressed since launch, although those who got in at mint can already sell at several multiples of what they paid. The overall price in USD however is still low. The project has been operating under the radar, and took a long time to list on Rarity Tools, for example. The founder has decided to focus all his energy on building rather than any kind of promotion, so you won't find constant notifications of useless giveaways, collaborations, and other low-value events in the Discord chats.
Also, rather than the typical whitelist that many projects use during launch, which favors a few at the expense of the public, PunkScapes used a fairer launch mechanic whereby you could buy a OneDayPunk token that would later give you early access to the PunkScapes mint.
An interesting feature of these tokens is that they have a date field in the meta data. People have been using this date as a marker to find tokens that are relevant to them, for example their birthdays.
Founder Jalil is a real star, always ready to help and respond to people in the Discord group, as well as being constantly building new things for the project. A special aspect of this project is that Jalil has set up a #transparency channel where he proactively discloses any important movements, for example, revenue from secondary market sales, any purchases or sales he personally makes, etc.
In fact, I would recommend getting a PunkScape just to be part of this amazing community. Out of all the Discord groups I'm in, PunkScapes is the one I get the most value out of. A lot of that value comes from Jalil and other prominent members being ready to help out with any kind of questions members pose. The fact that it's not a hype-filled project ensures that there is very little price talk and many more conversations around building stuff and innovating.
Again, if you're technically inclined or want to build stuff in this space, you need to be in this project and its Discord. There are hackathons (with corresponding rewards) and art competitions, and as I said lots of building going on in general. And if you love 8-bit artwork and want to grab one of the earliest banner projects in the NFT space, you should also get yourself a PunkScape.
Website | Discord | Twitter | OS | Dune dashboard
Party Degenerates

Party Degenerates are a collection of 10,000 NFTs representing the rebellious spirit of those who choose to celebrate life, rather than merely living it. The people behind the project are entrepreneurs, developers, community leaders and one of the biggest and most influential NFT collectors in the space.
The artwork is very polarizing, and while it can grow on you and is very original, I don't think this can be the main driving force behind the project's success. There were several guest artists contributing to the Party Degenerates, and most of them have amazing artwork in their own projects. As I note below, however, the reveal had quite a surprise in store for many holders. To be fair, the project founders always told holders to "expect the unexpected".
There also seems to be a lot of real-life utility coming in the form of special deals, perks and freebies at clubs around the world, but also in the metaverse. However, it is too early to say what exactly will drive value to this collection, as the roadmap has not been fledged out yet as I write this.
Let's talk utility NFTs: 1 Party Degenerate = free access to 5 biggest art parties🕺💃🥳🎨 @artbasel = $320 in ticket value + free 🍸🍸 for 1st event = ~$100. Ridiculous $420 value for first organized Party Degenerate event! Look out Mykonos, Ibiza, Tokyo etc. @PartyDegens

— Boazg.eth (@BzyyzB) November 23, 2021
I went into this blindly, based on the reputation of the team and the people who were holding them after the mint was over. The reveal took a bit more than a week so nobody really know what they were buying.
Once they were revealed there were some very strong reactions by holders, and many were disappointed and sold at 2 or 3x the floor we saw during the week before the reveal. I took the plunge in true degen mode and bought a few more when that happened, but only time will tell if that was a rash decision or a good one.
I feel that the art itself is exceptionally unique and memorable, and that is a big plus in this niche that's filled with copycat art.
Secondly, the aims of the project are also unique – bringing real-life utility in the form of access to exclusive events and experiences within the clubbing and electronic music scene. Given that the majority of NFT holders right now seem to be twenty-something white single dudes, the market for such an item is definitely there.
I'm personally more interested in the promised metaverse utility of the degens. I'm very interested in experimenting more with Decentraland and Sanxbox, so the degens might be my gateway to these worlds.
The license is great, giving full commercial rights on the NFTs. On the other hand, I'm not sure that the general public will be able to distinguish between one degen NFT and another.
It's still early days and so far the degen story still has to be written, but the team is solid and I'm very confident in the project.
Website | Discord | Twitter | OS | Dune dashboard
HeadDAO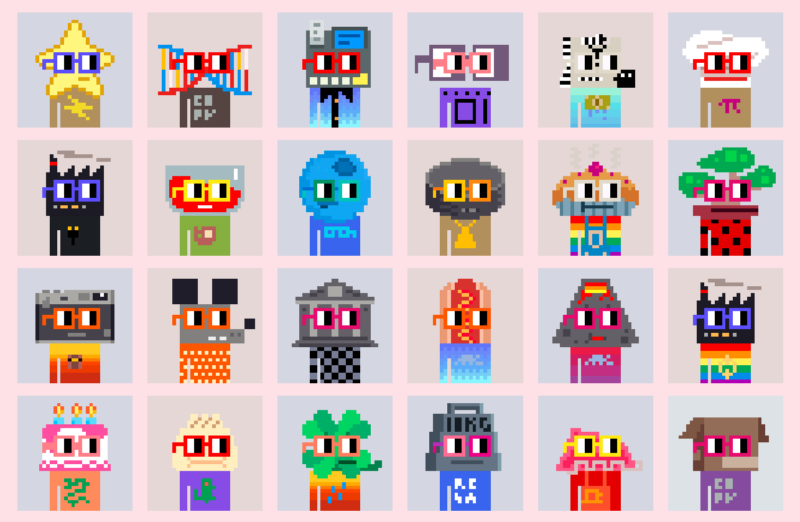 This is actually a DAO and the artwork itself is borrowed from the Nouns collection, which is open source. The idea here is to buy blue-chip NFTs and fractionalize them. Thus every Head NFT holder will accrue part of the value of those blue-chip NFTs.
You can also stake your NFTs in a vault and earn $HEAD. This is done on the project's website. When you stake the head NFTs they will disappear from your wallet and go into the community wallet but you still own them and can unstake them anytime.
The fractionalized vault's reserve price will always be adjusted to be at least double the current price of the NFTs in it. So the likelihood of the vault being bought out is next to zero. That being said, as a HeadDAO holder that automatically makes you part of the DAO, gives you voting rights in what the DAO does, and makes you eligible to redeem and offers of utility that the team put out.
However, you will need $HEAD in order to redeem any utility, so it's best to stake in order to earn $HEAD to get access to the utility offers and that is where the real value is/will be. A small example is a collaboration between HeadDAO and an upcoming project, where those who have their heads staked will be in with a chance to make the whitelist of the other project.
Website | Discord | Twitter | OS | Dune dashboard
Bushidos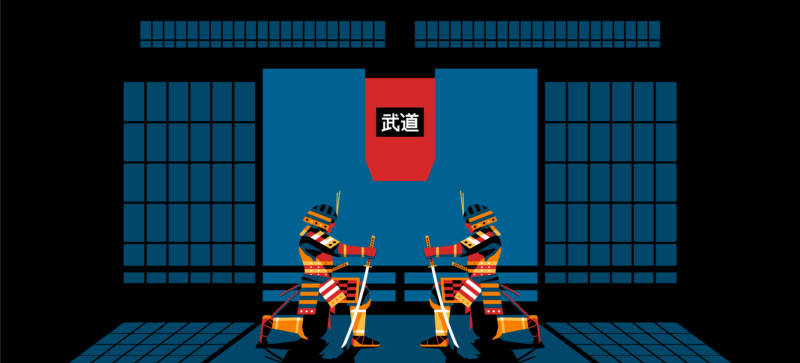 The Bushidos are a clan of 8,888 Samurai warriors established to "preserve the decentralization of the blockchain and protect against FUD". Bushidos is meant to be a cultural movement, not a one-and-done NFT project. The founding team's goal is to grow an active creative community around the theme of samurai lore and culture.
The project aims to have several seasons in its roadmap. The first Season sets the foundations, including the minting and setting up of the community.
Season One is dedicated to:
Building partnerships, community, and foundational story
Launching an eternal mint pass
Launching the Bushidos
Launching the Katanas airdrop
Preparing the story for Season two
Season Two will be dedicated to telling the story of the Bushidos.
That will look like:
A virtual comic book with physical implications
Start working on a plan for 3D skins for the Bushido (for use in the metaverse)
Download high-res images of your Bushido
An ERC20 token
And at least 2 new NFT collections
The four project founders all work at Coinbase, and this led a lot of credibility to the project. Jeremy Booth is the illustrator for the Bushidos. I like his art a lot and this was one of the reasons I got into Bushidos.
As for the risks for this project, I would say that it's hard for the untrained eye to distinguish between different Bushidos, and I don't see them catching on as a PFP either due to their niche style and lack of distinguishibility. This is why it will be very important for the story to be sustained over time by a strong team and community participation and interest.
Katanas will be available to mint for every Bushido holder towards the end of Season One, adding additional value and utility in Season Two.
From my perspective, the biggest doubt I have is whether the project can sustain interest long enough for value to accrue to the tokens. Time will tell, but again, Bushidos gives me exposure to one more niche of the NFT space, so I'm happy to be part of it as a learning experience, and I like the artwork. I like the idea of learning more about samurai culture as well.
Website | Discord | Twitter | OS | Dune dashboard
Galaxy Eggs

There is a solid team of three in place. Two guys come from the bored ape community and they are backed by the fantastic artwork of renowned artist Gal Barkan, who serves as art director.
The 3D artwork is quite breathtaking, and the sneak peeks from the upcoming Galaxy Metaverse are amazing. I'm looking forward to both the promised airdrop and the launch of the Galaxy Warriors, which is the second phase for this project.
Similar to the Bushidos, this is a long-term project so hopefully, people will not lose interest along the way.
Website | Discord | Twitter | OS | Dune dashboard
Surreals
Surreals are a collection of 10,000 generative portraits with a surreal, vintage naturalist aesthetic.
I like the quirky artwork and the founder is definitely doing his best to drive value forward. The artist who launched this project promised nothing in return apart from the art itself and was very open about his limitations.
However, he is very open to suggestions and this has been reflected in the way that the community has taken ownership and taken the lead in moving things forward. The Discord channel is a fun place to hang out, so there is a strong community aspect for my incentive to own pieces from this collection, quite apart from the artwork itself.
Website | Discord | Twitter | OS | Dune dashboard
Curious Addys Trading Club

Curious Addys Trading Club is the first educational NFT project with a 100% refund baked into the smart contract. That's one of the two main innovative things that this project is doing.
The second is that they are building an educational platform for newcomers to crypto.
People who are deeply involved in crypto compare the current state of things to the internet in '95, when only technical people were on the web building stuff and understanding what this new technology could do in the very near future.
What is working today in getting regular people involved in crypto is NFTs and games. People spend thousands of hours playing games that require learning completely arbitrary complex skillsets only useful inside the games themselves. The Curious Addys' team identified Duolingo, an app I use myself to learn languages, as the model to use in order to spread the love and knowledge for crypto. So the idea here is to build the Duolingo for crypto.
However, Duolingo is the Web2 model of making an educational game. curious NFTs are just the Curious Addys' trojan horse to get everyone behind a much bigger vision: creating the killer app to make crypto go mainstream.
The mint price was set at 0.08 ETH.
There's a curious story behind the octopus (watch this documentary to learn more about this fascinating creature) and the name Addy as well. Addy is a curious ADHD octopus crypto companion, filled with boundless energy and hyperactive enthusiasm for learning each and every little thing about crypto. Smart, curious, and all over the place with eight hands to do eight things at once, the founders felt an octopus best embodied the essence of being a bold, brave new pioneer on the crypto frontier.
Mai and Ben, the developers behind this project, are both ADHD, and a large proportion of their friends in crypto are similarly ADHD – crypto is the perfect playground for an ADHD soul, with a million shiny infinitely interesting things to play with and what feels like thousands of things coming out every day. I can kind of identify with that. Contrary to popular stigma, ADHD has been profoundly beneficial for the founders, so they decided to incorporate a tribute into the name of this project.
The message of the founders really resonates with me. I feel that crypto is the biggest technological and financial opportunity of this generation, however, I struggle to get the people I love to be involved and thus benefit from all the good things that crypto brings, because there are several barriers to entry still.
Moreover, in a sea of get-rich-quick schemes and kids with too much money on their hands, this is a project that really shines by doing things differently and feels wholesome, and this is the main reason why I'm 100% in. I might not make any money on this one, but I love being able to be part of this initiative.
Website | Discord | Twitter | OS | Dune dashboard
Kumo x World Residents

Kumo's world is a world full of fun and adventures, where people can just be silly and be a big kid without being judged. It's an interactive RPG-kind project where participants work together as a team to discover Kumo's world.
I love the artwork and think it's high quality in terms of design. It's the kind of family-friendly, light-hearted design that just makes me happy.
I'm not sure if this project has legs, but the artwork is fantastic in my opinion, and I like the community. Again, this is the kind of project that I can share with my kids. I'm looking forward to children's coloring sheets and stories so we can enjoy these together.
Website | Discord | Twitter | OS
Winter Bears

Winter Bears is a collection of 10,000 adorable polar bear NFTs available on the Ethereum blockchain.
Each bear is completely unique, created using over 150 individual features.
Winter Bears was created with the ambition of raising awareness for the endangered polar bear, an animal so beautiful and majestic whose habitat is quite literally melting away. Therefore charitable work and contributions is also part of the uses of the treasury (although there will be no DAO for now). The team has also donated $40,000 to @shesthefirst and committed another $40,000 to Polar Bears International, while noting that they continue to be charitable in the future.
This is another feel-good project. I feel that the artwork is adorable and among the best I've seen in PFP  projects. There is a wide range of easily distinguishable traits. There is already one major airdrop to look forward to; all Winter Bear holders will also receive a Summer Bear. Moreover, all gas fees will be covered by the project.
A merch store will also be made available for those who want to proudly wear their bears.  The license is non-restrictive, so you are free to do anything you want with them under a non-exclusive license.
Winter Bears was created by a team of DeFi builders who've been contributing to the Ethereum community since 2016.
Perhaps the most interesting aspect of the project for me from a learning perspective, is that Winter Bears is partnered with PieDAO to potentially have the Winter Bears featured in an NFT index, and there is also a bears vault on NFTX. You can stake your Winter Bear to earn with $BEAR, sell your bear w/o a buyer, own a fraction of a bear, or swap your Winter Bear for another Winter Bear in the vault.
There are some notable holders in this project. @punk2476 is the biggest holder of Winter Bears. She hangs out in the discord and brings a ton of positive energy to the community! Another one is @TheShamdoo, the creator of HeadDAO.
The roadmap is a bit weak in my opinion, animations could work but that's a bit of a moonshot in terms of driving monetary value. I'm looking forward to the airdrops announced so far though (Summer Bears and Pixel Bears).
Website | Discord | Twitter | OS | Dune dashboard
Perseverance

Perseverance is a generative art project made up of 500 unique pieces by the artist Giorgio Balbi. There are 4 different types of variations in their algorithms, each type is randomly distributed and the amounts are not equal. The "perseverance" arises from the idea of ​​creating a generative art model that combines multiple variations in its strokes, colors, density and angles, generating different visual textures.
This was my first purchase of a generative art piece, and I bought it because I liked it. There is no utility planned for these artworks beyond owning and displaying it wherever you want. This is the kind of artwork I'd like to have in my house, so I'm happy to own it long-term.
The one downside I see is that not all items in the collection are hi-res, meaning many of them will not be that suitable for printing and hanging on your wall, which is a shame as that is the main purpose for them in my opinion.
Website | Discord | Twitter | OS | Dune dashboard
The Diamond Hands

This is another project where the artwork itself is not the main thing you're paying for. It's a DeFi + NFTs concept. The idea here is to buy and fractionalize blue-chip NFTs and then hold onto them with diamond hands.
The concept of Diamond Hands stems from the cultural significance of someone who doesn't "cave under pressure" and has unwavering conviction in the asset they own. The team is solid, including some punk owners, and the designer is Yanis Georges, a well-known designer on SuperRare. The one thing I'll say is that the website is quite simplistic with grammar mistakes and a lack of refinement in the writing. I know people don't pay much attention to these things, but to me it always suggests a lack of polish and rigor in the person/team.
Unfortunately, the project is off to a rough start with a big decline in value, but I'm still hoping that the next purchases and subsequent fractionalizations will bring some attention back to the project, and hence take the price back up.
Website | Discord | Twitter | OS | Dune dashboard
Blue Chip Projects I'd Love to Invest In
There are certain projects that have been popular for a long time and have pretty stable floors. They tend to cost a lot of money and have made many of their owners rich beyond their dreams.
Here are the ones I'd love to own one day.
Fidenza by Tyler Hobbs

This is an Artblocks project that really blew up on the secondary market. Tyler Hobbs is a well-known artist and this is undoubtedly one of the blue-chip NFTs. Fidenza is stored eternally on Ethereum. Each individual work of Fidenza is a specific constant applied to the Fidenza algorithm. This is the beauty of on-chain, generative, eternal art.
Apart from its investment value, I really like the designs and would love to have a few of these adorning the walls of my house or office. This is one of the examples of projects that people really who aren't familiar with generative art struggle to find value in. I would recommend reading this piece by Tyler to understand some of the work that goes into creating such a project.
Other Artblocks projects that I'd love to own are Ringers, The Currency. These are all examples of generative art projects, and you really need to dig into the process behind their creation to learn how to appreciate them. I do, however, find Fidenza to be aesthetically pleasing even to the untrained eye, so it's my favorite so far from the Artblocks collections.
One other thing I'd say about Artblocks is that some of their projects achieve incredible valuations, while others don't really take off. I don't yet understand the huge differences in valuations so I will be keeping a closer eye on the Discord group and new projects, in order to see if I can learn how to appreciate things better and estimate the value of a project at an early stage. The other issue with these types of projects, especially when their prices go up, is that there is almost no liquidity. Therefore, I'd probably only buy early and buy something I loved and that I would be happy to hang onto for years, rather than try to snag an expensive piece with hopes to flip it in a month or two.
Crypto Punks

This is the ultimate NFT item to own if you want to show to all the world that you've made it. These were originally minted for free a few years ago, and then gained popularity in 2020 and 2021 as the NFT space exploded. Now, many of the holders of space punks have pseudonymous accounts on Twitter and are known to be big influencers. Some go on to create their own projects. It is definitely a project that you need to be in if you want to flex and if you want to meet the wealthiest and best people in the NFT space.
@punk9059 posts daily stats on punk sales and floor. It's a good account to follow to get a quick idea of how cryptopunks are doing, especially if you are looking to find a good entry point.
Some people are extremely bullish about the Crypto Punks. Will they eventually trade for ¢10 million each? We'll have to wait and see.
Further reading: 
Website | Discord | Twitter | OS | Dune dashboard
Bored Ape Yacht Club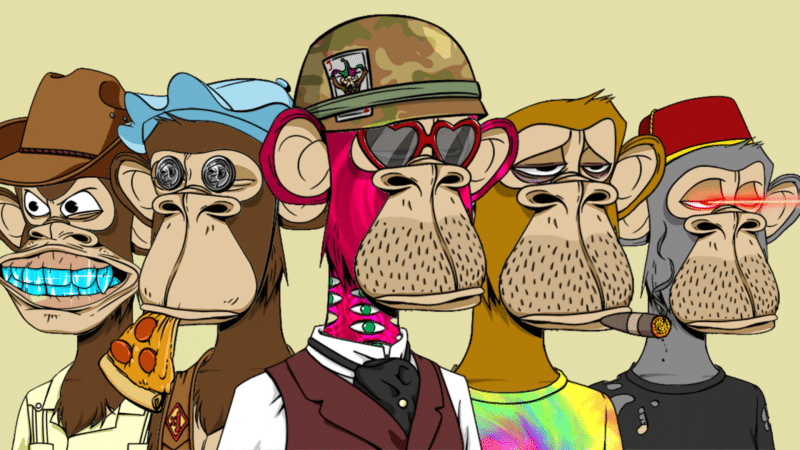 The BAYC were pioneers in the licensing terms they used. They allow commercial use, which led to holders using them in marketing campaigns, swag and even one holder launching his own BAYC-themed beer.
Much of the value in owning a Bored Ape lies in being able to participate in the apes' closed Discord community. Apes are known to grant favors to each other, and owning one of these gives you a lot of clout. BAYC holders have gone on to launch their own projects successfully, again driven by the hype they were able to generate by being BAYC holders in the first place.
The BAYC NFT is also known for creating extra value through airdrops like the Bored Ape Kennel Club.
The associated project Mutant Ape Yacht Club is also a great way to access the BAYC private Discord rooms without actually having a Bored Ape. If you're thinking of making the big leap of getting a Bored Ape but you're not yet convinced of the benefits, I would say that getting a MAYC would be the first stepping stone.
Website | Discord | Twitter | OS | Dune dashboard
Nouns DAO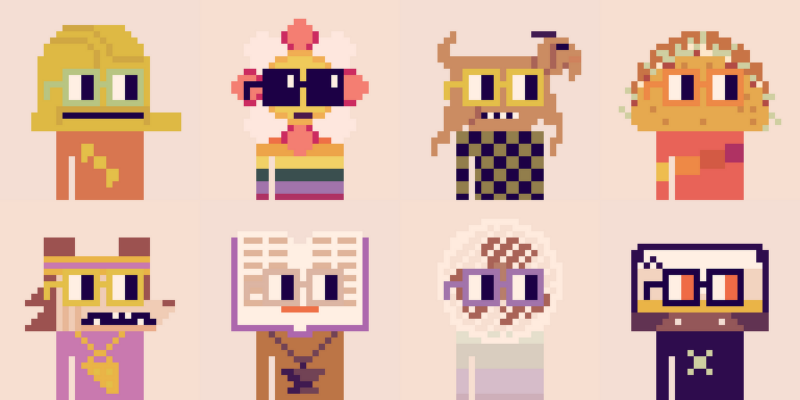 The Nouns NFT project is actually a DAO. The artwork is very very cool, and more importantly, it has been released under an open-source license. Other projects are free to reuse the same artwork, in fact, HeadDAO has already done so.
Nouns are an experimental attempt to improve the formation of on-chain avatar communities. While projects such as Cryptopunks have attempted to bootstrap digital community and identity, Nouns attempt to bootstrap identity, community, governance and a treasury that can be used by the community.
This means that they can be regarded as one of the first players in this niche, and they're banking on that, among other things, to give them long-term value. This project needs some reading to understand properly, so I highly suggest you head over to the Nouns website and read the docs.
Website | Discord | Twitter | OS | Dune dashboard
Autoglyphs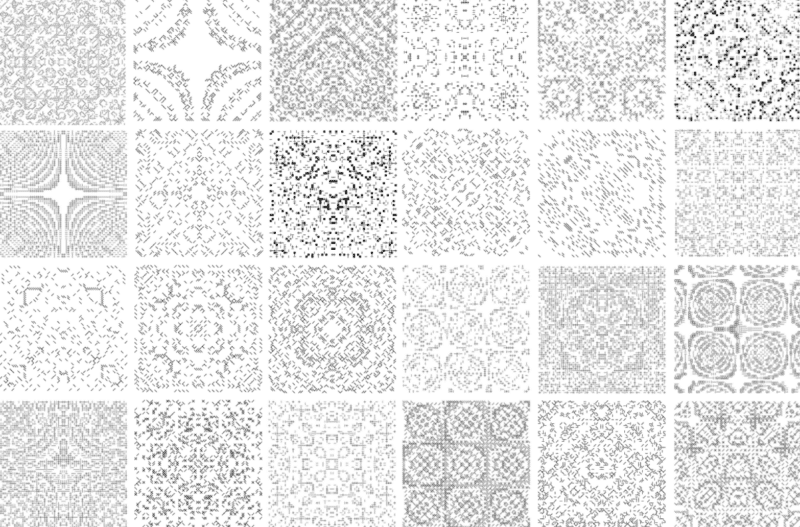 Autoglyphs are the first "on-chain" generative art on the Ethereum blockchain. A completely self-contained mechanism for the creation and ownership of an artwork.
Once Larva Labs deployed the project to Ethereum, they no longer control the code that generates the art, nor the code that manages the ownership of the glyphs. This is a crucial difference from art that is editioned and sold by an artist or gallery. It allows a long-term guarantee of ownership, provenance and edition size that is independent of any central authority.
The Autoglyphs are a highly optimized generative algorithm capable of creating billions of unique artworks, wrapped inside an ERC-721 interface. While ERC-721 is the standard for "non-fungible tokens" (something that the CryptoPunks helped define), it is generally used to manage ownership of digital items stored elsewhere. The key difference with the Autoglyphs is that the art is inside the contract itself, it is literally "art on the blockchain."
This becomes obvious if you examine any glpyh creation transaction on the blockchain. The event data contains the full output of the generator, and hence the artwork itself. See here for an example. It doesn't look like much as hex data, but it encodes a character art pattern. This pattern can then be drawn to a screen or even on paper by following the written instructions in the comments of the smart contract itself.
Website | Discord | Twitter | OpenSea
Upcoming Projects
Projects I've Researched and Discarded
This is a list of projects I've done my research on and decided not to invest, or invested and then exited due to a change in fundamentals or a change in my opinion on the project. Most of these I'd have come across through Discord channels of projects that I'm already invested in.
It will be a fun exercise for me to see how many of these I get right and if I get it completely wrong on others.
Concluding Thoughts
For those who are entering this space for the first time, know that you're still early, even though in crypto it might seem that you're always late. I get that feeling myself because things move extremely fast in crypto. I've seen big fortunes made in a question of months, so it's very easy to feel like you've missed your chance when you start hearing rags to riches stories left, right, and center.
With all my investments, I tend to invest only after doing considerable research about the investment in question. With NFTs things are no different. I choose my projects very carefully and I'm generally not interested in flipping for a few hundred dollars profit within days or weeks of the project's launch. It wouldn't be worth my time to do so and I would miss out on all the learning and enjoyment I get out of being within the various project chats while knowing that I'm a stakeholder and can do my small part in adding value to the community and the project's overall value.
That is why I will continue striving to be in 10-15 projects at any one time as a maximum. More than that and I will lose my ability to monitor the projects. I aim to hold at least 3 tokens in any one project, so that I can sell one or two of them when I see it fit to take profits, without necessarily exiting my position fully. If I only have one token, I find it very hard to sell while I'm in love with the project and the token I hold. That is the reason why many blue-chip NFT (Cryptopunks, BAYC, etc) don't sell even though they could get millions of USD in return.
Ultimately, if you have a really rare blue-chip NFT that you've built your brand around, it's best to just keep it and never sell. Since we're still early, you've got a good chance of the token continuing to rise in value over time, and if you need liquidity, you can already take out loans using your NFT as collateral.
I hope that you've found my thought process and reasoning for my choices useful. Let me know what your favorite NFT projects and use cases are, I'd love to know what you're up to.