If you're living in Spain or visiting for a few weeks, a prepaid sim card is something essential to have. I've done lots of research to find the best price and service, and tried several providers before settling on one that I'm completely happy with.
The best prepaid sim card in Spain: Tuenti.
Tuenti is a virtual operator that also belongs to the biggest phone and internet company in Spain Movistar. They have great prices for their prepaid plans, and since they use Movistar's network the coverage and 4g speed is excellent.
I am currently on their Tuenti LOL 3GB + 50 min GSM + 4G + VD unlimited prepaid plan for 9 Euro/month which is shown below.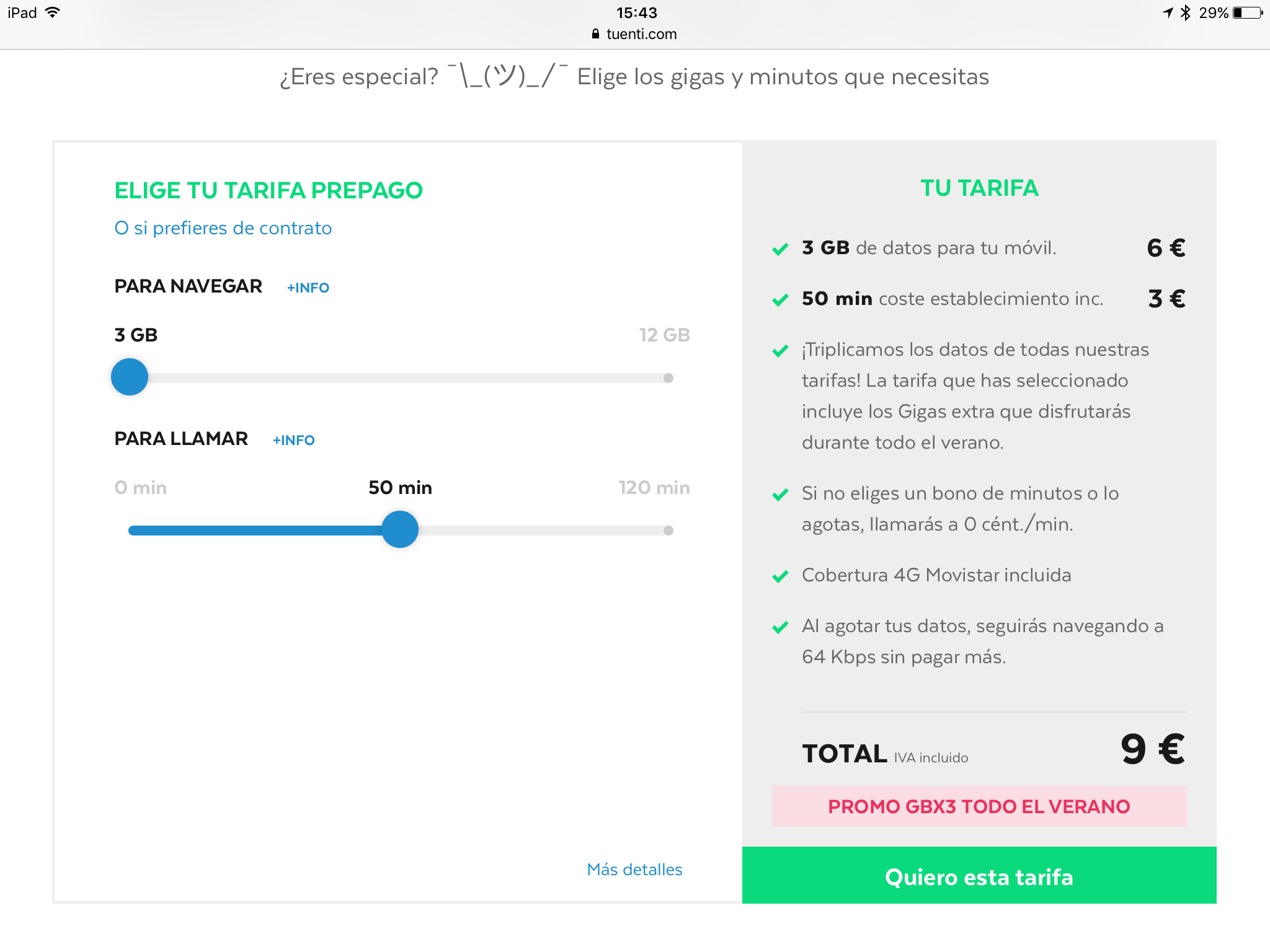 When your data is up, they don't start sneaking in exorbitant charges per MB as other companies do. Instead, you get a 64 Kbps connection which is apt for messaging and email checking. You can, of course, opt to top up your data by purchasing
As from the 15th of June 2017, Tuenti has removed all roaming charges in Europe, so you can use your data and voice plans when outside of Spain just as if you were back in Spain; no annoying additional costs to deal with. I had been waiting for this for a very long time since I travel a lot. Do note that if you phone foreign numbers while in Spain, you will get charged at at more expensive rate. So the new EU regulation only applies if you are calling to Spanish numbers from outside Spain. Many people get confused on this point and are surprised by charges later. If you want to call foreign numbers from Spain, use Tuenti's VozDigital from within the app and the cost will be zero, and it doesn't even use up your data allowance.
Keep in mind that some numbers are charged at different rates. If you're not familiar with the Spanish phone numbering system, I recommend the following links: Link 1 | Link 2 | Link 3.
If you are currently using another mobile phone operator and would like to move to Tuenti, it's a painless process that I've done myself. I was previously using Lycamobile and got tired of their amateurish website, infinite plan variants and lack of a proper mobile app. I then moved to Simyo which was slightly better, but the mobile app still sucked.
That's when I came across Tuenti and instantly fell in love with their mobile app as well as their Voz Digital service. All I had to do when signing up was to indicate that I already had a number that I needed to port over, and they handled the rest. Once you receive your new sim card, it will take around 24 hours for your previous card to stop working and the new Tuenti card to become operational, at which point you just switch sim cards and start enjoying the Tuenti service.