While robo-advisors offering low-cost financial advice or investment strategies are very popular in the United States, Europe has been lagging behind, however we are seeing more popping up every year.
What is a robo-advisor?
A robo-advisor is an online, automated portfolio management service. Because these companies use computer algorithms — a set of rules to choose appropriate investments based on your risk tolerance and time horizon — they can offer robo-advisor services for a fraction of the cost of a human financial advisor. That lower-cost management can translate into higher net returns for investors.
A robo-advisor is a good fit for you if you prefer to be largely hands-off with your investments — letting someone else do the work of building and optimizing your portfolio — and you don't have the kind of complex financial situation that requires a direct relationship with a human financial advisor.
Many robo-advisors have merged computer-driven portfolio management with access to human financial advisors. The level of that access varies: Some services offer a dedicated advisor to individual clients; others offer only email or online chat with a team of advisors. As you can imagine, you'll pay more for the former.
Here are the best platforms I've found in Europe. If you know of any others let me know and I'll have a look at them.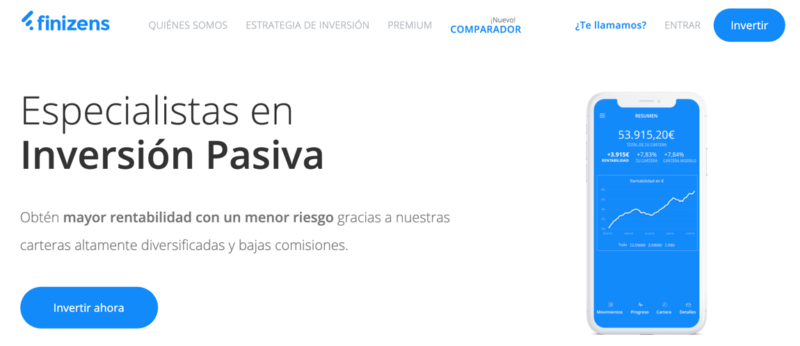 Unfortunately, this platform is only available in Spanish. It is a solid roboadvisor, however. Those who come from the US will surely be familiar with roboadvisors like Wealthfront and Betterment, and Finizens works in a similar fashion.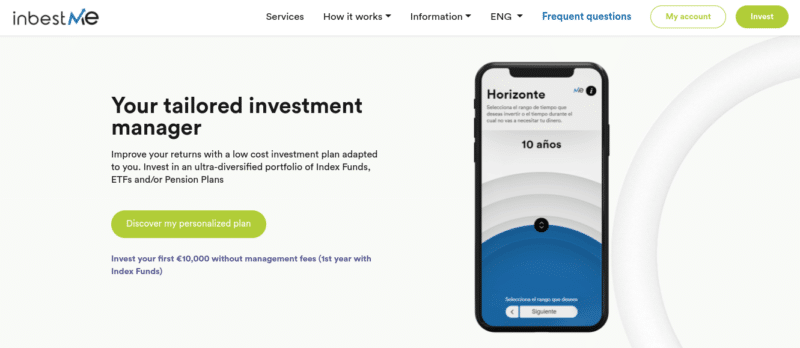 InbestMe is another Spanish roboadvisor platform, with the difference that it's also available in English.
InbestMe is a notable addition to the online passive investment scene. The platform offers reasonable fees, as well as access to a wide range of portfolios. 
As these portfolios are built as per your individual profile, you can find one that best fits your needs. It also offers a range of other financial services that include automated management, rebalancing, and more. 
Most importantly, InbestMe offers a range of safeguards that strive to keep your funds secure. 
Read my full review of InbestMe for more information about this platform.
Ultimately, if you are looking to invest in the financial markets on more of a hands-off approach, and you know what your investment goals are – then InbestMe is worth considering. 
Indexa Capital
This platform is based in Spain but available to European investors. While it is a very good platform, I find their decision to exclude residents from Cyprus and Malta from their platform particularly distasteful and ignorant. Both of these countries participate fully in European information sharing and excluding them as if they were on some blacklist like other countries that fail to comply with information sharing does not make any sense. I enquired directly with them about their motives and they told me that it's an internal policy they have to combat money laundering. I think it's complete BS.
Apart from that, it's a great platform that I would otherwise recommend. Until they fix their terms however I will give this platform a miss, because it just doesn't sit right with me that they would take such a decision to exclude innocent investors based on some false ideas they have in their heads.