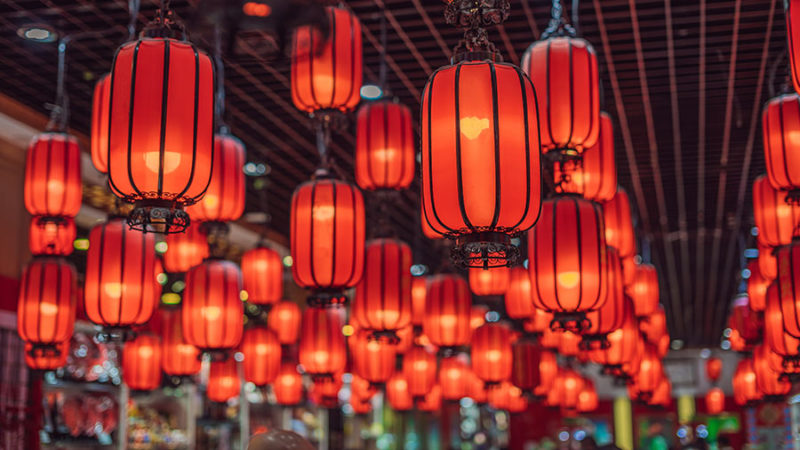 Anyone who claims they are an expert on Bitcoin price prediction is lying. There is no way to accurately guess the future of this volatile cryptocurrency. However, it sure is fun to try. Through analyzing past market trends, and looking at a few present-day indicators, it is entirely possible to create an educated guess regarding Bitcoin's hopeful future.
For example, the last five years surrounding the Chinese New Year always involved a Bitcoin dump of some sort. Now, as the market currently takes a downward turn, analysts once again point the finger at this event in addition to the upcoming USA tax season.
Bitcoin price prediction: How did BTC react to Chinese New Year in years past?
Nothing in the crypto market is predictable or guaranteed. The Chinese New Year Bitcoin dump comes pretty close though. Since 2016, the price of BTC dropped at least 5% in the weeks leading up to Chinese New Year. The theory behind this is Chinese miners sell their Bitcoin profits in order to pay for the famous large festivities that surround the Chinese New Year. Let's take a look at the numbers.
*Price data from Gemini
So the numbers don't lie…but why? Why are the Chinese always dumping before the lunar new year starts? Well, it's quite simple. Like any new year celebration around the world, the Chinese New Year is a public holiday. Hence, millions of people in the country are off work and traveling back to their hometowns to be with families. Factories shut down, storefronts close, and simultaneously, the entire population of 1.385 billion people starts to spend money on transportation, gifts, food, and more.
Now, of course not all the 1.386 billion people of China own Bitcoin but as seen via the numbers, enough do to make a negative impact on a yearly basis. China has one of the largest populations of Bitcoin miners on the planet so when Chinese Bitcoin miners decide to make a move all at once, the effects are felt on a global scale.
When exactly does the price of BTC drop before Chinese New Years'?
So this is where it gets a bit tricky. If you are trying to time the market, and open a short position ahead of this year's Chinese New Year on February 12th, you may have already missed the opportunity…or maybe not.
Let's check out some charts: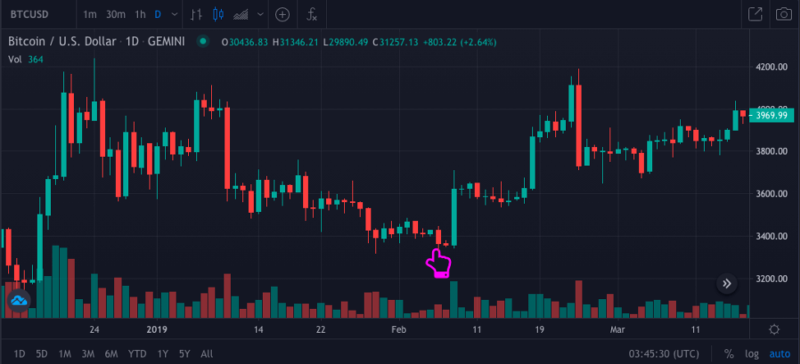 The above chart is from 2019. This year, the Chinese New Year was February 5th (where the little pink hand is). So almost like clockwork, the market dumped 15.7% leading up to this exact holiday before reversing direction and going bullish.
Now, if that same situation plays out again this year, then we have another couple of weeks of downward activity until we start seeing a trend reversal (potentially). But wait, there's more.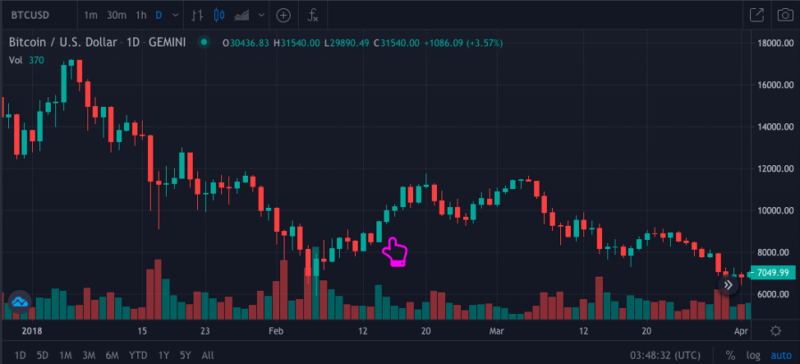 In this chart from 2018, the Chinese New Year occurred on February 16, 2018. As you can see by the pink hand, the trend started reversing several days prior to that exact date. Hence, it's quite difficult to time just when exactly the market will go up in 2021.
At the time of writing this article, it is continuing in a downward trend, which everyone predicted but the hard part is trying to time when it will go up again, before Chinese New Year, immediately after, or will it be a delayed growth? This is up for you to decide.
Bitcoin price prediction: USA tax season dump
If you missed out on the Chinese New Year dump this year (that is assuming it's over), then don't worry. You have another great dump to look forward to this year. Or do you? Unlike the last example, the USA tax season dump is not consistently backed by chart evidence. Instead, it's merely a small-time FUD dump that sometimes occurs but it's never guaranteed.
The logic is that traders sell crypto before tax season in order to pay off a portion of their capital gains tax. Also, as tax season comes, people get nervous or confused how to file cryptocurrency so they just sell their entire portfolio to try and avoid the complicated process altogether.
But 2021 may be different. Due to a plethora of handy crypto tax software programs, filing crypto taxes has never been easier. Also, due to the Covid-19 pandemic, the US government is handing out stimulus check after stimulus check right around tax time.
So with the combination of easy to file crypto taxes, and more "free money" coming from the U.S. government, we may not see a tax dump at all this year. In fact, we may see the exact opposite come April. With the stimulus money, tax return money, and Bitcoin's heightened media presence this year, it's quite possible we see a buying frenzy instead of a dump like years past.
Make your Bitcoin price prediction on YouHodler this year
Whether you think the Bitcoin market will keep going down or return to its bullish behavior, you can find a way to capitalize via YouHodler. YouHodler's Bitcoin wallet allows you to:
Get instant crypto-backed loans – Use the loan to buy the Bitcoin dip!
"Turbocharge" Bitcoin – Multiply your BTC up to 6.5x with the click of a button
Multiply Bitcoin in either direction – Open an "up" or "down" position with Multi HODL to multiply Bitcoin in both bullish or bearish markets. Enjoy free leverage up to x25.
Bitcoin interest accounts – Earn 4.8% APR + compounding interest
All these tools will help you maximize the profit potential from your Bitcoin price prediction. There are several factors supporting theories in both directions os as always, do your own research and make your own informed decision but when you do, head to YouHodler.com or download the app to try their wide range of crypto finance features.