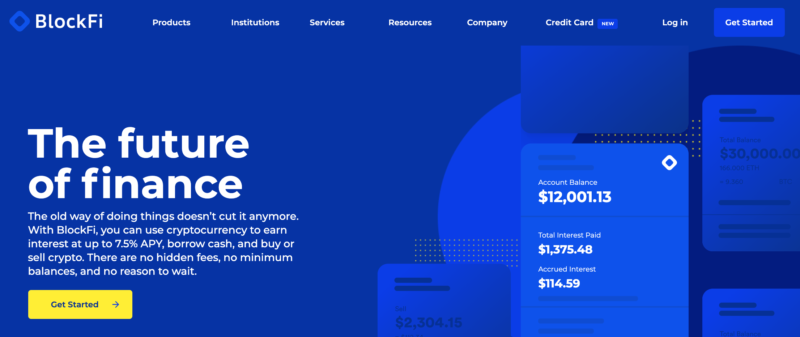 Earn interest on your crypto with BlockFi
Thanks to the rising popularity of cryptocurrencies –  we have seen a growing number of crypto lending providers emerge over the past few years. BlockFi is one such platform that allows you to make the most of your crypto holdings by expanding its use cases.
In this review, I take a deeper look into BlockFi to offer you an in-depth analysis of its different financial products. I will also walk you through the process of setting up an account with the platform to start making passive income on your crypto investments.
Founded in late 2017 by Flori Marquez and Zac Prince, BlockFi is a US-based centralized crypto finance company. Its products stretch across multiple categories – ranging from crypto-collateralized loans and interest-bearing accounts for your cryptocurrency deposits.
BlockFi allows you to gain access to cash without having to sell or trade your crypto holdings. As a result, you can bypass the hassle of going through traditional banks, reducing the costs and potentially avoiding a taxable event.
Over the course of five years, BlockFi has grown rapidly as a leading cryptocurrency lending platform. The company was set up with a vision to bridge the gap between the conventional world and blockchain technology – to offer better financial services on a global scale.

What makes BlockFi unique is that it is one of the few companies among blockchain and cryptocurrency startups to secure billions of dollars from numerous institutional and crypto-native investors. These include prominent names such as Susquehanna Government Products, Bain Capital, Morgan Creek, Coinbase Ventures, and Winklevoss Capital.
In 2021 BlockFi also became the company to take on one of the largest investment amounts to date among crypto startups by raising $350 million in Series D venture capital funding. The deal brought the platform's private valuation to $3 billion.
In other words, it is evident that the company has strong backing from the crypto industry. Another aspect to notice about BlockFi is that unlike its competitors in the DeFi industry, BlockFi does not have an ecosystem fueled by digital tokens.
This means that you do not have to buy or stake any coins to unlock the full features of this platform. Instead, the services and rates on offer are fairly straightforward and transparent. BlockFi currently serves users worldwide and in 49 states in the US, except for New York.
BlockFi Products
The financial products of BlockFi can be broadly classified into two – the first category is for individual users, and the second is for institutional clients.
I'll start with the features applicable to individual crypto investors.
BlockFi Interest Account
BlockFi Interest Accounts (BIA) allow you to earn money on cryptocurrencies such as the likes of Bitcoin, Litecoin, Ethereum, as well as numerous stablecoins. As a user, all you need to do is deposit your digital assets into this platform. In doing so, BlockFi will automatically pay you market-leading interest rates on your crypto.
The interest will start accruing from the next day you make the deposit and will be added to your account at the beginning of every month. BlockFi has no lock-up periods in place for your deposits – meaning you will be able to make withdrawals any time you want.
Currently, BlockFi offers BIA accounts for the following cryptocurrencies and stablecoins:
Bitcoin
Ethereum
Litecoin
LINK
GUSD
USDT
PAX
USDC
PAXG
BUSD
How Much Interest Can You Earn?
Now, the main question is how much you will receive in interest? At the moment, BlockFi offers a maximum of 8.6% APY on your assets. However, this will differ depending on the type of crypto you deposit as well as the amount. For instance, this annual interest rate of 8.6% is only applicable for USDC, BUSD, GUSD and PAX.
On the other hand, among traditional cryptocurrencies – Bitcoin and Ethereum deposits will only yield you a maximum of 5% and 4.5%, respectively. Furthermore, the interest rate you receive will also be determined by the BlockFi Tier you are on.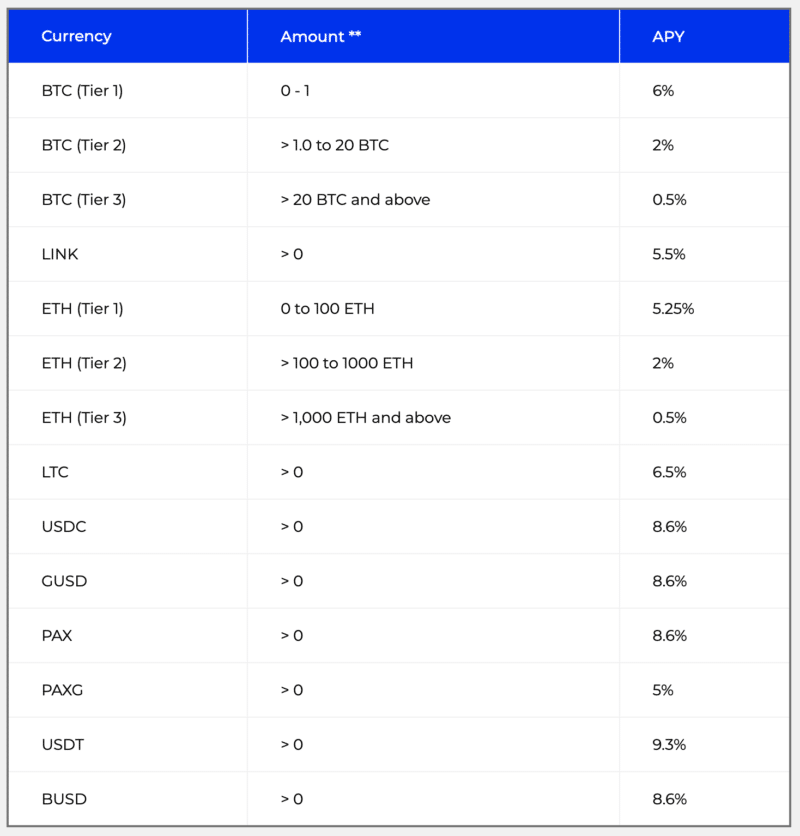 To elaborate, BlockFi has three tiers of interest rates for BTC and ETH. For instance, if you deposit 30 BTC:
the first 0,5 BTC will get you 5% APY,
the next 19.5 BTC will earn 2% APY, and
the remaining 10 BTC will yield 0.5% APY.
Similarly, there is a tiered structure set up for Ethereum deposits as well. Other than that, opening a BIA on other assets will enable you to earn flat interest rates no matter the amount you deposit.
How BlockFi Pays You Interest
BlockFi lends your assets to trusted institutional and corporate borrowers and charges them interest. In turn, the platform takes a part of these returns before depositing the rest of the amount to your accounts. As such, this operates in a similar nature to P2P lending platforms.
In order to protect your deposits, BlockFi has devised an automatic risk management system to prioritize client funds and monitor outstanding loans 24/7. Further, the platform has also implemented overcollateralized terms for each loan. This way, if at all there is any unforeseen damage, BlockFi apparently will take a loss before you do.
However, it is imperative to make a note of the fact that the BlockFi Interest Account is not insured with a protection scheme like the FDIC or SIPC.
BlockFi Crypto-Backed Loans
When compared to traditional banking methods, obtaining a loan against your crypto assets through BlockFi will feel like a breeze. All you need to do is to post your digital coins as collateral, and the platform will let you borrow US dollars or stablecoins against it. At the moment, you can borrow USDC, GUSD, and PAX against your deposits.
As you can clearly see, the biggest benefit is that you can unlock returns on your crypto investment without having to sell your digital assets. However, BlockFi tends to overcollateralize its loans. As such, the maximum you can obtain is only 50% of the value of your collateral.
There are three types of crypto-backed loans available on BlockFi:
50% LTV with an interest rate of 9.75%
35% LTV with an interest rate of 7.9%
20% LTV with an interest rate of 4.5% (applicable only for BTC-backed loans)
How to Pay Back the Loan?
BlockFi does not mandate that you need to pay back the loan in terms of the asset you borrowed. Instead, you can choose one of the following options.
Collateral Liquidation – You can sell a portion of the crypto collateral at the current market price to pay off the loan
Stablecoins – By depositing stablecoins or transferring from your BlockFi balance
Wire or ACH transfer
You also have the option to refinance your loan at any point by adding more collateral. This will help you borrow more money or extend your payback period.
In addition, if possible – you can also make the full or partial payment before the loan term ends and reduce the interest you have to pay. Once the loan is paid off, your entire collateral will be released to a wallet address of your choosing. This will, of course, include any gains from price appreciation of your asset.
BlockFi Trading Account
BlockFi trading was a feature added later in 2020, allowing clients to buy, sell or trade cryptocurrencies without having to pay any transaction fees. To put it simply, you can use this tool to exchange your different assets within the BlockFi system.
Most importantly, BlockFi allows you to earn compound interest on all your assets. Once a trade has been executed, the new coin will be considered as a deposit, and you will start earning returns on the funds right away.
BlockFi Recurring Trades
If you want to place trades in a timely manner, BlockFi also allows you to automate your purchases. You can set this up on a daily, weekly, or monthly basis. As I discussed earlier, this can be an easy way to make regular investments and earn interest on the funds without having to make the purchase manually.
Currently, BlockFi does not support a fiat buy/sell option. Therefore, you will have to compromise for a stablecoin such as USDC or USDT or make use of a different cryptocurrency trading app.
BlockFi Institutional Products
The financial products we discussed above are targeted primarily at individuals. If you are a professional market maker, investment fund or crypto business, you might benefit from the following institutional services provided by BlockFi.
Financing Solutions for Institutions
BlockFi has set up an exclusive Global Digital Markets solution to allow traditional investors to borrow USD or other digital assets against their crypto. When compared to typical crypto-back loans – these offer you much more flexibility by giving you an opportunity to negotiate the terms and rates.
BlockFi offers customized lending products in US dollars, stablecoins or cryptocurrencies that can fit your specific business needs.
BlockFi OTC Desk
BlockFi has set up OTC desks in the US and Asia that can connect you to dedicated traders. They will execute trades of large-cap cryptocurrencies such as Bitcoin and Ethereum, and will send the purchased crypto to the client's wallet address.
BlockFi Trusts
BlockFi has created Bitcoin, Ethereum, and Litecoin trusts to make the investment process easier for institutional investors.
Corporate Treasury Solutions
BlockFi offers this feature for companies to optimize their balance sheets to navigate the current crypto-financial landscape more efficiently.
If you need access to any of these solutions, you can reach out to the BlockFi team to get tailored services for your organization.
BlockFi Bitcoin Rewards Credit Card
The BlockFi Bitcoin Rewards Credit Card is the latest product offered by the platform. Holders can use the card to make purchases online, and in turn, receive incentives.
The card can give you access to the following perks:
Earn 1.5% crypto back in Bitcoin for every purchase
Earn 2% crypto back for every purchase over $50,000 annually
Earn 3.5% crypto back for the first three months of owning the card (introductory offer)
2% APY bonus in Bitcoin on your stablecoin deposits
0.25% trading bonus
$30 in Bitcoin for new client referrals
No annual fee or registration fee
Now, the most exciting feature of this card is that BlockFi enables you to earn interest on your Bitcoin rewards. BlockFi has also made the option possible for the general public. So even if you do not have a BlockFi account, you can apply for this card and join the waiting list. All you need to do is provide your email address.

Until the card is actually being distributed, there is no way of knowing how effective this feature is. Nevertheless, the prospect seems promising, especially considering the rewards involved.
If you are 18 years old or over, you are eligible to open a BlockFi account. However, some of the features might be restricted depending on your location.
Here is how you create your account on BlockFi:
Visit the BlockFi website or download the BlockFi app on your mobile device
Create your user account by providing information such as your full name, email address and a strong password
Verify your identity through the KYC/AML process by providing the required documents – such as a copy of your passport and a utility bill
Make a deposit from your crypto wallet or bank account
Start earning interest on your holdings right away, or use your assets as collateral to obtain a crypto loan
The BlockFi interface is relatively user-friendly. As such, even if you haven't used a crypto lending service before, you will have no trouble finding your way around the platform's features.
BlockFi Fees
BlockFi does not charge you any additional fees to access its features. You will only have to pay the agreed interest rate and the origination cost when you take out a loan. And as I have discussed above, this will vary depending on your chosen collateral and the LTV.
The only administrative fee you will come across is for withdrawals. BlockFi allows you to make one free withdrawal per month. After that, you will be liable to pay a certain amount based on the asset you are withdrawing.
There is also a withdrawal limit that changes from one cryptocurrency to another. To give you an idea, you can withdraw up to 100 Bitcoin per 7-day period, and this will cost you 0.00075 BTC in fees.
BlockFi Customer Service
BlockFi has perhaps one of the most extensive customer service systems among cryptocurrency platforms. Not only do they have a Help Centre with an abundance of useful information, but you can also receive support through live chat or the telephone. In addition, you will also be able to find several email addresses that can cater to your specific needs.
BlockFi Security
BlockFi holds over $14.7 billion in client assets on its platform. And until now, there have been no security threats that have ended up in a loss of funds. The company has set up clear guidelines and systems to make sure that your funds are protected under all circumstances.
According to the platform, 43% of these client assets are stored with third-party custodians. 20% is being held in liquid investments, and the remaining 37% is used as collateral for lending or other hedging activities.
The only trouble BlockFi has experienced was in 2020 when some client information was leaked. In March 2021, there was another spam attack; however, neither resulted in account holders losing their assets.
Nevertheless, the fact remains that BlockFi is a custodial app, and your funds are not insured by any party. Therefore, it is always suggested that you do your homework before investing your assets into this platform.
BlockFi Alternatives
BlockFi is one of the best options for a Bitcoin and Crypto Interest Account. My other favorite crypto lending platform where you can earn interest on your crypto and also obtain loans by providing crypto as collateral is YouHodler.
YouHodler has managed to make crypto-HODLing an active strategy. For investors, access to a crypto-exclusive savings account and interest-bearing loans are preferable ways to expand your portfolio.
BlockFi Review – The Verdict?
BlockFi has been successful in creating investment opportunities for crypto enthusiasts. It gives you the ability to earn crypto interest instead of merely storing the funds in a digital wallet. This is all without having to let go of your ownership of the asset.
The platform is also coming up with innovative ways for you to benefit from the cryptocurrency ecosystem through its Bitcoin Rewards Credit Card.
In fact, considering what it offers and the fees involved, BlockFi is certainly one of the leading cryptocurrency lending services available today. Regardless, when investing your assets with any third-party services, you should always perform due diligence and proceed with caution.
Earn interest on crypto with BlockFi
Summary
BlockFi is one of the most serious and reliable crypto lending platforms, and it allows you to earn interest on the cryptos that you hold. You can also take out loans using crypto as collateral.
Pros
Regulated in the U.S.
High level of transparency
Solid team
Great track record
Cons
You need to put your crypto in BlockFi's custody while using their products.