In the past, one of the main issues with holding cryptocurrencies was that other than a price increase, there was no additional value from yields. If you buy stocks with dividends, you make gains throughout the year. But, with digital assets, if the price goes down, any value gained is lost. You could hold onto cryptocurrencies for years and fail to make significant increases.
At the moment, you likely store your cryptocurrencies in a secure wallet with established online exchanges such as Kraken, Kraken, or Binance. You might also be practicing self-custody with hardware wallets or mobile wallets. The main problem with just holding your cryptos is that they don't provide any fixed returns.
But that's all changing.
Now, it's possible to earn from your cryptocurrency holdings and, compared to traditional savings accounts with fiat currency, the interest rate for crypto savings accounts are generous and compounded.
And no matter what the price of your crypto asset, you earn interest regardless.
There are crypto-lending platforms where you can apply for a loan with your cryptocurrency as collateral without liquidating it, therefore retaining the value and gains of your cryptos. On the same platforms, you can put your cryptos in a savings account and earn daily interest.
Today's article features two of my favorite crypto-financial platforms, Ledn and BlockFi. I'm happy with both of them, although they're slightly different.
Ledn provides Bitcoin-backed loans, Bitcoin and USDC savings accounts, and a B2X account where you can double your Bitcoin holdings. BlockFi offers crypto interest accounts, crypto-backed loans and trading accounts for a range of cryptocurrencies as well as Bitcoin.
Both cryptocurrency financial platforms are two of the best established online companies for making the most of your crypto holdings.
How to Earn Compound Interest on Your Crypto
BlockFi and Ledn both offer compound interest on crypto saving accounts.
Compound interest is incredible for building up your financial assets. The longer you can leave your cryptos to compound, the greater the long-term rewards. As interest compounds, your holding balance increases.
Let's say you start with $1000 of Bitcoin, and the monthly interest rate is 5% (this is not reflective of BlockFi's or Ledn's current rates). At the end of the month, you have $1050 of Bitcoin, so your interest now compounds from this amount.
The above is a simplified explanation and doesn't account for the changing prices of Bitcoin or other cryptocurrencies. But it gives you a general idea of how compounding works.
What Do Ledn and BlockFi Do with Account Assets?
Typically such platforms lend assets held in Interest Accounts to trusted institutional and corporate borrowers so that they can generate interest from the loans.
They have an automated system monitoring positions 24/7 and can terminate a loan quickly if need be. The way the risk-management system is structured means that the platform would incur a loss before their clients.
There are a few differences between the two companies, which I will highlight and discuss in this article.
First, we'll look at BlockFi.

BlockFi is an independent lender with institutional investment backing. The list of investors include:
Valar Ventures
Galaxy Digital
Fidelity
Akuna Capital
SoFi
Coinbase Ventures
BlockFi established in 2017 founded by Zac Prince and Flori Marquez. They quickly built a robust and popular crypto financial platform. They have offices in New York, New Jersey, Poland and Argentina. BlockFi's primary custodian is Gemini Trust Company LLC.
BlockFi states its vision is 'to bridge the worlds of traditional finance and blockchain technology to bring financial empowerment to clients on a global scale.'
You can read my review of BlockFi for a deep dive into how BlockFi works.
BlockFi offers three products:
BlockFi Interest Account (BIA)
Crypto-backed loans
Trading account – buy and sell cryptocurrencies
BlockFi Interest Account (BIA)

If you store your crypto with BlockFi, you can earn compounding interest on a selection of cryptocurrencies, including Bitcoin.
At the time of writing (June 2021) the below are details of available BlockFi crypto interest accounts and current BlockFi interest rates
| CRYPTO | INTEREST RATES JUNE 2021 |
| --- | --- |
| BTC | 0.5% to 5% (3 tiers, depending on the volume of BTC) |
| ETH | 0.5% to 4.5% (3 tiers, depending on the volume of ETH) |
| LINK | 4.5% |
| LTC | 5.5% |
| PAXG | 4% |
| USDC | 8.6% |
| GUSD | 8.6% |
| PAX | 8.6% |
| BUSD | 8.6% |
| USDT | 9.3% |
As you can see, BlockFi interest rates are desirable compared to traditional fiat currency rates.
There are no minimum deposit requirements. Interest accrues from the day after you deposit your crypto with BlockFi, and interest payments go out the last day of the month. Interest compounds daily.
Your crypto is not tied in, and you can withdraw at any time. BlockFi process withdrawals in 1-2 business days.
BlockFi offers Interest Payment Flex, which means you can have account interest paid in a different currency to the one deposited. For instance, you may have BTC in your interest account but choose to receive interest payments with ETH, thus building your Ethereum holdings.
It takes less than a few minutes to open an account with BlockFi and start earning with your cryptocurrencies. Naturally, there is a KYC process, but following that, BlockFi sends a confirmation email, and you are ready to start earning interest from your crypto holdings.
You can work out the potential interest from your BlockFi crypto savings account as there is a calculator on the BlockFi crypto interest account page.
The BlockFi interest account is available globally, with just a few exceptions.
BlockFi Trading Account

You can trade cryptocurrencies on BlockFi with no fees, buying and selling your assets on their interface. You can trade or exchange the most popular cryptos, and the price you see is what you pay. You can even trade with the crypto held in your BlockFi interest account.
When you submit a trade, you immediately start earning interest on the new asset. For instance, if you buy ETH with dollars, you will earn interest at the ETH rate right away.
You can, if you wish, set up automated recurring trades, and there is no settlement time on trades. The flexible system means that if you bought BTC on 1st January and convert it to ETH on 15th January, on the 1st February, you earn:
14 days interest on BTC
16 days interest on ETH
BlockFi Crypto-Backed Loans

Usually, if you want to free up cash, you'd have to liquidate some of your crypto holdings, thus losing the potential value of future gains from your cryptos.
With a BlockFi crypto-backed loan, you can borrow up to 50% of the value of your crypto. If therefore, you have $5000 of Bitcoin, you can borrow $2,500.
The loan rates are as low as 4.5% APR, and you can pay back a portion or the entirety of the loan at any time without incurring penalty fees.
Plus, there are no taxes to pay on your crypto holdings as long as you pay the loan back!
You receive your funds on the same business day as approval.
BlockFi Rewards Visa Signature Credit Card

BlockFi has partnered with Visa to offer the BlockFi Visa Signature Credit Card, which is soon to be released. The Visa card will pay cardholders 1.5% back in Bitcoin for every purchase made.
BlockFi recently announced they are scrapping the annual card fee, and there are no foreign transaction fees.
For the first 90 days, BlockFi credit cardholders will receive a generous 3.5% Bitcoin rewards rate. And, once you have spent over $50k, BlockFi offers a further 2% Bitcoin reward for every dollar spent.
If you hold Stablecoin assets (GUSD, PAX, or USDC), you can earn up to an extra 2% on top of the current Stablecoin APY.
If you trade cryptocurrencies on BlockFi, you will earn 0.25% of your trading volume back in Bitcoin (maximum up to $500 per month). And if you refer a friend to the BlockFi Visa signature credit card, they give you $40 of Bitcoin for each of the first four referrals and $50 for every referral after that, with no limitations on how many people you may refer.
Undoubtedly, BlockFi is a superb financial cryptocurrency platform with many happy clients. I've also had BlockFi on my podcast, so make sure you check out that episode too.
Sign up to BlockFi ($250 bonus)
Now, let's take a look at Ledn and compare services.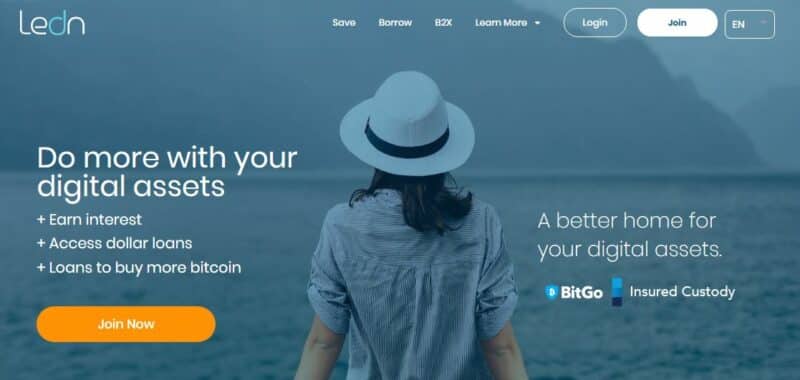 Ledn is a Canadian company founded in 2018. They have insured custody from industry leader BitGo and the backing of Genesis Capital.

The Ledn platform is Bitcoin-specific and also USDC as its stablecoin. You can read my full review of Ledn for more information.
Ledn offers three products:
Bitcoin-backed dollar loans
Bitcoin and USDC savings accounts
Bitcoin balance doubling service (B2X)
Ledn Bitcoin-Backed Loans

Ledn Bitcoin-backed loans are similar to BlockFi Bitcoin-backed loans. You use your Bitcoin as collateral and receive a dollar loan. The loan terms are for twelve months but can be paid back earlier without penalties. As with BlockFi, you can borrow up to 50% of your Bitcoin holdings, and the minimum loan is $500.
When you pay the loan, your Bitcoin returns to you.
It's easy to apply for a Ledn Bitcoin-backed loan. All you have to do is provide proof of identity. Approval is fast, and funds are usually available within 24-hours.
Ledn Bitcoin and USDC Savings Accounts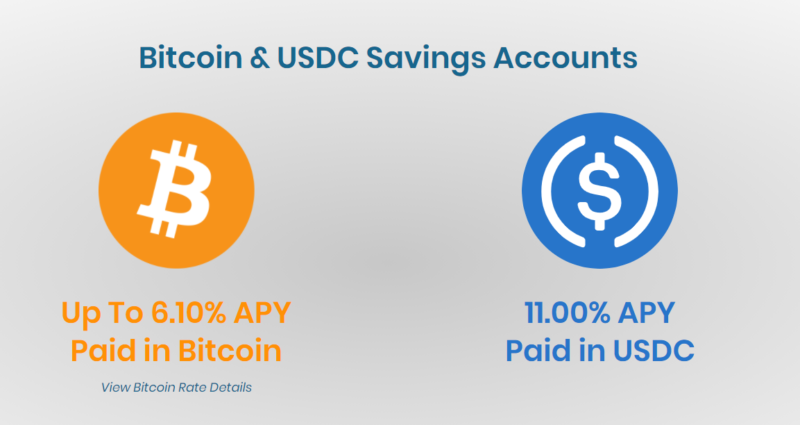 Interest on a Ledn Bitcoin savings account could be as high as 6.10% APY (annual percentage yield) and paid in Bitcoin. There is no minimum balance requirement for a Ledn savings account. Bitcoin blockchain withdrawal fees are deducted automatically.
For the USDC savings accounts, interest is up to 11% APY and paid out in USDC. There is a $10 withdrawal fee regardless of the withdrawal amount.
B2X: Bitcoin Balance Doubling Service
The B2X service is a way to double your Bitcoin holdings. B2X is a combination of a Bitcoin-backed loan and an equal amount of purchased Bitcoin.
Ledn have a B2X calculator on their website so you can check potential gains.
You can repay the loan at any time. It's the same as a stand-alone Bitcoin-backed loan with Ledn, though you cannot make partial payments to clear the loan. It must be paid in full with one payment.
Ledn Proof of Reserves Standards

Ledn launched the Proof of Reserves Standards (PoRS) at the beginning of 2021.
With PoRS, Ledn can prove how much Bitcoin they can spend without having to move funds. Proof of Reserves means that Ledn is financially viable and can prove they have enough Bitcoin to support the Ledn platform.
I've also had Ledn on my podcast, so make sure you check out that episode.
Ledn or BlockFi Alternatives
Ledn is one of the best options for a Bitcoin-specific loan or Bitcoin savings account, and BlockFi is one of the best for Bitcoin and other cryptocurrencies loans and savings.
But another of my favorite crypto lending platforms is YouHodler.

Similarly to Ledn and BlockFi, you can earn interest on your crypto holdings with a savings account with YouHodler or use your crypto as collateral for a loan.
Ledn vs BlockFi Review – The Verdict
The main difference between Ledn and BlockFi is that Ledn is Bitcoin-specific. Though, Ledn states they have plans to add more cryptocurrencies in the future. The other main difference is that Ledn is the only one that offers Bitcoin home loans/mortgages.
BlockFi offers a range of leading cryptocurrencies with 3 tier interest structures for ETH and BTC, depending on deposit sizes.
It is quick and straightforward to open an account with Ledn and BlockFi.
Customer reviews for both platforms are of equal standard.
Both platforms approve Bitcoin-backed loans quickly, and funds are available the same day. Ledn shows a monthly interest fee of 0.79% per month, and BlockFi suggests their interest fees on loans are as low as 4.5% APR.
Ledn were the first to launch proof or reserves standard, which BlockFi does not yet have.
BlockFi is launching a BlockFi Rewards Visa Signature credit card. The date is TBC. You can earn rewards for referring others to sign up for the card and apply to the waiting list now.
Both platforms are secure and have significant backing from industry-leading investors.
BlockFi provides a 24/7 trading platform with real-time streaming quotes. At this time, Ledn does not offer trading facilities. The flexibility of the BlockFi trading platform is unique in that when you buy a crypto asset, it automatically earns interest. And you can exchange that crypto for another at any time and earn interest on the new crypto asset.
Currently, Ledn offers higher interest on USDC savings accounts than BlockFi.
You can access both Ledn & BlockFi services via the website or download the apps from Google Playstore or the App Store.
In my opinion and experience, neither crypto financial platform is better than the other. Both are secure platforms and do a great job. Overall, the main difference is that Ledn purely offers Bitcoin services, and BlockFi has the trading service and the upcoming rewards Visa card. Other than that, they are both efficient and trustworthy sites for maximizing your crypto holdings.
Below is a quick reference to compare the services of BlockFi and Ledn.
BlockFi and Ledn Differences in a Snapshot
| Service | Ledn | BlockFi |
| --- | --- | --- |
| Bitcoin Backed Loan | 0.79% monthly | As low as 4.5% APR |
| Partial payments on a loan | No | Yes |
| Same day funding | Yes | Yes |
| Bitcoin Savings Account | Up to 6.10% | Up to 5% |
| USDC Savings Account | 11% | 8.6% |
| Compound Interest | Yes | Yes |
| Trading Account | No | Yes |
| Bitcoin Doubling | Yes B2X | No |
| Range of Cryptocurrencies | Bitcoin only | Yes |
| Credit Card | No | Coming Soon |
| Proof of Reserves | Yes | Not Yet |
| Partner Program | No | Yes |
| Blog | Yes | Yes |
| App | Yes | Yes |
Please note that the above information is not providing advice on tax, investment, or financial services. I provide the above information without consideration for risk tolerance and a specific investor's financial circumstances.
Trading or investing in financial instruments such as Forex, stocks, ETFs, futures, or commodities may not be suitable for all investors. It does involve risk and the possibility of a loss of capital.