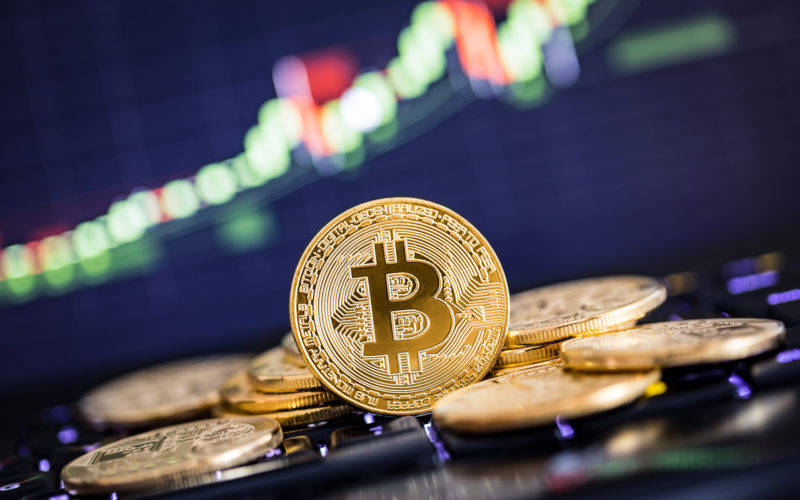 Here's why I think Bitcoin is a good buy in 2020.
The Bitcoin price is following the 2016 trend, which is a good sign. I strongly believe we are going to be seeing new all-time highs in the coming months, and I'm also very bullish long-term, where I see the price going up to $100,000 in the next 2-3 years.
Read on to learn about some of the reasons why I think this is so, but if you're already convinced and just want to get started with Bitcoin, here are some quick recommendations.
You can buy Bitcoin from these exchanges:
They are the world's safest and most reputable exchanges and you can't go wrong with them.
I've also written a guide on how to buy Bitcoin in Europe.
Once you have your Bitcoin, you can purchase a Ledger Nano to store that Bitcoin offline and away from any hackers.
If you're more inclined to trading, you can check out platforms like eToro or Bitfinex, and if you just want to hold your Bitcoin while earning good returns, you can check out some crypto platforms that offer a savings account. My favorites at the moment are Blockfi and Youhodler, but you can learn more about those options here.
Ok, with those recommendations out of the way, let's proceed with the reasons why I think Bitcoin is the best investment of our generation.
COVID Effect
Bitcoin and other crypto-assets have taken a huge tumble in March 2020.
For the first time, we saw a correlation between the stock market and crypto assets, dealing a blow to the narrative of crypto being an uncorrelated asset and its usefulness as a hedge against the stock market.
Oil prices are tanking too and coronavirus is spreading like wildfire throughout the world.
However, we need to keep in mind that the big issue here is the global Coronavirus pandemic, and thus we are living in very exceptional circumstances. Investors are not, in my opinion, behaving in a rational manner.
There is panic in the market, and hence it's an exciting time for the shrewd investor who is able to think with his head rather than his emotions.
In my opinion, Bitcoin at around 5,000 Euro, down from 10,000 Euro just a few weeks ago, is an awesome opportunity to stock up on this asset.
As the world recovers from the Coronavirus scare in the following weeks and months, I expect to see Bitcoin rising up again to at least 10,000 Euro and possibly beyond, giving investors who invest now incredible returns that are probably not possible to achieve anywhere else.
Apart from this general thinking that I have, here are a few more pieces of information that help reinforce my opinion.
If you're ready to buy Bitcoin, do check out my guide to investing in Bitcoin and cryptocurrencies.
Data Shows Cryptoasset Sell-off Was Driven by Short-term Holders
On-chain data provided by Coin Metrics shows that recent price movements were likely mostly driven by shorter-term and relatively new holders. Long term holders appear unfazed in spite of the severe market downturn.
While market cap for most cryptoassets fell, the market cap for most stablecoins increased. This potentially signals that investors are piling into "cash," or at least crypto cash equivalents.
BTC has also entered a historically attractive price zone, with a market value to realized value (MVRV) below one. MVRV compares a cryptoasset's market cap to its realized cap. Realized cap can be thought of as an estimation of the asset's aggregate cost basis.
Read the full report on the Coin Metrics' State of the Network report substack.
Is it correlated or not?
The middle of March was an extraordinary time for global markets. We saw both the largest single-day percentage gain in the S&P 500 and the second-largest single-day decline. During the most extreme week, all markets—stocks, bonds, crypto, gold, real estate—were driven by macro factors. But that tight relationship is already showing some signs of reverting to normality.
If you peel back just a little bit, the long-term noncorrelation becomes apparent. For the 12 months ending March 31, 2020, bitcoin is up 55% while the S&P 500 is down 8%. For the trailing three years, the numbers are bitcoin +463% and the S&P 500 +16%.
Google Trends
It looks like people are suddenly more interested in buying Bitcoin after the crash. That's good news, as more people buy then the price is bound to rise.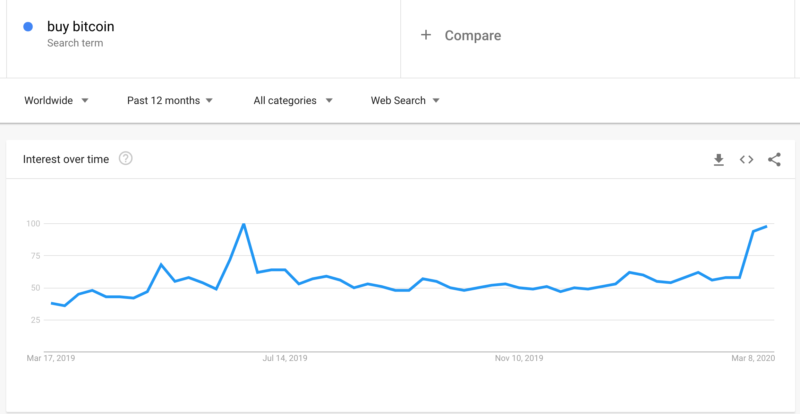 Where is Bitcoin heading next?
All indications say we're at the beginning of the next major bull run. Smart money is flooding in, "bad news" doesn't negatively affect the price, and the existing investor base is hoarding the outstanding supply.
Legendary global macro investor Raoul Pal says he's never seen a trade as dominant as Bitcoin.
J.P. Morgan, whose CEO called bitcoin a fraud just three years ago, published an in-depth feature in its flagship research series comparing bitcoin to gold, and saying its price could double or triple if current trends continue. Earlier this year, J.P. Morgan also agreed to provide banking services to crypto pioneer Coinbase, and has been getting involved in additional ways.
Billionaire U.S. investor Stanley Druckenmiller, who just weeks ago was said to be shorting the dollar, is long on bitcoin. In a Monday CNBC appearance, Druckenmiller disclosed a bitcoin position significantly smaller than his gold horde. However, he predicts bitcoin will outperform gold in the long run – largely due to millennial and Silicon Valley attraction to the crypto scene. "Frankly, if the gold bet works the bitcoin bet will probably work better because it's thinner, more illiquid and has a lot more beta to it," he said. Drunkenmiller made headlines last week for his bearish views on the U.S. dollar, which he suspects will decline for the next three to four years.
The interesting thing about what's happening right now in the Bitcoin space, is that most retail investors are sitting by the sidelines at this moment, and there are relatively few new investors joining in the fun. The big reason, in my opinion, is that most people are acting extra cautious during 2020 as the reality is that a lot of jobs and businesses are threatened. If you don't have a lot of extra cash lying around, you most likely have your money invested in assets that are hard to sell at the moment, or you're just sitting in cash due to the uncertain situation.
While the smart money is accumulating Bitcoin, retail interest has only increased slightly. Historically, retail floods into Bitcoin after breaking previous all-time-highs. If history repeats, Bitcoin is going to be explosive over the coming 18 months.
European countries are legalizing Bitcoin
As reported by Les Echos, Bitcoin now has the official status of money in France.
Meanwhile, Bitcoin has been qualified as a financial instrument in Germany.
Bitcoin is getting stronger and stronger
The cryptocurrency market in 2020 is actually very promising. Compared to just two years ago, the technology is incredibly well-developed and attracting many institutional investors. Whether it's Visa partnering with Coinbase, Fidelity offering a crypto mutual fund or Facebook trying their hand at a digital currency, the signs are clear that crypto is here to stay.
The future of crypto represents not a replacement to fiat currency but an alternative to those who wish to participate in a more liberating monetary system. As governments continue to lay down the regulatory foundation for this new technology, risks and volatility will eventually dissolve into a stabilized product that will bring unique innovation to the world of finance. So if you're thinking about exiting the market for good because of market conditions, perhaps you should give that another thought. Not only is it time to HODL even more aggressively than before but it's one of the best times in recent years to enter the market.
Fear & Greed index suggests a buy
The crypto fear & greed index shows that we are in a moment of extreme fear and pessimism with regard to crypto, which in my opinion makes it a good moment to buy.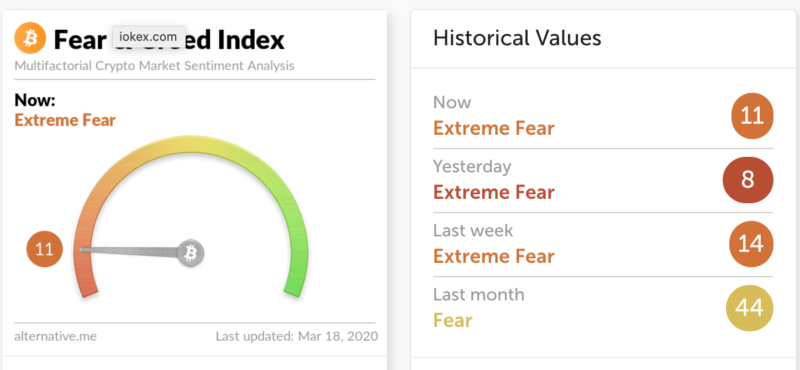 The Bitcoin Rainbow Chart
The Bitcoin Rainbow Chart has been around since 2014, and basically overlays coloured bands, from red through yellow to blue, over a log-scale BTC price against time graph.
Whilst the original chart was graded as simply 'buy', 'sell' or 'average', this has now taken on a finer delimitation. At the top end we have 'maximum bubble territory', going through sell indicators, building FOMO, and down to 'HODL!' in the middle yellow band.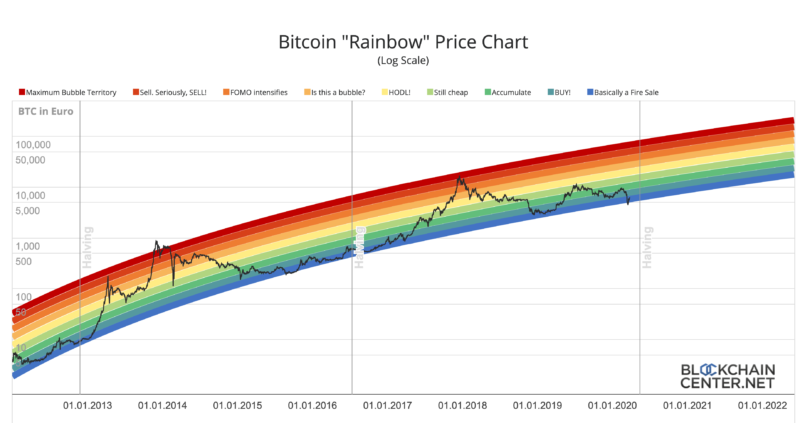 On the lower end of the spectrum, the scale goes through various levels of good value, down to the final 'basically a fire sale' band, where it currently stands. Again, another optimistic indicator.
The Great Upcoming Wealth Transfer
Kraken Intelligence, the in-house research team at the crypto exchange of the same name, released a new report entitled "Inheriting USDs & Acquiring BTCs: How 'The Great Wealth Transfer' Will Fuel 'The Great Bitcoin Adoption.'"
According to the report, if American Millennials were to invest at least five percent of their inherited wealth into Bitcoin (BTC), they could drive the price up to $350,000 in 2044. This would effectively give the generational group almost $70 trillion of value from a $971 billion investment.
With many older Americans on the verge of retirement, the report suggests those in younger generations who are not only more familiar with but more accepting of Bitcoin will have more options investing in the future.
"…a disproportionate percentage of the Millennials and Gen X will continue to be the driving force of adoption [of cryptocurrency] for the foreseeable future. While this can be explained in part by the fact that both generations harness a greater technological competence than their elders, we should also consider that bitcoin's current volatility is unsuitable for individuals nearing or in retirement."
Baby Boomers in the United States currently control approximately 57% of the total wealth, $50 trillion of which will pass to Millennials and Gen Xers in the next two years. This redistribution is referred to as the "Great Wealth Transfer".
If younger people were to use just 1% of this wealth to then invest in BTC, the price could rise to $70,000 — if not more — in 2044. This is based only on investors in the U.S., meaning the actual numbers could easily be higher.
Bitcoin entering the Fourth Era
According to an analysis by Bitwise Asset Management, Bitcoin is entering its fourth era in which it will go mainstream, and if previous eras are anything to go by, we should be seeing a big run-up to $100,000 or more in the next 2 years.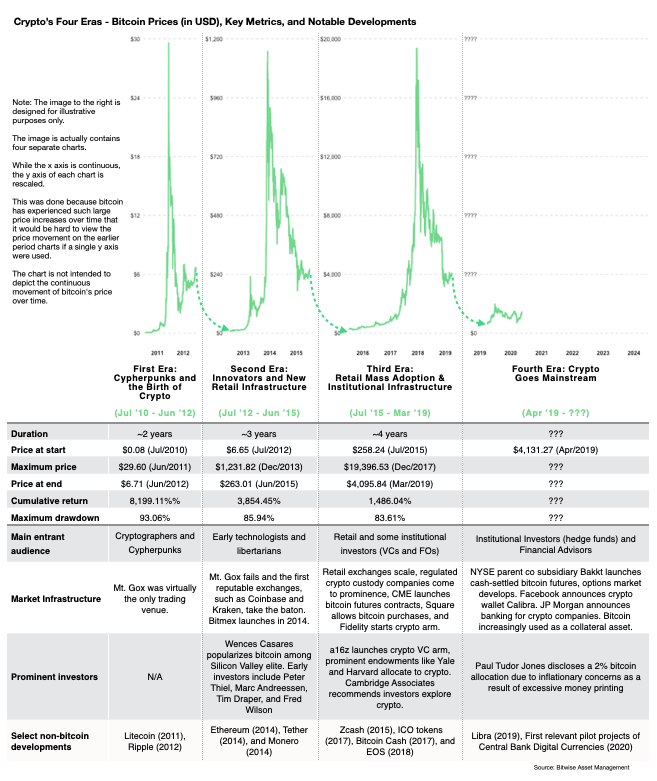 Direct effects of COVID-19
With massive layoffs and panic around the world, the first reaction was for people to move into cash, meaning that they started to sell off any investments, including Bitcoin and other cryptos. That is also why we saw the price of Bitcoin fall together with other asset classes. The payouts that some governments have promised will eventually reach the people, and as things settle down people will start to invest again, and I think Bitcoin will be one of the asset classes that will be more successful. An interesting indication is that the trading activity on exchanges has actually increased in March even though the price went down. Historically whenever there is an increase in trading activity a pump in the price follows.
Network Effects
Crypto, or digital assets, are a highly correlated space. The best coins will always have the softest bear markets, and it is becoming clear that Ethereum wasn't much worse on the COVID correction and is punching above its weight in the rally. With a network value around 15% of Bitcoin, there is the potential for a catch-up, but its network is smaller on the most important measures.
Crypto valuation is all about the network. While Ethereum processes a large number of transactions, they tend to be small. It won't catch up unless its network sees a surge in transaction value, which means either many more transactions or to attract a greater share of the larger ones. But this is a youthful space, and anything is possible in crypto.
In the meantime, Bitcoin is heading back to $20 billion of network transfer each week. So long as this goes up, so will the price of Bitcoin.
May's Bitcoin Halving
The next Bitcoin halving event is due on the 12th of May. If history is anything to go buy, the price of this asset should rise pretty strongly after halving.
In my opinion in the light of the current turbulent situation Bitcoin remains one of the best assets to purchase at the moment, and the halving event just makes that case stronger.
If it's your first time buying Bitcoin, I would recommend taking a look at my Bitcoin resources and to learn as much as possible, but the key thing when buying and storing crypto is that you buy from a reputable exchange and then subsequently store your crypto in cold storage.
The top exchanges I recommend are:
We'll see how the price action goes, I'm curious to see how quickly the spike will come. Although the halving event should, in theory, raise the price, in these weeks a lot of people are strapped for cash and might therefore not be thinking of putting their money into crypto, although I still believe that the halving will be a catalyst for a bull run in 2020.
Or maybe we should buy Gold?
The gold vs Bitcoin debate is still ongoing, and gold bugs like Peter Schiff think that gold will be the winning asset in the coming crisis.
If you were to ask me, I would rather bet on Bitcoin than gold in 2020, but who knows…
Concluding Thoughts
I hope that this crisis drives people to look at Bitcoin as an alternative to the current shaky banking system.
In the meantime—despite its price taking a tumble—Bitcoin remains fundamentally unscathed. In its ten-year lifespan, BTC has crashed and recovered in countless cycles, been declared dead 380 times and counting—and yet somehow, has managed to prevail time and again.
I think we should focus on the long term, the big picture. If you have faith in this technology you know this is the worst time to panic sell and the best to keep hodling, or better yet, buy more crypto.
I like to use the Whatifihodl tool to figure out how much a current Bitcoin stash will be worth in the future based on price projections. You could also use Hodlcalc to see how much Bitcoins bought in the past would be worth today. It's a great tool if you fancy ending up kick yourself for not getting involved earlier than you did 🙂
Further reading