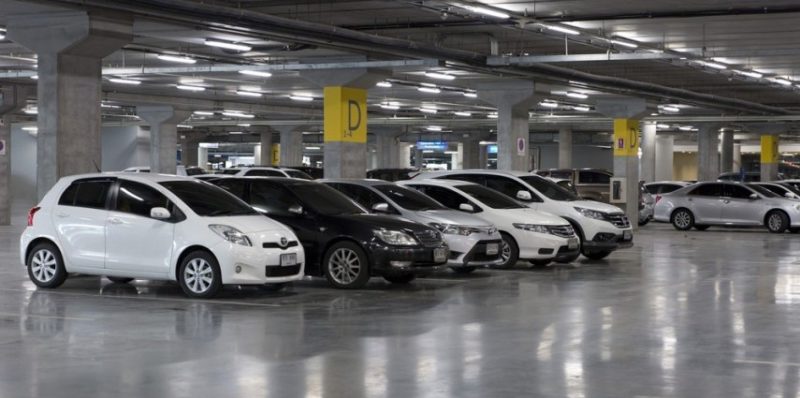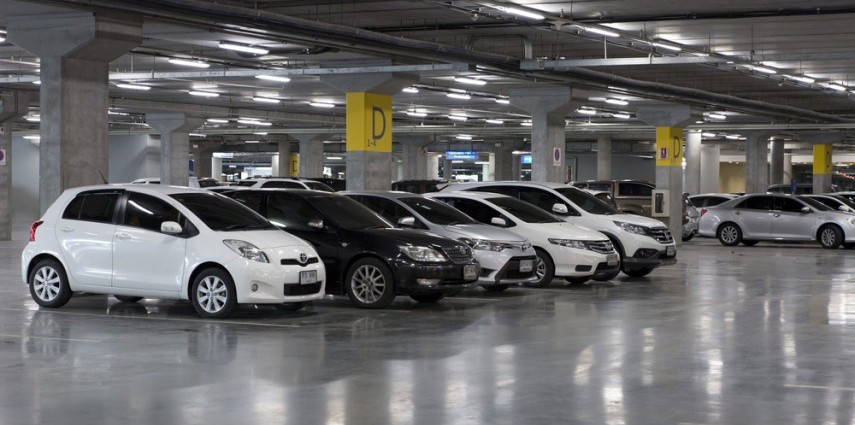 I will shortly be needing a parking space/garage as I plan to buy a car in the near future. I therefore started looking at some prices for buying spaces and renting them out.
The going rate where I live is 18,000€ for a parking space in a communal roofed garage. I expect the value to appreciate steadily over time, although not at the same rate as an apartment in the same area.
I could also rent a parking space right in front of our apartment for 120€ per month.
The question is, therefore, whether it's best for me to buy the space or rent it. Whenever it makes sense, I like to rent instead of buy. I think that buying stuff ultimately adds worry and financial burdens to one's life, so you need to be careful with what you buy. This article perfectly illustrates the concept I'm talking about.
Since I'm not sure whether I'm going to be living in this area next year and I like to be free to move from one area to another in a city, or even to other cities in Spain or just moving to another country, freedom is very important to me and buying property is a restriction on that freedom. Moreover, the area where I live might not be the best place to invest in, so having the freedom to invest anywhere in the world is much better than forcing yourself to "invest" in property right where you live.
Luckily, we now have access to real estate platforms in Europe where you can invest in property in exciting areas and get great returns.
For illustration purposes in this article, I'm going to have a look at investing my money in property on Crowdestate, one of these platforms.
The portfolio of loans I currently own on this platform is returning between 10.8% and 16.0% per annum.
So let's take one that lies somewhere in between as an example.
The project with address Koru põik 3, 76401 Laagri is returning 12.5% per annum. It's important that there is a risk when investing in loans, so this is absolutely not a guaranteed return. Spreading your money across various loans helps protect against one or two loans becoming troublesome.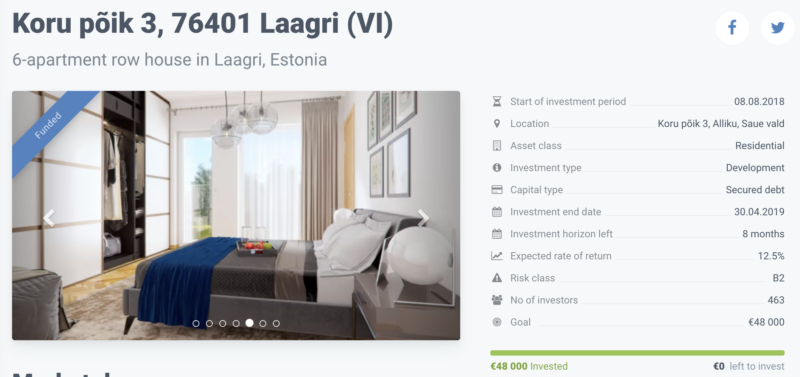 So let's analyze what I've invested in. We are looking at a residential development project in Laagri, Estonia. The capital type is secured debt. Secured debts are those in which the borrower, along with a promise to repay, puts up some asset as surety for the loan. For a debt instrument to be secured simply means that in the event of default, this asset can be used by the lender to repay the funds it has advanced the borrower.
Unsecured loans, on the other hand, are a layer of capital between equity and secured loans. They are riskier than secured loans, but also more profitable. Unsecured loans are repaid to the owner of the capital after all secured debts have been repaid.
We can also see that the risk rating is B2.

The Crowdestate Rating is an expression of the investment opportunity's risk level. Amongst other criteria, the Crowdestate Rating considers the investment opportunity's capital structure, financial leverage, location, stage, cash flows, team's track record, collaterals etc. A1 is very safe, C5 very risky.
The above-mentioned rating expresses Crowdestate's subjective view on each investment opportunity's total risk level. Crowdestate Rating does not account for specific investor's risk tolerance and is not meant to serve as a replacement for individual due diligence. Crowdestate Rating has no relations to ratings issued by international rating agencies nor to their rating methodologies.
So in this case, this loan is fairly safe, although not one of the A-rated loans.
I am comfortable with this level of risk, so the next and most important step is to calculate the returns.
If I invest the 18,000€, I will get a return of 2,250€. Dividing that by 12 gives us 187,50€ per month. That would cover the cost of the parking space as well as leave some extra profits. There would be some taxes to pay but it would still end up being more profitable to do this investment rather than pay the monthly fee of the parking space.
As I mentioned earlier, the other alternative would be to buy the parking space outright, however I don't think it's a great idea given the fact that I'm not sure how long I'll be living in the area, as well as the hassle of potentially having to resell it in the near future. I don't like having a chunk of money like that tied up and not producing any income. The only possible benefit it could give me would be an increase in value over the years, however, that is not a certainty and I could still make more profits off those 18,000€ by investing them.
My conclusion is, therefore, to continue investing my money on real estate crowdfunding platforms while renting out properties that I need for private use.
What are your thoughts on this?