Entrepreneurship can be an exciting but lonely experience. You start off with nothing and most likely with your peers thinking you're chasing an impossible dream, or worse, doing nothing of worth. If you manage to prove your worth and build a successful business, you'll also lose touch with those same peers because your concerns are quite different from theirs, and they most likely start to regard you as the lucky guy.
They say it's lonely at the top, and that certainly applies to successful entrepreneurs. You don't need to achieve great wealth or success to start to feel that. Even the mere fact of owning a business and being fully responsible for your and your family's financial future (not to mention that of the employees who depend on your company) makes you part of a small group of society.
Baby Bathwater Insititute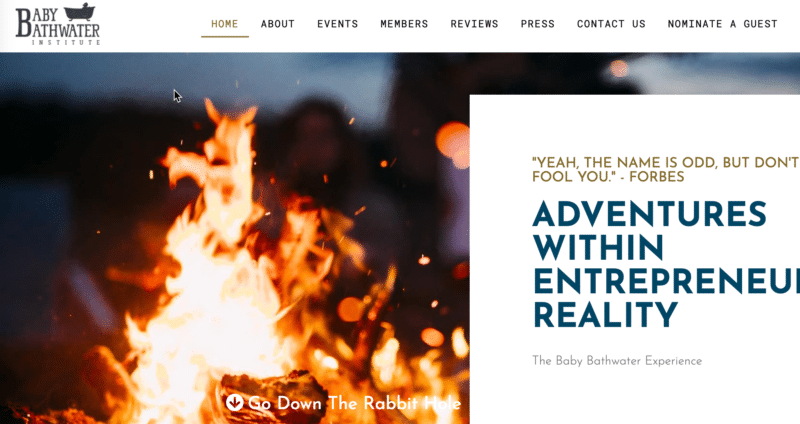 The Baby Bathwater Institute is a unique entrepreneurial community that has garnered attention for its unconventional approach to networking and professional development. Founded by Hollis Carter and Michael Lovitch, it's designed as a curated network of accomplished entrepreneurs, founders, thinkers, pioneers, and good-hearted, open-minded humans, providing a rich environment for collaboration, learning, and growth.
Baby Bathwater's primary mission is to create an intimate, non-transactional networking environment where authentic relationships can form and thrive. In stark contrast to more traditional business conferences or networking events, Baby Bathwater emphasizes genuine connections over immediate business transactions. The idea is that meaningful, long-term relationships ultimately result in more fruitful collaborations and opportunities, and foster a supportive community where members can turn to each other for advice, support, and resources.
One of the most notable aspects of Baby Bathwater is its carefully curated events. These are often hosted in unique, relaxed settings – from mountain resorts to private islands – designed to foster an atmosphere of authenticity and camaraderie. These multi-day gatherings include educational sessions from industry leaders, but also incorporate social and outdoor activities, providing a balanced, holistic experience that combines professional development with relaxation and fun.
Despite its playful name, the Baby Bathwater Institute is serious about the quality of its membership. Prospective members undergo a stringent vetting process to ensure they align with the community's values and culture. The aim is to create a diverse, yet harmonious group of individuals who are not just successful in their fields, but are also open-minded, generous in sharing their knowledge, and committed to supporting their peers.
While the Baby Bathwater Institute might not be the typical professional networking group, its distinctive approach resonates with many entrepreneurs seeking a more authentic, relationship-driven community. By fostering deep connections and promoting continuous learning in a relaxed, congenial environment, it offers a refreshing and effective alternative in the landscape of entrepreneurial communities.
While I'm not currently a member of this community since I am not able to travel much with a young family, I've interacted with the founders and several members, and they are all legit, good-natured and successful people.
If you can travel to their fantastic events and you're looking for a mix of fun, learning and networking with good people, then this is a great community to join.
Entrepreneurs' Organization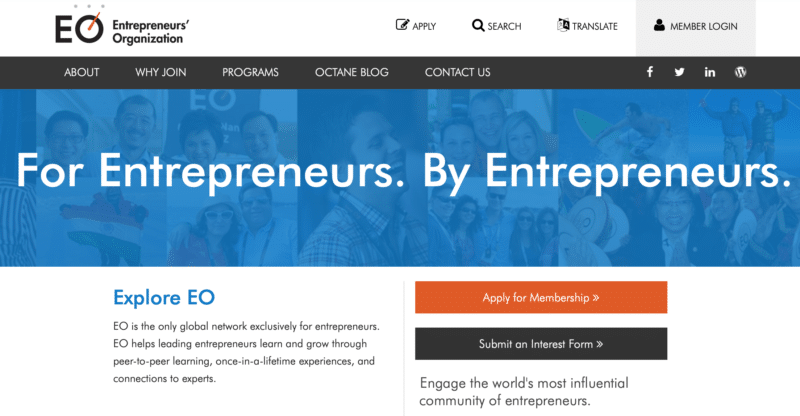 EO is a global network exclusively for entrepreneurs. EO helps leading entrepreneurs learn and grow through peer-to-peer learning, once-in-a-lifetime experiences, and connections to experts.
Entrance to the EO requires you to have a business that generates more than a million dollars in revenue per year, and costs around $6000 to join. It's aimed at entrepreneurs who are experienced and successful and certainly not at those just starting off on their journey,
Although it might seem a bit elitist, I think the requirements and high fees make sense. The success of the organization depends on its members sharing many of the same concerns and dilemmas, as well as providing useful contacts and advice to each other. It's safe to say that a beginner entrepreneur will not have the same concerns and capacity to help others that a seasoned entrepreneur at the helm of a $1m and multiple-employee business will.
There are several events throughout the year, and you get subsidized rates to first-class hotels and tours as part of your membership. You'll find entrepreneurs of all ages and industries in the EO, which means you will also widen your field of knowledge and be able to learn from other sectors that you were previously unfamiliar with or even unaware of.
An important feature of the EO is the local chapter that meets in your city. Big cities like Barcelona even have several chapters. Each local chapter consists of around 8 members who meet for half a day on a monthly basis to discuss their personal and business lives as well as network between themselves. This peer group support addresses the problem I described at the beginning of this article directly, and many EO members vouch that these meetings are the most important benefit of being in the EO.
Dynamite Circle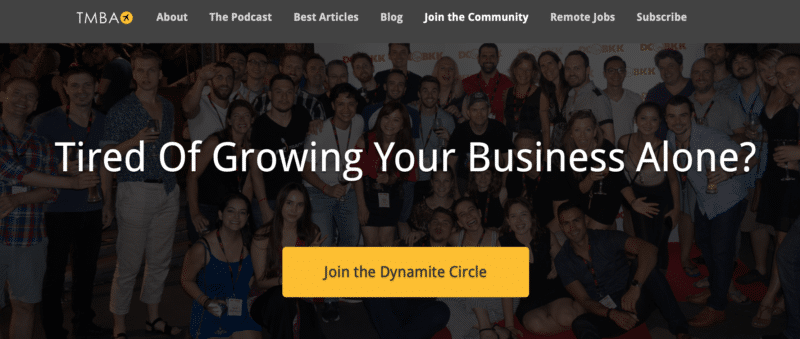 The Dynamite Circle was created by Tropical MBA founders Dan & Ian, and has grown over the years to become the number one network for young entrepreneurs that work online in some form or fashion. It's not limited to online business owners, however, the majority of people in it have remote teams and online businesses.
That's to be expected given that the Tropical MBA was originally all about becoming location-independent, and one of the forces that gave rise to the digital nomad movement. Nowadays both founders have given up the digital nomad days and are based in their own respective cities, although they retain the freedom to move if they wish to. This is a path that has been followed by many others including myself. Constantly traveling from one place to another eventually gets tired, and you're bound to fall in love with one place more than all the others and want to base yourself there. In my case, that place is Barcelona.
The Dynamite Circle holds big meetups in several cities every year, with the biggest events of the year being DC Austin in April and DC Bangkok in October. You will also find smaller groups that meet up informally in most major cities.
An online forum is also an integral part of the DC, and you will all other DC members on the forum ready to help and give advice to your dilemmas. If you wish to, there is also the possibility to be placed into a mastermind group that meets every so often online and discusses things in further depth.
I've been a member of the DC for a number of years and found a ton of good information in the online forums, so I'd say that the value of the advice and content there has already covered the cost of joining.  I've also realised that many of the online business entrepreneurs I followed online have been in the Dynamite Circle themselves for quite a while.
A question was recently asked on how DC members would describe businesses and people within the Dynamite Circle. Here are some replies I felt were really good:
DC businesses are optimized for profit and lifestyle vs trying to impress people.
It's popular in the business world to think that the point of starting businesses is simply to make money. Not here in the DC. We believe our businesses can be so much more– a path to personal freedom, legacy, a secure foundation for a family or community, or as a means forfinding deeper meaning and abundance.
Low overhead / lean, founder operated, online, positive cashflow, bootstrapped.
Online-first, location independent businesses between 6-8 figures a year.
To be honest I should probably have joined the group back in 2012 when I lived in Chiang Mai and everybody was talking about it. Unfortunately, I had attended one of their meetups then and I didn't particularly click with the people present there, so I wasn't that enthusiastic about joining.
Looking back at the forum postings though I can see that I could have picked up on certain things earlier than I eventually did. For example, there was talk of Bitcoin and crypto back in 2014, when I started reading up on crypto seriously only in 2016. That's just one of the many benefits of being part of a circle of driven and highly informed people. You get to know about opportunities years before anyone else does, and thus have a headstart in capitalizing on them.
Young Presidents Organization

The Young Presidents' Organization (YPO) is a global network of young chief executives and business leaders. Founded in 1950 in New York City, it was conceived as a space for young presidents of businesses to learn from each other, share experiences, and grow together both professionally and personally. YPO has grown into an international organization with thousands of members across the globe.
YPO prides itself on fostering a peer network where members can confidentially discuss business and personal matters. This can be especially helpful for young executives who may not have the same depth of experience as their older counterparts. Being able to tap into the collective wisdom of a global network can provide unique insights, mentorship, and guidance.
In addition to its networking opportunities, YPO offers a wide range of resources to its members. These include educational events and seminars, curated digital resources, and exclusive experiences. The organization often brings in expert speakers and organizes high-level workshops and seminars to enrich members' knowledge and skills. Themes often revolve around leadership, innovation, societal impact, and personal development, reflecting the organization's belief in the holistic development of its members.
Members of YPO must meet specific criteria related to age and the scale of the businesses they lead. This ensures that all members are part of a similar peer group, facing equivalent challenges, and can thus learn from and support each other effectively.
It's worth noting that while YPO primarily focuses on the professional development of its members, it also places a high value on personal growth and family life. It believes in fostering balanced leaders who excel not only in their business pursuits but also in their personal lives.
Hampton

Hampton is a private community for founders, CEOs, and entrepreneurs. Each applicant is vetted, and invitations are offered to fewer than 10% of applicants. Hampton aims to be a founder peer network that fosters professional growth and development, learning and education, collective problem solving, and personal connections.
The average Hampton member has $23M in annual revenue, but they have a minimum requirement of at least $1M in revenue or $3M in funding or a previous exit. Most members are digital startups and you must be a founder or CEO. Your 8-person Core group will have similar-sized businesses in similar industries.
Members can expect the following benefits:
Monthly Core Groups – A group of 8 founders with an executive facilitator, who leads discussion where advice and critical feedback is shared to help accelerate your business growth.
Digital Community – Access to a digital and highly engaged community of founders who provide helpful advice, a dedicated digital concierge, and a weekly newsletter.
In-Person Community – In-person event strategy is focused around three pillars: monthly member dinners, annual retreats, and local adventures.
Speaker Series & Education – Unique workshops featuring hard-to-reach experts across a variety of topics.
Exclusive Perks – Discounts with the most popular software companies, tools, and apps.
Tiger21

TIGER 21 (The Investment Group for Enhanced Results in the 21st Century) is an exclusive membership organization for high-net-worth individuals. Founded by Michael Sonnenfeldt in 1999, the group aims to provide a confidential environment for wealth creators to discuss and learn about issues related to wealth management, investing, philanthropy, and family dynamics. TIGER 21 has over 800 members who individually manage personal assets that generally exceed $10 million.
One of the core offerings of TIGER 21 is its group meetings. Members are grouped into small, confidential peer groups that meet regularly. These meetings provide members with an opportunity to discuss personal financial issues, investment strategies, and other topics relevant to high-net-worth individuals. Through these discussions, members can tap into the collective intelligence and experience of the group, providing valuable insights that may be difficult to obtain elsewhere.
In addition to the peer group meetings, TIGER 21 provides a variety of other resources and services. These include educational presentations, expert speakers, and access to an extensive network of high-net-worth individuals and successful entrepreneurs. The organization also hosts events that offer members the opportunity to connect with other successful individuals and broaden their networks.
Furthermore, TIGER 21 recognizes the unique challenges that come with significant wealth, including succession planning, philanthropy, and wealth preservation. To this end, the organization provides resources and facilitates discussions aimed at helping members navigate these complex issues. This includes a focus on "values-based" legacy planning, ensuring that wealth is not only preserved but also used in a way that aligns with the member's personal values and goals.
Membership involves a thorough vetting process and is limited to individuals with significant personal assets. This allows the organization to maintain a high standard of confidentiality and ensures that all members are of similar financial standing, which facilitates open and meaningful discussions.
Vistage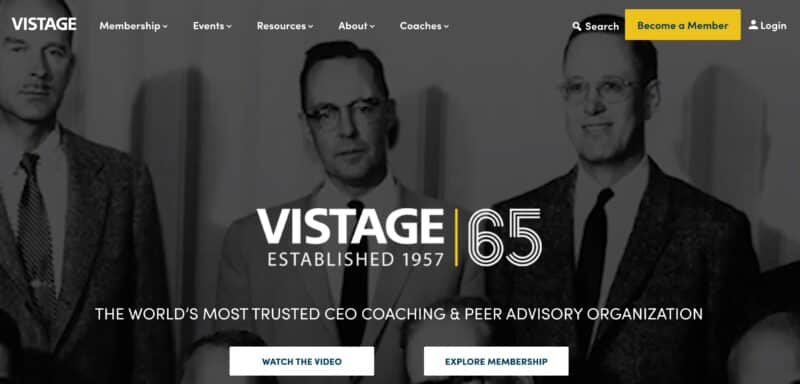 Founded in 1957, Vistage is a leading business advisory and executive coaching organization designed to help improve the effectiveness and enhance the lives of CEOs and business leaders. The organization offers a unique combination of resources for accelerating business performance: peer advisory groups and one-to-one executive coaching sessions.
To join Vistage, candidates must be either a CEO, business owner, or key executive of a company. The process usually involves an interview with a local Vistage Chair (facilitator), who assesses whether the individual and their business are a fit for the group. The company size, revenues, and other factors may also be considered. A critical requirement is the willingness to learn, share experiences, and provide mutual support in a confidential group setting.
Members can expect several benefits from joining Vistage:
Peer Advisory Groups: Members meet monthly in confidential, peer advisory group meetings facilitated by experienced Chairs. These meetings provide a forum for discussion, problem-solving, and the exchange of insights and ideas.
Executive Coaching: Each member receives one-to-one coaching sessions with their Chair, which can help them tackle individual challenges, set goals, and keep accountable.
Expert Speakers: Vistage meetings often feature expert speakers who deliver workshops on a wide variety of topics relevant to running a business.
Vistage Network: Members gain access to a global network of more than 23,000 business leaders across multiple industries.
Proprietary Research: Vistage also provides its members with access to proprietary research and resources.
Events: Members have the opportunity to attend members-only events, providing additional learning and networking opportunities.
Vistage aims to empower business leaders to make better decisions and achieve better results, promoting both business growth and personal development.
Vistage operates in 20 countries around the world, as of my last knowledge update in September 2021. The countries include the United States, United Kingdom, Canada, Australia, Argentina, Brazil, China, France, Germany, Ireland, Mexico, Malaysia, the Netherlands, New Zealand, Singapore, South Africa, Spain, and others.
The Good Life Collective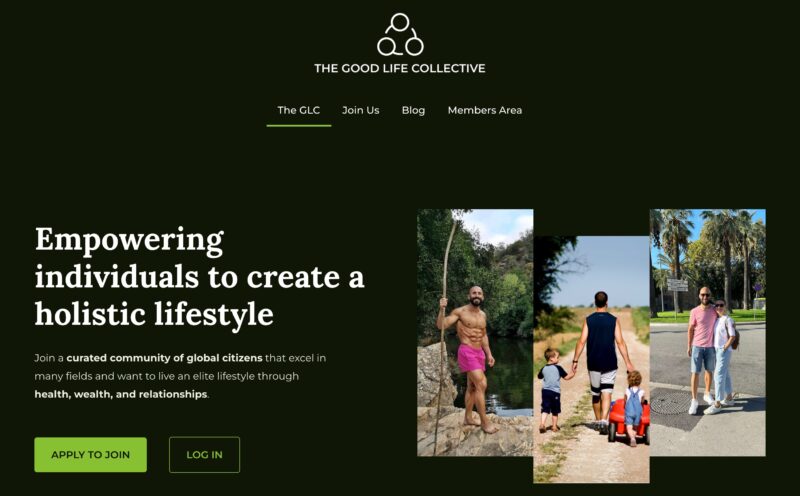 The Good Life Collective (GLC) is a community I founded in 2022 as an extension of this blog and a way to bring my trusted network together.
The community features a Telegram-based chat that is organized by topics. The chat is where daily interaction between members occurs. When you join, you also gain access to webinars, a weekly newsletter, mastermind, as well as IRL events.
Membership to the GLC is curated, and you can apply to join here. The community is very close-knit and values openness highly. All topics are welcome, but typical discussions tend to center around health, wealth and relationships.
Most members of the community are entrepreneurs that are somewhat location-independent in their late 20s, 30s and 40s. Because many of us have families or are thinking of starting one, we think a lot about how to bring up the next generation, and as a father of young kids, I find these discussions invaluable.
We love to share resources and recommendations, which means that I typically learn something new everyday.
Because we have the same values and similar goals in life, being part of this community feels like an instant expansion of one's thinking, and it's also a great place to reach out during tough times. The community has proved to be extremely generous and helpful to get members up and running again after important setbacks, although we also make sure to celebrate big successes.
ASmallworld

ASMALLWORLD is an exclusive, members-only social network and travel community. Established in 2004, it was one of the first online platforms to leverage the concept of a closed community of prominent and influential individuals from around the world. The aim is to bring together members who share a passion for travel, high-quality experiences, and social interaction.
ASW is often likened to an exclusive Facebook for rich and influential people. As a member, you gain access to various benefits, including invitations to special events, access to carefully curated travel and lifestyle content, and a social network where they can connect with like-minded individuals. The community focuses on fostering deep connections between its members, offering a trusted environment for networking and interaction.
In addition to online networking, ASW organizes IRL events every year, ranging from cocktail parties in major cities worldwide to weekend getaways at exclusive resorts. These events allow members to extend their network and create new relationships in the real world, strengthening the sense of community.
Moreover, ASW provides its members with unique travel privileges. These include access to a selection of high-end hotels and resorts at preferential rates, personalized travel advice, and a variety of additional services to make members' travel experiences more comfortable and rewarding.
ASW states that it has a strict membership policy, with new members typically needing an invitation from an existing member or going through a rigorous application process.
While the central premise of ASW is about cultivating a community of individuals who share a passion for travel and lifestyle, it also underscores the value of trust, respect, and mutual understanding, principles that members are expected to uphold.
I haven't joined ASW myself, however I have a few friends who are in it or were in it in the past. I've been shown the content and profiles available through the app, and I honestly wasn't impressed. Based on what I saw in the app, the online videos, and feedback from current and previous members, I concluded that there is no real membership policy, events are full of shallow people where the focus is purely on appearances, and there are few real tangible benefits. This networks seems to be trying to do to many things and not succeeding at any of them particularly well.
Perhaps joining the ASW community might be worthwhile if you travel a lot and want to unlock the discounts at their hotel and resort collection (although I'm pretty sure you can find the same rates elsewhere too), or if you have just landed in a major city and you're looking to maximise opportunities to meet new people. Apart from this it's a hard one to recommend.
Trends.VC
Trends.vc is a well-regarded community centered around a research service that provides in-depth reports about emerging business, technology, and market trends. It was created by Dru Riley and has been popular with entrepreneurs, investors, and other forward-looking individuals and organizations.
The Trends.vc community provides subscribers with access to a wealth of resources beyond just the reports. Subscribers are able to engage in discussion and networking opportunities, learning from each other and sharing insights. The community is characterized by a collaborative and inquisitive atmosphere, with people coming together to learn, grow, and explore the frontiers of business and technology.
Some of the activities you can expect when joining the community are daily standups, 1:1 networking, masterminds and a host of discounts to popular apps and services.
Sloww
Sloww is a platform dedicated to the slow living movement and was founded by Kyle Kowalski.
He's an ex-marketing executive turned corporate dropout and solopreneur who found his life purpose after an existential crisis: synthesizing lifelong learning that catalyzes human development. That might sound like a handful, but Kyle has written many articles that expand on his views and lessons, so the best way to get a feeling for what he means is to go through some of his articles on the Sloww blog.
He established the Sloww community as a way to explore and promote a more mindful and deliberate lifestyle, different from the hustle and fast-paced rhythm of modern life, and share the journey with other like-minded people.
On Sloww, Kyle shares insights about topics like mindfulness, purposeful living, and personal development. He creates content to help individuals navigate the complexities of life, focusing on holistic health, well-being, and life satisfaction. Beyond getting access to the premium content Kyle puts out, by joining the community, you will also be able to network online with 1,000+ other members from 50+ countries.
The Latticework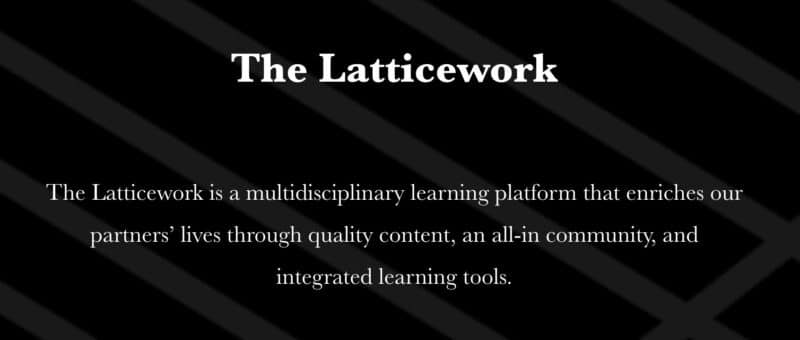 The Latticework, a community established by Blas Moros, is designed as an intellectual playground for curious minds. Dedicated to lifelong learning, it provides a space for individuals to dive deep into a broad array of topics, ranging from business and economics to philosophy and the arts. Drawing inspiration from Charlie Munger's idea of a "latticework of mental models," the community aims to foster a multi-disciplinary approach to learning and problem-solving.
At the heart of Latticework is the belief in the value of understanding fundamental principles across a wide range of disciplines. This approach equips individuals with a robust set of mental models that can be applied to a variety of situations, enhancing decision-making and problem-solving skills. It's a hub for polymaths and those aspiring to become more intellectually versatile.
One distinguishing feature of Latticework is the premium it places on quality content and in-depth discussions. Rather than focusing on the latest trends or news, the community seeks to explore timeless ideas and principles. This emphasis on enduring knowledge over ephemeral information promotes deep, thoughtful conversations among community members.
Moreover, Latticework isn't just about acquiring knowledge – it's also about applying that knowledge and integrating it into one's life. The community encourages members to share not just what they're learning, but also how they're putting that learning into practice. This focus on actionable insights adds a practical dimension to the intellectual pursuits of the community.
Membership in Latticework is open to anyone committed to continual learning and intellectual growth. The community welcomes diverse perspectives and values respectful, open-minded dialogue. For those seeking to broaden their intellectual horizons and engage with a community of thoughtful, curious individuals, Latticework presents a compelling opportunity.
I'm a member of this community, and I derive most value from Blas' newsletter about mental frameworks together with the Whatsapp chat that he created for the community. The chat is active daily and discussions tend to center around book/resource recommendations to further one's skills in specific topics, productivity and general advice on how to live better on a day-to-day basis.
Do you know of any other networks worth joining? Let me know in the comments section.