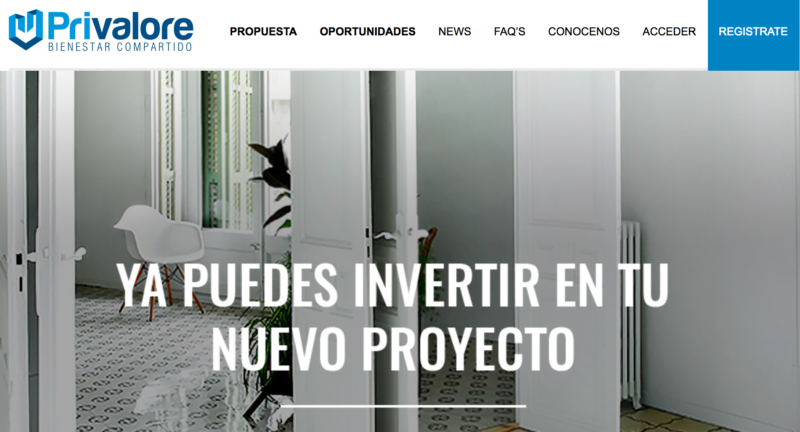 As of December 2019, Privalore has chosen to cease its crowdfunding operations due to the Comisión Nacional del Mercado de Valores (CNMV) ruling that it will only allow platforms which promote indirect investments, and Privalore is considered a direct investment platform. Privalore believes, and I agree with them on this, that participative platforms (such as Housers) do not provide as much value to the investor as a direct investment platform. With an indirect investment platform, the platform's main incentive is to provide and advertise as many projects as possible to its investor base, with the possibility that quality will be compromised, and the fact that the platform itself does not invest together with the investor. 
To cut a long story short, Privalore is no more, and it's a real pity as it was my favorite Spanish platform. It was good while it lasted, and while I do still have some investments that are stuck in the pipeline as the Spanish market has slowed down, I would rate my overall experience with Privalore as very positive. If anything, this whole experience hsa shown me that Spain absolutely does not have the best forward thinking authorities and things can change very quickly. I will probably hold on the brakes on further investment in Spain after this experience and my diminishing confidence in Housers. 
Over the past two years, I've been trying out the Privalore platform in Spain for investing in Spanish property. Two properties that I've invested in have already been sold, so it's a good time to take a look at the performance of these properties and my evaluation of Privalore.
I like Privalore because they invest their own money in every property and execute quality refurbishments. The value created is very obvious and tangible, and therefore the resale price depends much less on speculation and more on the value added by Privalore's refurbishments.
Privalore makes sure that all the materials used are friendly to the flat's inhabitants. You can read more about this topic on FriendlyMaterials.com, which is a site of a company based in Spain that focuses on non-toxic building materials. It's not necessarily the company that Privalore uses, but gives you an idea why it's important to use non-toxic materials in these kinds of refurbishments.
I've discussed Privalore and other Spanish real estate crowdfunding websites in a separate post, but I'll remind you once again about the commissions that Privalore takes from each project sale.
They take two types of commissions.
The first one is a project management commission:
around 4% of the selling price for management of the project (management commission)
50% of profits until 15% return is achieved for the investor, 70% on the remaining profits (success commission)
The second is an investment commission:
prefinancing commission (variable rate)
percentage of profits based on the amount they invest in each project
These are some of the wellness elements that Privalore includes in each refurbishment:
Low laminated parquet in VOC's.
Circadian lighting system.
Smart thermostat with air conditioning ducts.
Antimicrobial paint and odors on the ceiling, kitchens, and bathrooms.
Conservation of original elements: walls with reclaimed exposed brick and mosaic floors.
Ecological decorative paintings.
Antimicrobial countertop in kitchen.
High-efficiency air filter.
Reform with a neutral carbon footprint.