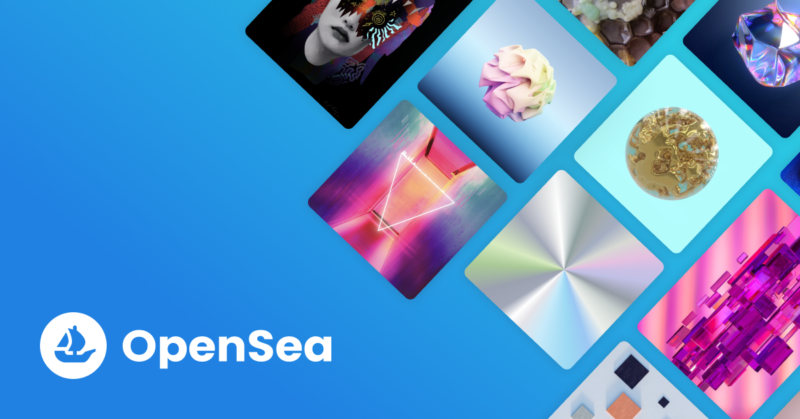 A question that most beginners in the NFT world face is this: where to buy NFTs from? The answer in most cases is: through an NFT marketplace. There are nuances, so we'll be going through the landscape briefly and trying to make sense of things.
In this article, I'll be dividing NFT marketplaces into two: Open and Curated.
I will also mention some tools that can be used to trade NFTs securely in a peer-to-peer fashion.
Open Marketplaces
An open marketplace is one where anyone can mint and sell NFTs. There is no need to apply and get accepted – creators just connect to a wallet and mint the NFTs. Existing owners of NFTs can list their NFTs for resale.
OpenSea is easily the largest NFT marketplace. When you see people talking about buying and selling NFTs, 99% of the time they are referring to doing this on OpenSea. The platform has seen trading volume skyrocket into millions of dollars during 2021.
By being an open marketplace, scams abound, so you need to be careful to get the right URL for a project, as there are usually copycats posing as the real project and trying to trick users into buying them. OpenSea verifies the largest projects and adds a checkmark next to their name. Look out for that, although some projects are having to wait days to get the checkmark, so not having a checkmark doesn't mean the project is not trustworthy either.
Some alternatives to OpenSea are LooksRare, X2Y2 and Blur. All these marketplaces can be used to trade NFTs on the Ethereum blockchain.
Objkt is the equivalent of OpenSea on the Tezos blockchain. If you're new to OpenSea, it's probably a better idea to stick to buying NFTs on the Ethereum chain, but if you're into generative art, it's worth having a look at what's available on Tezos. Typically art on this chain is much cheaper. For generative art on Tezos it's also worth looking at FX Hash.
Rarible is another open marketplace, however, unlike OpenSea, it is more focused on art assets such as books, music, albums, digital art, movies, photography, games, metaverses, domains, and memes.
Rarible integrates with OpenSea – minting on Rarible can populate the NFTs on OpenSea. Users can view the collectibles they created on Rarible on OpenSea and manage the NFTs on OpenSea as well. However, unlike OpenSea, Rarible only lists NFTs that were minted on Rarible.
If you're looking for a higher risk/higher reward investment, look into the RARI token, which you can buy on Kraken.
RARI has a total supply of 25m and is considered to be a utility token. By owning RARI tokens, users gain the ability to submit and vote on proposals to change its rules. This includes voting on possible fee changes, how those fees are spent and the rules governing creator promotion.
It is important to note that voting with RARI is non-binding, and that the Rarible company still needs to accept user decisions and implement them. However, Rarible's goal is to eventually transfer power to a software-based system controlled by users called the Rarible DAO.
The idea behind buying the RARI token is to gain exposure to the growing NFT and digital content market or to have a say in how one of the leading NFT marketplaces develops.
Curated Marketplaces
A curated marketplace determines which NFTs are allowed to be minted, posted and sold on it.
Compared to an open marketplace, a curated marketplace is more limited and exclusive, requiring artists to apply and be accepted before being able to mint or sell NFTs in an attempt to keep fraud down and quality high.
SuperRare's marketplace focuses on a limited number of hand-picked artists. Though aspiring creators can submit an artist profile form, entry barriers are high. Artists must submit their work for approval before it can be minted and listed on SuperRare's marketplace.
Foundation's marketplace is community-led, so artists invite new artists to join the platform and mint their NFTs. Creators can access the "creator invites" feature after selling their first NFT. Foundation also has OpenSea integration, so by minting on Foundation, the NFT can automatically be displayed on OpenSea.
KnownOrigin focuses on digital art. It is more difficult for creators to get accepted onto its platform. Artists submit their artwork in .jpeg or .gif format to the KnownOrigin gallery. As of April 2nd, 2021, applications are closed to creators.
Nifty Gateway offers crypto assets and art called Nifties. Nifty Gateway partners with top creators, brands, athletes and artists, so it is difficult to get accepted for crypto art – only famous artists, brands, and celebrity creators will be selected to use the platform. Collectors can even buy items for sale on OpenSea using Nifty Gateway and pay using a credit card.
MakersPlace also offers digital art. MakersPlace is invite-only, so an invited artist will fill out the creator application and sign and mint its NFT.
P2P Trading
You can also exchange NFTs in a P2P fashion on the following platforms:
This is useful if you strike a deal with someone who is willing to buy/sell within a project's Discord channel. This happens a lot and is a great way to find good deals.