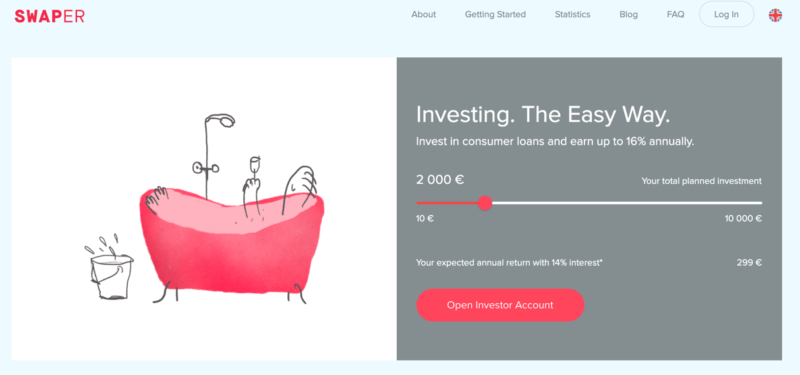 In this review, I'll be taking a look at Swaper, one of my favorite P2P lending platforms in both function and design.
Swaper is one of the latest entries into the P2P lending space in Europe, having started operations in May 2019. They have found success pretty quickly though, amassing more than 4000 active investors, 160m euro in investments and 2.1m euro in interest paid back to investors.
What is Swaper?
Swaper is a P2P lending platform, where you can earn up to 16% annually. The minimum investment is €10. There are no fees for investors, including the secondary market.
Swaper differs from other platforms by operating with only one loan originator, Wandoo, as well as offering all loans at a fixed 14% interest return. If you're a VIP investor (details below) you will earn 2% more, therefore 16% annually.
You can invest in either EUR and GBP to avoid money transfer fees.
A buyback guarantee is also in place, whereby when borrowers are late for more than 30 days, Swaper will buy back the loan from the investor.
As an investor, you can also make use of the auto-invest system to invest money automatically, for example a set amount every week, or also to reinvest the interest received.
Swaper operates and provides its services under the legislative acts of the Republic of Estonia. Swaper is not a regulated financial institution and the claim rights offered for purchase on Swaper's website are not considered as securities or any other regulated financial instruments.
Therefore the business activities of Swaper do not fall under the supervision of any Financial Supervisory Authority. Your investments are not guaranteed in any way. This is pretty normal for P2P lending platforms, although if this is your first P2P lending investment I would advise that you take this into consideration and make sure you're comfortable with the risk before taking the plunge.