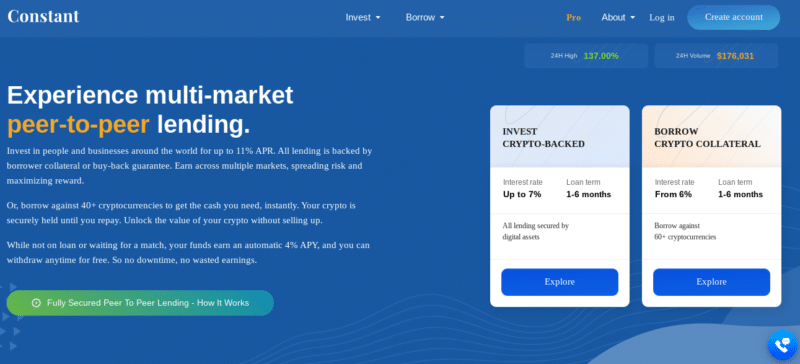 The peer-to-peer lending phenomenon has since made its way to the ever-growing cryptocurrency scene. That is to say, there are several platforms in the space that match borrowers and investors for cryptocurrency-backed loans. One such provider that I sought to explore further is that of MyConstant.
Not only do investors have the chance to earn up to 7% APY on crypto-backed loans, but MyConstant offers a bank-beating 4% APY on fiat deposits. You can also earn 9% APY by allowing MyConstant to allocate your cryptocurrency for the purpose of providing decentralized exchanges with liquidity.
At the other end of the spectrum, borrowers can take out crypto-backed loans. There is no minimum loan term in place and interest rates start at 6% APR. You can elect to receive the funds in real-world fiat currency direct to your bank account. To benefit from this, you'll need to deposit some cryptocurrency as collateral.
If you're keen to find out more about what the peer-to-peer provider offers, continue reading through this review. I cover everything there is to know about the provider from the perspective of both investors and borrowers.
If you're interested at looking at alternatives, I think that both BlockFi and YouHodler are better crypto lending platforms than MyConstant.