There are alternatives to using high street banks for converting and sending money abroad.
High street banks are being threatened by leaner fintech companies with better technology that provide a better service at a lower cost. That's a statement that most of us have heard from one source or another over the past few years.
The two most well-known services are Wise and Currencyfair. Of the two, Wise is my favorite.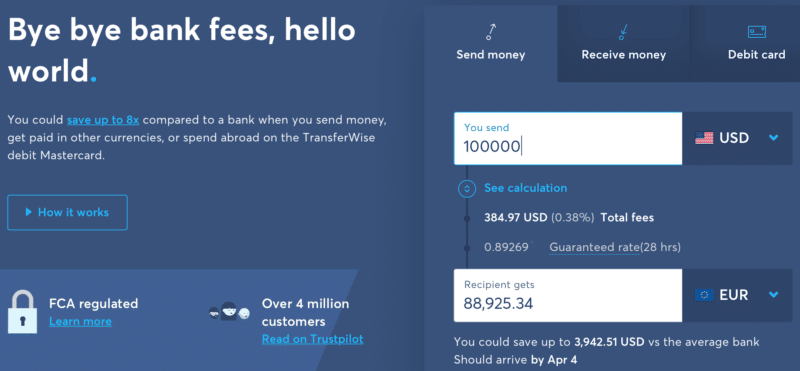 Sending money abroad is deceptively expensive, thanks to the hidden fees we've all been forced to pay. Now Wise lets expats, foreign students and businesses transfer money wherever it's needed, at the lowest possible cost. No hidden fees, no headache.
Let's see how that translates into a real-life example.
Converting $100,000 to Euros
Let's say we need to convert $100,000 into euros. We'll pitch a typical high street bank against two well-known currency conversion services: Currencyfair and Wise.
I recently did some research about exchange rates offered by Maltese banks, when making a USD transfer, which automatically gets converted to Euro upon arrival in your bank account.
Interestingly enough, almost all banks offered a rate 0.745 Euro for every 1 USD. Only HSBC offered a worse rate, giving out 0.741 Euro for every 1 USD. I've also included the PayPal conversion rate for reference.
| | Bank buys USD |
| --- | --- |
| HSBC | 1.3504 |
| BOV | 1.3426 |
| APS | 1.3402 |
| Banif | 1.3409 |
| Lombard | 1.3402 |
| PayPal | 1.3636 |
This might not make much difference on small amounts, but when we deal with a few thousand dollars the difference quickly adds up. I monitored the rates over a few weeks and HSBC consistently offered worse rates. I'm not entirely sure why there is this discrepancy and will try to investigate further.
| | 1000 USD | 5000 USD |
| --- | --- | --- |
| HSBC | 740 | 3702.60 |
| BOV | 744 | 3724.12 |
| APS | 746 | 3730.79 |
| Banif | 745 | 3728.84 |
| Lombard | 746 | 3730.79 |
| PayPal | 733 | 3666.67 |
Here are some handy links to the exchange rates offered by the main banks in Malta:
I picked two Maltese banks, HSBC and BOV. Here are their advertised rates:
Having checked all the rates, let's have a look at the final results.
Here's what each Maltese bank will give us in return for our USD:
BOV: €87,734
HSBC: €87,039
Amazingly, between the two leading banks in Malta, we see a difference of €700 for the same simple service. Pretty bewildering if you ask me. I believe that both banks also charge a fee, although I was unable to locate the pricing for currency conversions on their website.
Let's move on to the online currency conversion giants:
Currencyfair: €88,837
Wise: €88,925
Note that Currencyfair improves on the BOV's rate by €1,100, and Wise by €1,200. You must also keep in mind that I've seen banks that provide much worse conversion rates and extra fees for conversion. Even so, the differences between the fintechs and the Maltese banks are pretty impressive, and I, therefore, see it as a no-brainer to go for either Wise or Currencyfair for currency conversions.
And now let's look at some more exotic options that can give you even better results with some extra work on your end.
Bonus tip: Negotiate a Better Rate with Your Bank
If you are processing a significant volume of currency conversions every year (I'd say $50,000 and above) it would make sense to reach out to your bank and ask if they are open to negotiating a better rate for you. This is a win-win situation and most banks will be happy to give you a favorable rate.
As an example, I was able to negotiate a special rate with my bank to convert from USD to EUR.
By way of example, for today they quoted a Preferential Rate of 1.0998 when the Official Buying Rate was 1.1138 (Reference or Average Rate was 1.0946).
Just to give you an example of the effect of this concession, let's take an example transfer of US$ 66,000. The conversion of this amount would work out as follows:
Interbank rate
US$ 66,000 @ the average rate of 1.0946
= Eur 60,296
Conversion at the
Quoted Buying Rate
US$ 66,000 @ the buying rate of 1.1138
= Eur 59,256
Conversion at the
Preferential Rate
US$ 66,000 @ the preferential rate of 1.0998
= 60,011
This means that I gain the difference between Eur 59,256 and Eur 60,011 or Eur 1,040 and Eur 285 = Eur 755.
How do you manage your currency exchanges?
How to Time PayPal Withdrawals to Get the Best Currency Exchange Rate

This is for all those of you who don't have a US-based bank account but work online and receive payments via PayPal.
At some point, you will want to transfer your PayPal funds to your local bank account so you can withdraw and use your hard-earned money.
However, you could be making a fundamental mistake during the process of withdrawal. Actually, I've been doing it myself for many years. I felt really dumb when I realized.
As you know, exchange rates are always fluctuating, so your aim is to get the best deal when transferring money from PayPal to your bank account.
Let's say we want to transfer US dollars to Euro, which is what I do every so often. What I do nowadays is to first check the exchange rate, and also historical rates via this website. That gives me an idea if today is a good day to make the transfer or not. Looking back at the historical rates of the past 3 months, I then decide on a target rate I want to aim for. At present my target rate is 1 USD = 0.78 EUR.
With that figure in mind, I then head over to XE and set up email alerts. Now as soon as the exchange rate climbs to 0.78 I will immediately get an email and that's when I will make my withdrawal from my PayPal account to my local bank account.
When2convert is an excellent service in my opinion, because it automates the whole thing and makes it very easy for me. Before I used to check the exchange rates every couple of days (every day is just too tedious), and sometimes I used to miss a good day. So I knew I need an automated shortcut of doing this checking. Luckily I found this site, and I hope you find it useful too.
Update: I found a similar tool (also free) at https://www.specificfeeds.com/Free-Forex-Signal-and-Exchange-Rate-Tracker and there you can not only define strike prices, but you can select to get updated every time the EUR/USD rate changes by 0.02 points or so, so that it's not a one-time notification, but you always know if there have been significant changes without spending too much time to checking it every couple of days.
Another option is to just withdraw every month on a specific day, and in this way you eliminate the hassle of trying to time the forex market to your benefit. You might lose out sometimes, but it might be more important for you to have money coming in on a regular basis, so you have to factor in the pros and cons.
Do you have any other related tips you'd like to share? Let me know in the comments section below!
Note: If you have any questions after reading this and the several other articles relating to PayPal on this site, please leave a comment or contact PayPal directly. Unfortunately, due to time constraints, I am unable to offer any advice over email so all emails related to PayPal will remain unanswered.
Bitcoin – the Cheapest Way to do International Currency Exchanges and Remittances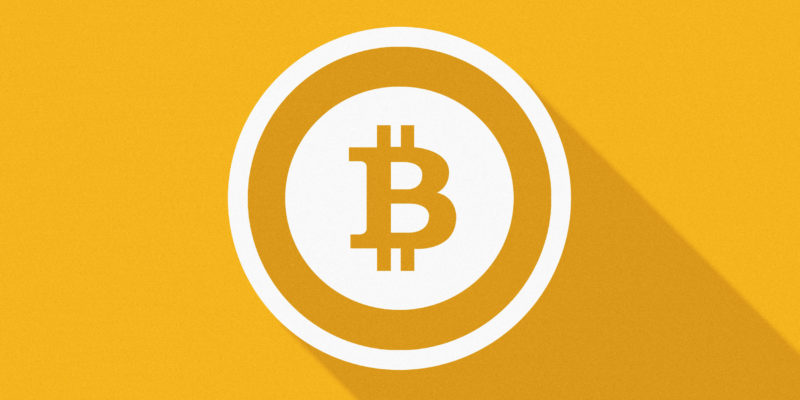 Crypto stablecoins as well as Bitcoin can be an ideal way of bypassing the banks entirely for your currency conversions.
Let's review briefly what is needed in an international currency conversion/money transfer. Suppose my friend/relative/client wants to send me $1,000 from the US. Being in Europe, my bank account is denominated in Euro, so at some point that $1,000 needs to change into Euro. The big question is how many Euro will end up hitting my bank account.
The traditional and most common way of doing international money transfers is to let the banks handle the conversion. This is called an international wire transfer.
Of course, other ways of sending money exist:
International wire transfers are expensive, and PayPal is just as expensive or slightly cheaper. Wise have made it their mission to offer cheaper transfers, but they are not as easy to initiate as a bank transfer of PayPal transfer. PayPal is probably the easiest method out of all the ones we're considering.
Once I was made aware of the possibility of using Bitcoin I decided to try it out. Therefore, I opened an account at the Bitcoin exchange Kraken, and got myself verified. Kraken has several levels of verification and I did the Tier 3 verification. You need to do Tier 1 and 2 before you are allowed to get Tier 3 verified. Verification is important due to KYC rules that exchanges need to abide with. Once you are Tier 3 verified you can deposit and withdraw up to $25,000 on a daily basis. The monthly limit for withdrawals/deposits is $200,000. That's plenty of fiat currency to play with right there.
Opening an account with Kraken is free. Once the account was open and I was verified (all this was done in a day), I obtained a Bitcoin deposit address and sent it to my friend. He proceeded to send me the equivalent amount of USD in Bitcoin. I received the Bitcoins just a few minutes later. I then converted to EUR and initiated a transfer of the full amount to my local bank account. The Euro amount arrived in my bank account the very next day.
I had checked the spot rate before making the USD to EUR transfer and the money that I got in my bank account was actually higher than the result given at that day's spot rate, so I ended up making a slight profit of a few euros on the exchange. The most important thing however was that I managed to do away with all the hefty charges that Paypal and the banks charge.
Here are all the fees I incurred:
Kraken: Bitcoin deposit – FREE
Kraken: Exchanging Bitcoin to EUR – 0.26%
Kraken: EUR SEPA Withdrawal to my bank account – €0.09
Bank: EUR deposit – FREE
Note: If you want to buy Bitcoin from Kraken there is a commission of 0.16%. So if you convert $1,000 to Bitcoin you will get charged $1.60.
That's an absolute steal comparing to what banks or PayPal charge. One of the main reasons I wanted to try this out was to verify that this really worked as described and that there would be no hidden charges. I'm pleased to report that it worked exactly as promised.
Kraken's fee schedules are tier-based: the higher the volume you trade in your account, the lower your fee on subsequent trades (once the next volume tier for the currency pair is reached). Other fee considerations:
Fees are charged on a per-trade basis.
Fees are calculated as a percentage of the trade's quote currency volume (by default). Certain pairs allow the fee to be calculated based on the trade's base currency, which can be specified when ordering using the Fee Currency option.
User fee volume levels are measured using the equivalent market value of the listed "Fee Volume Currency" at the time of the trade. Note that this currency may be different from the pair's base or quote currency.
User fee volume levels are measured and applicable for trades occurring in the last 30 days only.
One thing you need to be aware of is the possibility of making a loss/profit due to the volatility of Bitcoin. The few seconds/minutes it takes you to make the conversion from Bitcoin to EUR and to ask for a withdrawal to your bank can be enough for significant changes to take place.
If volatility is an issue for you, you can use stablecoins instead. Most exchanges have stablecoins in the major currencies that are trustworthy enough especially for quick currency conversions.