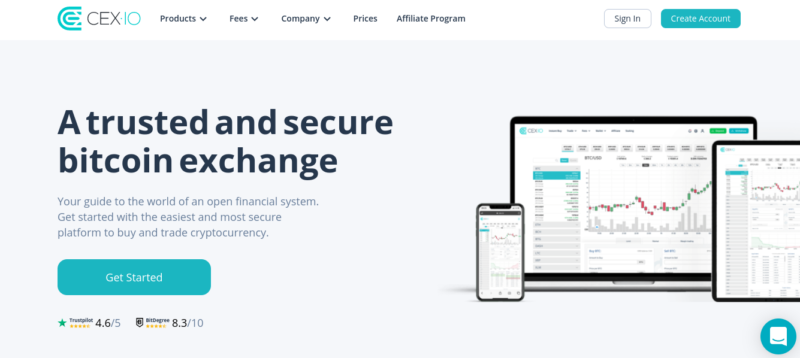 There seems to be a new cryptocurrency exchange opening its doors up every other month these days. In effect, it is becoming increasingly challenging to find a provider that delivers on its promises.
What you want is the right set of functionalities, user-friendliness, and safety – which presents a compelling case for you to trust a cryptocurrency platform with your capital.
The positive reputation that CEX.IO has built over the years is a true indication of how well the platform serves its customers' needs.
In this review, I look into what this popular cryptocurrency exchange has to offer, and how it stacks up against other key players in the market.
What is CEX.IO?
CEX.IO is a leading cryptocurrency exchange. It was established in 2013 and subsequently was one of the first platforms to support fiat-to-crypto transactions using debit cards and bank transfers.
Initially, CEX.IO was designed to offer cloud-mining services as part of the GHash.IO mining pool. Later in 2014, the provider abandoned the cloud-based mining business and focused on making Bitcoin trading more accessible using everyday bank cards.
During the course of the preceding years, the platform has continued to add more cryptocurrencies to its list of supported digital assets, along with other crypto-based services.
Today, it has evolved into a multi-faceted platform that offers a wide range of services, from spot trading to crypto loans.
Features of CEX.IO
Although CEX.IO is primarily a crypto exchange, the platform offers several other notable features that make it a one-stop-shop for digital currency enthusiasts.
Instant Buy
The 'Instant Buy' feature is aimed at simplifying the buying and selling of cryptocurrencies. It is based on a Fill-or-Kill order type – meaning that orders are executed immediately and in their entirety or not carried out at all.  In order to make this happen, CEX.IO computes the price and holds it for 120 seconds.
The exchange rate is adjusted accordingly – to mitigate any risks that will arise from short-term price fluctuations. As such, at any point, you can enter the amount you wish to invest, and CEX.IO will give you a clear indication of how much cryptocurrency you will receive – or vice versa.

As long as the respective coin's price action over the next couple of minutes falls in line with the terms you specified or better, your order will be executed. If the price goes in the opposite direction, it will not be carried out.
If there is a sudden change in the exchange rate that makes it impossible to execute the order under the predetermined conditions, you will be alerted.  You can look at this as a version of a classic market order. The critical difference is that the exchange rate can be the same, or better than what you agreed on, but never worse.
However, it is important to note that in order to facilitate the Instant Buy option, CEX.IO charges you a 7% percent fee calculated against the size of your investment. It goes without saying that this is astronomical.
Staking
The process of staking cryptocurrencies is quite simple on CEX.IO.  All you need to do is to keep your coins in your trading account – and you will receive interest in return. This allows you to earn passive income on your crypto assets, which would otherwise be sat idle in your wallet.
To benefit from this, all you need to do is buy a crypto that is supported for staking – and deposit it to your CEX.IO account. Your reward will be calculated automatically every hour and will be deposited into your account on a monthly basis.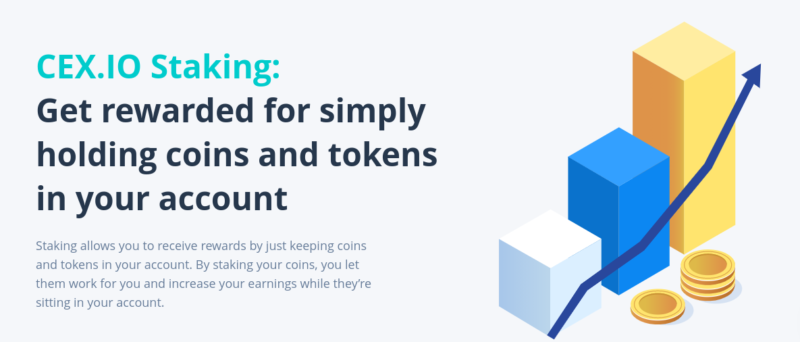 The best part is that your digital assets will no longer be locked in. The crypto funds in your account will be used to participate in the maintenance of the Proof-of-Stake-based blockchain mechanism.
As such, you can trade your PoS coins freely. You will receive the rewards as long as these coins sit in your CEX.IO account. When the order is filled and the coin is moved, your rewards will change accordingly.
CEX.IO Crypto Loans
The cryptocurrency platform also allows you to use your digital assets as collateral in order to obtain a loan in a fiat currency. At the moment, loans are offered only against Bitcoin and Ethereum.  The minimum loan amount you can get is $500, and the maximum is set at $100,000.
The LTC (Loan-to-Value) ratio is currently fixed at 50% – with an interest rate that varies from 9.8% to 14% annually. To get access to crypto loans, all you need is a verified account on the platform. After that, you can transfer your digital coins to the wallet, calculate how much loan you can obtain, and agree to the terms.
The loan amount will be available for you to withdraw to your personal account using one of the payment methods available – such as a debit card, bank account, or e-wallet.
Note: If you miss a repayment date, you can extend it for seven days which will be considered as one extended period. However, this will cost you an additional overdue interest of 0.25% of the total loan amount. 
You are allowed to repeat these 7-day extended periods as long as you wish. But remember that your debt will increase with each extension, and CEX.IO holds the right to change the terms of overdue interest and extended periods at its discretion.
In case your collateral value drops significantly, you would need to add more to reduce the LTV. If there is a scenario that demands liquidation, you will also be charged a fee. The amount from the proceeds will be used to repay the loan amount and any accrued interests and fees.
CEX.IO Aggregator
The Aggregator feature is developed for institutional traders who wish to execute large-scale cryptocurrency orders on behalf of their clients. CEX.IO will connect you to multiple liquidity providers to optimize the process.
You can not only execute orders in the shortest time but can also carry them out at competitive prices. The CEX.IO platform facilitates this through three API channels, guaranteeing both safety and convenience.
CEX.IO Types of Accounts
CEX.IO offers a system of accounts based on four different access levels. The deposit, withdrawal, and trade limits, as well as the available payment methods, will depend on the level of your account.
Identity: Daily deposits of up to $3,000 and withdrawals up to $10,000. 
Address: Daily deposits up to $10,000 and withdrawals up to $10,000. Plus, access to bank transfers. 
Enhanced: Unlimited deposits and withdrawals. Plus, priority support.
Corporate: Business accounts best suited for enterprises and access to custom conditions. 
CEX.IO Fee Schedule
Here's a breakdown of the main fees you will incur when using CEX.IO.
Trading Fees
CEX.IO implements a trading fee schedule based on your 30-day trading volume. It starts at 0.25% in taker fees and 0.16% in maker fees. This can be further reduced to 0.10% on taker fees and zero on maker fees as your trading volume increases.
Deposits
A fee of 2.99% is charged on all debit card deposits. This is about industry-standard – with the likes of Coinbase charging 3.99% and Coinmama at 5%.
With that said, eToro charges just 0.5% on all deposit methods – including Paypal – and nothing if you're a US citizen. Nevertheless, all bank transfer deposits on CEX.IO are free, which is great.
Withdrawals
Withdrawal fees vary depending on the payment method. Bank cards are charged at up to 3% + $1.20 on all transactions.
Bank wire withdrawals cost you a 0.3% service charge, with an additional $25 for SWIFT payments.
Other payment options such as SEPA or ACH are free.
CEX.IO Trading Platform and Broker
CEX.IO also has a CySEC-regulated online brokerage platform – backed by the cryptocurrency exchange that facilitates both spot trading as well as margin trading.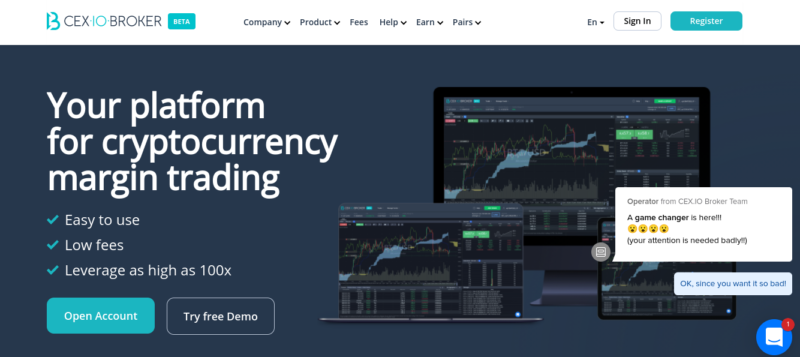 Currently, the broker supports nearly 50 crypto trading markets, in the form of crypto-fiat and crypto-cross pairs. Additionally, there is also support for a selection of stocks, forex pairs, and metals.
Margin Trading
As a regulated platform, CEX.IO also gives you access to leveraged CFDs. For those unaware, CFDs or Contracts for Differences, allow you to trade an asset without taking ownership. This allows you to go both long and short on your chosen crypto market.
Here are some features of margin trading facilities offered on CEX.IO:
Set up multi-currency trading accounts with USDT, BTC, and ETH.
Create up to 10 different sub-accounts and set different trading parameters for each.
Maintain trading flexibility using strategic orders
Gain access to technical analysis instruments using in-built trading indicators and charts.
Use multiple leverage levels from 2x to 100x, and assign them to different sub-accounts.
Practice trading using a demo account for free and with no need to register.
Automated trading using bots.
Minimum trade size set at only $20.
Trading Fees and Commissions
As the CEX.IO broker division works as a different entity, the platform has a different fee schedule. The commissions differ for each asset class and trading pair.
Take a look at what you will be liable to pay at CEX.IO in order to place trades:
Cryptocurrencies 

– 0.05% commission, and 0.01% Rollover fee. 

Forex –

0.0164% to 0.0680% commission, and 0.01220% to 0.02720% Rollover fee.

Stocks 

– 0.030% commission and up to 0.0328% Rollover fee. 

Gold 

– 0.0025% commission and 0.003% Rollover fee. 

Silver 

– 0.0075% commission and 0.004% Rollover fee. 
There are no other deposit or withdrawal fees charged for processing your transactions.
Note: Although the cryptocurrency exchange is registered as a financial service in the US, the brokerage is not accessible for US residents. After all, CFDs are prohibited in the US.  
CEX.IO Safety
The general consensus is that CEX.IO has a great reputation in this space. Crucially, the platform has never been a victim of security breaches – that I know of. The platform enjoys global coverage and regulatory compliance that reinforces its popularity among cryptocurrency traders.
In addition, the exchange platform works with both hot and cold wallets – with private keys safeguarded separately. Users are also encouraged to employ 2FA and a WPC pin to authenticate any withdrawals,
In addition, CEX.IO also uses custodial storage to protect your funds and is supported with insurance coverage of up to $250,000 on USD balances under the FDIC program (US citizens only).
CEX.IO Mobile app
Following other cryptocurrency platforms, CEX.IO has also launched a mobile app that comes with most of the features found on the main website. You can trade assets as well as watch real-time price movements right from within the app. In addition, CEX.IO has also introduced the option to set price alerts.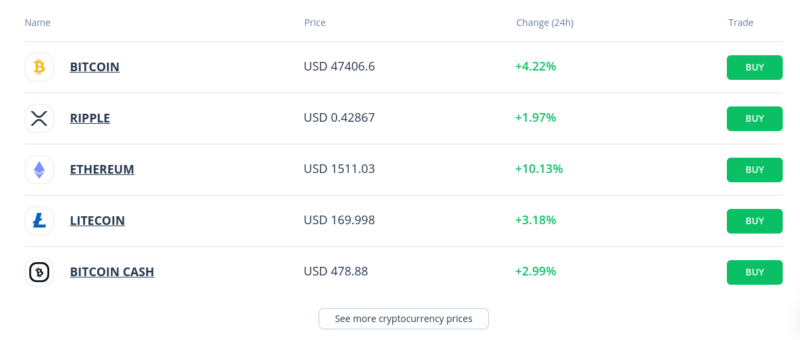 This means, if the price of an asset moves significantly in a 24-hour duration, you will be instantly notified. You can set the parameters as to what price points you want to receive the alerts on. Currently, this option is available only for BTC, ETH, Bitcoin Cash, and Litecoin.
CEX.IO Customer Care
CEX.IO has a prompt customer care service that you can contact through Live Chat or email. Additionally, it also offers a Knowledge Base that provides guidance on the ins and outs of using the platform.
CEX.IO Pros and Cons
Here's a breakdown of the main pros and cons of CEX.IO that I identified.
Pros
The platform is user-friendly and easy to navigate. Although some of its features are advanced, the interface is still clean – making it easier for traders of all levels to buy, sell, and trade digital currencies.
CEX.IO gives you access to several marketplaces and diverse trading pairs
Instant Buy offers a hassle-free way to invest in cryptocurrencies.
The support section is extensive and offers step-by-step instructions on how to use the platform.
Access to margin trading and leverage of up to 100x.
Most importantly, the platform is registered and regulated by FinCEN in the US and CySEC of Cyprus. CEX.IO also holds a level 2 DSS certificate.
Cons
A limited number of tradable assets that is especially thin compared to other exchanges in the market.
7% fee on Instant Buy tool
CEX.IO Review – The Verdict?
CEX.IO is a well-established cryptocurrency platform that has built a solid reputation over the past eight years. It has proved its commitment to safety and security with stellar customer service.
The trading platform itself comes with a sizable range of tools that can be extremely useful for both novice and advanced traders alike. The demo account is one of the most beneficial features – allowing you to hone your trading skills before taking the plunge with real money.
Although the cryptocurrency exchange might not give you access to the widest range of digital coins, the platform is still expanding. There are additional tools being lined up that will introduce new functionalities to the platform such as crypto-savings and custody accounts.
Perhaps the biggest drawback is that you will be charged a 7% to use the Instant Buy feature. As I mentioned earlier – there are much cheaper options in the market – should you wish to buy cryptocurrency quickly via a debit card or e-wallet.