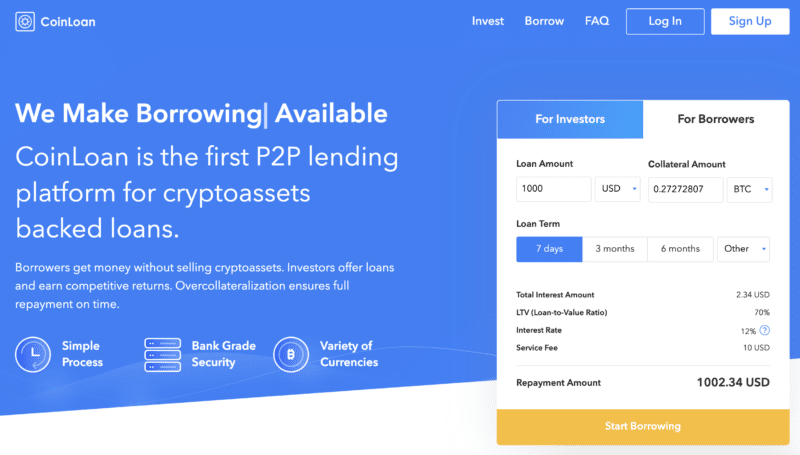 CoinLoan is a European P2P lending platform that uses digital crypto assets as collateral. The company is based in Estonia and serves investors and lenders worldwide.
The platform allows you to lend your money and earn competitive returns. Overcollateralization ensures full repayment of all loans without delays.
A few of CoinLoan's main strengths include:
CoinLoan has three Estonian Financial Licenses (FVR000111, FRK000091, and FFA000241). These licenses allow them to operate fiat, crypto, and alternative means of payment worldwide.
Cryptocollateral ensures repayment of the loans in time and without default risk. In case of need, collateral can be sold instantly to meet the borrower's obligations in full.
You don't need to control the repayments and the market price of the collateral — the platform does this for you.
Borderless lending opportunities are available for lenders from anywhere in the world.
With that introduction out of the way, let's take a deeper dive.
How CoinLoan Works
As a lender you first deposit fiat funds or stablecoins. The borrower, on the other hand, deposits cryptoassets to secure a loan.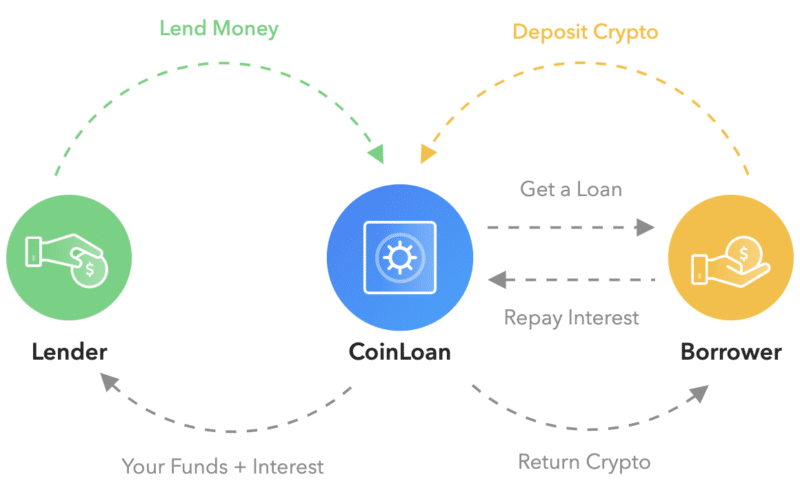 Once the lender and the borrower are matched, a smart contract is used to ensure the borrower pays on time, else he would risk his crypto collateral.
Once the loan is paid off, the lender gets his principal returned plus interests, while the crypto assets are returned to the borrower.
One of the biggest problems with P2P lending platforms is that it is hard to enforce any collateral for small loans and even harder to go after that collateral (if it even exists in the contract) due to the high cost of doing so relative to the loan value. This problem is eliminated if crypto is used as collateral, as it is very easy to build a contract that holds crypto as collateral.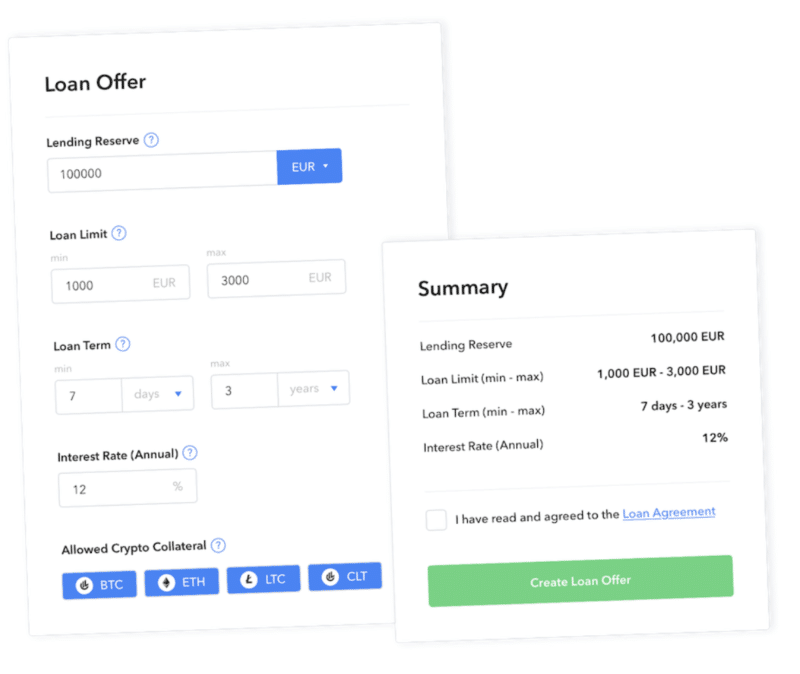 Lenders have a significant benefit in thus having the ability to lend to people with verified collateral available. CoinLoan acts as the custodian for a safe and clear experience.
It's worth noting that CoinLoan is licensed in Europe and well regulated. The platform also implements an AML policy.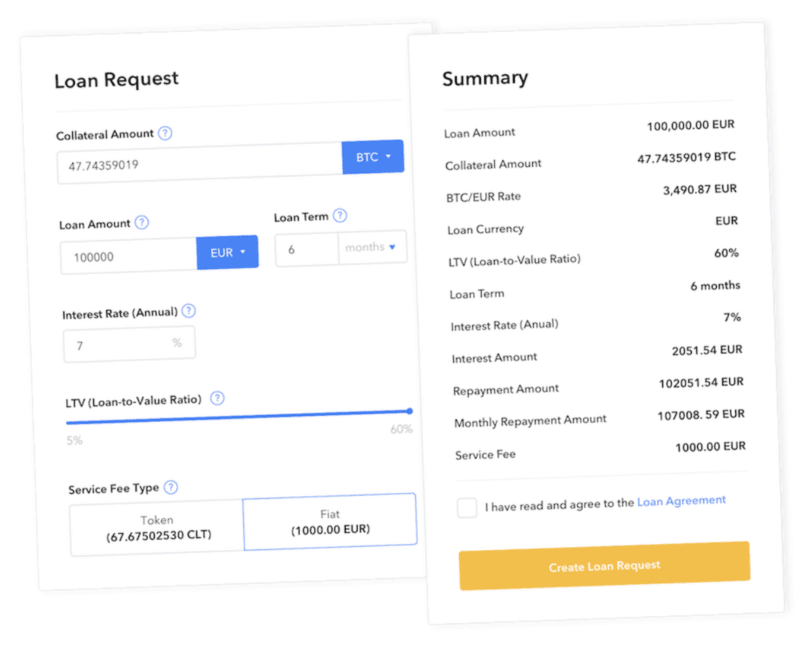 For the borrower, there are also some significant benefits. If you're a person who is heavily invested in cryptos and lack fiat liquidity, by using a platform like Coinloan you are avoiding the need to sell your precious crypto to finance your spending needs.
There are no credit checks since your collateral is readily available in the form of crypto, and you risk losing it if you don't pay, so that minimizes the time needed to obtain a loan.
Loan periods vary from 7 days to 3 years and early loan repayments are not penalized.
As I've mentioned already, cryptoassets seem to be the perfect collateral for these types of micro-loans. However, we have not spoken about the big elephant in the room: volatility. Cryptos in the last couple of years have been extremely volatile, so one must question whether crypto-backed lending is crippled by this fact.
Let's take an example. As a borrower with an LTV of 50% for a particular loan, this means that your collateral crypto's value is two times higher than your fiat loan, which is a good place to be at.
Now let's say crypto values nosedive overnight, and you're risking a margin call.
If anyone asks you about the main bump in the road of crypto-backed lending, which one would you name? The CoinLoan team has a definite answer to this question. The main thing that prevents cryptoassets from being perfect collateral is its crazy volatility.
Just imagine. Today your collateral value is two times higher than your loan and you feel pretty safe. Tomorrow your crypto drops suddenly and overnight is in danger of margin call. The example above might be vastly exaggerated, but nobody can deny that crypto-fluctuations get on the borrower's nerves.
Good news, CoinLoaners. CoinLoan has developed a revolutionary Dynamic Collateral Monitoring System. It allows overcoming the problem of cryptocollateral movements and raising the maximal LTV limit to 70%.
Reversed loans
CoinLoan now offers "reversed" loans you can't find anywhere else. We are talking about loans in cryptocurrencies secured by stablecoins or fiat. On the Lending Market, users can now borrow BTC against USDT, or XMR against EUR, for instance.
Coinloan have reversed crypto-lending to offer lenders and borrowers new ways to put digital and fiat assets to work. CoinLoan is now the only company in the market that offer all three dimensions of loans: crypto-to-fiat, crypto-to-crypto, and fiat-to-crypto.
How does the feature work?
New collateral options have emerged on the Lending Market: EUR, EURS, USDT, USDC, PAX, and TUSD.
You can get a loan in BTC, ETH, LTC, and XMR backed by those fiat and stable assets.
How can lenders feel comfortable taking crypto as loan security?
The question feels very timely, given the crypto prices are going up and down like a rollercoaster in recent days. Our answer is simple. CoinLoan was born to ride that roller coaster.
Crazy price fluctuations of loan collateral are nothing unusual for this type of company. From the very first step, CoinLoan's business model was built to deal with volatility. During the last year, that model has proved its effectiveness.
Every loan is overcollateralized. Users can borrow no more than 70% of the value of their collateral. The reserve of 30% gives CoinLoan time to take measures in case of market fall. When necessary, the platform sells collateral instantly and automatically and return the lender his funds plus earned interests.
That, in a nutshell, means that upon the loan issuance, crypto-volatility is no more concern for the lender, only for the platform and the borrower. The lender is in safety, regardless of the market behavior.
While most competitors still have a 50% LTV limit, CoinLoan improves the collateral monitoring system so that CoinLoaners can borrow more fiat for the same amount of crypto. Thus, providing crypto worth $1,000 as collateral, now you can borrow up to $700 in fiat currencies.
Regulated in Europe
In order to be regulated in Estonia under the European license, CoinLoan had to prove:
That they verify their users using standard KYC/AML procedures. While most users hate this part of signing up to a platform, Coinloan has found a good balance between mandatory KYC/AML compliance and great user experience.
That they have a real, physical office and management on the Republic of Estonia's territory.
That share capital should be at least EUR 12,000.
I've been using Coinloan for a while now and things have worked flawlessly for me. Withdrawals have always been processed very swiftly. While there is always an element of risk with lending platforms, I feel comfortable holding a portion of my portfolio with CoinLoan and other similar platforms like YouHodler and Nexo.
Summary
Coinloan is a crypto-lending platform that has been around since 2016 and is regulated in Estonia. It's a good option if you want to get a loan with crypto collateral or simply earn interest on your crypto assets, especially if you are looking for a European platform.
Pros
Licensed as a European virtual currency provider
4 years of successful operation
Cons
More transparency needed
Loan volume can be on the low end at times