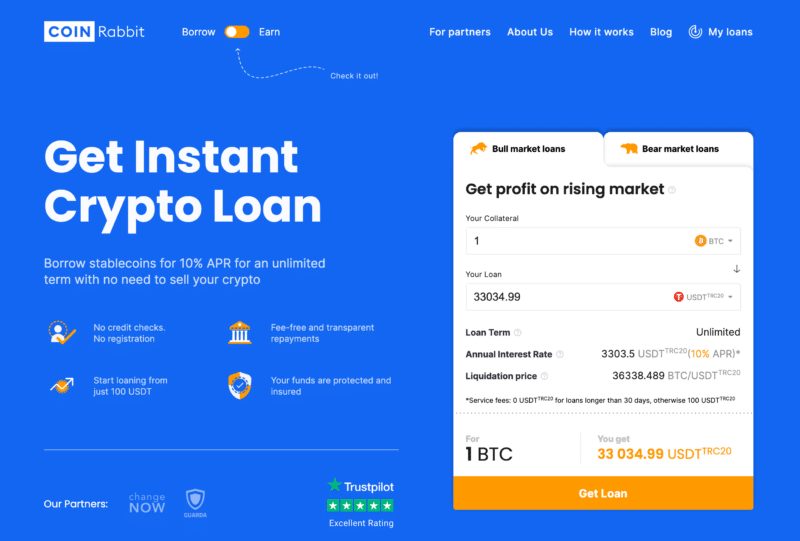 I've already written about my interest in earning yields on crypto holdings, as well as the opportunity to take out a loan (borrowing USD) by using crypto as your collateral, and in this article, I'll focus on one particular platform: CoinRabbit.
CoinRabbit was founded in late 2020 and is, therefore, one of the newer entrants into the borrowing and lending space, but they are determined to ramp up operations quickly and become a major player. Let's dig deeper into what they offer.
About CoinRabbit
CoinRabbit offers an instant crypto lending service that does away with credit checks, KYC and long delays in getting your loan approved.
Unfortunately, there is no information about CoinRabbit as a company or its main people. The about page only lists its partners (more on that below). The Terms and Conditions of the site mention that the company is based in the Seychelles, which to be honest doesn't inspire much confidence, as it is a jurisdiction that is most well-known to be a tax haven (no tax for corporations) and a base for many ICOs, as well as most recently being associated with the OneCoin scam. A well-known exchange, BitMEX, is also based in the Seychelles. At the moment, there are no specific crypto regulations in the Seychelles, so keep that in mind.
Company employees use social media to promote the platform while posing as regular users with no affiliation to CoinRabbit. Nothing new in the crypto space, but certainly a negative point in my books.
When I asked direct questions about company location and staff I was not given any answers, only a generic reply that due to COVID staff are spread around the globe. That's fine but I would still need to know some basics like people behind the company, its address and under what regulator it falls. After all, it's a financial institution. If there is no intention to be based anywhere, then perhaps operating within the DeFi space would be a better solution.
Now let's move on to the partners I mentioned.
CoinRabbit is partnered with Changenow as their exchange service. Changenow is non-custodial, and basically helps CoinRabbit implement a service within the platform that allows you to change between one asset and another, for example from Bitcoin to Ethereum. This is a convenient service, although fees for exchange tend to be higher than specialized exchanges such as Binance and Kraken.
CoinRabbit is also using Guarda for custody of the funds stored. This is another reputable company in the crypto space, no problems here.
How to Borrow Crypto on CoinRabbit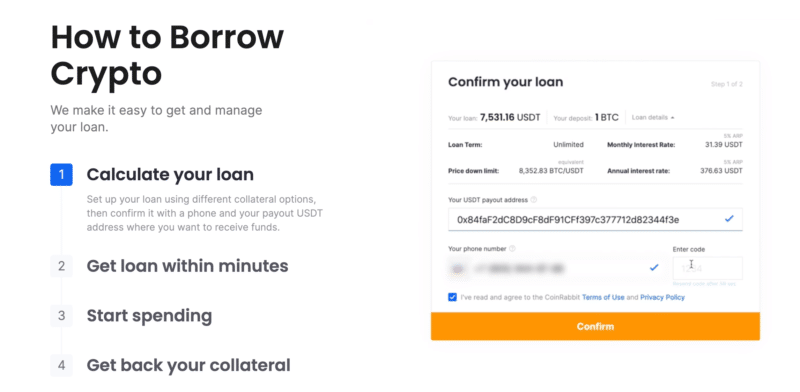 It's very easy to get a loan. CoinRabbit provides a handy calculator that you can use to calculate what amount you can get and what your monthly and annual interest rates would be. Once you confirm you will have your loan within a few minutes (around 10 minutes usually). At any point, you can repay your loan and get back your collateral.
There are two types of loans:
Bull market loans
Bear market loans
With bull market loans, you profit on the rising market. If you think that the market is about to grow or you are ready to sit for a long position, then this type of loan is most suitable. Get a loan, make a profit on the rise, then get back your collateral.
For example, with 1 BTC = $50,000 and an idea that the Bitcoin bull run is going up to $100,000, you could take a loan of $25,000 in exchange for 1 BTC as collateral (50% loan-to-value).
You would need to pay 10% APR on that loan.
Now, you'd go ahead and buy another 0.5 BTC on the market, then wait till it reaches $100,000. For the sake of having a convenient example, let's say that takes a year.
So, you now have 1 BTC as collateral on CoinRabbit, plus 0.5 BTC in your exchange or wallet. You also owe CoinRabbit $25,000 plus the interest of $2,5,00. You then liquidate the 0.5 BTC on an exchange and get $50,000.
You repay $27,500 to CoinRabbit and free up your collateral, which is returned to your wallet. You end up with a profit of $22,500. You also held your 1 BTC throughout, so in total your assets are now valued at $122,500. This is how you can use loans to leverage Bitcoin prices.
With bear market loans, the idea is to profit via sell-shorting, which is the reverse of the previous example. If you have a prediction for the market to fall and want to go short, then this type of loan is for you. Sell the received loan funds, catch the dip and buy the same currency. Then you can profit by paying off the loan repayment and keeping the rest.
Let's illustrate this with another example. Again, we assume 1 BTC = $50,000. We put in $100,000 as collateral, thinking that Bitcoin is on a downtrend and will go down to $25,000. Our annual APR is 10%, so we will owe 0.1 BTC at the end of the first year. Now, we go out and sell the 1 BTC on an exchange, getting $50,000 in return. At the end of the year, if our plan has worked out, Bitcoin is worth $25,000 and we owe CoinRabbit 0.1 BTC in interest as well as 1 BTC. We then buy 2 BTC on an exchange for $50,000, and release our $100,000 collateral on CoinRabbit by returning the 1 BTC that was loaned out to us, plus 0.1 BTC in interest. We end up with 0.9 BTC in our pocket plus our original $100,000.
One big benefit is that there are no limitation periods for loans. You can repay the loan whenever you want provided that you keep paying your interest on schedule (annually not monthly). Interest rates are on the low side compared to competitors, which is good. Keep in mind that there is a closing fee of USDT 100 / 0.0005 BTC if you decide to take a loan for less than 30 days. This is understandable as it is hard for the platform to profit on such short-term loans.
With regards to margin calls, CoinRabbit implements three limit zones, and once those limits are reached you are contacted via email and SMS to take remedial action. You can then increase your collateral in order to avoid liquidation.
You can take multiple loans, provided that you add the required collateral.
One thing that could be improved is the implementation of a debit card linked to the CoinRabbit account. This would enable users to spend the loaned funds directly. Other platforms do provide such a service, BlockFi being one of them.
Minimums
You can take a loan of just 100 USDT, which makes the platform accessible to pretty much everyone. Are you heavily invested in crypto and want quick liquidity for an unexpected small expense? CoinRabbit has you covered.
Security
I asked their support via chat about the security procedures they implement. Here's what they had to say:
We use the system of cold wallets for our services. These wallets are not used in any internal operations and can only be accessed by a few employees exclusively from our office via exact closed VPNs. They should approve any interaction with these wallets before it happens. Every transaction should be approved by several people or it will be terminated. Our risk-control system checks all the economy every second and also terminates all the transactions if anything is inaccurate. It provides us with an additional security layer against hacking attacks.
The collateral is held in cold storage and can be returned at any time provided the amount loaned and accumulated APR is paid. If the value of the collateral increases during the period of the loan, the current market price is not returned. Instead, the amount of collateral returned will exactly be the amount that was deposited.
Supported Collateral
Currently, the following coins are supported, with more being added frequently, so check the CoinRabbit website for the updated list.
I would only recommend using Bitcoin and Ethereum, as the rest are mostly trash in my opinion, and are prone to huge devaluations.
How to Earn 8%Interest on Crypto with CoinRabbit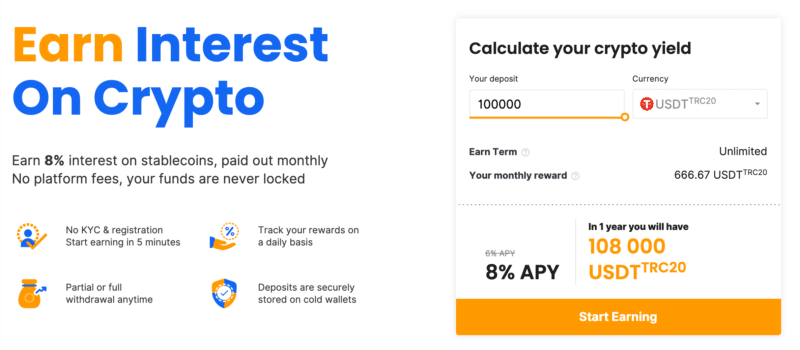 Stablecoins have a lot of uses in the crypto space, and one of them is to get great returns compared to your traditional bank account, while not exposing yourself to the volatility of non-stablecoin cryptos like Bitcoin, Ethereum etc.
The minimum deposit amount to start earning interest on USDT or USDC that is held with Coinrabbit is $100, whilst the maximum is $100,000. This is ideal for investors who opt to deposit smaller amounts of crypto. You can deposit USDT via the ERC-20 Ethereum network or via Tron's TRC-20 network protocol. Tron generally offers lower transfer fees.
As a reminder, CoinRabbit does not charge any fees for deposits or withdrawals. Deposits take only a few minutes, as expected, and as mentioned earlier the cryptos are stored with Guarda, which is a reputable company for cold storage.
Interest rates are comparable to other platforms, and currently stand at 8%, however, we cannot say that they are among the best. On the other hand, CoinRabbit is one of the best platforms for low fees and no KYC requirements.
Fees
There are no deposit or withdrawal fees, which is really nice compared to other platforms. This is one big advantage of using this platform.
Customer Care
Support staff can be easily reached and are responsive. You can also see that they take the time to respond to their Trustpilot reviews as well, so this is all good. You can send emails or better, use the chat tool provided on the website.
Mobile Apps
CoinRabbit does not currently have any mobile apps, however, these are in development.
Alternatives
The biggest and best players in the crypto lending space remain BlockFi, YouHodler and Ledn, in my opinion. I recommend you take a look at those platforms and decide for yourself whether the different features offered by CoinRabbit are appealing enough to you.
I would also recommend diversifying between a few platforms, especially if you are providing capital in exchange for interest (lending your crypto). That way, if any platform runs into trouble, you don't use all your assets at one go.
Final Verdict
The best feature of CoinRabbit is the fact that no KYC is needed to be able to transact on the platform. All other major competitors require KYC, so this is a huge plus if you're looking for utmost privacy with your crypto transactions.
The platform is very useful to those who are excluded from using other major platforms due to regulations in their location. It is very common for platforms to prohibit users from sanctioned countries, or even users from particular U.S. states, for example, just because regulations vary so much between locations. Since KYC is not exercised at CoinRabbit, everyone can use the service. I would bet that this situation will change in the future as CoinRabbit grows and attracts regulators' attention (as happened with Binance), but for now the opportunity is there for the taking.
On the other hand, there is little transparency about the platform itself – we only know that it is based in the Seychells. This is a point that needs to be improved in order to inspire more confidence among its potential users.
I look forward to seeing this platform improve and implement the changes I suggest in this review. As CoinRabbit developers further, I also expect to see mobile apps for iOS and Android, which in my opinion are also a necessary feature for success.
If your priorities for using such a platform are no KYC and low fees, then CoinRabbit is a good option for you.