Crypto.com is a multi-functional cryptocurrency platform that offers a variety of services. At the forefront of this is its cryptocurrency exchange – which allows you to trade crypto pairs at the click of a button.
Additionally, the Crypto.com platform also allows you to buy cryptocurrencies in the traditional sense – with the provider noting that you can do this at 'true cost' with 'no fees' or 'markups'.
Outside of its core exchange services, Crypto.com also offers crypto-backed loans, debit cards, interest-earning opportunities and a gateway for merchants to accept digital currencies.
Taking the vast number of products and services it offers, I decided to review Crypto.com myself. Read on to explore my in-depth findings.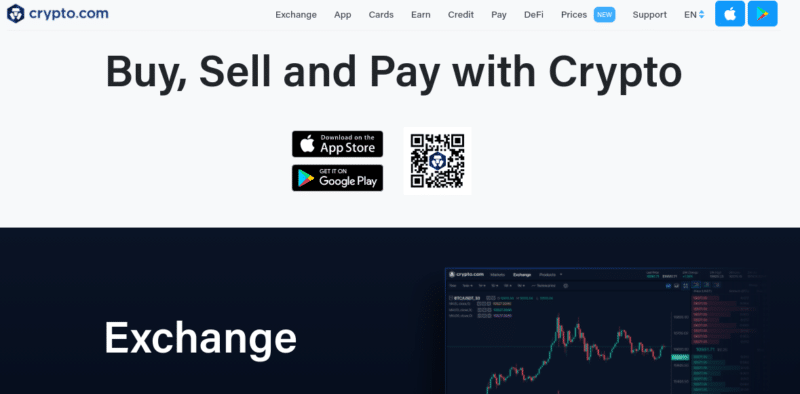 Crypto.com is an online platform offering a variety of services – all of which are linked to digital currencies. This includes the following:
Cryptocurrency trading exchange
Buy cryptocurrencies
Prepaid debit cards
Crypto-backed loans
Earn interest on your cryptocurrency holdings
Payment gateway for merchants to accept crypto
Cryptocurrency wallet
As you can see from the above – Crypto.com is somewhat of a Jack of All Trades in the cryptocurrency arena. As such, below I explore each of its core services in greater detail.
Crypto.com Trading Exchange
Crypto.com offers a fully-fledged cryptocurrency exchange facility. This is suited for those of you that wish to trade cryptocurrencies with the view of profiting from ever-changing exchange rates. This can be in the form of day, swing, or even long-term trading.
In terms of what you can trade, Crypto.com focuses exclusively on crypto cross-pairs. That is to say, you won't be able to trade cryptocurrencies against fiat currencies like the USD or EUR. You can, however, trade a variety of pairs that contain USDT.

For those unaware, USDT (Tether) is a digital token that is pegged to the US dollar. With this in mind, USDT-backed pairs at Crypto.com allow you to trade Bitcoin, Ethereum, Ripple, and many other projects against the dollar in all-but-name.
I should also note that Crypto.com offers an abundance of markets against the CRO token. Although I cover this in a bit more detail later on in this review – CRO is a digital currency native to the Crypto.com platform.
In terms of the trading suite itself – there is no requirement to download any software. Instead, you can trade via the main Crypto.com website. In addition to this, Crypto.com offers a mobile app which again – I'll cover in more detail shortly.
Trading Fees
When it comes to trading fees, Crypto.com utilizes a 'maker' and 'taker' system.
For all intents and purposes, by trading at Crypto.com you are a market taker. This simply means that you use the liquidity that has already been provided.
If you provide liquidity for Crpyto.com, you are defined as a market maker.
As a market taker, your fees are dependent on how much you trade in a calendar month. This starts at 0.16% – which is the commission for anything less than $250,000 per month. This is charged at both ends of the trade – which is industry standard. For example, if you stake $5,000 then you will initially pay a commission of $8. If you exit your position when the order is worth $10,000 – then you will pay a commission of $16.
Is this competitive? Well, at 0.16% there are cheaper options in the market. Binance, for example, charges an entry-level commission of 0.10%. At Crypto.com, you would need to trade a minimum of $100 million in a single month just to get your commission down to this figure! With eToro one needs to take the applicable spread into consideration. This is the case when you trade cryptocurrencies via CFDs as well as when you make a purchase in the traditional sense.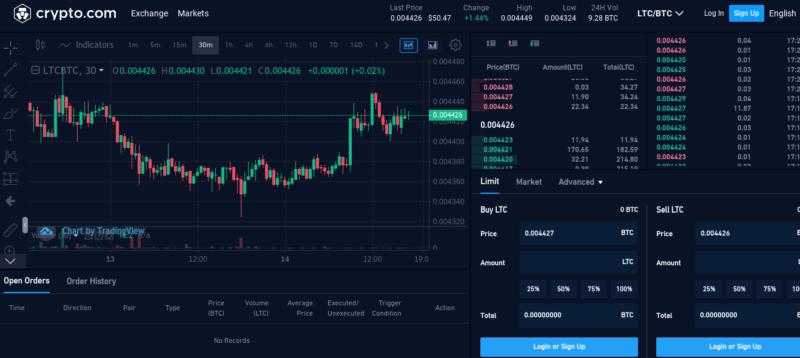 When it comes to market taker fees, this starts at 0.10% and goes down to a minimum of 0.04%. I should make it clear that your trading fees on the Crypto.com exchange can be further reduced when making use of the CRO token. Put simply, this operates much like the Binance Coin, insofar that one of its main purposes is to reduce the amount of commission that you pay.
As long as you have at least 5,000 CRO tokens staked at the platform, you will receive a reduction of 100%. In other words, you can trade cryptocurrencies on a 100% fee-free basis. At the time of writing, CRO is priced at $0.15 on CoinMarketCap – meaning that 5,000 tokens amount to a nominal value of $750. Ultimately, this is more than reasonable if you are a serious trader that is looking to access the crypto scene in a super cost-effective manner.
Crypto.com App (Buy Crypto and Wallet)
The next segment of the Crypto.com platform that I sought to review was that of its cryptocurrency brokerage services that it claims – comes with no fees or markups. With that said, this service can only be achieved via the Crypto.com mobile app. As such, this section of my review will explore some of the products and services that come with the application.
Before I get to that – I should note that the app can be downloaded free of charge and is compatible with both Android and iOS devices.
Wallet
First and foremost, the Crypto.com app acts as a primary cryptocurrency wallet that allows you to store a variety of coins. This covers over 80+ cryptocurrencies at the time of writing – covering the likes of Bitcoin, Ethereum, Ripple, Litecoin, Stellar, and EOS. The wallet can only be accessed via your mobile phone – meaning that you can't send or receive funds via your desktop device.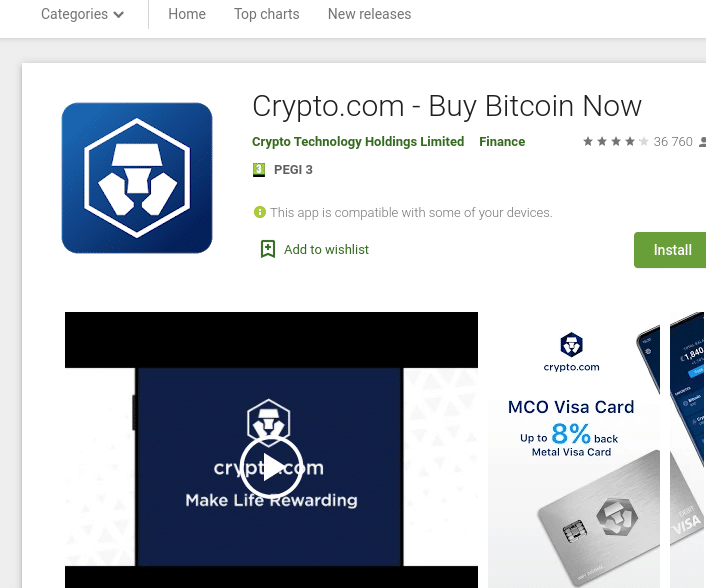 It is important to note that unlike the vast majority of cryptocurrency wallets available in the space, Crypto.com requires all users to go through a Know-Your-Customer (KYC) process. This means that you'll need to provide a copy of your government-issued ID and thus – you can't transact anonymously. If this is something you're after, you might want to consider the Crypto.com non-custodial wallet – which I'll cover later on.
Although you won't be able to store your cryptocurrencies anonymously, the overarching benefit of using a centralized wallet is that you have the means to recover access if you forget or lose your login credentials. This is because as a custodian wallet – Crypto.com can help you access your account with ease. Additionally, this wallet allows you to make transfers on a fee-free basis – as long as it's within the Crypto.com ecosystem.
Buy Crypto
The Crypto.com app allows you to buy each and every coin that the wallet supports – which as noted above, covers 80+ projects. This is why you are required to go through a KYC process when you first load the wallet up. There is nothing proprietary about being able to buy and sell digital currencies via a mobile app – so whether or not Crypto.com is worth considering for this purpose is largely dependent on fees and payment methods.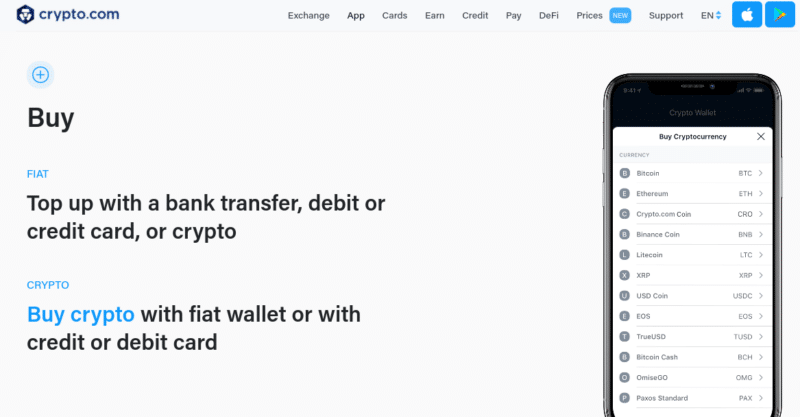 Here's what you need to know:
Supported deposit methods include debit/credit cards and a bank wire – including SEPA
When using a debit/credit card – most countries in Europe benefit from fee-free transactions. With that said, countries outside of Europe will incur a fee of between 1 and 3%.
For those of you in the US, this stands at 1%. Even then, this is significantly cheaper than the 3.99% charged by Coinbase.
There are no fees associated with bank deposits or withdrawals
Earn up to 12% Interest on Your Cryptocurrencies
Crypto.com gives you the opportunity to earn interest on your cryptocurrency holdings. At the time of writing, this stands at up 12% on stablecoins and 8% on conventional cryptocurrencies. The amount of interest that you can earn will not only depend on the type of coin you deposit into Cyrpto.com – but also the amount of CRO tokens you are prepared to stake.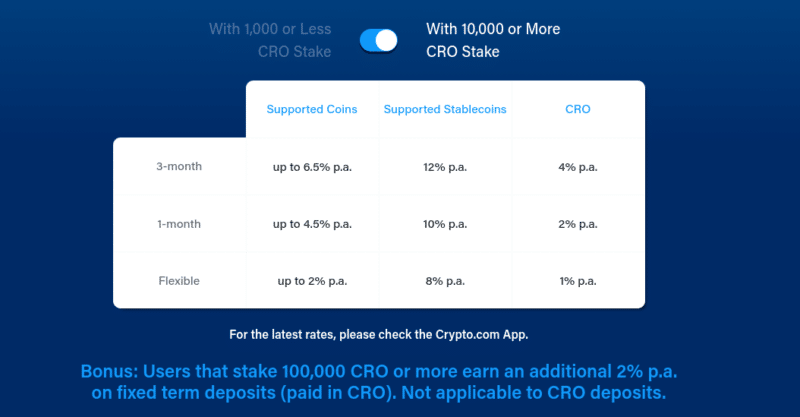 Additionally, there are different interest rates depending on the length of time you are happy to keep your coins locked away for.
Let's look at some examples so you have an idea of what sort of returns to expect when using Crypto.com to earn interest on your holdings.
In order to earn 12% annually on your stablecoin holdings – you need to have at least 10,000 CRO staked and be prepared to lock the funds away for 3 months. Anything less than 10,000 CRO and the interest is reduced to 10%.
If you're looking to deposit a standard cryptocurrency – then the interest offered is up to 8% annually when locking your funds away for 3 months and staking 10,000 CRO or more.
If you stake less than this, the interest goes down to 6% – also on a 3-month lock-up. If you want to benefit from a flexible arrangement – meaning there are no restrictions on withdrawals – the interest goes down to 2%.
To clarify, the interest you receive is calculated on a simple daily basis – meaning that it does not compound.
If you're looking for the best crypto interest accounts in the market at present – read my comparison guide here.
Crypto Loans
Crypto loans are getting more and more popular in the online space. The process is relatively simple and pretty much standard across all providers. In the case of Crypto.com, you will be depositing a quantity of cryptocurrency into the platform. In turn, you will receive an instant credit line amounting to 50% of the collateral you put up.
Cryptocurrencies that you can deposit as part of the loan scheme include:
CRO
BTC
ETH
XRP
LTC
XLM
EOS
In terms of receiving your 50% credit line, this can be paid in:
As you can see from the above – you can only receive your loan funds via crypto stablecoins. In my view, this is somewhat pointless.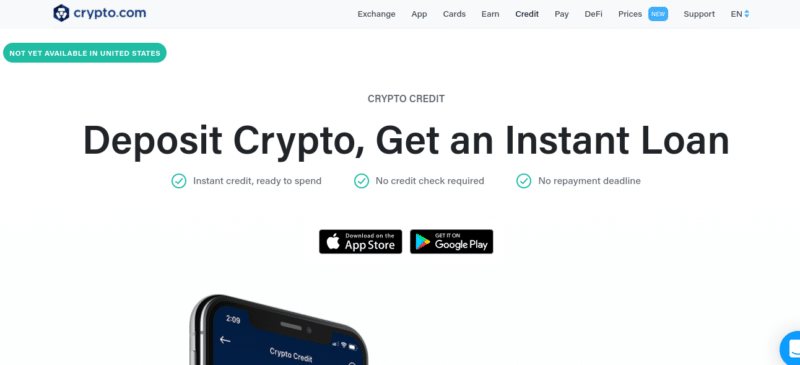 This is because most providers in the crypto loan arena allow you to receive your funds in fiat currency – paid directly into your bank account. This is much more valuable as a long-term crypto investor – as you get to free up some much-needed liquidity to meet short-term cash requirements.
Nevertheless, if the stablecoin loan service at Crypto.com is something that does interest you – expect to pay an annual interest rate of 12%. This can be reduced to 8% by holding at least 10,000 CRO tokens.
Cryptocurrency Merchant Services
If you're a merchant with an online presence and you plan to start accepting cryptocurrencies as a supported payment method – it might be worth considering Crypto.com. Put simply, the platform offers a seamless mechanism to start accepting digital currencies from your customers.
Upon hitting the checkout area of your website and selecting their preferred cryptocurrency – your unique wallet barcode will appear on screen. The user simply needs to scan the code with their mobile wallet QR tool and that's it – the purchase is completed.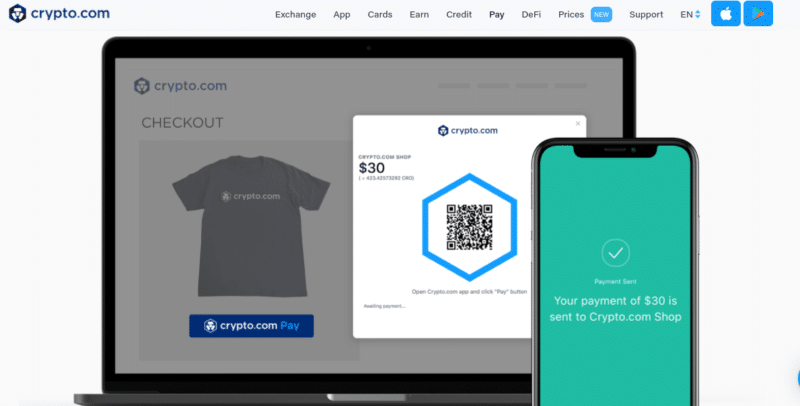 A couple of things to note about the merchant service offered by Crypto.com. Firstly, the fiat-to-crypto amount will be converted instantly at the point of sale. This ensures that you charge a relative amount  – not least because the cryptocurrency arena can be super volatile.
Secondary – and perhaps most importantly – you can elect to have your cryptocurrency payment instantly converted into your choice of fiat currency. Finally, Crypto.com notes that it does not charge any payment processing fees for settling transactions in cryptocurrency.
Pre-Paid Debit Cards
As an organization that strives to bridge the gap between cryptocurrencies and fiat currency – it makes sense that Crypto.com now offers a fully-fledged prepaid debit card. In what it calls the MCO Card – this is issued by Visa. As such, you can easily use the card online, in-store, or at an ATM.
In terms of fees, this once again boils down to whether or not you are planning to stake CRO tokens. And if you are – at what quantity.
ATM Withdrawals
In a nutshell, for those of you that don't want to buy or lock-up CRO tokens, you can withdraw up to $200 per month from an ATM fee-free. Thereon, you'll pay 2% of the transaction value. At the other end of the spectrum, staking 100,000 CRO tokens will get you up to $1,000 worth of fee-free ATM withdrawals per month.
Note: You will, of course, also need to factor in the fees charged by the respective ATM – as this won't be reimbursed by Crypto.com.
Interbank Exchange Rates
The Crypto.com debit card also allows you to benefit from interbank exchange rates. Once again, your monthly limit will be determined by your CRO token stake.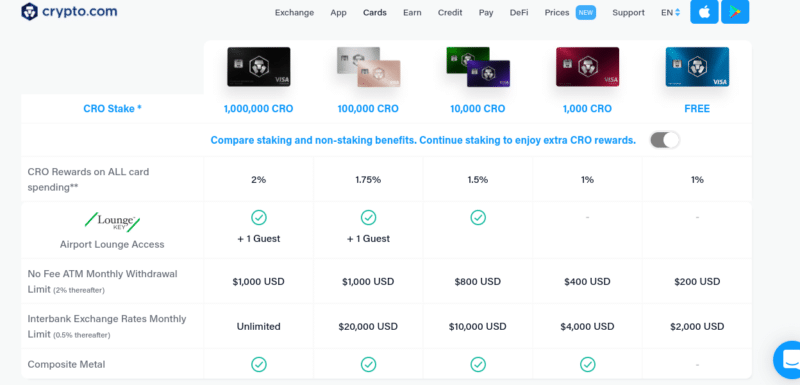 If you don't stake any tokens, you will get $2,000 worth of interbank exchange rates per month – which is more than reasonable. By opting for the 100,000 CRO limit – this goes up to $20,000 per month.
CRO Rewards
Irrespective of whether or not you stake CRO tokens – all transactions made with your Crypto.com debit card will receive an amount of cashback.
It likely won't surprise you that this is reimbursed in CRO tokens – deposited straight into your Crypto.com wallet. This starts at a cashback rate of 1% without any staking and 2% for staking of 1 million CRO or more.
In addition to the above, Crypto.com offers great cashback rates when paying for certain services.
This includes:
Spotify, Netflix, and Amazon Prime subscription at 100% rebate
Expedia and Airbnb at 10% rebate
In order words, if your monthly Spotify subscription comes to $9.99  per month – then you will receive the same amount back in CRO tokens.
Note: Although at first glance it is great that Crypto.com, offers such a generous cashback program – it is important to take a step back and assess the value of the CRO token itself. Sure, you can use a trading site like Bittrex to exchange your CRO tokens for Bitcoin – but this will involve time, effort, and fees. Additionally, if you plan to try and turn your CRO tokens back into fiat cash – this can be done but expect to lose an even bigger chunk to fees. 
Loading Your Card
In terms of loading funds onto your MCO Card – this needs to be done in fiat currency. In other words, although you can use the cryptocurrencies that you have held in your Crypto.com wallet – this will first need to be exchanged into USD via the app.
The proceeds will then be added to your card and available to for spending. Alternatively, you can also fund your MCO Card with your everyday debit or credit card.
DeFi Wallet
The final segment of the Crypto.com portfolio of products that I will briefly discuss is that of its DeFi (decentralized finance) wallet. In its most basic form, this is a decentralized alternative to the provider's standard wallet app. That is to say, the DeFi wallet gives you full, 100% control over your cryptocurrency funds.

This means that you, and only you, will have access to your private keys. This does come with its pros and cons. Regarding the former, this means that there is no requirement to trust Crypto.com as they will not have access to your wallet at any time. This would also protect your funds in the event that Crypto.com encountered a hack of some sort.
On the other hand, if you ended up losing your private keys or worse – you yourself encountered a security breach, then your funds would be gone forever. This is because unlike the standard wallet offered by the provider – Crypto.com would not be able to help you regain access to your login credentials.
Is Crypto.com Safe?
As I have covered throughout this review – Crypto.com offers a full range of products and services. With that said – the safety and/or security of your funds is ultimately dependent on what you use the provider for.
Here's an overview of how Crypto.com strives to keep your money safe.
Cold Storage
Crypto.com notes that 100% of client cryptocurrency funds are held in cold storage. For those unaware, this means that the digital coins or tokens are stored offline and are at no time connected to a live server.
For all intents and purposes – this ensures that the funds cannot be hacked remotely – at least in theory. Of course, there is always the potential of internal malpractice – so not even cold storage is a 100% surefire safeguard.
Ledger Vault and $100 Million Insurance
Leading on from the above point on cold storage, I should also note that Crypto.com has utilized the services of leading hardware wallet provider Ledger. In addition to this, Crypto.com also notes that is has a $100 million direct insurance policy in place.
This is underwritten by Arch Underwriting At Lloyd's Ltd. In total, Crypto.com explains that it has $360 million of cryptocurrency insurance when factoring in indirect coverage.
Fiat Storage
In terms of its cryptocurrency storage safeguards – this appears pretty comprehensive. However, some of its services require the storage of fiat currency, too. Crypto.com notes that it keeps all fiat funds in a custodian bank account.
For those of you based in the US and holding a US dollar balance at Crypto.com – this custodian bank account comes with FDIC insurance. This means that even if Crypto.com went bust – your funds would be protected up to the first $250,000. FDIC protection isn't, however, available for non-US residents.
Transaction Screening and KYC
Crypto.com claims to have cutting-edge FinTech technologies that can scan for suspicious deposits or withdrawals. If something gets flagged up by the technology – the transaction is likely to be blocked until a manual investigation has taken place.
Additionally, all users of the Crypto.com app are required to go through a KYC process. This ensures that all users have been verified. The only exception to this is if you are using the DeFi wallet.
Crypto.com Review – The Verdict?
In summary, it's clear to see that Crypto.com has a clear vision of bridging the gap between cryptocurrency and fiat. More specifically, it has created a variety of products and services that aim to bring digital currencies to the masses.

This includes everything from crypto loans and interest-earning opportunities, prepaid debit cards, exchange services, and merchant payment processing. It is therefore somewhat difficult to review Crypto.com as a single entity. Instead, it's best to view the platform on a product-by-product basis.
With that said, it is also clear that the platform is aiming to push users towards its CRO token. If you're not prepared to purchase any CRO tokens yourself – let alone stake them, then you might find some of the services on offer are not as competitively priced in comparison to others players in the respective field.
Summary
One of the best bridges between crypto and fiat that is targeted towards normal users, making things easy but not compromising on security.
Pros
Good security practices
One of the only ways to use crypto for payments in an easy way
Cons
Pushes users towards staking with the CRO token, which might not be something everyone wants to do