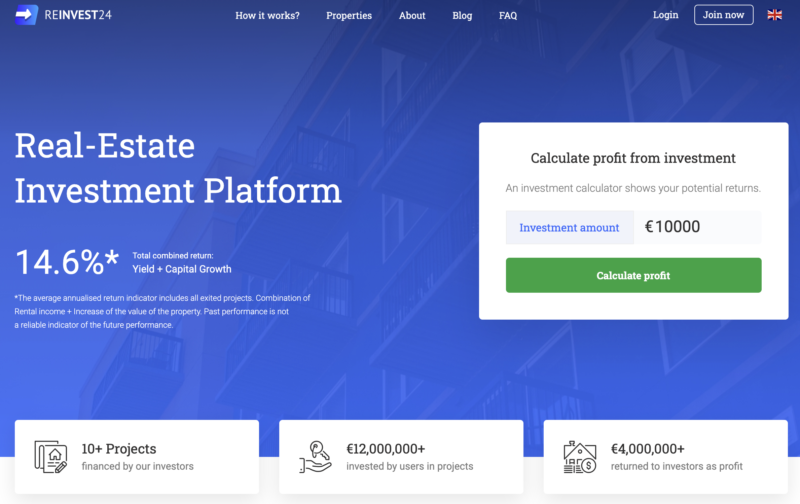 At some point, each investor who holds his stake in real estate through p2p and crowdfunding has faced the question of whether to go with EstateGuru or Reinvest24. These 2 platforms definitely stand out amongst other platforms on the crowdfunding scene, with quite a big community of investors who love them and others who are neutral.
During the past 3 years, where I have been investing in both while closely following their developments, I was able to spot some differences that might not be so obvious to new investors. At the end of the day, this comparison is not about determining the best in class, but which platform is best suited to your needs. So without further ado, let's dive into this comparison.
The age, size and business model
Founder in 2014, EstateGuru is the biggest European platform for investing in real estate. At the time of writing, their investors community consists of 117,500 investors. Reinvest24 was founded later in 2018 and thus far has around 14,000 investors which means they still have quite some ground to cover. Both platforms are based in Tallinn and have international offices in Europe.
Whereas the EstateGuru business model is to finance 3rd party projects backed by real estate collateral, Reinvest24 are known for managing their own projects and for offering rental projects – a property type that allows you to enjoy the same benefits from renting out your property. The latter model, therefore, has more "skin in the game" given that in the event of a project's default Reinvest24's team has more to lose.
Projects
Both platforms operate with secured loans backed with real assets, all of which can be openly vetted by prospective investors. To date, while Reinvest24 funded €19m in projects, EstateGuru funded over €513m. Moreover, the number of new projects varies quite considerably between the two. In fact, while EstateGuru publishes an average of 30 projects per month, Reinvest24's average currently stands at 8 per month.
At EstateGuru you can invest in development projects, bridge loans and business loans. With Reinvest24 you can invest in development projects, rental projects, real estate-backed loans and business loans.
As mentioned earlier, Reinvest24's prime differentiator lies with rental projects. In this respect, an attractive trait is capital growth. With many real estate properties increasing in price over time, once they get sold the investor can benefit from the increase in capital growth.
A first glance comparison between the two platforms will seemingly return similar development projects, however, upon taking a closer look you will start to notice quite some stark differences. A case in point is that while at EstateGuru finance the 3rd party borrower, Reinvest24 finance and manage all the projects themselves. That being said, Reinvest24 is now also looking at financing 3rd party borrowers and so far they have done so with one borrower – KIRSAN Swiss GmBH, who happens to have recently become a shareholder in Reinvest24.
Moving on to collaterals, normally the LTV (loan-to-value) varies from 50 to 70%. Furthermore, Reinvest24 has so far had a clean record in terms of defaults. In comparison, EstateGuru's default rate currently stands at 6.60% or €14,866,890. Nevertheless, there is still a possibility for this money to be recovered.
Minimum Investment
Both platforms can be accessed at relatively low entry points, with EstateGuru's minimum requirement of €50 being half the amount set by Reinvest24 at €100. In terms of deposits and withdrawals, both platforms operate seamlessly with transactions typically processed within 2 days, which depending on your bank, can also be reduced to a matter of hours.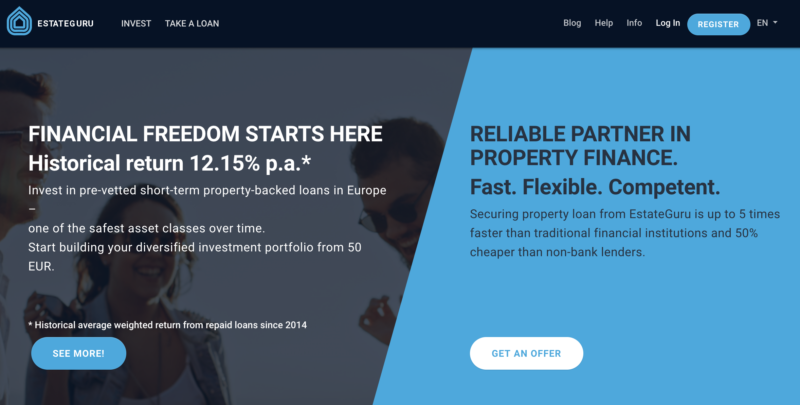 Interest Rates
As a result of EstateGuru's recent introduction of fees deductible from borrowers' interest payments, the average interest rate on outstanding loans dropped to 11.24%. From my experience, this is quite normal in the growth journey of platforms, with Mintos experiencing a similar path.
In this case, Reinvest24 gets the win given the current average interest rate of 14.8%. Even if one had to deduct the success fee, which is calculated on the invested principal, once a project is successfully implemented the average interest rate will still hover around 14%. This is not only higher than the one generated by EstateGuru but also than other real estate platforms. Reinvest24 can ultimately offer such high-interest rates because the majority of their projects are developed by themselves. This way they are able to optimize expenses more effectively, allowing more room for profits.
Geographical Diversification
The main market for EstateGuru is Estonia, however, I have also seen loans from Latvia, Lithuania, Finland, Spain, Portugal, Sweden and Germany. I expect them to keep diversifying geographically as they grow over the next few years.
Reinvest24 sources their projects from 5 markets – Estonia, Latvia, Spain, Germany and Moldova.
To date, these 2 platforms are the only Baltic real estate platforms that have entered the German market. Moldova is also quite an interesting up-and-coming market.
Fees
EstateGuru fees vary from 0% to 1% and are deducted from the borrower's interest payments. While Reinvest24 have recently abolished upfront investment fees, they charge a success fee of 1% applicable on your principal amount when the project you invest in is fully implemented. I personally think that this way the fee structure is beneficial to both parties – whereas for Reinvest24 this constitutes its main income stream, this way investors can earn a higher return, firstly because the principal invested is higher and also because the subsequent monthly interest rates are higher. The latter can then also be reinvested on the secondary market.
Both platforms charge withdrawing fees. While EstateGuru charges €1, Reinvest24 charges €2.
Secondary Market
If you would like to liquidate your investment before the project's maturity day you can do so by selling on the secondary market. The secondary market is quite active on both platforms.
EstateGuru charges a 2% fee to the seller while Reinvest24 charges 0% to the seller and 1% to the buyer. The secondary market of Reinvest24 is one of the most advanced ones I've come across, being similar to the stock market concept. Here you can start selling or buying from €1, which really helps to increase your returns since all your money is constantly at work.
Communication
I find both platforms to be very professional in terms of communication and sharing project updates. The EstateGuru statistics page is well-detailed and gives access to the most relevant information. Unfortunately, Reinvest24 still lags behind in this respect and similar statistics can be accessed only upon request. With that said, they are quite fast in attending to similar requests and they informed me that a statistics page should be made available shortly.
An additional feature available with EstateGuru is a downloadable loan book that lists all the 3k+ projects and as such makes it easier for the investor to keep track. This feature is not available on Reinvest24.
Regulation
The European Crowdfunding Regulation came into force in November 2021, allowing all EU platforms a transition period of 12 months. Both platforms are currently working towards aligning their processes to be in compliance with the rules.
Separately from these rules EstateGuru is already regulated and supervised by the Bank of Lithuania. Reinvest24 is in the final stages of receiving the license in Estonia.
Concluding Thoughts
EstateGuru is one of the cleanest and most transparent real estate crowdfunding platforms in the scene. The default occurrence to date has remained low with the platform also not showing any major red flags, which in my opinion makes it a good place to invest. EstateGuru is a good opportunity to invest in the Baltics, which market continues showing signs of generous growth. Read more: a deeper review of EstateGuru.
EstateGuru's platform interface is also very user-friendly, enabling you to locate any information you need within a few clicks. If you are looking for a more passive way of investing you can use an auto-invest tool. Their projects continue getting funded quite swiftly and their project tally is one of the highest on the real estate market. The strongest trait of EstateGuru lies in the diversification of its options, with its projects geographically spread across 7 countries. Hence if you're looking to invest smaller amounts across a variety of projects (starting from as low as €50) for an average interest rate of around 10%, I suggest you go by EstateGuru.
On the other hand, Reinvest24 is growing rapidly, developing both their project line as well as country diversification. Despite the lacking the same level of information provided by EstateGuru (for example statistics page, downloadable financial reports and loan book) their platform has still improved considerably during the past years. Read more: in-depth review of Reinvest24.
The biggest advantage of Reinvest24 can be found in the quality of their projects and higher interest rates. To date, Reinvest24 can boast zero defaults. Their team has refrained from chasing rapid expansion into geographical areas they don't have the expertise in and have instead prioritised consolidating their good results within their areas of competence prior to moving on to other countries. Their "skin in the game" is also higher than other platforms, given they are also financing and constructing their own projects which means that in the worst-case scenario they would be losing their own money and above all, tarnishing their reputation. If you are willing to invest a bigger amount of money (minimum of €100) then I would go for Reinvest24, given the higher average interest rate of 14%.