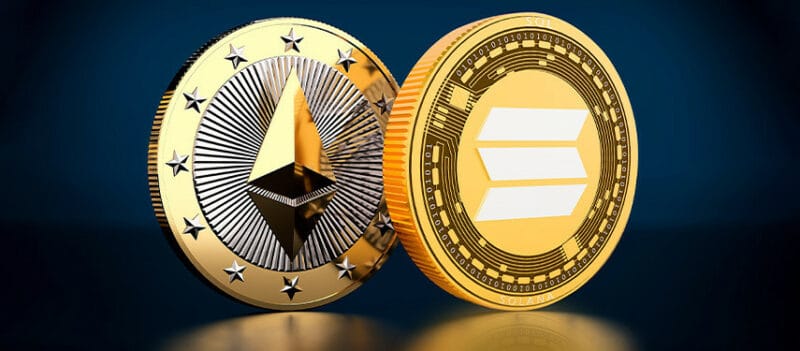 Solana was one of the big movers in the crypto space this year, and has been dubbed the Ethereum killer. I don't necessarily think the Solana founding team think of it in those terms, but it's certainly a competitor.
Before we begin, I think it's a good idea to buy Ethereum as well as buy Solana, as they are both top 5 players in crypto. Both have a lot of backing and I don't see them fading away anytime soon.
Let's take an unbiased view of how they compare.
Throughput – Solana Wins
Solana can process 50,000 transactions per second versus Ethereum's 15 TPS. Traditional finance player VISA can do 24,000 TPS.
However, ETH 2.o is on the horizon, promising up to 100,000 TPS, not to mention that there are various layer 2 solutions already in operation, so we will probably see the scenario change in the near future.
Solana uses its own innovative solution to the consensus mechanism – Proof of History. The idea for Proof of History was what drove Solana founder Anatoly Yakovenko to actually create Solana. Compared to Proof of Stake and Proof of Work it requires less computational power, contributing to the increased throughput capabilities of Solana.
Scalability – Solana Wins
Solana was built with scalabity as a high priority, so it's no wonder that right now Solana wins this contest. In fact, Solana was built with the idea that it would be able to replace the traditional financial services industry. Right now, it is the only chain that has the theoretical capability of doing so.
The caveat is that Ethereum should also become much more scalable once ETH 2.0 comes along, so it's not a definite win for Solana yet.
Network Effects – Ethereum Wins
No other project except Bitcoin can count on Ethereum's network effects, and there are far more developers actively building things on Ethereum than there are on Bitcoin.
Thanks to DeFi and NFTs, Ethereum is now very well positioned with retail investors as well. And the fact that so many other projects have ERC-20 tokens lends even more clout to Ethereum. These facts make me very confident that Ethereum will be around for many years to come.
On the other hand, Solana is the new kid on the block, and while things like NFTs and associated platforms are rapidly being built on Solana, it remains to be seen whether it will make sense to have a fragmented NFT scene across different blockchains, or whether Ethereum will be the one that dominates the space. As an NFT buyer, although ETH fees are insane at the moment, I still want all my NFTs sitting on Ethereum and will not touch others that launch on Solana or other chains, as I want my NFTs to be available to me far into the future, and only Ethereum can guarantee that as of today.
Solana might have the development language aspect going for it, since it is more accessible to programmers who are familiar with programming languages that have been in use for many years, and thus there is a bigger pool of developers who can switch to building on Solana with minimal friction, compared to Ethereum.
Read more: Should you invest in Ethereum?
Transaction Fees – Tie
On the surface of it, Solana should win this contest hands down, since it is infinitely cheaper to transact on Solana compared to Ethereum.
Ethereum is already taking a hit due to the high fees, as projects launch on other chains out of necessity, as they know they wouldn't thrive within a high-fee ecosystem. However, Ethereum is backing on the idea that this is just a temporary bottleneck that will be solved once ETH 2.o rolls around.
On the other hand, fees contribute to the longevity of a blockchain and its security, so from that aspect, I'm happy to pay higher fees because I trust that Ethereum is here to stay and the right economic incentives for miners are in place.
Decentralization – Ethereum Wins
The flipside of Solana's high throughput and speed is that it is fairly centralized. On the other hand, the defense to this argument is that Solana is still very new and will become more decentralized over time.
In my opinion, neither Ethereum nor Solana have quite nailed the blockchain trilemma yet, but both are gunning for that sweet spot between decentralization, security and scalability.
Conclusion
From my analysis, it is quite evident that it is too early to make definite predictions on how Solana and Ethereum will do in comparison to each other. I'm pretty sure about Ethereum being a top player for years to come, while I also have a lot of conviction on Solana, and my hope is that they end up finding different use cases and not actually competing with each other.
I am invested in both Ethereum and Solana. I think that if you're looking for lowering your risk, you should definitely have more money invested in Ethereum than Solana, whereas if you're looking for more potential upside, you could do 50/50 or give SOL a higher weighting in your portfolio compared to ETH.