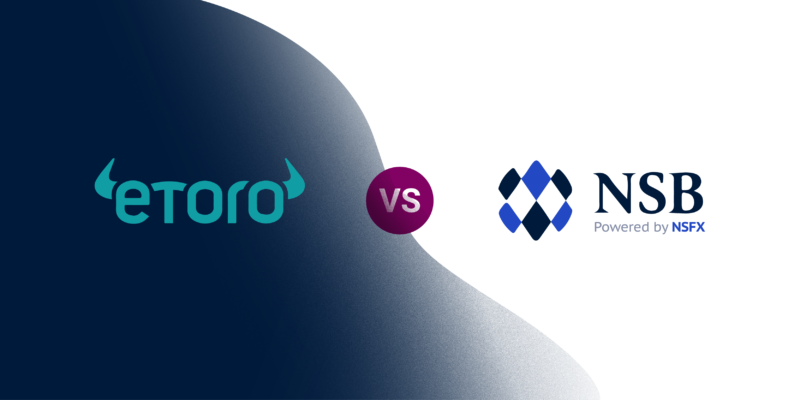 eToro and NSBroker are two trading platforms that I've reviewed previously on my blog. Both offer super competitive trading fees, heaps of markets, and an all-around user-friendly experience.
With that said, it can be cumbersome to have more than one trading account, so I sought to found out which of the two platforms are worth considering.
In this eToro vs NBbroker comparison, I cover core metrics surrounding commissions, tradable markets, payments, features, regulation, and more.
What is eToro?
Before I get to the fundamentals, it makes sense for me to briefly explain what each provider is and what they offer. Starting with eToro, this popular online trading platform was launched in 2007 and now boasts a client base of over 13 million accounts.
The broker is regulated by ASIC, the FCA, and CySEC – and offers online and mobile trading services.  The main attraction of this platform is that you can trade commission-free without any monthly or annual fees, although spreads also apply.
eToro offers both investment and CFD trading services. The former covers about 1,800-ish stocks from 17 markets and about 150 ETFs. You can also buy 16 different cryptocurrencies. Regarding its CFD trading platform, eToro also offers commodities, forex, and indices.
These CFD markets can all be traded with leverage. eToro is also known for its social and copy trading features. This covers everything from being able to copy an eToro trader like-for-like to being able to interact with other members of the site in a 'Facebook-Esque' manner.
You can read my full eToro review here.
What is NSBroker?
Now let's quickly review what NSBroker is. In a nutshell, this trading platform specializes purely in CFD instruments. It covers a variety of asset classes – such as forex, precious metals, cryptocurrencies, stocks, and more. Unlike eToro, NSBroker charges commissions, albeit this starts at just 0.05% or $8 per lot.
Spreads at the platform are very competitive, too. All CFD trading markets at NSBroker can be traded with leverage. You can also engage in short-selling, which is handy for profiting from falling markets. Much like eToro, NSBroker can be accessed online or via a mobile app.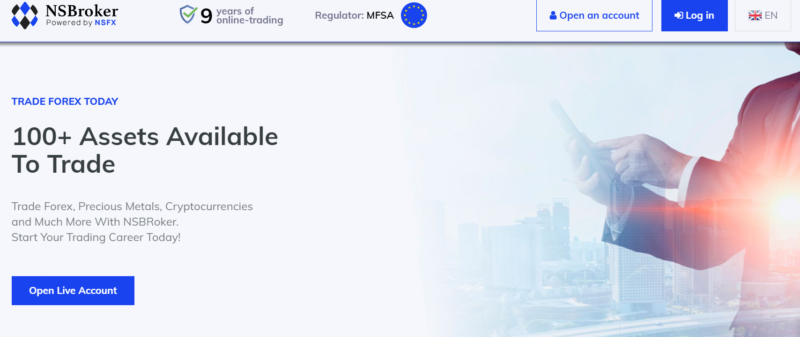 You can get started with the NSBroker demo account if you don't want to risk your own funds. Supported payment methods include a bank transfer and debit/credit card. NSBroker offers support for third-party trading platform MT5 – which eToro doesn't.
This means that you will have access to much more in the way of technical indicators, chart drawing tools, and the ability to deploy automated trading robots. In terms of regulation, NSBroker holds a license with the Malta Financial Services Authority (MFSA).
You can read my full NSBroker review here.
1. eToro vs NSBroker: Tradable Markets and Assets
So now that I have explained what each platform offers – let's start with the first comparison metric – tradable markets and assets.
First and foremost, NSBroker specializes only in CFD instruments. This means that you won't own the underlying asset in question. Instead, you are simply looking to predict whether the asset will rise or fall in value. This does, of course, mean that you can apply leverage and short-sell.
At NSBroker, you will be able to trade just 100 markets. This is actually really small. On the flip side, the platform does cover major marketplaces that benefit from the most liquidity. Think along the lines of gold, oil, Bitcoin/USD, and major forex pairs.
Over at eToro, you can also find an extensive CFD trading facility. However, what sets the platform apart from NSBroker is that it also offers traditional investment products.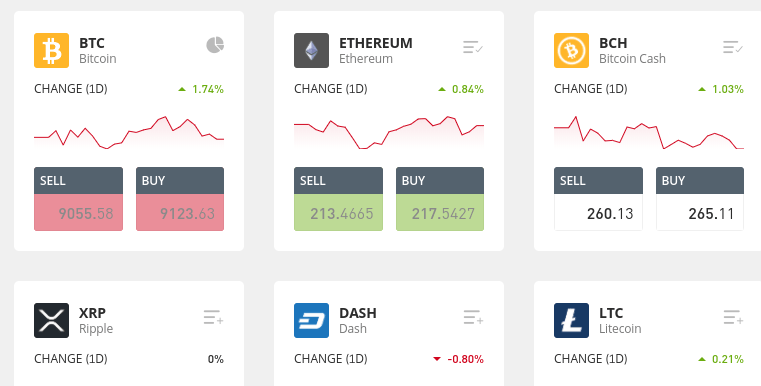 As noted above, this includes almost 1,800 shares from 17 international exchanges, ETFs, and cryptocurrencies. There are heaps more in the form of CFD markets, such as over 31 commodities, 45+ forex pairs, and over a dozen indices.
Winner: eToro.
Taking the above into account, eToro wins hands down when it comes to tradable markets. Not only because it offers significantly more financial instruments – but it gives you the option of buying making traditional long-term investments or trading CFDs.
2. eToro vs NSBroker: Fees and Commissions
This particular comparison is going to be very close – as both eToro and NSBroker are well-known for offering competitive fees and commissions.
This time starting with eToro, the broker is a low commissions broker. While this is becoming standard practice in the online CFD trading scene, this commission-free offering is also the case with its stocks, ETFs, and cryptocurrencies that you can own outright.

This is huge, as other than the likes of Robinhood, Stash, Trading 212, and a couple of other contenders- being able to invest without paying any dealing charges is virtually unheard of.
Over at NSBroker, the CFD trading platform does charge commissions. This will vary depending on the specific asset you are trading. For example, indices and cryptocurrencies can be accessed from just 0.0% per slide.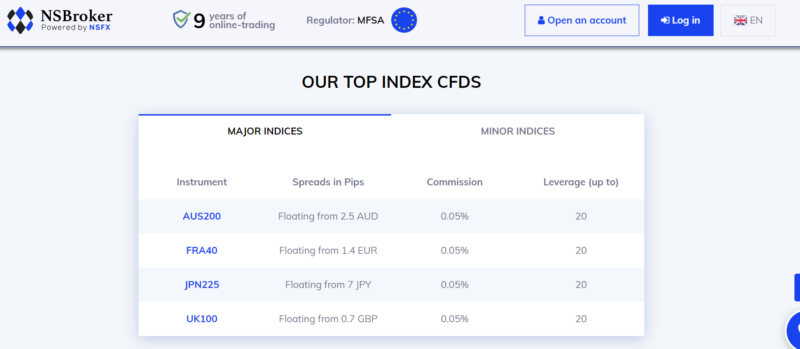 The likes of precious metals and forex can be traded at $8 per lot. Both of these commission models are actually very, very competitive. What I will say is that although eToro is commission-free, it makes its money purely from the spread.
In turn, you find that in all but a few cases, the spreads at eToro are higher than NSBroker. After running a few comparisons of major assets like gold and forex – I found the fees to be virtually like-for-like when taking both the spread and commission (or lack of it) into account.
Other Fees
On top of commission and spreads, other fees may also apply. For example, eToro charges 0.5% on all deposits that are made in a currency other than US dollars. The platform also charges a $5 withdrawal fee.
On the flip side, if you're interested in buying UK stocks at eToro, the platform waivers the stamp duty tax. Ordinarily, this comes at a cost of 0.5% of the purchase amount.
In the case of NSBroker, the platform charges nothing on deposits and withdrawals.
Winner: Draw
This part of my eToro vs NSBroker comparison is too close to call. Both offer very competitive trading fees that in most cases, are virtually inseparable.
3. eToro vs NSBroker: Trading Platform and Tools
When it comes to the trading platform itself, eToro offers a user-friendly interface that was built from the ground up. As soon as you visit the trading arena you can see that the platform was designed with newbies in mind.
There is nothing complex about the platform whatsoever – which is why eToro is often the go-to broker for first-time investors or traders. eToro also offers social trading features. As I briefly noted earlier, this is similar to how Facebook works – insofar that you can communicate with other users of the site, publish your thoughts, and reply to other comments.

In addition to this, eToro also offers a copy trading tool. This allows you to copy the investments or trading positions of another eToro user. There are also CopyPortfolios available, which is a fully managed investment service.
You can pick from a range of objectives – such as portfolios that focused on dividend stocks or diversified ETFs. On the flip side, eToro is very limited when it comes to performing analysis. For example, if you're a seasoned trader that wishes to deploy technical indicators, eToro won't be suitable for you.
Over at NSBroker, the provider hasn't built its own priority trading platform like eToro. Instead, you will need to trade via MT5. This is a third-party trading platform that sits between you and NSBroker – and it can be accessed online, via desktop software, or a mobile app.
Having access to MT5 only at NSBroker is both positive and negative – depending on your trading experience. For example, if you are a seasoned trader that seeks advanced tools and technical indicators – MT5 is ideal. The platform also allows you to deploy automated trading robots via software.
On the other hand, using MT5 via NSBroker might not be suitable if you are a newbie. This is because the platform is arguably more conducive for trading in an advanced manner.
Winner: Draw
Taking all of the above into account, this comparison once again ends in a draw. This is because eToro is great for newbie investors – as well as being able to utilize it's social and copy trading services. But, NSBroker stands out if you have a bit of experience in trading – largely because of its compatibility with MT5.
4. eToro vs NSBroker: Payments
In terms of funding your account, both eToro and NSBroker offers several payment options. For example, both support debit/credit cards for an instantly processed deposit, as well as a traditional bank transfer. I recommend using N26, Revolut or TransferWise.
However, eToro does take things one step further by also allowing you to deposit and withdraw funds via an e-wallet. This includes Paypal, Skrill, and Neteller. The minimum deposit at eToro and NSBroker is $200 and $250, respectively – so not much to separate the two there.
Winner: eToro
eToro is the winner when it comes to payment methods purely because, in addition to debit/credit cards and bank transfers, it also supports a trio of e-wallets.
5. eToro vs NSBroker: Safety and Security
In my view, this is where eToro is a clear winner. Put simply, eToro is licensed on three fronts. It holds licenses with the FCA (UK), ASIC (Australia), and CySEC (Cyprus). These three regulatory bodies are well respected in the online brokerage scene.
All three put strong demands on the brokers they issue licenses to – such as client fund segregation and identity verification. Then, depending on your location, you might also benefit from an investor protection scheme.
For example, eToro has parented with the FSCS, meaning that UK clients are protected up to the first £85,000. CySEC itself offers an investor protection scheme of up to €20,000. eToro is also registered with FINRA in the US, so this offers American traders a safe place to invest.
In addition to its regulatory licenses, the fact that eToro now has 13 million clients is notable. After all, it must be doing something right with such a large, globalized following.
In the case of NSBroker, the platform is regulated by one licensing body – the MFSA in Malta. This still requires platforms to comply with the likes of client fund segregation and identity verification, it's just that the MFSA doesn't have as good a reputation as the other bodies listed above.
With that said, NSBroker is registered with several other bodies – including the FCA and BaFin of Germany. It has also been operational since 2011.
Winner: eToro
Bearing in mind that eToro is licensed on three fronts, has been operational since 2007, and has since attracted 13 million clients – it clearly wins the safety comparison. That isn't to say that NSBroker isn't safe. On the contrary, it has the legal remit to offer trading services and you'll still benefit from client fund segregation and other regulatory protections.
eToro vs NSBroker – The Verdict?
In summary, both eToro and NSBroker are worthy of trading platforms to consider. If you're a seasoned trader that is looking for advanced technical tools and features – you'll like the fact that NSBroker is compatible with MT5.
This is also the case for those of you looking to deploy automated trading robots. At the other end of the spectrum, if you've never placed a single investment in your life – then eToro is going to be far more suitable.
This newbie-friendly broker not only offers CFD instruments, but stocks, ETFs, and cryptocurrencies that you can buy outright. When it came to fees, I found that eToro and NSBroker were virtually like for like. While eToro stood out with its commission-free offering, NSBroker's ultra-tight spreads meant that both offered a low-cost way to trade.
Ultimately, the platform that you opt for will depend on what your trading goals and prior experience look like.
eToro is a multi-asset platform which offers both investing in stocks and cryptoassets, as well as trading CFDs.
Please note that CFDs are complex instruments and come with a high risk of losing money rapidly due to leverage.
67% of retail investor accounts lose money when trading CFDs with this provider. You should consider whether you
understand how CFDs work, and whether you can afford to take the high risk of losing your money.
Past performance is not an indication of future results. Trading history presented is less than 5 complete years and may not suffice as basis for investment decision.
Copy trading is a portfolio management service, provided by eToro (Europe) Ltd., which is authorised and
regulated by the Cyprus Securities and Exchange Commission.
Cryptoassets are volatile instruments which can fluctuate widely in a very short timeframe and therefore are not
appropriate for all investors. Other than via CFDs, trading cryptoassets is unregulated and therefore is not
supervised by any EU regulatory framework.
eToro USA LLC does not offer CFDs and makes no representation and assumes no liability as to the accuracy or
completeness of the content of this publication, which has been prepared by our partner utilizing publicly available non-entity specific information about eToro.