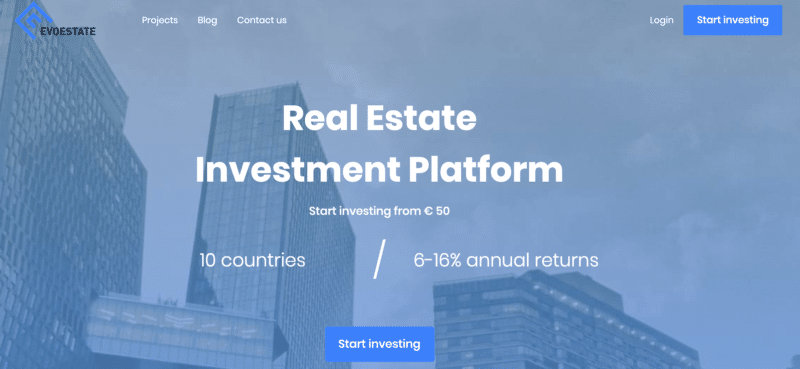 In this article, I would like to present my review of a relatively new real estate crowdfunding aggregator – EvoEstate. Real estate crowdfunding platforms are nothing new and I've already written my opinions about some of them, like Housers and Bulkestate.
However, EvoEstate is the first aggregator, or platform of all platforms in other words.
EvoEstate in numbers:
15 Partner platforms
12 Million EUR In investment opportunities
8 Countries Active investments
Let's talk about the advantages of EvoEstate
Diversification
Having a single account with EvoEstate enables you to invest across multiple platforms without having the hassle of signing up to each of them.
Consequently, this enables you to easily diversify across multiple countries.
At this moment, EvoEstate has already financed deals from 8 countries, including the United States, which is quite uncommon on European investing platforms.
But diversification is not only about the number of countries available.
They offer 3 types of deals:
buy-to-let where you earn from rental income of the property
development and business loans which are backed by real estate collateral
equity projects which are the riskiest but can yield the highest returns.
Extra Due-Diligence
Making cross-border real estate investments sometimes could be challenging just because of the lack of knowledge of local property markets. EvoEstate team has local advisors who help them to do provide another layer of due-diligence and they always share their insights before the official description of the platforms.
Skin in the game
When I talked with the founding team of EvoEstate, they quoted Nasim Taleb's quote from book "Skin in the game" which says "How much you truly "believe" in something can be manifested only through what you are willing to risk for it." The projects page on their platform is spread into two parts, Skin in the game, and other projects. The projects which are in Skin in the game section CEO and CIO invest at least 1000 euros of their personal capital into each deal.
Really Sophisticated Auto Invest
Auto investment is nothing new in this industry, however, most of them are really limited while having 3 filters. EvoEstate, on the other hand, provides 9 filters and enables you to create multiple auto investment strategies. That comes very handy when you want to select certain returns or mortgage rank for development loans or reduce the investment amounts while investing in deals which do not have EvoEstate skin in the game.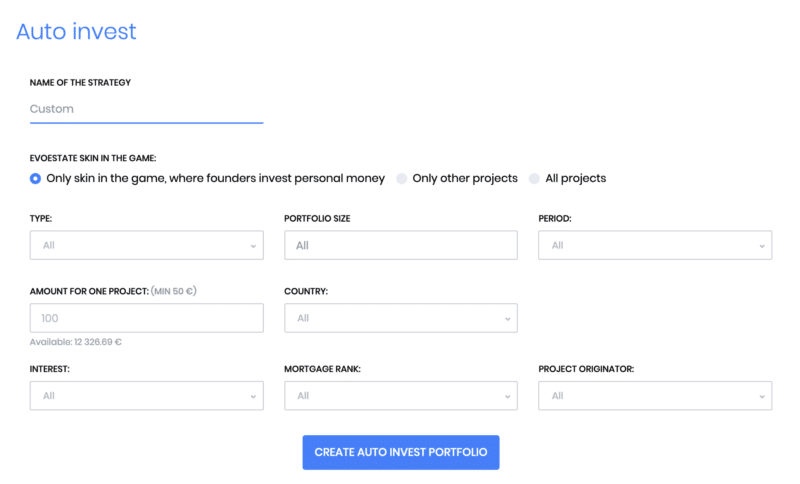 Lastly, if your Auto Invest made an investment you do not wish to keep in your portfolio, you can cancel the transaction in under 24 hours.
Liquidity
EvoEstate last month has launched its Secondary Market, which is proving to be very active. Buy or Sell orders which are discounted are sold the same day when I asked Gustas the CEO of EvoEstate about liquidity,  he told me that 25% of Secondary Market orders are executed the same day. Having an active secondary market is a big advantage for the investors because they can exit in case they are in need to have cash.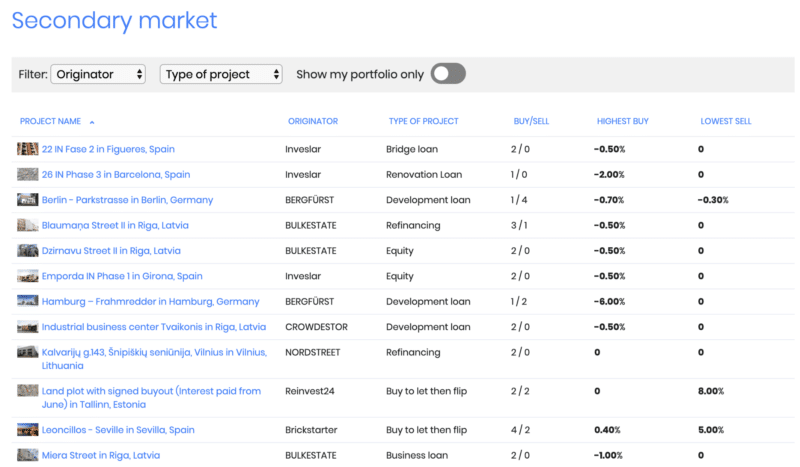 Another improtant aspect of their Secondary Market is that investors can make orders with discounts and premiums. This enables to generate income not only from investments but also from trading. They will soon introduce a margin trading feature, where investors will be able to use up to 75% of their investment portfolios' value to trade without having the funds on their wallet.
EvoEstate vision and future plans
Recently, I had a chance to meet with EvoEstate CEO Gustas Germanavicius in Barcelona to learn more about their platform. You can listen to the podcast episode we recorded over on the Mastermind.fm website. From the first moment, he was very clear that EvoEstate will continue being the most investor-focused real estate crowdfunding platform.
When I asked him what that really means, he explained: "When you think about real estate crowdfunding platforms, they focus mostly on property companies, because they are the ones who are not able to secure financing from the traditional financing sources, while investors have multiple options. We at EvoEstate are solely focused on the needs of investors and will remain this way."
He also added a self-reflection: "The main disadvantage at this point of EvoEstate is an unstable deal-flow. Some times we have too many projects and later, very few. We will solve this by adding more partners which we are constantly working on." Lastly, he finished our talk explaining their vision: "EvoEstate at this point is just taking its baby steps and currently we only offer investments in Euro, later this year we will have integrated currency exchange and our clients will be able to invest in UK deals as well. In the future, our aim is to connect Europe's, Asia's, the Gulf's and Americas' markets and create the largest real estate investments marketplace."
You can hear the rest of the conversation with Gustas on my podcast Mastermind.fm. Let me know what you think about Evoestate in the comments section below!