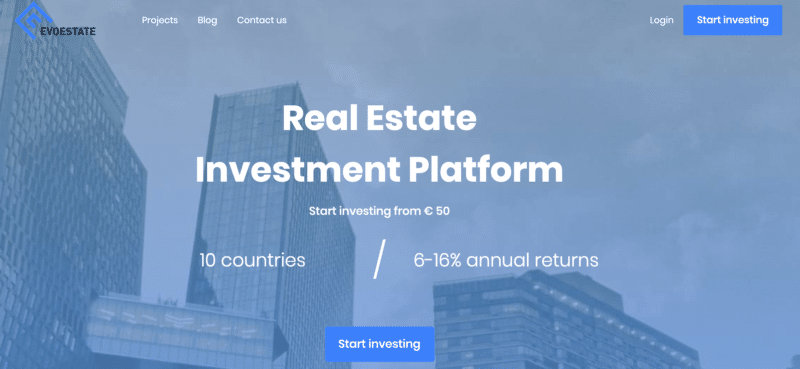 In this article, I would like to present my review of a relatively new real estate crowdfunding aggregator – EvoEstate. Real estate crowdfunding platforms are nothing new and I've already written my opinions about some of them, like EstateGuru and Bulkestate.
However, EvoEstate is the first real estate crowdfunding aggregator, or platform of all platforms in other words.
EvoEstate sources and aggregates real estate investment opportunities from over 10 countries. Investors can easily access deal-flow from close to 20 platforms and make cross-border investments hassle-free. As a consequence, all projects are listed in the English language, which isn't the case with most platforms as well as most of the documents.
The EvoEstate service is completely free to investors and EvoEstate makes money by charging a commission to partner platforms. Below you will be able to find information about types of deals, partner originators, auto-invest, secondary market, taxes, etc.
15 Partner platforms
12 Million EUR In investment opportunities
8 Countries with active investments
Having a single account with EvoEstate enables you to invest across multiple platforms without the hassle of signing up to each of them.
Consequently, this enables you to easily diversify across multiple countries.
At this moment, EvoEstate has already financed deals from 8 countries, including the United States, which is quite uncommon on European investing platforms.
But diversification is not only about the number of countries available.
They offer 3 types of deals and we'll look into them next.
Types of Deals available on EvoEstate
Buy-to-let
In these kinds of investments, you earn money from the rental income of the property.
This type of investment tends to generate the lowest returns, however many investors find them very attractive. The reason is that they are the most stable kind of investment. Investing in buy to let is like owning a small part of a property.
For a low amount of risk, investors can expect 3-6% of annual returns as well as probably capital appreciation over time. Capital appreciation is generated by the increased value of the property which, depending on the location, ranges between 2-4% annually.
Such an investment can yield investors a total of 10% annual returns, but you have to be patient and hold the property until the duration of the project. Most of the buy-to-let investments have a duration up to 5 years, but the originators do not disclose the exact dates, as they intend to sell when they will be able to generate the highest capital appreciation. The best part is taht when investing in buy to let properties through EvoEstate you don't have to limit yourself to just one property but instead you can own parts of property across all of Europe without the hassle of managing them yourself. 
Fixed-interest development and business loans
When investing in fixed-interest loans investors take on the role of the bank, providing financing for real estate development companies. This investment type has underlying assets – real estate collateral, which in case of default could potentially protect investors' principal investment.
Investors can expect to earn 8-13% interest annually investing in fixed-interest loans, but loans have higher risks involved compared to the buy to let projects. This is because they are more likely to default during a recession when the market cools off and developments struggle to find buyers.
Equity Projects
With this type of investment, investors become co-owners of the business, therefore investors can expect to earn between 14-30% annually.
However, like the business owner, investors don't only participate in the gains but also in losses, therefore there is a risk that investors could even lose principal.
Equity projects can also be sub-categorised
New developments –

you participate not only in the upside but also in the potential downside, however, the potential returns are much higher.

Auction products – where a property has been bought in an auction for a below-market price.
Private investment funds' deals
Keep in mind that even you own equity in the business, for the vast majority of these deals you still don't have any say in the management of that business or development, so you need to make sure that the company behind that investment is reputable. Luckily, this is exactly what EvoEstate does for you.
Making cross-border real estate investments can be challenging because of the lack of knowledge of local property markets. The EvoEstate team has local advisors who help them to do provide another layer of due-diligence and they always share their insights together with the official description of the platforms.
What are the main advantages of EvoEstate?
Skin in the game
When I talked with the founding team of EvoEstate, they quoted Nasim Taleb's quote from book "Skin in the game" which says "How much you truly "believe" in something can be manifested only through what you are willing to risk for it." The projects page on their platform is spread into two parts, Skin in the game, and other projects. The projects which are in Skin in the game section CEO and CIO invest at least 1000 euros of their personal capital into each deal.
Sophisticated Auto Invest
Auto investment is nothing new in this industry, however, most of them are really limited. EvoEstate's, on the other hand, provides 9 filters and enables you to create multiple auto investment strategies.
This comes in handy when you want to select certain returns or mortgage rank for development loans or reduce the investment amounts you invest in deals in which EvoEstate has no skin in the game. With EvoEstate investors can setup multiple investment strategies for each country, originator or type of deal individually.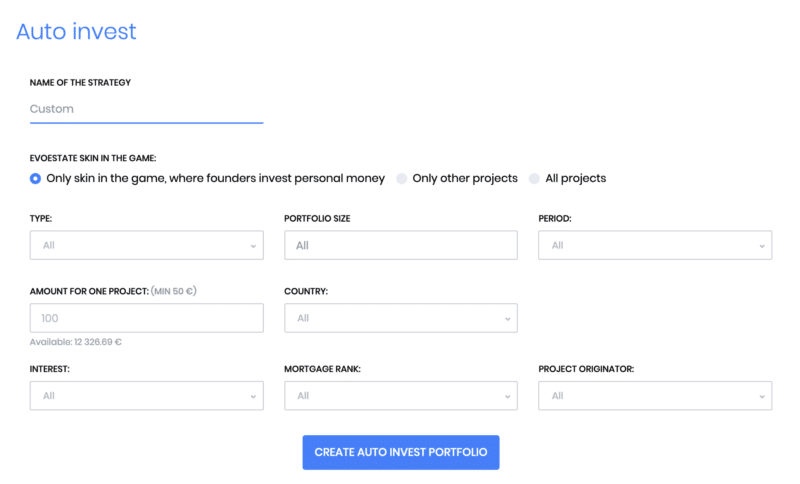 EvoEstate offers 24-hour auto-invest free cancellation feature. If investors don't like the automatically entered-into investment, they can cancel it without any fees.
Liquidity
EvoEstate has a Secondary Market, which is proving to be very active. When I asked Gustas, the CEO of EvoEstate, about liquidity, he told me that 25% of Secondary Market orders are executed on the very same day. Having an active secondary market is a big advantage fo investors because they can exit in case they are in need of cash.
Here are some more details about the secondary market on EvoEstate:
Works irrespective of whether the partner platform has its own secondary market.


Many partner platforms that EvoEstate collaborates with don't have a secondary market, but it doesn't matter. Even on those deals, they offer the secondary market and people can have liquidity.

Free and very active.


EvoEstate charges no fees to the investors for Secondary Market transactions. An important fact is that 50% of Secondary market orders without premiums are being executed within 24 hours.

Discounts & premiums.


Investors can choose whether they want to sell investments with discounts or premiums. This allows to either sell the investment faster and take a small loss, or slower but earning a profit.



Margin trading.
Coming soon.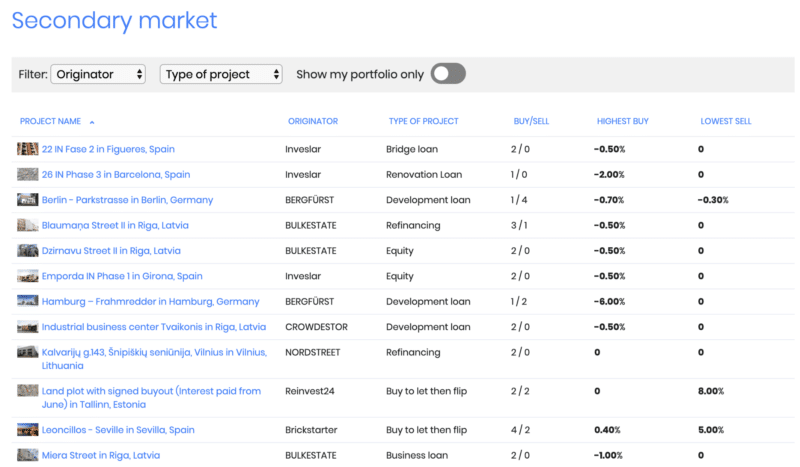 Another important aspect of their Secondary Market is that investors can make orders with discounts and premiums. This enables them to generate income not only from investments but also from trading. They will soon introduce a margin trading feature, where investors will be able to use up to 75% of their investment portfolios' value to trade without having the funds on their wallet.
What makes EvoEstate different?
First of its kind
EvoEstate is the first Real Estate Crowdfunding aggregator in the European market.
Skin in the game
The founders of EvoEstate invest personal capital into each deal provided in the skin in the game section, minimum founders investment each is at least 1000 EUR. In December, total skin in the game of the founders has exceeded 80,000 EUR.
Provides markets access
Most of the Spanish platforms prevent non-residents from investing, however with EvoEstate that's possible as we have legal capacity and structure to enter in those agreements on behalf of our customers. Also, EvoEstate aggregates private real estate investment funds' deals which usually have high minimum investments (50-125K EUR), but with us, the minimum investment is just 50 EUR.
Taxation
EvoEstate does not withhold any taxes, except for private individuals who are Estonia's residents. EvoEstate partners (except Housers) don't withhold any taxes on EvoEstate, therefore investors get net returns. All of these details can be seen within the tax report that is distributed to the investors at the end of the year by EvoEstate.
You can read my guide on P2P platform taxation for further information on this topic.
EvoEstate vision and future plans for 2020
Recently, I had a chance to meet with EvoEstate CEO Gustas Germanavicius in Barcelona to learn more about their platform. You can listen to the podcast episode we recorded over on the Mastermind.fm website. From the first moment, he was very clear that EvoEstate will continue being the most investor-focused real estate crowdfunding platform.
When I asked him what that really means, he explained: "When you think about real estate crowdfunding platforms, they focus mostly on property companies, because they are the ones who are not able to secure financing from the traditional financing sources, while investors have multiple options. We at EvoEstate are solely focused on the needs of investors and will remain this way."
He also added a self-reflection: "The main disadvantage at this point of EvoEstate is an unstable deal-flow. Some times we have too many projects and later, very few. We will solve this by adding more partners which we are constantly working on." Lastly, he finished our talk explaining their vision: "EvoEstate at this point is just taking its baby steps and currently we only offer investments in Euro, later this year we will have integrated currency exchange and our clients will be able to invest in UK deals as well. In the future, our aim is to connect Europe's, Asia's, the Gulf's and Americas' markets and create the largest real estate investments marketplace."
You can hear the rest of the conversation with Gustas on my podcast Mastermind.fm.
My Thoughts on EvoEstate
Having spoken with both co-founders of EvoEstate, I am confident in their abilities to grow this platform, and I also think they can do a great job at curating real estate projects.
At a time where it's getting hard to trust platforms and their projects, EvoEstate can help the investor with little experience by providing an extra layer of due diligence. As such, while I still recommend that you do your own research before you make any investment decision, I think EvoEstate is an ideal place for beginners to start investing in real estate online.
Let me know what you think about Evoestate in the comments section below!
If you join via the link below, EvoEstate will give you 0.5% cashback on your investments within the first 6 months.
Join Evoestate and get 0.5% cashback on your investments
Summary
I know the guys behind EvoEstate personally, having corresponded with them and met them in person. I think they're young but qualified to lead this platform, and they have backing by some important venture capital firms as well. I really like the idea of curated investments, as it adds an extra layer of assurance for investors. It's always better to have one more expert on your side, although you always need to do your due diligence yourself as well.
Pros
Curated investments
Skin in the game
Active secondary market
No fees for investors
Attracted outside investment
Profitable platform
Cons
Short track record as it's a newer platform
Deal flow dependent on other platforms