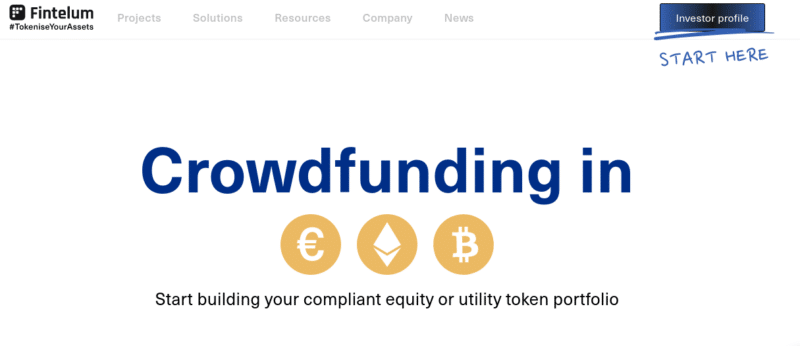 Tokenize your assets with Fintelum
The advent of cryptocurrencies has inspired the emergence of a whole new financial era – where money is equivalent to technology in many ways. Today, it is possible for you to convert any of the assets you have into digital tokens – using tokenization.
And Fintelum is one of the pioneers in this sector. The platform allows you to create tokens that represent your assets or invest in other tokenized securities – all while focusing on compliance.
In this review, I will introduce you to what tokenization is and how Fintelum can help you tokenize your assets. In addition, I will also walk you through the process of how you can invest in tokenized assets through Fintelum, specifically by talking about my investment in the KEEPP project.
In addition to this review, make sure you check out my podcast episode with Liza Aizupiete, the co-cofounder and Managing Director of Fintelum. We spoke all about how Fintelum operates and about the future that Liza sees in this space.
What is Tokenization?
In the most simple terms – to tokenize is to represent the value or commitment of an asset as a crypto token. A tokenized security will be a legal agreement that is represented as a digital asset or a smart contract. When your securities are delineated by a smart contract on a blockchain, it offers transparency and trustless access to information.
Today, you can tokenize almost any asset, be it company equity, debt, real estate, a product, or service – thus creating an unchangeable record of ownership. Not only that, you can create tokens that represent whole or fractional ownership of the security.
What is Fintelum Tokenization?
Fintelum has designed its unique Security Token Implementation process that allows its users to tokenize their assets. Read this guide about the legal basics of tokenization to learn more about why they are a viable way of implementation.
In a nutshell, the tokens created by Fintelum have the following features:
The tokens have an Ethereum Solidity code base.
The implementation follows a standard protocol with flexible features.
It tackles the need for a compliant blockchain instrument that represents a transferable security in a given jurisdiction.
Fully compliant with given security laws – including KYC, AML, and CTF.
As you can see, Fintelum aims to give investors an opportunity to tokenize their assets – without compromising on the security aspects. The company is based in Latvia, Europe.
In addition to token issuance, Fintelum also offers the following associated services:
It functions as an equity crowdfunding platform for investments in companies based anywhere, although the legal structure will likely be chosen to be Latvia, Luxembourg and Ireland.
Enables issuance of tokens in both primary and secondary markets.
Allows users to invest in security tokens from anywhere in the world in fiat and cryptocurrencies.
Compared to the few other platforms that offer similar services – Fintelum differentiates itself by bringing in years of technical experience and legal expertise. The team behind Fintelum has been working together for over a decade and has significant knowledge about the ins and outs of the crypto industry.
In other words, Fintelum has a unique value proposition for investors that are looking for innovative ways to store their assets and make sizable returns compared to conventional listed securities.
The solutions offered by Fintelum can be broadly categorized into two – for investors and for issuers.
As an issuer, you will be utilizing the platform's tokenization services to issue tokens for your respective asset. On the other hand, as an investor, Fintelum can connect you to viable investment opportunities.
Fintelum for Issuers
As I mentioned above, for issuers – the most important step on Fintelum is to tokenize your assets. However, as imaginable – not many issuers might be familiar with the concept of tokenization or how it practically works. Not to worry, Fintelum has developed a five-step process that can assist you every step of the way.
You will only have to provide the information you have regarding your assets, and Fintelum will take care of the rest.
Let us take a look at how you can start crowdfunding on Fintelum:
Step 1: Assess What You Want to Tokenize
Fintelum allows you to tokenize almost any type of financial instrument imaginable. Whether it is a company, a fund, a corporate bond, a contractual promise, or even a possession such as a boat or a property – Fintelum can create a token for your respective asset.
As such, your first option will be to define whether you want to create a security, a utility, or a hybrid token?
Step 2: Enter What Information You Already Have
If you are getting started on a new project, then Fintelum will ask you to take a look at the minimum requirements for your token to start selling. This includes:
Idea
Team
Proof of concept
Existing business
Paying clients
Minimum viable product.
If you have two of these six qualifications, then you can proceed to start setting the targets for your enterprise.
Step 3: Choose Your Jurisdiction
To proceed further, you will need to specify which is the appropriate jurisdiction of your project and your participants.
Step 4: Choose Your Communication Method
Based on your requirements, you will need to define whether your project is going to be on a local or a global scale. And consequently, how are you going to reach out to your investors and community?
Step 5: Let Fintelum Take Over
At this stage, you have provided everything that Fintelum needs to issue your token. The platform will look into KYC/AML compliance, the custody of crypto and escrow, define the security and utility tokens, and transfer agency.
In addition, Fintelum will also facilitate the secondary P2P trading and implementation of your STO. You can then sit back and focus on running your business efficiently.
What is an STO?
For those who are entirely new to tokenomics, you could also benefit from understanding what an STO is before you consider Fintelum. STO stands for Security Token Offering – and it is a method of fundraising that enables investors to invest in opportunities from anywhere.
Compared to the more popular Initial Coin Offering (ICO), the main attraction of an STO is that it conforms to regulatory requirements. It brings more regulation to blockchain-based crowdfunding and providers more guarantees by issuing tokens.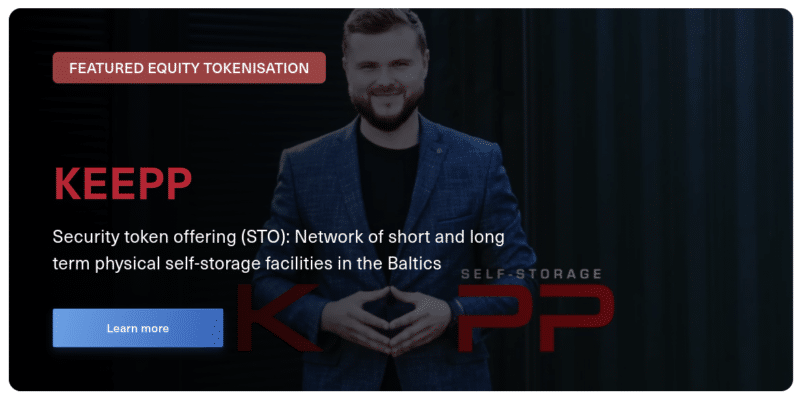 In other words, when investors inject money into a project through Fintelum, they receive a token in return.
The type of token will depend on the type of asset. Regardless of what it represents, the token is bound by both securities and crowdfunding laws which will be clearly laid out in the offering document following the KYC/AML processes.
With this in mind, let me tell you how an investor can use Fintelum to invest through an STO.
Fintelum for Investors
For investors, Fintelum serves as an innovative platform to get you access to unconventional opportunities. But if you are someone who is exposed to decentralized ICOs, then your first question would be why should you choose a centralized platform?
In order to answer this, Fintelum stresses the point of exerting control over your rights as an investor. For instance, the KYC/AML compliance ensures your ownership rights, voting rights, right to income, right to ownership inheritance, right to true and unobstructed information, litigation rights, and any other specific contractual rights.
Without such regulation,  external controls over your asset might not be easy to attain. In other words, security tokens that follow compliance are potentially a better way to represent your lawful rights as an investor. It not only enforces protection but also enables the issuer the obligation to fulfill them.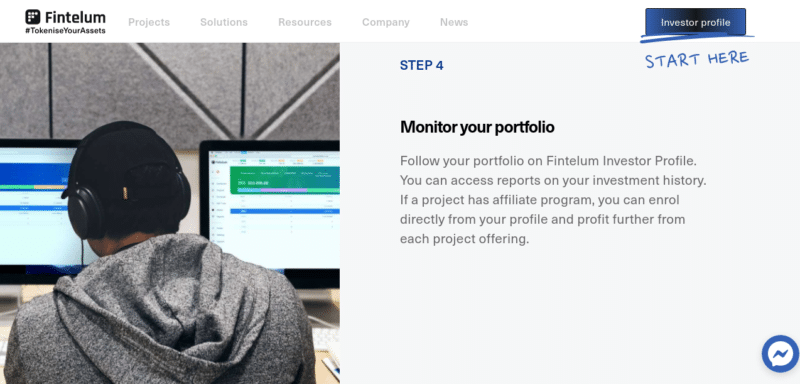 This protection can be crucial for an investor – when thinking of the security of the assets and your rights. Additionally, another important aspect of investing in tokens is access to the secondary market.
Now that I have established why investors might prefer to invest in tokenized assets – let me tell you how you can use Fintelum to start investing.
Step 1: Register as an Investor
The first step is to create your account on Fintelum by providing some basic personal information.
Step 2: Choose Your Project
Fintelum will then give you a list of vetted projects. Each project profile will include details of the company, its mission, use of funds, the total funding sought, and the type of investment. You will have options to choose between dividend shares, equity, asset-backed tokens, bonds, profit share, real estate, and revenue share.
I decided to invest in the KEEPP project, so I hit the "Make an investment" button to get started.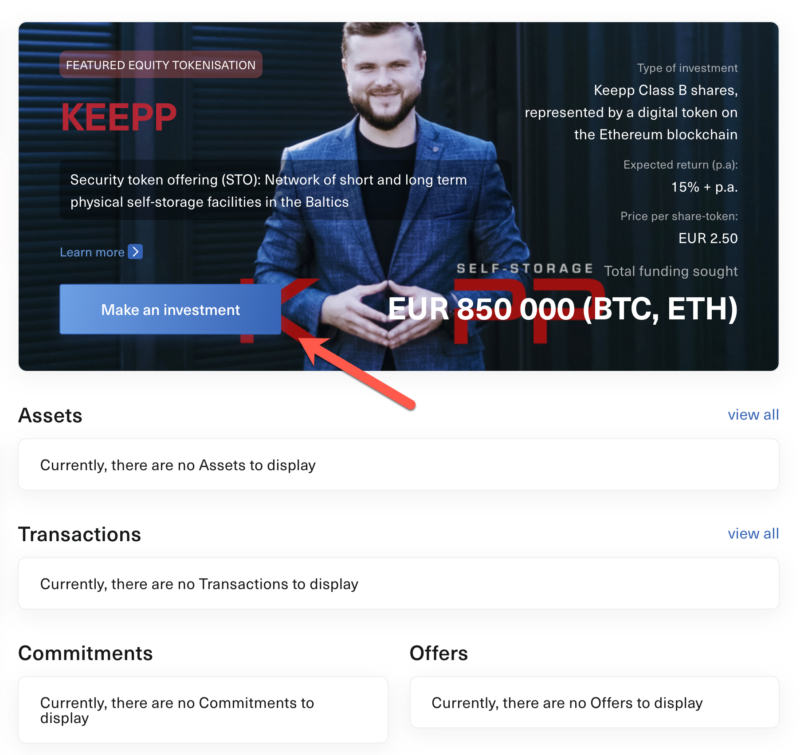 Step 3: Provide Your Compliance Information
As an investor, you will be required to offer further information in order to comply with the KYC/AML requirements. You will have to complete this step only once. When you are whitelisted – you can proceed to start investing in your chosen projects securely.
There's nothing too daunting here, although as investors we are tired of filling in KYC forms, this is a necessity for any financial institution.
For ID verification you can use either your ID card, your passport, or your driving license. Here are a few screenshots of how this looks.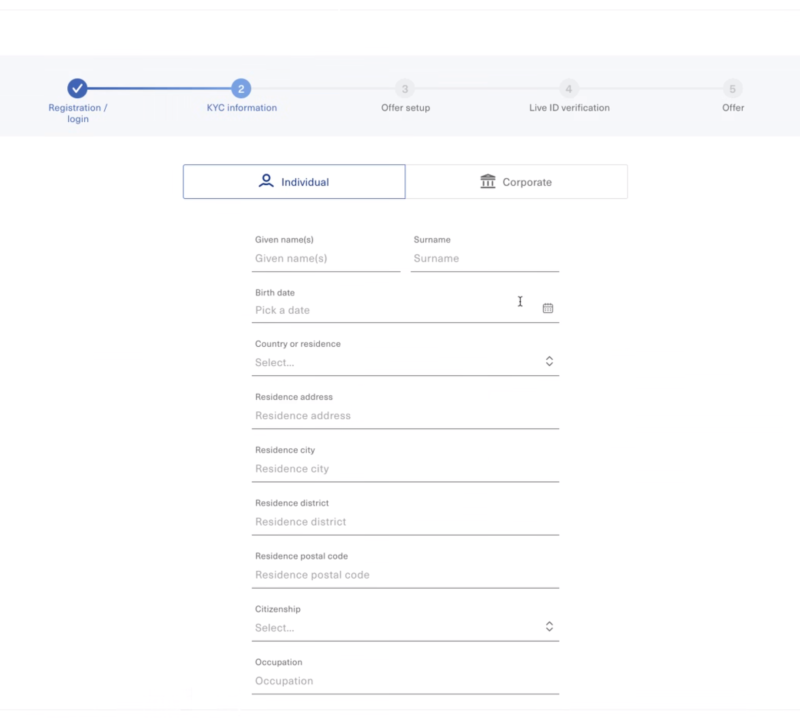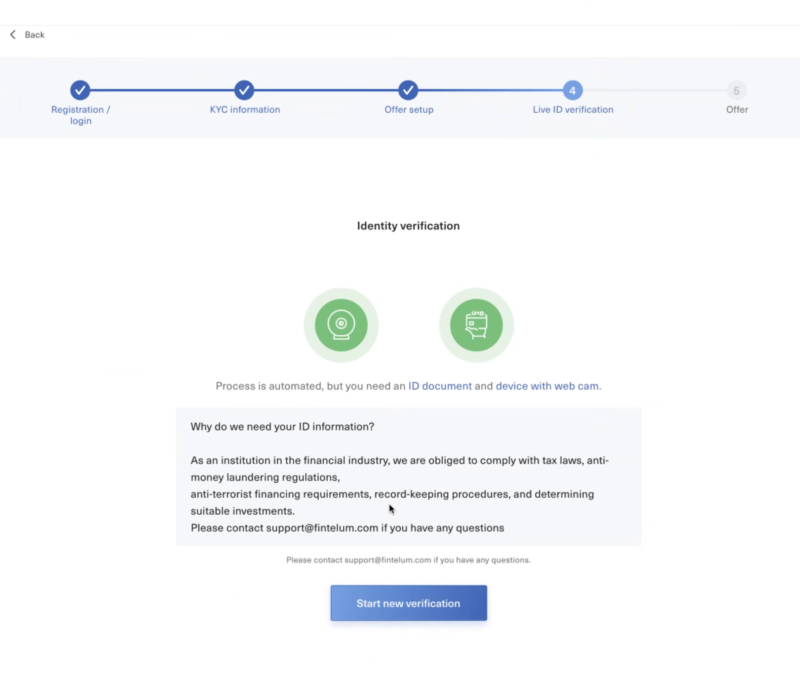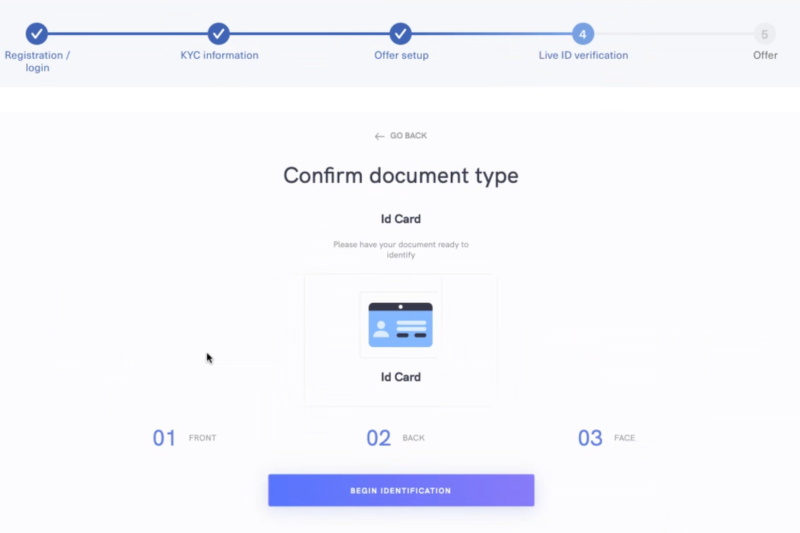 Once you're verified, you can proceed with your investment. During the KYC process, you will also be asked how much you are going to invest and whether you will be using EUR, ETH or BTC.
At the end of the process, you will get an offer for the tokens and you need to proceed with your deposit of EUR, ETH or BTC.

Step 4: Trade Security Tokens
You can acquire new tokens or sell any existing ones you have through the Fintelum P2P trading desk.
However, this will be possible only if the issuer has opted for the secondary market. If not, you will have to purchase the tokens at the time of the STO.
Step 5: Track Your Investments
Once you have invested, you can follow your portfolio and see the updates on the Fintelum Investor profile. You will be able to access reports on your investment history and see any additional income if applicable.
If any of your projects has an affiliate program, you will have the option to enroll directly from your profit and profit from further offerings.
Why I Invested in the KEEPP Project
The KEEPP project is currently available for funding at time of writing, so I decided to invest in this project. I had to go through the KYC process I just described in order to be able to receive the investment offer, whereby I then had to transfer the money via bank transfer in order to formalize the investment.
What I really liked about Fintelum and the KEEPP project, is that, unlike other similar crowdfunding platforms, a ton of information was provided about the project. Indeed, the prospectus was comparable to other prospectuses I've analyzed in the past for companies going public. The document was written in perfect English, and some other languages were also made available.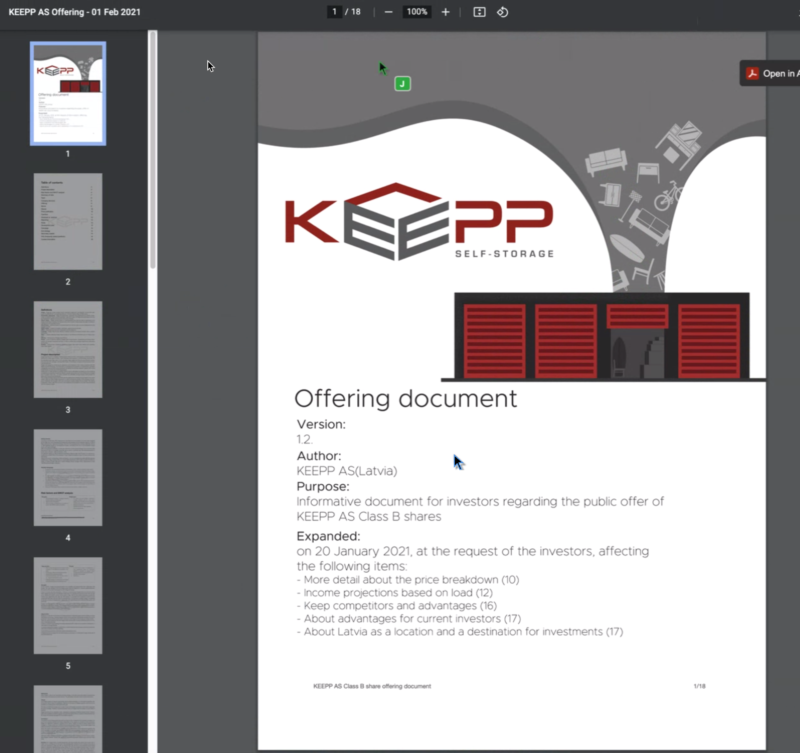 With such projects, a major concern is whether the company will accurately report its financial performance. This is crucial because investor returns depend on a positive result for the company, and in that case, to what degree was it a positive result. To make sure that a stakeholder is on the board, Liza Aizupiete from Fintelum will be representing investors' interests by being on the company's board of directors.
Another important element is what kind of shares you're getting. In this case, we are getting class B shares, and that entitles investors to be the first to receive dividends in proportion to the shares held. We also need to consider what price we are paying, and here we see that this round of investment carries a €510,000 share premium. That means that the price per share is €2.50, whereas the nominal or original value of the share was €1. This is normal for such issuances, as the value of the original shares would have typically gone up due to the company's successful operation in the earlier years.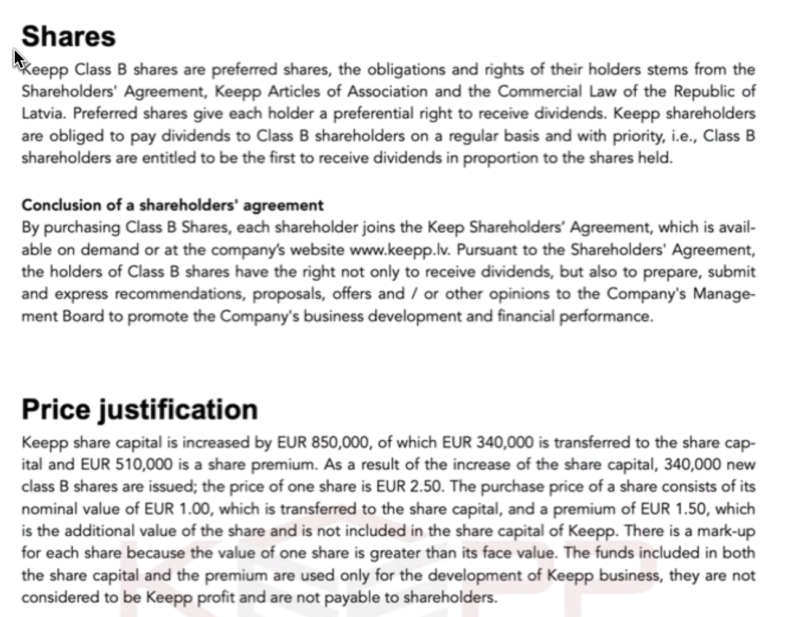 The team behind any business is always of utmost importance to me. In KEEPP's case we can see that they have a solid team with lots of experience in the different matters needed for the successful operation of this business.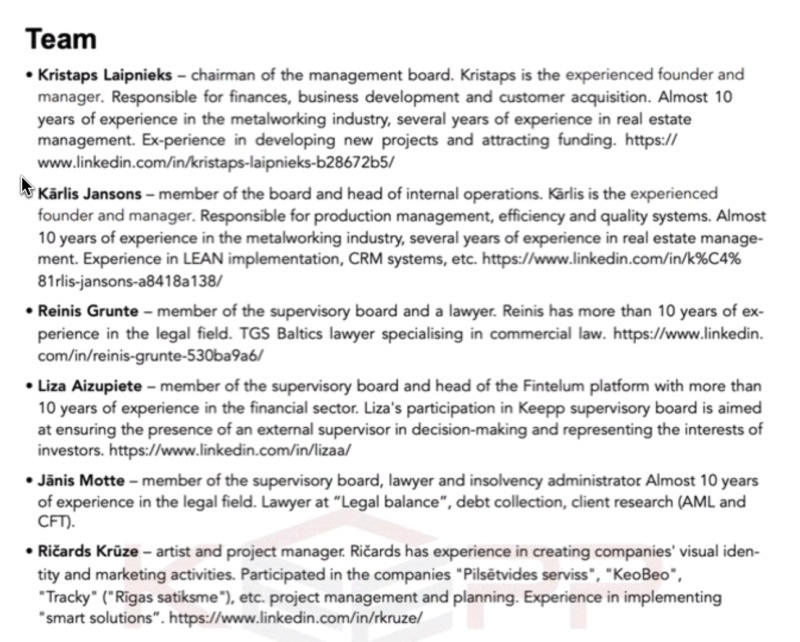 KEEPP is my first investment, but I'm hoping to see Fintelum continue to develop as a platform and put up more interesting projects. I'm also interested in the overall rate of acceptance of the STO model in Europe. It seems to be a space that's heating up and I like the idea of directly investing in small and medium businesses in addition to my portfolio of public stocks.
Fintelum Development
Apart from investing and fundraising, Fintelum also offers development services. You can approach the platform for a customized solution on building a minimum viable product (MVP) or to set up a website for your business.
The company specializes in offering sophisticated solutions with a focus on user experience and user interface in mind. They are experts in developing complex payment systems, trading applications – for web-based, desktop, and mobile applications.
Fintelum Advisory
As I mentioned earlier, the team behind Fintelum has tons of experience when it comes to the development and legal aspects of building a business. The platform also offers advisory services for those who are seeking guidance during the establishment or the running of a business.
Here are certain areas where Fintelum can be of help:
Developing a strategic vision
Technical implementation
Corporate finance
Corporate governance
Investor relations
Brand development
IT systems and security
Token modeling
All in all, Fintelum has many facets that can be of high value to business owners.
Fintelum Fees and Charges
As a tailored token issuing service, the charges for tokenization will depend on each issuer's specific requirements.
If you are an investor, the amount you pay for each token will also depend on the type of project you choose. However, it is unclear whether any other additional charges will be incurred when you make investments.
As a crowdfunding platform, Fintelum holds responsibility for the funds and assets of both investors and issuers. This is where the KYC/AML compliance and smart contracts come into play. By deploying smart contracts on the blockchain, Fintelum ensures accurate records of all transactions.
Additionally, the whitelisting of investors using KYC/AML compliance will protect the issuer from any fraudulent process. In addition, Fintelum will only issue share-tokens when the crowdfunding is complete and thus – after the participants and their funds have even verified.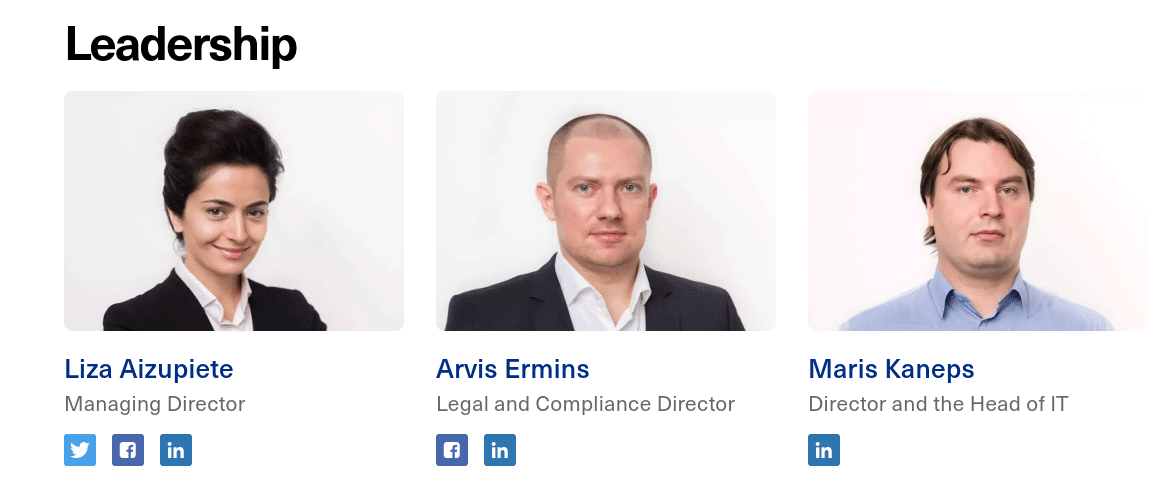 The smart contracts are created only at this point, and tokens are distributed to stakeholders via their Fintelum accounts. In case the issuers have enabled secondary markets, any transaction made will be recorded on the blockchain – and will be available for review whenever necessary.
Moreover, Fintelum implements its STOs on the Ethereum blockchain. If this system fails for any reason, it is possible to replicate the tokens on other blockchains – by following the same legal and business requirements. This makes the STO implementation of Fintelum dynamic, giving an additional layer of safety to your investments.
Fintelum Customer Service
As Fintelum offers tailored services,  you might be required to contact the team on several occasions. The platform has made this process easier for you to connect with experts directly through the platform.
Even if you are not an issuer or investor yet, you can reach out directly through the contact form, or through one of the social media pages of the company.
Fintelum – What's the Final Verdict?
If you are looking for alternative investment options, then Fintelum offers a way for you to achieve this. As an issuer, you have the opportunity to gain access to more investors to secure crowdfunding.
As an investor, you will be able to find innovative projects to back without having to compromise on any of the guaranteed rights to your invested capital.
Fintelum is headed towards an inevitable future, where STOs, ICOs, and tokenization are about to become increasingly common in the capital markets. With its regulatory and compliance features, the platform sets itself apart – by making the process more secure for all participants involved.