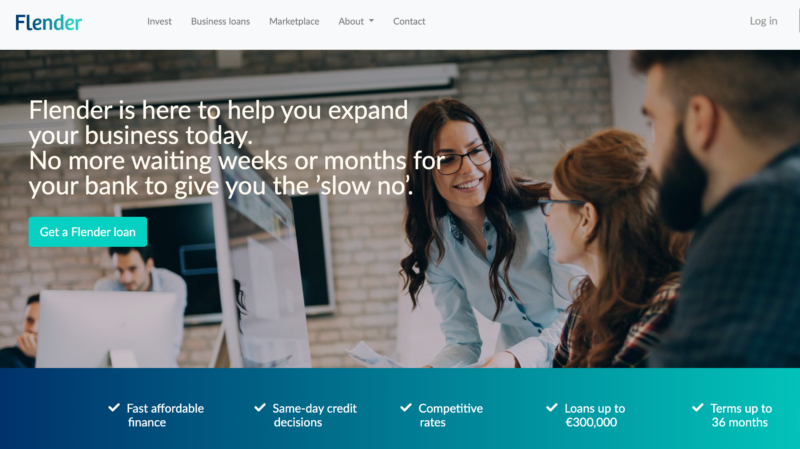 Flender is an Ireland-based peer-to-peer (P2P) website that specializes in business loans. The platform facilitates loans of between €15,000 and €300,000, with terms of up to three years.
Much like any other P2P lending site active in the space, Flender is open to investors of all sizes. In return for backing its business loans, the platform claims to offer an average annual yield of 9.9%.
If you're keen to find out more about Flender and its P2P investment model, be sure to read my in-depth review below. I cover all of the key points that I think you should know – such as how the platform works, where your money ends up, what risks you need to consider, and more.
What is Flender?
Launched in 2015 and based in Ireland, Flender is a P2P lending platform. The firm specializes exclusively in business loans, which range from €15,000 up to €300,000. All of the loans funded at Flender help fund small-to-medium businesses based in Ireland. In fact, the platform claims to have raised more than €22 million since its inception five years ago, subsequently resulting in the creation of 951 domestic jobs.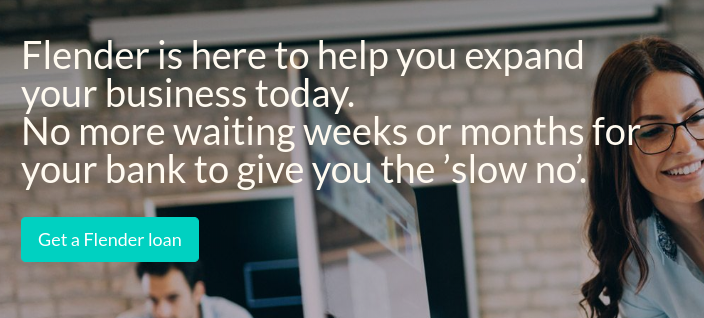 In terms of the loan specifications themselves, this can vary quite wildly at Flender. For example, there is currently a funding requirement for a €53,000 A+ graded loan with a 6.5% yield. At the other end of the spectrum, a €54,000 D graded loan – which met its funding target in full, is yielding 13.7%. With that said, Flender claims that on average, investors make 9.9% annually.
When it comes to getting your money back, the end borrower is expected to make monthly repayments until the loan is repaid in full. As and when they do, Flender will deposit the funds into your account. You will then have the option of withdrawing the money out, or reinvesting the cash into other business loans.
So now that you have a general overview of what Flender is, let's look at who is eligible to invest.
Who is Eligible to Invest at Flender?
Although Flender is an Irish company that focuses exclusively on Irish business loans, the platform is open to most nationalities.
As per Flender itself – you need to ensure that you:
Are at least 18 years old
Have a valid passport or driver's license
Agree to be responsible for your own tax affairs
When you go through the account opening process, you will be asked to upload a clear copy of your government-issued ID. This is to ensure that Flender remains compliant with domestic and regional anti-money laundering laws.
Minimum Investment Amounts and Payments
Flender allows you to back business loans from just €50. There is no limit to the amount you can invest, with Flender noting that you could effectively back an entire €300,000 loan. With that being said, a minimum per-opportunity investment of €50 allows you to diversify as best as possible.
For example, let's say that you deposited €3,000 into Flender. In doing so, you could effectively back 60 individual loan agreements. In terms of depositing funds into the platform, Flender allows you to use a Visa or MasterCard.
This is somewhat surprising, as most P2P sites typically force you to perform a bank wire. This is, however, also an option for those of you that prefer to perform a manual bank transfer.
Types of Loan Agreements
As noted above, all loans at Flender are business loans, and can range between €15,000 and €300,000.  Loans will come with varying terms, which is capped at 36 months. In terms of the yield, this will vary depending on the risk of the business borrowing the funds. This starts at 6.45% for A+ graded loans, up to a maximum of 15.9% on V graded loans.
A+: 6.45%
A: 6.95%
B+: 8.2%
B: 8.95%
C+: 11.7%
C: 12.2%
D: 13.7%
V: 15.9%
In order to gauge the respective grade of each borrower, Flender will look at the following metrics:
Affordability
Liquidity
Equity Base
Business Age
Directors Experience
Credit history
Essentially, Flender has an in-house team that performs enhanced due diligence on the directors behind the business, and the business itself. This includes an in-depth audit of recent accounts, identity verification, and affordability checks. Crucially, this means that loans are pre-vetted before they reach the Flender platform.
While there is no guarantee that the platform's grading system represents the true risks of the investment, this does at the very least give you an idea of the financial standing of the borrower. As such, you can stick with loans that mirror your appetite for risk.
Choosing Which Loans to Back at Flender
Flender offers both manual investing and auto investing. If you're more hands-on with your P2P investments, this gives you the chance to personally assess each opportunity. Within each funding opportunity, you will be presented with the following information:
Size of the loan in Euros
Term of the loan in months
Interest yield payable on the loan
How much has been funded to date
On top of the fundamentals, you'll also be shown some information about the business behind the loan. This includes a bit of background of the sector or industry they are active in, and why the business needs to borrow the funds. This then allows you to perform additional research on the company prior to making an investment.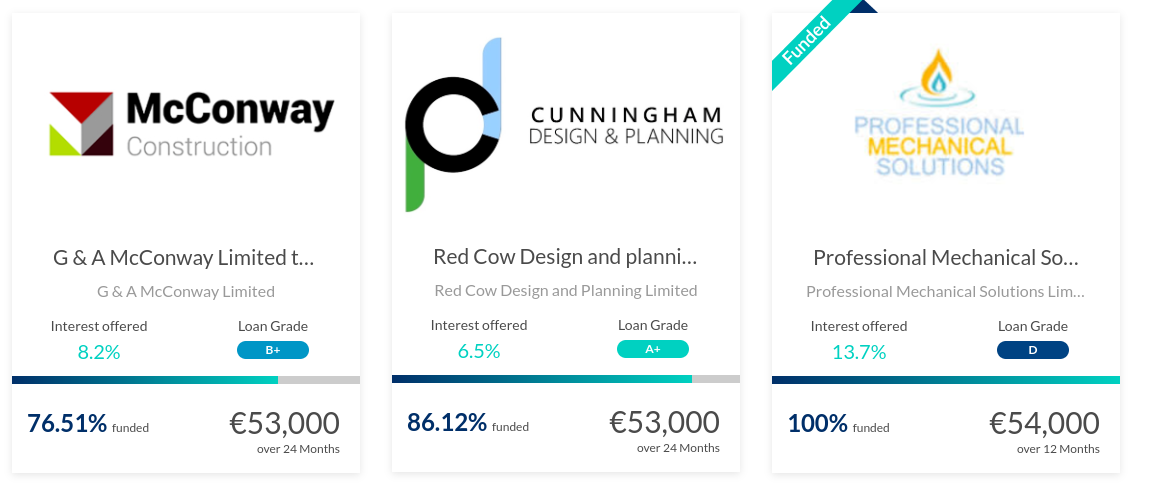 In order to assess where your money is likely to end up, I thought it might be worth unravelling a couple of loans that were recently funded at Flender.
Finbarr Kelly: €58,000 – 36 Months – 9% – Grade B
Finbarr Kelly is a dairy farmer based in Kilkenny. The company was recently successful in raising its full funding amount of €58,000. The term of the loan is 36 months, it pays a 9% yield for investors, and the package is labelled as having a grade rating of D. Finbarr Kelly notes that it plans to borrow the funds to expand the business.
Kiloran Seafood: €47,000 – 36 Months – 12.9% – Grade D
For those of you with a higher appetite for risk, Kiloran Seafood recently completed a €47,000 funding round with Flender, with the loan paying a rather juicy yield of 12.9%. With that being said, the borrower has been assigned a risk grade of D, which is reflected in the yield being offered. The seafood company aims to use the money to boost working capital and help fund new premises.
AutoFlend
If you're the type of individual that prefers to invest passively, you'll be pleased to know that Flender offers an auto-invest feature. Known as 'AutoFlend', the feature is beneficial for two key reasons. Firstly, if you do not have the required time to manually choose investments, AutoFlend will make investments as per your pre-defined parameters.
Secondly, AutoFlend ensures that your fixed repayments are automatically reinvested. Otherwise, you would manually need to log in to your account every time you receive a payment, and then distribute the funds accordingly. This will be the case on multiple dates throughout the month if you've got a diversified portfolio.
What I like about the auto-invest feature at Flender is that the pre-defined parameters are kept simple. You merely need to specify how much you wish to invest in each project, which risk grade(s), and at what terms (in months).
Fees at Flender: How Much Does it Cost to Invest?
You as an investor at Flender will not be charged by the platform. Instead, the platform makes its money by charging borrowers. It does so when a funding campaign "reaches its full target". It would have been nice if Flender was a bit more transparent on how it charges borrowers specifically.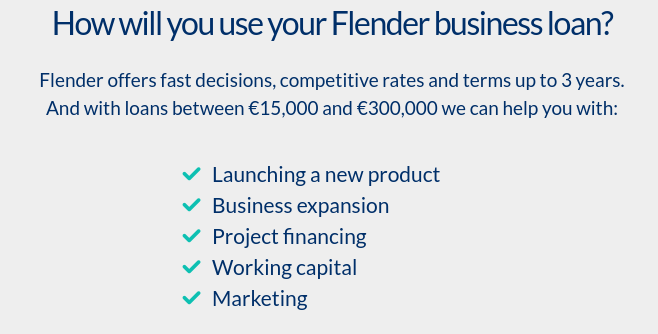 Instead, the platform notes that borrowers need to discuss this with Flender over the telephone. The reason I say this is that it remains unclear whether Flender actually charges a higher yield than it pays investors, subsequently making the loan more expensive for the borrower. If this is the case, this would dilute your risk vs reward ratio.
Risks of Investing at Flender
Regardless of which P2P lending site you are using, there will always be a number of risks to consider. After all, you will be chasing attractive annual yields of 9.9% at Flender. The most obvious risk that you need to make considerations for is a default. Before I go into the specifics of how this can have an impact on your investment, it is important to note that Flender claims to have a 'to-date' default rate of just 1.1%.

If you're a seasoned P2P investor, then you'll know first-hand that this is extremely low – especially considering the types of returns available. While there is no guarantee that this default rate will remain favourable long-term, it does at the very least indicate that the due diligence team have operated effectively to date.
Nevertheless, if the borrower does default on a loan, Flender will utilize the services of a third-party debt recovery agency. This means that even if the platform was able to recoup the debt, it's all-but-certain that this will be for a lower amount when you factor in recovery fees. It's also a possibility that no money is recovered, meaning that you would lose your investment.
As is the case with all P2P lending sites, your investments at Flender are not backed by a deposit protection scheme of any sort. The only saving grace is that the platform keeps client funds separate to its own. This acts as a safeguard in the event that Flender itself failed.
How to Get Started at Flender?
If you like the sound of what Flender offers for your long-term investment needs, I have compiled a simple step-by-step guide on how you can get started today.
Step 1: Visit the Flender Website & Open an Account
Your first port of call will be to head over to the Flender homepage and click on the 'Get Started' button. You will then be prompted to open an account. This will require you to enter a range of personal information, such as your:
First and Last Name
Date of Birth
Home Address
Nationality
Contact Details
You'll then need to select the 'Investor' option when asked to enter your preferred account type.
Step 2: Verify Your Identity
In order to remain compliant with relevant anti-money laws, Flender will need to verify your identity. Take note, you won't be required to upload documents until you make your first withdrawal request. However, I would suggest doing this straight away. This will allow you to avoid any delays further down the line.
To satisfy the KYC (Know Your Customer) process, you'll need to upload a copy of your:
Government Issued ID: Passport or Drivers License
Proof of Address: This needs to be a financial statement dated within the last 6 months
Step 3: Deposit Funds
Next, you'll need to deposit some funds. You'll need to head over to the 'Marketplace', and then click on 'Dashboard'. You should then see the 'Settings' button, followed by 'Add Funds'. As I briefly noted earlier, you can either deposit funds via Visa/MasterCard or a bank transfer.
Step 4: Choose AutoFlend or Manual Investing
Once your account is set up, Flender will then ask you whether you wish to engage in auto investing via AutoFland, or manual investing. If you want to opt for the former, you will need to set up your parameters.
If you decide that you want to take a more hands-on approach, spend some time browsing through the many funding opportunities listed at the site. Once you've found a loan structure you like, you'll need to invest at least €50.
Step 5: Your Returns
Once you've made an investment, you should receive your first loan repayment around one month later. After that, your monthly repayments should come through the same date of each month. When the funds are credited into your Flender account, you can then withdraw them out. A more sensible approach might be to reinvest the funds into other opportunities. This way, you'll be able to enjoy the fruits of compound interest.
Flender Review: The Verdict?
In summary, Flender has a notable track-record since its inception in 2015. With more than €22 million raised in business loans in its five-year tenure, and a very low default rate of just 1.1% – its average annualized returns of 9.9% are attractive.
It's good that the platform offers the capacity to invest in an automated manner, and you can set your parameters to mirror your appetite for risk. Moreover, with minimum investment amounts starting at €50, this allows you to diversify as best as possible.
With that being said, the number of loans available at Flender is somewhat thin on the ground in comparison to other P2P sites. However, much of this is due to the platform's 80% rejection rate of loan applications.
Summary
Being an Irish-based platform gives it a point of diversification when compared to the Eastern European P2P platforms. This seems to be a no-nonsense, solid platform that should do well in the coming years.
Pros
Good due diligence
Regulated in Ireland
Established since 2015
Only 1.1% default rate
Cons
Shortage of loans at times