This post is also available in: Spanish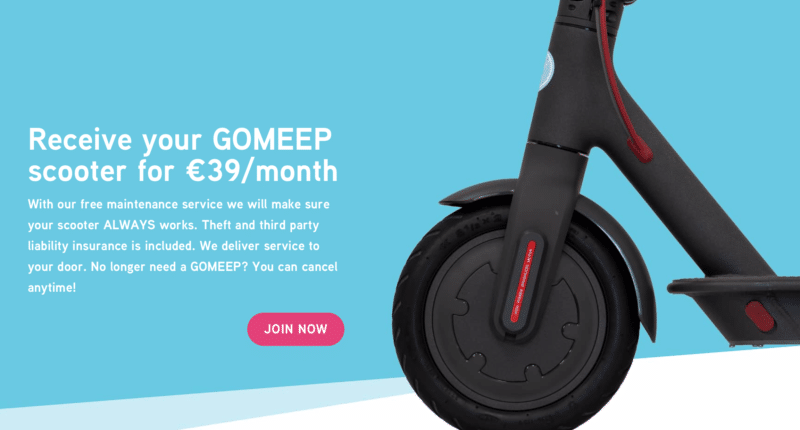 Gomeep is another electric scooter alternative. You get a new Xiaomi scooter and keep it with you, so there is no element of sharing here. It's just like buying your own electric scooter, but instead, you only pay €39/month and that includes maintenance and pumping up the tyres every two months or whenever necessary.
Not only is the scooter of very high quality, but the Gomeep team also made some important modifications to the basic Xiaomi scooter. They added a quality lock that can be used for quick errands when you need to briefly leave the scooter unattended. They also reinforced certain parts of the scooter that are prone to fail, hence enhancing rider safety.
One other cool thing that they include in the membership is theft insurance as well as third-party insurance. If your scooter gets stolen, you will have to pay around 100 euros but the rest is covered by insurance. More importantly, in the unlikely event of an accident with third parties such as a bike rider or a pedestrian, you are insured so the insurance will take care of any claims by the third party.
The guys at Gomeep deliver the scooter to your house or other point of your convenience, and are ready to assist you with maintenance anywhere you need.
I've been using Gomeep for my daily commute to my coworking space, and I really enjoy the morning and evening rides on the scooter. It's just like surfing through town, you get to enjoy the vibe of Barcelona in an effortless way as you whiz from one point to another.
Battery life is very good, it can do around 25 kilometers on one charge, and charging the battery is very simple, you just plugin the charges as you would do with a laptop or other device. I let it charge overnight so I'm sure we're ready to go in the morning. In many coworking spaces you will also find other users that have chargers so you might be able to charge it at the coworking space itself.
Gomeep have some excellent reviews already, here's just a sample of happy users:
I have been a GOMEEP user for a few months now and could not be happier! My own scooter kept breaking down and needed repairs. Now with my GOMEEP the service is what I appreciate most, always quick and convenient! Would highly recommend as the best option for transportation in Barcelona!
Best service the absolutely the best way to 'lease' patinetes! The patinetes are ,especially in the summer, really recommended in the Barcelona area!
I used Meep for 2 months when I was in Barcelona. Excellent service! They deliver it to your doorstep, the scooter is upgraded with some snazzy features and (my favorite) they provide a very handy locking system , so you can park it while shopping instead of carrying the 15kg contraption everywhere. Also, I had an issue with the accelerator a month into the use, they responded immediately, and i had a fully functional bike in 2 hours.
Also – very responsive on Whatsapp! Thank you Gentlemen, it was an absolute pleasure!!
I highly recommend Gomeep to those who have a regular commute and love electric scooters but don't want the hassle of purchasing one and having to maintain it themselves. Electric scooters are still a new technology so we will be seeing newer and better versions coming out very regularly, hence I think it is wiser to rent on a monthly basis than invest in a new scooter that might be obsolete in a year or two.
I have teamed up with Gomeep to offer you a nice €10 discount for your first month of rental. All you have to do is enter the coupon code REF6DCQXS3HTF during checkout. Note that there might be a waiting list as this service is hugely popular. If you end up on the waiting list, make sure your remember to use the code when you finally make it to the top of the list and can sign up for Gomeep.