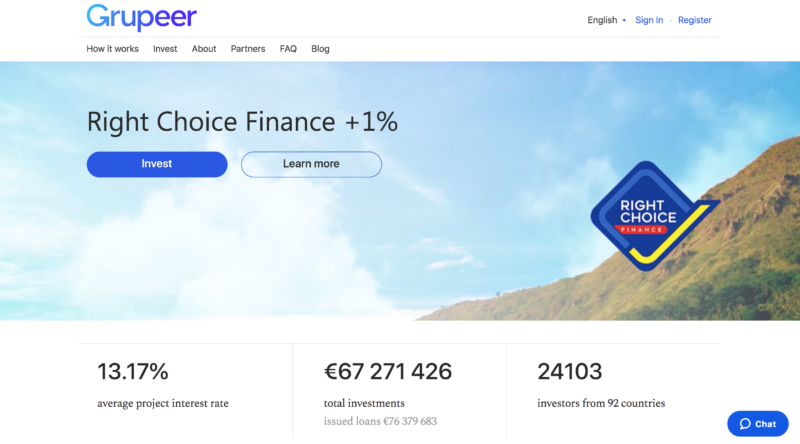 Grupeer is a P2P (Peer-to-Peer) or crowdlending platform that allows individuals and businesses to invest their free funds into secured loans. 
Grupeer originated in Riga, Latvia in 2017, with its official address based in Ireland, meaning that it operates within the jurisdiction of the Republic of Ireland. 
The platform offers three main types of investments deals, namely:
Loan deals


Business loans issued by Grupeer's market professionals. These loans are protected by a BuyBack guarantee.

Development Projects


Loans issued to finance development projects carried out by construction companies. These loans are protected by a BuyBack guarantee. 

Grupeer Stability Fund


Purchasing a square meter in a development project, providing the lender with rental income.
This wider variety of investments is perfect for those aiming to diversify their portfolio. 
The BuyBack guarantee means that in case the borrower delays the payment of a loan for a period exceeding 60 days, the credit company that issued this loan (the loan originator) is obliged to buy back the borrower's share in the loan and the shares of the rest of the investors.  
To date, Grupeer boasts a 13.17% average project interest rate, with over €67,000,000 in total investments. Investors amount to over 24k from 92 countries – a figure which reinforces good faith in the company for any new investor. 
🕵️

Who is behind Grupeer?
Disappointingly, their website gives little to no detail surrounding the team behind Grupeer, stating solely that the team is a close-knit team of professionals. Surprisingly, Grupeer's About Us page also disappears upon signing in. This lack of transparency, instinctively, does not have a positive effect on a new potential investor.
The about only contains this paragraph, which doesn't tell us anything about the people behind the business and their expertise and experience:
Grupeer is a human company, it translates to how we are doing business and how we choose our employees. Grupeer is proud to employ professionals with successful track record in their respective fields. We are working hard to bring you the best service and products possible. In order to become a market leader, Grupeer scouted experienced strategic management team, financial experts, bankers, marketing gurus, IT developers and real estate professionals. The team refers to themselves as "family" and is a sign of successful collaboration.
On directly contacting Grupeer, it resulted that the platform was started by Andrejs Kisiks, a successful real estate developer. The idea started when he could not secure enough financing for a power plant project which he hoped to launch. With a great idea but a shortage of time and human resources, the project went bust. This failure allowed Kisiks to look at the situation from a different perspective and ask himself what he could do for the many promising projects which fail because the required sum is never collected.
The story is one that is heard time and time again in any industry nowadays. Someone who is let down by the current system and strives to be the change the world needs. 
👤 Who can invest with Grupeer?
Grupeer currently allows transfers from accounts opened in countries of the European Economic Area and Switzerland.
"Citizens of these countries can apply for a registration at the Grupeer platform."
It is unclear why the term "citizens" rather than "residents" is used here.
Their website also requires an investor to be "an adult capable person or legal entity." It is a bit jarring that such a successful company does not use legal terms adequately. It is, however, quite typical to see some funny phrases on these Baltic websites since English is not their first language. In my opinion, however, they should hire a copywriter to make sure everything is up to standard, since their main market is that of English-speaking investors.
✍🏻

Signing up to Grupeer
The website itself is quite clear and easy to use. Barring the non-responsive menu, non-retina images, and subtle typographical mishaps, it's a well-designed website that serves its purpose. It can be viewed in 4 languages: English, Spanish, Dutch and French. This gives an indication to the main markets Grupeer is targeting.
Signing up is simple. Simply register as an individual or legal entity and in a few seconds, you're in.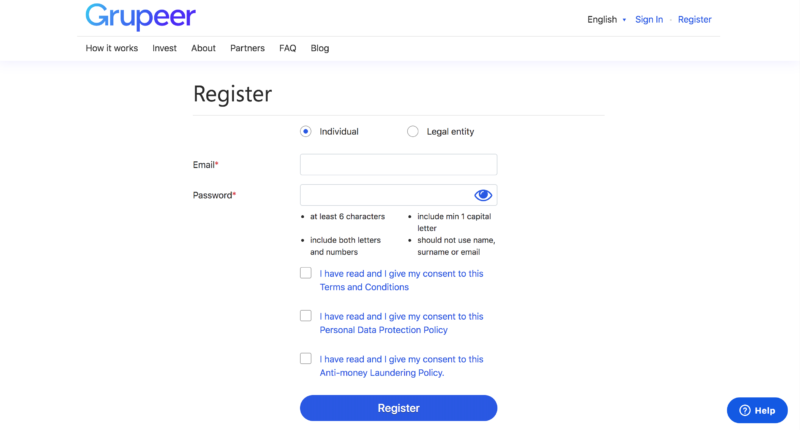 Next, Grupeer requires further identification for you to pass the KYC (Know Your Customer) process. These steps do not take too long to go through and are an obligatory step to meet legislation requirements and to safeguard both Grupeer and yourself as the investor.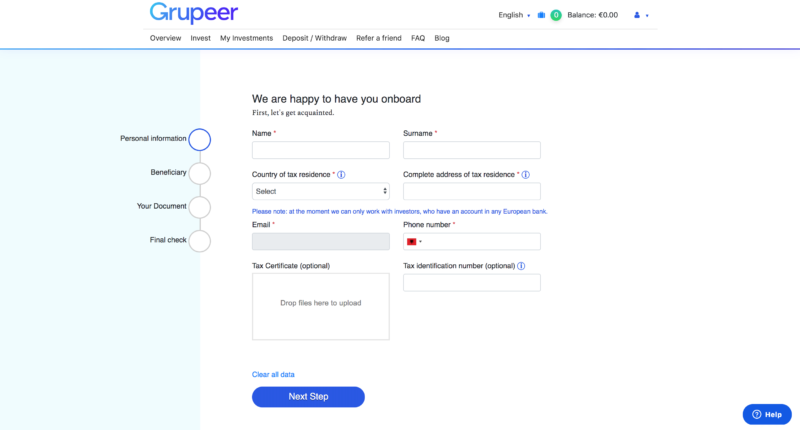 All you need now is a minimum of €10 to start investing. This can be done either through a SEPA transfer to their account or via TransferWise. 
🤔 What can I invest in?
Head over to the Invest page to browse the various Loan Deals and Development Projects available.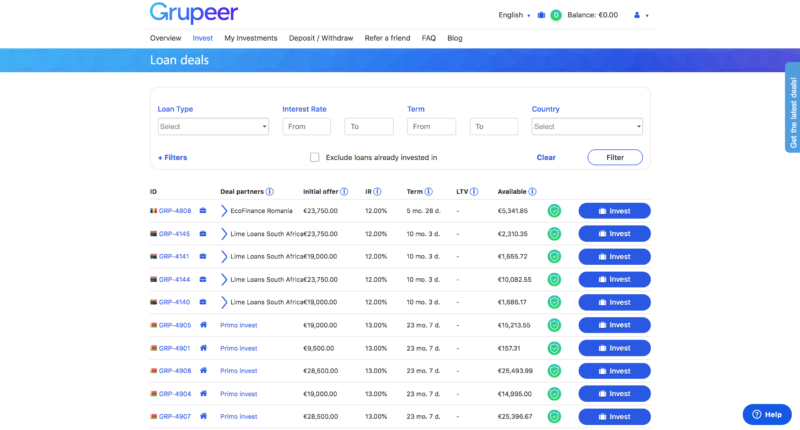 The first thing we should mention is that Grupeer has a different model for lending when compared to others. For example, with Mintos, you invest directly into individual people's loans. With Grupeer, you don't, but rather you invest in a loan given to a loan originator.
They work with payday loan providers and other non-bank loan providers, like Mintos and others, but they issue a loan to the micro financial organization and do not place individual loans for investment. It is a very similar model but possibly safer, as the investor is not exposed to the defaults of individual loans.
The payday loan providers themselves have a high default rate, that is a given, but the risk is not passed on to investors: this is a packaged loan that Grupeer gives to the loan originator, and they internally manage their cash flow when they face a defaulted loan.
Grupeer's investors will only be affected if the loan originator fails to repay the loan that they have given to them.
The provision of the loan is usually done in the form of an indirect structure – through Finsputnik, and this is visible on the platform with wording such as "deal partners: Finsputnik/ PlanetaCash".
The basic data about each one of the loan originators is available on Grupeer's website, including information about the company, its customers, history, and plans. I encourage you to do your research and due diligence before committing to loans from a specific loan orginator in order to make an informed investment decision. 
Grupeer is marketed as a platform where one can easily diversify their portfolio, since it also provides us with the opportunity to invest in development projects, apart from the usual array of business and consumer loans. This makes Grupeer unique among P2P platforms, since it's not something we see on other similar platforms such as Twino, Mintos and Bondora. Surprisingly, however, there were only 2 available development projects at the time of this review. 
With business loans, the structure is direct (unlike the previosly mentioned consumer loans) and the default rates on the business loans issued by Grupeer's loan originators are very low, which means that so far their due diligence department has been doing its job.

 


Development loans usually require a 1 to 2 year period to be completed from the initial stage of the construction process to the finished state. Development projects are constantly gaining popularity among investors who prefer to follow the construction process. 
🔒 Is Grupeer safe?
It is important to note, as Grupeer states, that in legal terms, investments in either loans or development projects are not different. Both types of loans have to pass a thorough selection process and are subject to strict due diligence before being offered to Grupeer's investors. 
This includes the checking of financial statements and the loan originator's capability of satisfying their BuyBack guarantee. Grupeer has developed an internal scoring model that allows the possibility to test the financial statements of partners and helps to significantly reduce the risk of loan originators defaulting. 
Grupeer implements strict due diligence and sticks to anti-money laundering procedures for each project. It is due to this that up to 80% of investment projects never end up being offered to clients.  
Grupeer currently declares a zero-default rate. Interestingly, though, the platform does not publish its statistics on its website.
📈 High-Interest Rates
The average interest rate on the Grupeer platform is one of the highest on the P2P investment market – averaging at 13%, excluding the newer and less reputable platforms which sometimes offer returns upwards of 20%.
Due to frequent special offers from loan originators, the interest rate may reach up to 14%. Information regarding special offers is available on Grupeer's website and is sent to all its subscribers. 
💶 Cashback
As part of its bonus program, Grupeer allows for special promotions or Cashbacks, as they are referred to. These Cashbacks increase the profitability of investment significantly. Cashback is offered regularly and sometimes reaches up to 1%, which means that 1% of the investment made while the promotion is available will be returned to the investor's account and can be used for future investments or withdrawn to a bank account. 
💸 Auto-Invest
Grupeer's analytics team has developed a special mechanism that allows an investor to invest money in different projects automatically, based on pre-defined criteria. Clients can create up to 10 Auto-Invest strategies based on criteria such as interest rate, term, loan type, country, partner and payment schedule type available.
👨‍💻 Customer Support
The chat service provided on the Grupeer website allows for fast response to customer queries, adding a helpful human touch to the whole experience.
My communication with Grupeer support has been very positive; they answered all my questions in a fast and comprehensive way.
🚀 Grupeer's plans for 2020
Grupeer is currently working on several updates for 2020, including:
the long-awaited launch of a secondary market

new partners  

updating its loyalty and referral programs

upgrading the investors' cabinet 
The company is also making serious efforts to become more transparent. All company representatives, including top managers, are ready to give frank and honest answers about Grupeer and events occurring in the industry. This is extremely important, especially now, when the P2P industry stands on the threshold of growth and big changes.
🙋 

FAQs
How much do I have to pay to use Grupeer's platform?
Grupeer does not charge any fees for using its services. All withdrawals are also carried out without commission.
Is the income I get in Grupeer subject to taxation? Does Grupeer send information to tax authorities?
Grupeer does not send information about your earnings to tax authorities. After you withdraw money from Grupeer's posting account to your banking account, you'll need to pay taxes according to the tax laws of your country of residence. 
Read my article on taxation of P2P lending for more information.
What kind of support can I get from Grupeer?
Grupeer's account managers provide investor support via email, phone, online chat and are ready to answer questions in social media. They speak English, German and Spanish and have plans to expand the number of available languages. 
How long does the withdrawal take?
According to Grupeer's Terms and Conditions, the withdrawal must be carried out within 3 business days after receiving the request, in fact, it normally takes 1 business day. 
📍 

My Opinion on Grupeer
I am happy with Grupeer, and the auto-invest feature works well. I've been able to get a good return of slightly above 13% with this platform.
I'd like to see a more consistent volume of loans in order to avoid cash drag. The website needs a revamp in my opinion as it is too basic and is definitely hurting the platform's ability to compete with bigger platforms like Mintos, or those which focus all their energies on marketing, such as FastInvest.
Summary
A high-yielding P2P platform that is worth having a close look to if you're trying to diversify your P2P investments across several platforms and loan types.
Pros
Excellent returns
Auto-invest functionality
Buyback guarantee on all loans
Development projects
Cons
Unique business model
Limited development project volume
Better transparency needed
Website is basic compared to competitors