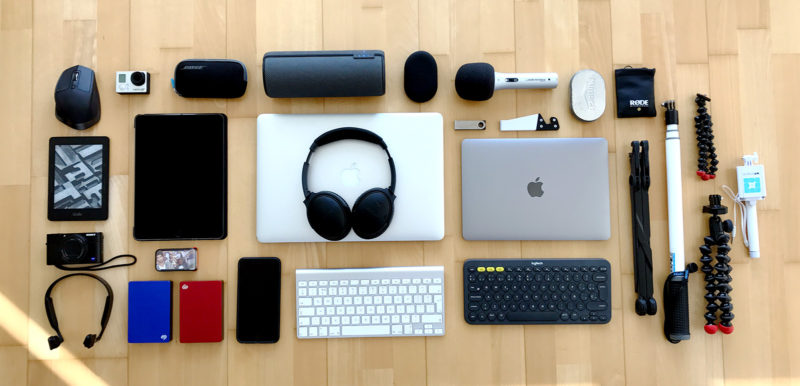 This is the hardware that makes up my office. These items are all I need to run my business from wherever I am around the world. Since this year I am doing less work on-the-go and have mostly been working from Barcelona, I've had the opportunity to make a few additions to my setup. While some items are not very portable, most of my hardware can easily be packed and moved around to new locations.
In last year's edition, I had mentioned adding the Dell UltraSharp U2715H 27 inch monitor which I have found very useful. It continues to be an essential part of my setup. An Ikea Bekant table and Markus chair complete my low-cost home office setup. This year we moved to a new apartment where I have a dedicated room to use as my office. This has been a great improvement as last year I was working out of the living room, and I had no way of shutting the rest of the world out and work on something intensely.
I've come to discover that I prefer having my own space which I can customize depending on the work I'm doing. For example, I might aim for complete silence or just turn up the volume with some pumping music. On other occasions I could use incense sticks for a different atmosphere.
Last year I moved from Android to iOS and couldn't be happier about the move. I dabbled in iOS development for a few months last year and created some simple apps. It was great fun, but apart from that I really enjoy the slick interface of iOS and the iPhone 6s Plus is just a great all-round phone. Availability of apps is higher on iOS than on Android, and since the phone is an essential part of my work setup, I won't be switching back anytime soon.
Another important change last year was the move from the Macbook Air to a 15″ Macbook Pro. The reasons for the switch were the following:
more processing power,
a dedicated graphics card
much better display (Retina)
bigger display (15″ vs 13″, I found it better for productivity)
While the bulk of my hardware has stayed the same, there are several important changes and additions from last year's setup.
I was using the Macbook Pro for light gaming but this year I took the plunge and bought a PlayStation 4. This was only possible since we're not constantly traveling anymore, and is a perfect example of something you would have to sacrifice if you decide to travel and become a digital nomad. I'm not a hardcore gamer by any means, but I have really enjoyed catching up with the games released in the past few years, and also others that brought back childhood memories, such as Crash Bandicoot and Wipeout (both remastered this year). I would have little problem giving up the PlayStation if I had to, but it's cool to have a console again.
Last year I mentioned that I was using an iPad plus bluetooth keyboard for working in cafes. Unfortunately, since this year I was doing more and more of that (I have a huge library just next door) the iPad ended up slowing me down, so I went ahead and added a Macbook to my setup. I had been thinking of getting one for a long time, and I'm really glad I finally bought one. I've taken it with me on all my travels this year, and I've left the Macbook Pro and iPad at home every time.
This has significantly reduced the space and weight allowance needed for my hardware when I'm on the move. I can do all the things I do on the Macbook Pro on the Macbook. The only thing that is significantly slower is video editing. This year I am recording many of my padel matches and editing them straight after, and I wouldn't want to have to do that on the Macbook exclusively, although it can certainly do the job when I don't have the Macbook Pro with me.
The Monster iSport headphones died on me midway through this year. I had put them to good use but it was sad to see them stop working even though I cared for them properly. Thankfully I was able to upgrade to the Beats X which are superior to the iSport, and I'm extremely happy with them. I use them everytime I'm out and about or when I'm in the gym training.
I also replaced the iPad Air with an iPad Pro. I had been very curious to try the Apple Pencil and feast my eyes on the iPad Pro's gorgeous display. Both were great purchases, and I used the pencil mainly for completing Spanish language exercises. I took photos of textbook pages and loaded them onto the iPad, then filled in the blanks within the exercises using the Apple Pencil. Since I get many books from the library, I can't write on them, and so the iPad+pencil proved to be a great help.
On the headphones end, I sold the Bang and Olufsens because I wasn't using them that much. The main reason was that I had earlier bought the QuietComfort 35 bluetooth over ear headphones which were just as comfortable for long term wear, with the additional benefits of being wireless and providing noise cancelation.
Due to having more videos and photos to store, I upgraded from 2TB external drives to 4TB ones. Seagate manufactures them in several colours, so I got a blue and red one for myself and my wife.
A nice addition for the summer months was a cheap desk fan I got off Amazon. It really helps provide a comforting white noise plus gives some respite from the heat. I find it really handy where it's not that hot to use the air conditioning system, but hot enough to enjoy a light breeze while working. It seldom gets stifling hot in Barcelona, so I got a lot of use out of this cheap fan this summer.
I have a very strict policy with myself to get rid of items that I don't use frequently. This helps me stay on the minimal side and not clutter up our home with gadgets that are never used. It also makes me think twice before purchasing something that I don't really see myself using very regularly. Whenever I need to get rid of something that I don't get enough use out of, I use Wallapop or donate it.
Without further ado, here's this year's setup. New items are in bold. Wherever I replaced an item from last year's setup, the replaced item appears crossed out. That way you can easily see what upgrades I made.
Macbook Pro 15 inch (MJLT2B/A, mid-2015)
Macbook 12 inch (2017 model)
Klipsch S4 in-ear headphones
Logitech K380 wireless keyboard
Not included in the photo:
UGreen cable organizer
Raspberry Pi 3
The Macbook Pro is where all the serious work gets done. The Macbook is what I travel with, and is my constant companion when I'm working out of libraries and cafes.
The iPad Pro is part of my morning routine. While having breakfast I read about any of my interests and spend the rest of the time either reading a book (via the Kindle app) or watching padel matches on YouTube.
During metro commutes I usually go through the saved articles on Pocket or listen to a podcast. Both of these activities are done on the iPhone of course.
I use the Kindle exclusively for books, since all articles are consumed on the iPhone or the iPad.
As you've probably deduced from the number of headphones I own, audio (in the form of music, podcasts or audiobooks) is my constant companion. During my workouts I tend to listen to podcasts by hooking up the Beats X bluetooth headphones to the iPhone. If I want to push particularly hard I will listen to music downloaded via Spotify Premium instead.
While working it's usually the Bose QuietComfort wirelessly connected to my Mac (streaming music from Spotify Premium or Focusatwill). The Bose noise canceling headphones were one of my best purchases last year, and this year I upgraded by getting the over ear bluetooth wireless version. I hesitated on this one as they are very expensive compared to other headphones on the market. The high price is due to their noise cancellation feature more than anything else, as there is no other serious competitor on the market at this point in time. Clearly a lot of research (and money) has gone into developing this feature. Once I got them however I was blown away with the results.
I really enjoy working in my own bubble so to speak, and hate distracting noises, whatever the source, with a passion. These headphones have allowed me to create this cocoon in which I can really immerse myself in my work with almost zero sound distractions. They work very well with just the noise cancellation feature switched on, but they really shine when you combine them with Focusatwill or electronic, instrumental playlist from Spotify. If you work in a noisy office environment or in cafes don't hesitate on going for these headphones, they are the absolute best your money can buy.
While cycling I use the Aftershokz Bluez2 as they use Bone Conduction technology which means I can keep my ears open for any important sounds such as traffic, which is a safety concern.
Whenever I need good quality photos I use the RX100M III which is a really amazing camera, especially considering its size. I previously had the first generation model of this camera, but this newer model has a tilt screen which is great for selfies. On the other hand it is slightly bulkier, but that doesn't really affect its excellent portability.
I use it in conjunction with the Joby Gorillapod especially when filming short movie clips for my wife's travel blog outdoors. The Gorillapod also doubles up as an iPhone holder when combined with the Griptight Mount XL.
In the photo above you will notice a small white plastic foldable stand. I use that to hold my Kindle or iPhone when I need them to stay comfortably on the desk in front of me while I read off them or use the iPhone as a clock. It's very handy to use on airplane trays or for those cafe reading sessions.
The Ledger Nano is another great addition to this year's setup. I decided to buy some cryptocurrency this year and this is the device I use to keep it safe.
I bought the Raspberry Pi 3 to build a console emulator using RetroPie. It was extremely good fun both understanding how this cool little gadget works and of course also enjoying all the games from my childhood once again. Now that I have the PlayStation I get less use from it, but I might still use it to build another electronics project, or just leave it there for when I want to enjoy some retro gaming.
The GoPro is used when I need to film movies in adventurous environments. Last year I wrote that it is used at the seaside where I don't risk the Sony RX100M III. I was seriously thinking of selling the GoPro because I wasn't really using it that much. However this year I started filming my padel matches and training sessions, so I'm using it several times a week and it's become one of my essential tools. I've in fact considered upgrading to one of the later models, but I haven't found enough new features or better quality to encourage me to upgrade. I'll wait for the next version to be released and make another comparison then.
Now that I have a home office in place, I am using the excellent Griffin laptop stand to place the Macbook on. I have also bought the Roost stand based off a recommendation I got to last year's post, and I did enjoy using that for a while. However I went back to the Griffin stand as it allows me to place things underneath the laptop, while the Roost stand does not. I will still keep the Griffin stand, perhaps it will come in handy during travels as it is much easier to transport. If not, I will sell it off next year.
To complete the setup I have the Apple wireless keyboard and Apple bluetooth trackpad together with the excellent Logitech MX Master. This year I also got the Logitech K380 keyboard. The main reason was to have a keyboard with Spanish keys. Since I am now spending most of my time in Spain, I wanted to translate articles on this blog into Spanish, and having a keyboard with a Spanish key layout is more comfortable. It's not as good as the Apple keyboard in my opinion, however I do love the functionality that permits easy switching to up to three devices. You can be typing on the Macbook and suddenly switch to typing on the iPad or iPhone at the click of a button.
My main monitor is the Dell Ultrasharp which provides good value for money. The Macbook Pro is used as a secondary monitor while at my desk.
I'm still very happy with the UE Megaboom speaker. I've gifted several of them to friends too as I think they are a great gift to pretty much anyone. It packs a lot of punch for its size and can also be paired up with other Megabooms. I use it mainly when I want to take a break from headphones or for ambient music during meals and relaxation time.
Last year I made my foray into podcasting, so I got myself a good microphone, the ATR2100. This one is quite the bargain considering the sound quality it can produce, and I'm going to be sticking with it for the foreseeable future. Many more experienced podcasters use the Heil PR-40 but it's more than triple the price of the Audio-Technica, and frankly not worth buying for a podcasting beginner.
I finally put the Rode Smartlav+ lapel mic to good use this year. I started recording interviews at conferences for my Mastermind.fm podcast, and this little mic has produced some fantastic results. I don't use it very frequently, but it's definitely a tool that is super handy for specifically this use. I also carry it with me on travels just in case I need to record a podcast while I'm away from my office. It won't match the ATR2100 mic but it will still give me much better quality than my headphone mic or the Macbook's in-built mic.
The Seagate external USB drive is used for storing all my photos and movies as well as other big files. Backups are taken onto the Apple Time Capsule Synology DiskStation and also online via Backblaze. The DiskStation is one of my biggest investments this year. I've replaced the Time Capsule as the drive space on that was too limiting. The DiskStation also allows a ton of extra functionality, which I am still exploring. I've written at length about my move towards Synology, so if you're interested in that, go ahead and read my post about building a NAS backup system.
So there you have it, my semi-mobile office for 2017. Anything else you feel I should try out in the coming months?