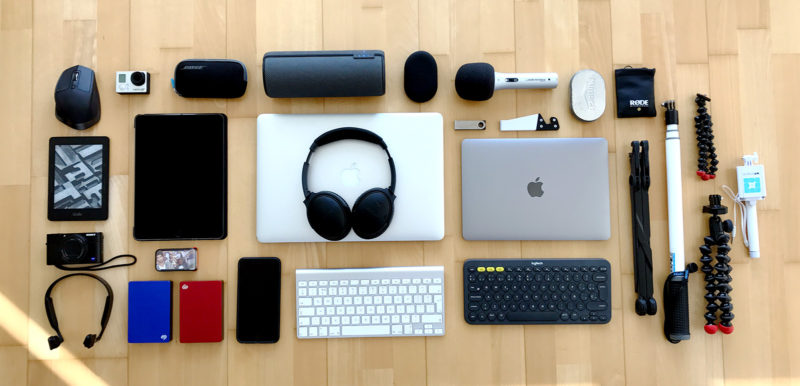 This is the hardware that makes up my office. These items are all I need to run my business from wherever I am around the world. Since I've given up the digital nomad days and am now firmly based in Barcelona, I've had the opportunity to make a few additions to my setup. While some items are not very portable, most of my hardware can easily be packed and moved around to new locations.
The main change in last year's setup was the addition of an Apple iMac 27″ computer, and my selling of the MacBook Pro 15″. I now use just one monitor for working, so it's either the iMac or the small MacBook when I'm working from cafes or traveling. I sold off the Dell external monitor since I was not using it. I tried to set it up as a second monitor on my desk but realized it was more of a distraction than a help. The iMac has a gorgeous screen and more than enough real estate to work on. I can have two windows side by side comfortably. I still felt the need for some type of third screen, so I got myself the latest iPad Pro 11 inch.
I also got the new Apple Pencil to go along with the new iPad. I think there is a significant improvement over the writing experience of the previous generation of the pencil, so I'm happy with the purchase. I've been using my iPad as a reading device, 2nd screen, and note taking device (straight to Evernote) when I'm at meetings or seminars.

I was planning on upgrading my iPhone this year, however, when I took it in for the battery replacement scheme, they replaced it with a new one since for some reason they couldn't replace the battery in the old phone. The new phone performed pretty well so I felt little need to upgrade. I did buy an iPhone XS Max to try it out but returned it after a week. For my needs, it didn't make sense to make the upgrade. The only argument to be made for the upgrade was the better camera quality, but instead, I spent the money on a DSLR setup and got back into photography. Since I became a dad in December I have been taking lots of photos of our baby, so I wanted to have the very best equipment.
My wife did get the iPhone XS and handed down her iPhone 7 to me to use as a secondary phone. This year, I took the step of removing distracting applications from my main phone onto a secondary phone (initially using an old Nexus phone I had lying around). The main apps I removed were Facebook, Messenger, Whatsapp, Wallapop and Instagram. Basically, all apps that emit notifications and are sources for cheap and easy dopamine hits. I am less anxious and more productive now so the experiment was a complete success. Since my wife was giving up her old phone, I took the opportunity to use it as a secondary phone, so when I really need to use those apps I have a good phone to use them on. However the phone is up for sale so if I get a good offer it will also go and I'll switch back to the Nexus, as I don't use those apps often now anyway.
I am tempted to upgrade to the GoPro 7 from the GoPro 6 that I had bought last year. However, I will only do that if I manage to get a good offer for my current GoPro. If I don't, then I'm happy to keep using the GoPro 6, as it's only an incremental improvement from the 6 to the 7. I use the GoPro almost every day to record padel matches and to take videos of our baby in 4k.
I also upgraded my Kindle Paperwhite to the latest edition as it is now waterproof, which lets me use the Kindle in environments such as pools or the seaside. I also gained lots more storage space, which was important as my burgeoning library was edging closer to the older Kindle's my memory limit.
My Logitech MX Master mouse died this year, so I replaced it with the newer MX Master 2S. It's got some incremental improvements but doesn't really change anything for me.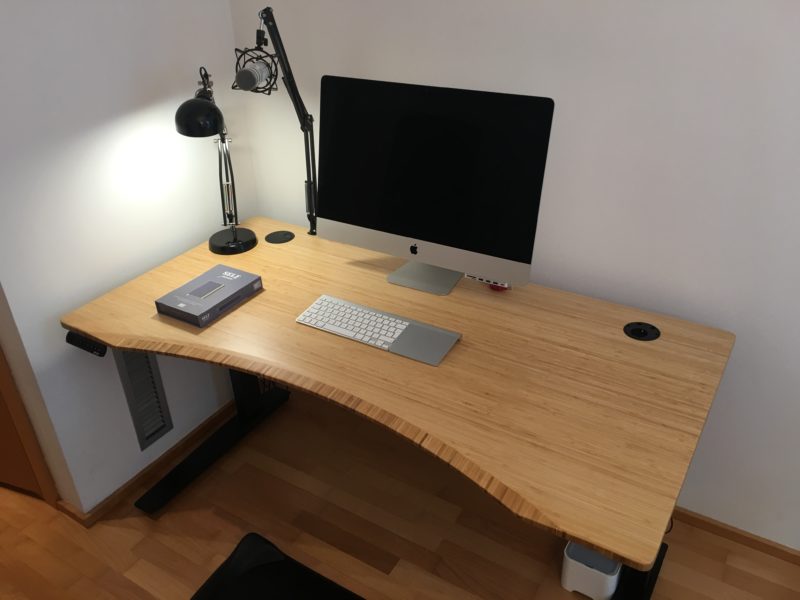 Another big upgrade this year was the purchase of a standing desk. I had been dreaming of getting one for many years and now that I finally have a base in Barcelona and decent home office, it was time to take the plunge. After conducting lots of research, I settled on the Fully Jarvis and the excellent Topo Mini mat, which is an essential addition to the desk itself. I am very happy with the combo and have logged in many hours in the standing position. Considering the fact that I can't stand for more than 30 minutes at a time before the soles of my feet start aching, being able to spend hours working while standing is an incredible achievement. Apart from the health benefits of working while standing, I also found it to be a more productive position for me as it helps me focus more and fidget less. I'm usually listening to music while I work and tend to move around in short dance-like movements while typing, and these movements really help me keep my fingers tapping away at the keyboard and my mind focused. If I were sitting down I would more likely get my hands off the keyboard and start fidgeting, open unrelated browser tabs or leave the desk outright to get a coffee or other random distraction.
I also bought the Harman Kardon Onyx Studio 4 which is an excellent Bluetooth speaker and is better than the UE Megaboom I had before. I do regret buying it at a high price though, HK slashed the price soon after launch, so I feel a bit conned. Buying a speaker at €400 and seeing it later available at €180 doesn't feel good. I'm satisfied with the device itself, but not by this move on HK's part. I also don't use it that much now that we have the baby around as I tend to be wearing noise-canceling headphones, so I don't feel like I'm amortizing the cost in a reasonable way.
Speaking of noise-canceling headphones, I was getting pretty annoyed by the fact that I had daily troubles in connecting the Bose headphones to my Samsung tv, and when I tried the newer Sony WH1000XM3 in a shop I was blown away by the quality and purchased them. I'm trying to sell the Bose headphones as they are in a very good condition and I don't really need two pairs of headphones, but I'm very happy with the Sony cans. As a bonus, they're also more comfortable to wear for longer periods when compared to the Bose. The Bose headphones are probably more discrete, so could be an option for using when I'm walking outside.
I sold off the Griffin laptop stand, Magic Mouse and Magic Trackpad due to lack of use.
I have a very strict policy with myself to get rid of items that I don't use frequently. This helps me stay on the minimal side and not clutter up our home with gadgets that are never used. It also makes me think twice before purchasing something that I don't really see myself using very regularly. Whenever I need to get rid of something that I don't get enough use out of, I use Wallapop or donate it.
Without further ado, here's this year's setup. New items are in bold. Wherever I sold an item from last year's setup, the replaced item appears crossed out. That way you can easily see what upgrades I made.
The iMac is where all the serious work gets done. The Macbook is what I travel with, and is my constant companion when I'm working out of libraries and cafes.
The iPad Pro is part of my morning routine. While having breakfast I read about any of my interests and spend the rest of the time either reading a book (via the Kindle app) or watching padel matches on YouTube.
During metro commutes or while driving, I usually go through the saved articles on Pocket or listen to a podcast. Both of these activities are done on the iPhone of course.
I use the Kindle exclusively for books, since all articles are consumed on the iPhone or the iPad.
As you've probably deduced from the number of headphones I own, audio (in the form of music, podcasts or audiobooks) is my constant companion. During my workouts, I tend to listen to podcasts by hooking up the Beats X bluetooth headphones to the iPhone. If I want to push particularly hard I will listen to music downloaded via Spotify Premium instead.
While working it's usually the Bose QuietComfort wirelessly connected to my Mac (streaming music from Spotify Premium or Brain.fm). I really enjoy working in my own bubble so to speak, and hate distracting noises, whatever the source, with a passion. These headphones have allowed me to create this cocoon in which I can really immerse myself in my work with almost zero sound distractions. They work very well with just the noise cancellation feature switched on, but they really shine when you combine them with Brain.fm or electronic, instrumental playlists from Spotify. If you work in a noisy office environment or in cafes don't hesitate on going for these headphones, they are the absolute best your money can buy.
While cycling I use the Aftershokz Bluez 2 as they use Bone Conduction technology which means I can keep my ears open for any important sounds such as traffic, which is a safety concern.
Whenever I need good quality photos I use the RX100M III which is a really amazing camera, especially considering its size. I previously had the first generation model of this camera, but this newer model has a tilt screen which is great for selfies. On the other hand, it is slightly bulkier, but that doesn't really affect its excellent portability.
I use it in conjunction with the Joby Gorillapod especially when filming short movie clips for my wife's travel blog outdoors. The Gorillapod also doubles up as an iPhone holder when combined with the Griptight Mount XL.
In the photo above you will notice a small white plastic foldable stand. I use that to hold my Kindle or iPhone when I need them to stay comfortably on the desk in front of me while I read off them or use the iPhone as a clock. It's very handy to use on airplane trays or for those cafe reading sessions.
The GoPro is used when I need to film movies in adventurous environments or padel matches.
So there you have it, my semi-mobile office for 2018. Anything else you feel I should try out in the coming months?
Note: Photo is from a previous year's setup, I didn't feel like assembling all the items and taking a photo this year, maybe next year 🙂