A common trait between seasoned investors is the balanced matrix of their portfolios typically having a blend of short, medium and long-term investments with variable risk profiles across different industries.
If as an investor you are adequately exposed to lower risk assets and looking to venture into medium-to-higher risk long-term investments, Hedonova will provide you with an opportunity to diversify into alternative assets of this type.
Hedonova is an innovative fund that invests in multiple asset classes like art, cryptocurrencies and NFTs, unicorn startups, wine, equipment finance, real estate, music and a few more in different parts of the world.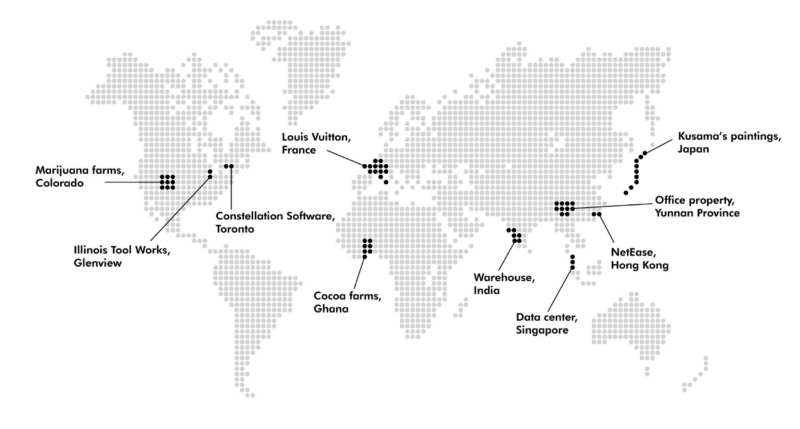 Hedonova was founded in 2020 in US by Alexander Cavendish and Suman Bannerjee. As CEO, Alexander is an alumni of derivative modeling and investment banking at UBS and Morgan Stanley respectively. Suman, Hedonova's CIO, has extensive experience in emerging markets and alternative investments. Both co-founders have been investing personal funds since inception, and have now opened up to retail investors. To date the team has grown to 16 members, including investors, economists, researchers, engineers and marketers spread across every continent.
Traditionally retail investors have been unable to tap on alternative investments due to regulation and investment size constraints. Hedonova has identified this niche and developed an investment fund whereby a retail investor can be allocated blocks (similar to shares in companies) in this fund at a low entry point of just $1,000.
With offices in Los Angeles, Paris, France and now in Tallinn, Estonia, Hedonova's services are available worldwide. Being registered as a Delaware LLC (a structure that is often used by hedge funds) the fund is purposefully structured to be tax-friendly to international investors. In fact profits received from the fund are taxable in the country of the investor and as such Hedonova does not withhold any tax when distributing returns.
Hedonova's Investment Portfolio
When you invest your money with Hedonova you are essentially receiving units or blocks in a mutual fund. Hedonova invests the funds' money in 14 different asset classes which are set to increase with time. The below chart illustrates the spread between all the asset classes with cryptos and startups leading the pack at 17%, followed by listed equities and real estate at 12% and 11% respectively.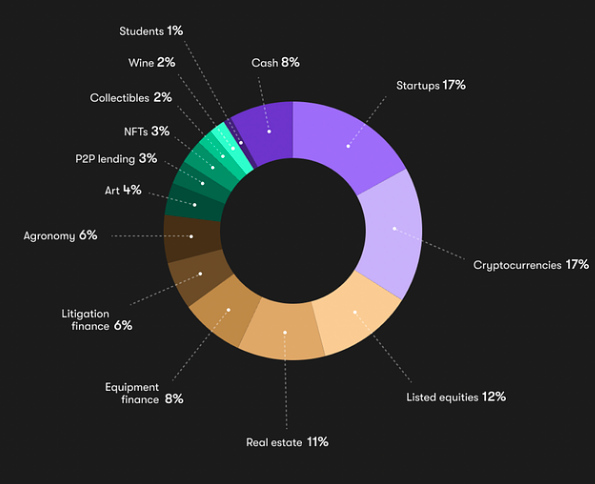 Hedonova invests in different asset classes through several alternative platforms such as Forge for startups, Masterworks for art and FundRise for real estate. As an investor in Hedonova you would therefore be investing in a fund of funds, as such amplifying your exposure to multiple asset types at a much lower investment than you otherwise would need to invest separately in each of those same investments.
Apart from asset class diversity, the fund consists of a wide geographical and currency spread ranging from commercial real estate in Singapore to unicorn startups in the USA. Hedonova's assets tend to move independently of the stock markets as well as to each other. For example, art markets tend to perform better than stock markets during times of financial crises. The portfolio also contains stable assets such as farmlands and music royalties that provide cash flow and appreciation irrespective of the underlying macroeconomic climate.
Part of the capital invested is allocated to private and public equity to enhance the liquidity of the fund.
In going after new investments Hedonova first identifies a new asset class that is attracting liquidity and then performs a due diligence on a few selected firms within that class. When investing in listed entities Hedonova tends to go for quality stocks during temporary market crises so as to increase the potential margin for an upward valuation.
Hedonova's team maintains the prerogative of when assets are bought and sold. With that said, most assets like startups, art and real estate require a long investment horizon. So you would expect that buying and selling in these is not frequent.
Potential Returns and Cash Flow
Since its inception in January 2020 Hedonova has generated a net return of 55.2% IRR, a large part of which came from cryptos, listed equities and the rise in valuation of unicorn startups.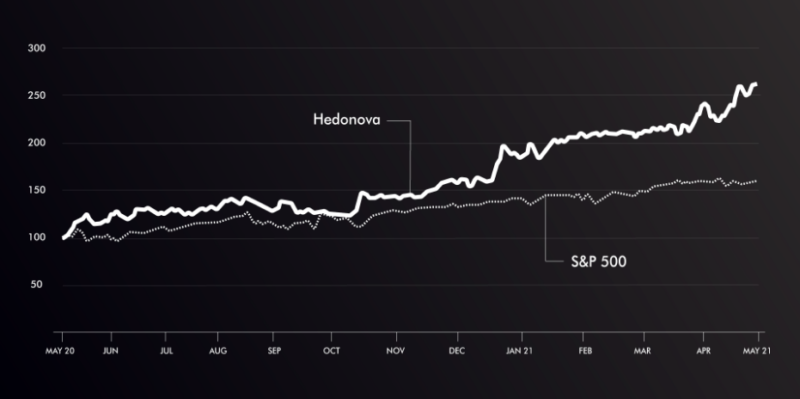 This is an exceptional rate of return given the relatively low level of combined risk achieved through asset diversification. To add context, the performance to date represents an excess of 15.4% over S&P500 in terms of absolute returns.
Hedonova keeps its clients updated through weekly portfolio reports and also circulates regular investment updates via email. Separately, investors can track performance via personal web dashboard where one can view stats relating to returns, past performance and asset allocation.
In addition, given there isn't always an abundance of insight when it comes to certain asset classes within the pool, Hedonova actively provides resources of information in this regard.
Fees
While there are no entry fees, the benefit for an investor of tapping into a diverse pool of assets without the need to personally undergo expert due diligence naturally comes at a cost. For this service Hedonova charges an initial 1% management fee on the assets upon initial investment and annually thereafter. In addition there is an annual 10% performance fee on any gains earned by the fund (both on capital gains and dividends) charged at the end of the year. Blocks are allocated after deduction of the initial management fee. According to Investopedia these fees are 60% lower than the industry average. I also noticed that these fees were recently revised down from 2% management fee and 20% performance fee respectively which makes investing in this platform even more attractive.
Any dividends or cash flows received by Hedonova from the various investment platforms are reinvested in the fund. The value of your investment within the fund is readjusted every time it happens. Any increase in value of assets is realised upon withdrawal.
Withdrawing money from the fund is easy and can be done any time. Investors can either request a partial of full redemption by submitting a request by email or via dashboard, subject to allowing at least 30 days notice. Other than that there are no exit fees or minimum lock-in period for an investment.
Risks
Apart from the inherent risk common to all hedge funds, as an investor with Hedonova you need to be mindful of a number of risks as detailed here. The following are what I believe to be the ones to be key:
Forex risk – Hedonova accepts investments in USD but may not necessarily invest using USD. This exposes your investments to currency risk. In order to hedge against this risk Hedonova uses currency derivatives.
Regulatory risk – Alternative assets are subject to regulatory reform. This could impact your investments and even the way Hedonova invests.
Macroeconomic risk – Government policies and social and environmental issues can impact the value of your investments directly or indirectly.
Market risk – Asset classes in emerging markets are riskier due to factors like political and economic uncertainties, inadequate liquidity and often poor disclosures and regulations among others.
Custodial risk – As described earlier, Hedonova invests in different asset classes through custodians or brokers who hold the investments or settle the trades. It is possible that, in the event of the insolvency or bankruptcy of a custodian or broker, the fund would be delayed or prevented from recovering its assets from the custodian or broker. Given these assets are not secured, in the worst-case scenario the money may therefore be non-recoverable.
In addition to this risk one should be aware that there is no secondary market to sell or transfer your investment in the fund. Furthermore, on their website Hedonova state that no such secondary market is expected to be developed. The only way to receive your money is either through the distribution of dividends or interests or by partly or fully withdrawing your investment which may come at a loss should the alternative assets underperform.
Customer Support
Hedonova offers investor support from Monday to Saturday via chat, email, voice and WhatsApp. More specifically, all investors are offered dedicated investment support in terms of taxation, compliance, portfolio and other related support.
I hopped onto TrustPilot to further corroborate the above. Even though there were only 15 reviews since their account was registered in May 2021, the comments had nothing but praise for the platform. In fact the current average rating stands at 4.5. One reviewer even noted that their customer service is what really makes them stand out from other similar platforms, confirming that he has been assigned a dedicated account manager. This opinion was echoed in other comments. Another reviewer indicated that the "investor relations team is exceptional, great for the level of communication and investment advice."
There was also praise for the platform's portal which is easy to use an intuitive.
Investing with Hedonova

Investing on this platform is straightforward. The first step requires you to fill a simple form with your name, email and contact number and an indication of how much money you'd like to invest. Once submitted, a Hedenova representative will contact you to explain their investment strategy and answer any questions you may have. you accordingly. This goes to show how Hedonova handles customers with care from the first contact point.
Post the usual KYC checks, you can start investing by adding capital to your account using any major payment gateway or wire transfer.
Conclusions
Hedonova is an investment fund with a portfolio of alternative assets like art, wine, P2P lending, equipment finance and others.  As an investor your holdings will be in the form of blocks, each block representing fractional ownership of the fund. With average returns to date since 2020 being 55.2% IRR, this platform is a great opportunity of trusting your idle money with a team of caring experts who will work towards maximizing your investment in a transparent manner against a reasonable 1% management fee and 10% performance fee. In the process you will be receiving regular updates on the performance of your investment while also being given the facility to monitor same proactively via the platform's investor dashboard.
Apart from the attractive potential returns, my inclination towards Hedonova is fueled by our common mantra that "our ability, as citizens of the world, to invest must not be limited by political borders or hindered by arcane national policies. Assets created by people belong to mankind and anyone willing must have the tools to invest in them".
Kudos Hedonova!