Buy crypto with PayPal on eToro
**Below content does not apply to US users
With hundreds of cryptocurrency exchanges and brokers now active in the market – it makes sense that buying digital coins with a debit/credit card or bank wire has never been easier.
With that said, very few platforms offer support for popular e-wallets like PayPal. Sure, I did come across a small number of providers offering deposits and withdrawals in PayPal – but most are charging exorbitant fees.
Well, apart from eToro that is. Not only does the regulated broker allow you to buy and sell cryptocurrencies with PayPal at a deposit fee of just 0.5%. Conversion fees apply.
If buying Bitcoin and other digital currencies with PayPal is what you are looking to do – follow my step-by-step eToro walkthrough.
eToro Quick Overview
Although I often talk about eToro in my articles and guides, some of you might not have previously come across the platform. As such, allow me to provide you with a quick overview of what eToro is and why it stands out from the crowd.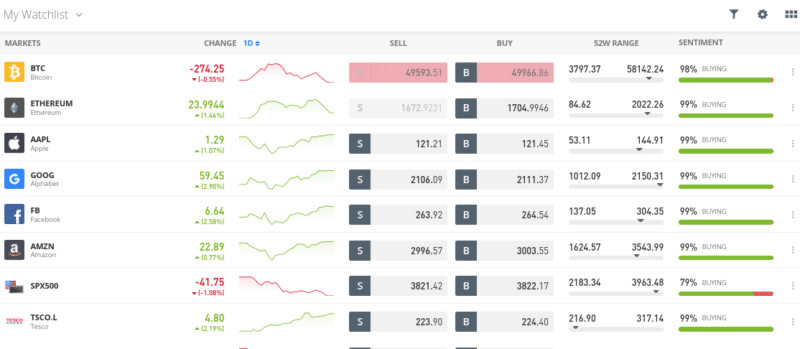 Launched in 2007 – eToro is both an online brokerage firm and a CFD trading platform. The provider supports a vast range of popular asset classes – namely stocks, ETFs, indices, forex, commodities, and of course – cryptocurrencies. In total, this covers 16 different digital coins – most of which are within the top-20 in terms of market capitalization.
The main attraction of using eToro to buy cryptocurrency is as follows:
Cryptoasset investing is highly volatile and unregulated in some EU countries. No consumer protection. Tax on profits may apply.
The minimum stake is just $25 per crypto purchase
The spread averages 1% of crypto markets
You can deposit funds with a debit/credit card, PayPal, Skrill, Neteller, bank wire, and more
US citizens are permitted to buy and sell crypto (but not other assets)
Copy Trading feature allows you to copy successful investors like-for-like
With that said, perhaps the biggest advantage of choosing eToro to buy cryptocurrency with PayPal, is that the broker is regulated on multiple fronts. This includes a license with ASIC (Australia), CySEC (Cyprus), and the FCA (UK).
Furthermore, eToro gives you several options when it comes to storage.
For example, you can:
Leave your cryptocurrency stored in your eToro account – meaning you cash it out at the click of a button
Withdraw the coins to the eToro mobile wallet – available on both iOS and Android
WIthdraw the funds to a private cryptocurrency wallet of your choosing
All in all, the benefits listed above have resulted in eToro acquiring more than 17 million customers.
If you want more information about this top-rated broker, you can read my full eToro review here.
Cryptoasset investing is highly volatile and unregulated in some EU countries. No consumer protection. Tax on profits may apply.
So now that I have explained why eToro is a good choice when it comes to buying cryptocurrency with PayPal – allow me to begin the step-by-step walkthrough.
To get the ball rolling – you will first need to open an account. You can do this by visiting the eToro website and clicking on the 'Join Now' button.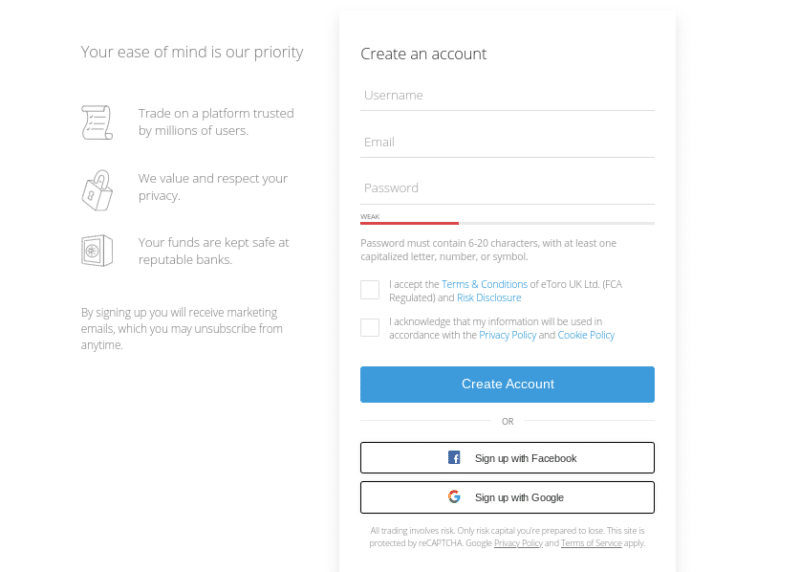 Unlike the process at unregulated exchanges – whereby the only information you need to provide is an email address, eToro is a lot more thorough. By this, I mean that you will need to provide your name, address, date of birth, etc.  – and verify your mobile number.
As eToro also offers leveraged CFD products, the platform will also ask you some basic questions about your prior trading experience. All in all, the registration process should not take you more than a few minutes.
Step 2: KYC Process
As a licensed brokerage firm, eToro is required to verify all account holders where you'll need to upload a couple of verification documents. EToro uses FinTech systems, so it can usually verify your documents instantly.
The two documents that you need to upload are:
Valid Government-Issued ID: Passport, driver's license, and in some countries – national ID card
Proof of Address: Bank account statement or utility bill – issued within the last three months
Depending on where you live, you might have the option of skipping the KYC at this stage. If you are allowed to proceed with a deposit without uploading the documents, you'll be capped at $2,250. Plus, you won't be able to withdraw funds – which is why I think it's worth completing the KYC process now.
Step 3: Deposit Funds With PayPal
Unlike Binance, eToro doesn't offer an Instant Buy feature. Instead, you will first need to add funds to your brokerage account and then proceed to buy your chosen cryptocurrency.
Once you click on the 'Deposit' button, you will be presented with a long list of supported payment methods.
Scroll down until you find PayPal and then complete the on-screen instructions.
As I briefly mentioned earlier,  you will be charged a 0.5% deposit fee.
So, if you deposit $1,000 – you will be left with $995 in trading funds.
Nevertheless, in the same light as credit/debit cards and its other support e-wallets – PayPal deposits on eToro are processed instantly. This means that you can then proceed to purchase your chosen cryptocurrency straightaway.
Step 4: Choose Cryptocurrency to Buy or Trade
Once you have completed your PayPal deposit – you can then proceed to buy or trade your chosen digital currency. If you already know which crypto-asset you wish to access, eToro makes the process simple. This is because you simply need to search for the name of the digital coin. In my example below – I am searching for Bitcoin.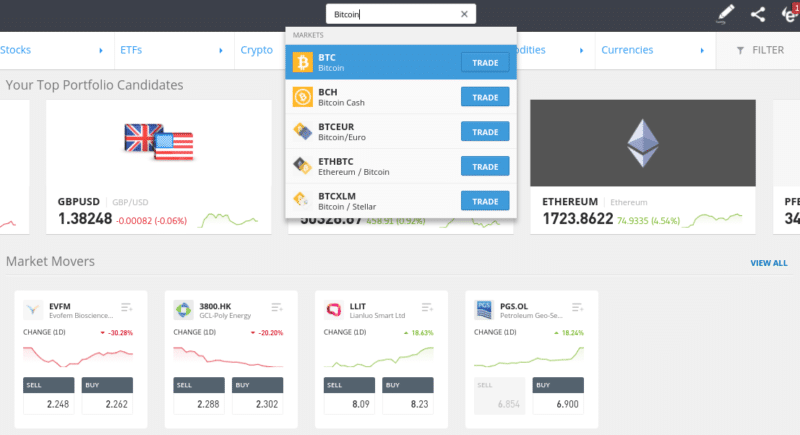 However, if you wish to see what other digital currencies are supported – click on the 'Trade Market' button on the left-hand side of the dashboard, followed by 'Crypto'. What you will notice here is that eToro not only allows you to buy 16 different cryptocurrencies – but you can trade dozens of pairs via CFDs.
By selecting a CFD market at eToro, you can:
Trade with leverage (limits determined by your country of residence)
Go long or short
Trade crypto-to-fiat pairs or crypto-cross pairs
Take note, if you're from the US, the UK, or a select number of other locations – you won't be able to access crypto CFDs at eToro.
eToro Supported Coins
Here's a quick overview of the 16 digital coins that you can buy on eToro:
Bitcoin Cash
Ripple
Dash
Litecoin
Ethereum Classic
Cardano
IOTA
Stellar
EOS
NEO
TRON
Zcash
Binance Coin
Tezos
Step 5: Buy/Trade Cryptocurrency
Once you have selected the cryptocurrency that you wish to buy or trade, it's then a case of setting up an order.
By default, you will see the classic 'buy order' box – meaning that you simply want to purchase the respective cryptocurrency. Here, all you need to do is enter the amount that you wish to buy – ensuring that you meet a $25 minimum. In my example, I am buying $100 worth of Bitcoin.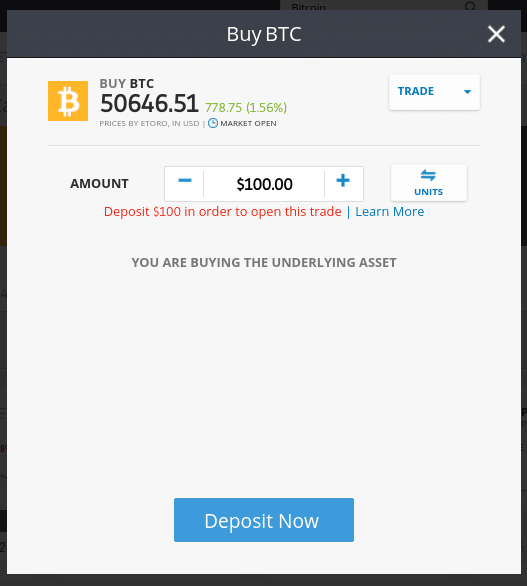 If, however, you wish to place a more flexible order, eToro supports the following:
Sell Order: If you want to short-sell your chosen digital currency, change the box to a 'sell order'
Leverage: If your account permits leveraged crypto CFDs, select your multiple
Limit Order: This allows you to have your cryptocurrency purchase/trade executed at a specific price. For example, Bitcoin might be priced at $50,646, but you might not want to enter the market until it drops back down to $49,000. In this scenario, you'd want to set up a limit order.
Stop-Loss Order: This allows you to close your cryptocurrency trade when it goes down in value by a certain amount. For example, you might not want to lose more than 10%. If your trade decreases by 10%, eToro will close it on your behalf.
Stop Loss and Take Profit are not guaranteed and trading with leverage involves high risk.
Take-Profit Order: This works in the same way as a stop-loss, but in reverse. For example, you might want eToro to close your trade when it increases in value by 20%. If it does, your profits will be locked in automatically via a take-profit order.
Irrespective of which orders you decide to place, to execute your position – click on the 'Open Trade' button.
Step 6: Storing Your Cryptocurrency
As I briefly mentioned earlier, eToro gives you a couple of options when it comes to storing your cryptocurrency – which I elaborate on below.
Option 1: Leave Coins on the eToro Platform
The most convenient option on the table is to leave your coins on the eToro platform. This means that eToro will safeguard your coins on your behalf within its own wallet. In doing so, you can cash your cryptocurrencies back to cold-hard fiat money at any time of the day. You won't, however, have access to your private keys.
Option 2: Transfer to eToro Mobile Wallet
If you want a bit more control over your crypto funds – eToro offers a user-friendly wallet that you can download to your iOS/Android phone. This comes with a number of useful features, such as being able to buy and sell coins from within the app and convert one digital currency to another.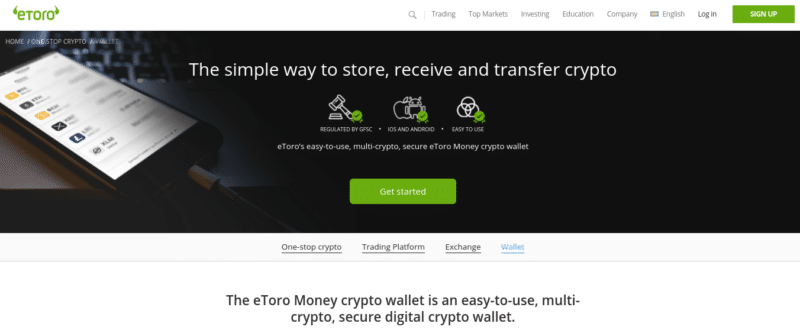 The wallet is, however, of a custodial nature. In what it calls an "unlosable on-chain private key", this does mean that should you lose access to your wallet – eToro should be able to help.
Option 3: Transfer to Private Wallet
If you want 100% control over your crypto funds and private keys – the best option for you will be to transfer your digital assets to a private wallet. This is simple enough, albeit, you will first need to transfer the coins to the eToro mobile wallet. Then, you can proceed to transfer the funds to a private wallet of your choice.
Why Not Just Buy Cryptocurrency From PayPal?
You might be wondering why I have discussed the walkthrough process directly with PayPal. After all, the popular e-wallet provider recently began offering support for cryptocurrency purchases.
First and foremost, this service is only available to US residents at the time of writing. Secondly, there is no option to actually access your purchased cryptocurrencies. That is to say, you can't withdraw the coins to a private wallet, nor can you use them to buy products and services online.

Furthermore, the service offered by PayPal isn't overly cheap. For example, it charges a headline rate of 1.50% per slide – meaning you pay this when you buy crypto and again when you sell. The commission does, however, increase if you buy or sell less than $1,000 worth.
For example, you'll pay 2.30% on trades of between $25 and $100, and 2% if the trade is between $100 and $200. Anything between $200 and $1,000 is charged at 1.80%. In addition to this, PayPal also charges a mark-up via the spread. It notes that this averages 0.50%.
Buy Bitcoin With PayPal – My Verdict?
In summary, buying Bitcoin or other cryptocurrencies with PayPal is now a breeze when choosing the right brokerage site. As I have discussed throughout this walkthrough, the process at eToro is not only fast – but cheap. For example, opening an account takes minutes and your PayPal deposit will be credited instantly.
Then, it's just a case of meeting a $25 minimum investment.  Plus, the PayPal deposit will cost you just 0.50%.
Perhaps the main drawback with eToro at the moment is that it has since increased the minimum first-time deposit to $1,000 (up from $200). Nevertheless, with the minimum crypto trade set to just $25 – this allows you to engage in a longer-term dollar-cost average strategy.
Buy Crypto with PayPal on eToro
eToro is a multi-asset platform which offers both investing in stocks and cryptoassets, as well as trading CFDs.
Please note that CFDs are complex instruments and come with a high risk of losing money rapidly due to leverage. 77% of retail investor accounts lose money when trading CFDs with this provider. You should consider whether you understand how CFDs work, and whether you can afford to take the high risk of losing your money.
Past performance is not an indication of future results. Trading history presented is less than 5 complete years and may not suffice as basis for investment decision.
Copy Trading does not amount to investment advice. The value of your investments may go up or down. Your capital is at risk.
Cryptoassets are volatile instruments which can fluctuate widely in a very short timeframe and therefore are not appropriate for all investors. Other than via CFDs, trading cryptoassets is unregulated and therefore is not supervised by any EU regulatory framework.
eToro USA LLC does not offer CFDs and makes no representation and assumes no liability as to the accuracy or completeness of the content of this publication, which has been prepared by our partner utilizing publicly available non-entity specific information about eToro.