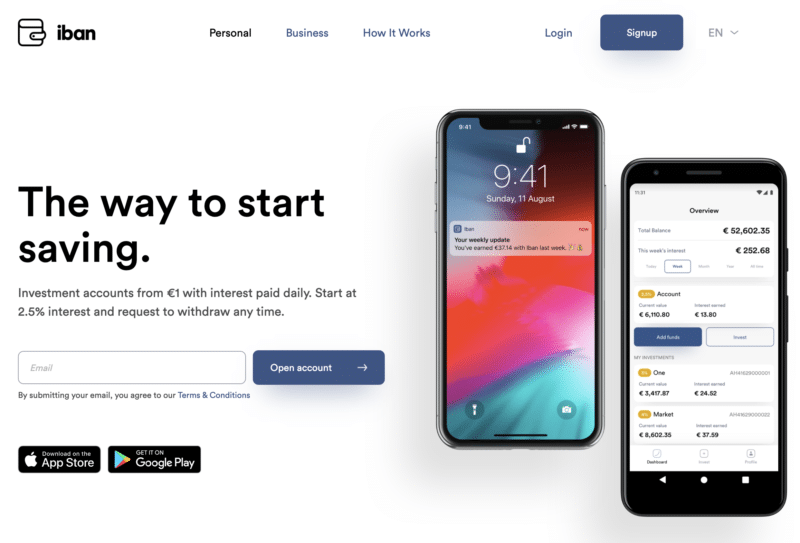 Are your bank's savings accounts returning close to zero returns? Are you concerned about your money sitting idle at the bank while other people put their money to better use? Let me then introduce you to Iban Wallet, a new kind of online investment account where you can earn between 2.5% and 6% yearly on the money deposited.
What is Iban Wallet?
Iban Wallet is an online investment platform that allows users to invest in different accounts with different interest rates and terms by offering a hassle-free, passive management experience. Iban's projected returns range from 2.5% to 6%.
Iban is a global online marketplace for investment. We provide investors with an easy and transparent way to get a return on their savings. Our mission is to facilitate free and efficient movement of capital. With Iban, investors can invest in different types of asset-backed investment products with different terms and returns.
Iban acts as an intermediary to the lending process, providing the tools and security for all involved. Borrowers can easily apply for a loan, supported by their credit information and collateral. Loan originators working with Iban will select only the best applicants and present these loans to Iban. Unlike many other P2P marketplaces, instead of allowing you to invest in a specific loan we do that for you and aggregate many loans together – you have access to a much simpler approach: an investment account.
How do users become investors with Iban Wallet?
This platform boasts sleek design and seamless experience across all devices (web, android, and iOS). Iban Wallet has country-specific websites with an experience tailored to the user's nationality and account currency. Customer support is offered in more than 3 languages and they are aiming to expand to even more.
Creating an account in less than 5 minutes:
Requirements: to be at least 18 years old and be a resident in one of the countries in which Iban offers its services.
Adding funds to your account:
The minimum investment amount is as little as 1€/$ !
To fund the account the investor can either use debit/credit card (only needs to insert card details) or choose a SEPA transfer.
Iban currently offers accounts in EUR, USD, and MXN.
Platform experience:
The investor can select one of the four accounts available. These accounts have different expected fixed interest rates (up to 6% AER),  minimum investment amounts and terms.
What are the fees?
There are no fees for you as a user, including transfers and withdrawals. This is great news, as we are seeing lots of banks nowadays trying to fleece their clients with monthly fees, set up fees and penalties for closing their account. You'll get none of that crap with Iban Wallet.

How is the user protected?
Your funds are deposited in an Electronic Money Institution (EMI) regulated by the European Central Bank.
All investments are backed by collateral (asset/property).
All loans are protected by a Buyback Guarantee and a Safeguard Trust.
What types of accounts are offered?
Iban accounts are investment accounts providing interest paid on a daily basis. By opening an Iban account you can invest with an interest rate starting with 2.5% AER.
Accounts are invested in asset-backed loans, have a Buyback Guarantee and a Safeguard Trust which has covered all bad loans since it launched. The Buyback Guarantee allows Iban Wallet to offer a fixed interest rate making their accounts the perfect products to grow your savings.
As mentioned earlier, you can start investing by just putting €1, so you can feel free to test out these accounts with small amounts and hence extremely low risk. Interest is paid every day and there is no minimum term for the Iban account, so nobody is going to stop you from taking out your money when you desire to do so.
So let's take a look at the options offered:

The basic account is called Iban account and is the one that's recommended to start off with for the first few days and weeks while you test out the waters. If you're happy with how everything works, you can put in more money and access better returns, like those offered by the One, Market, and Dynamic accounts.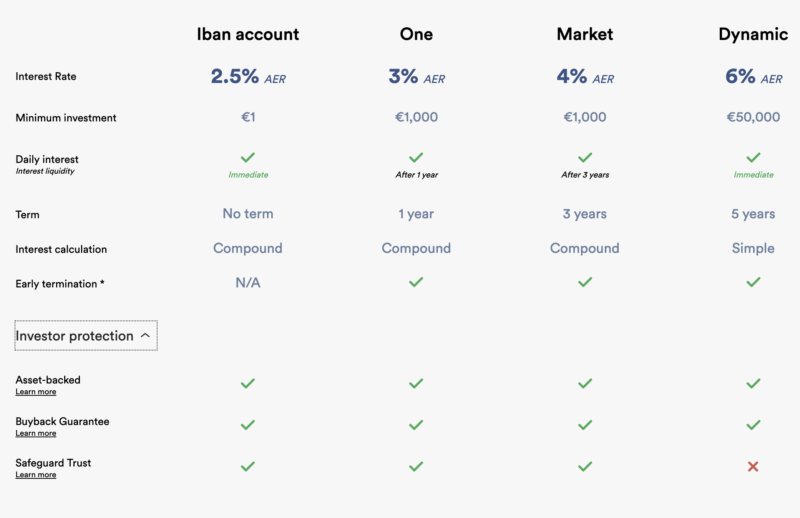 As you can see, with the latter three accounts you get higher returns. You will, however, have to agree to a minimum term (1, 3, or 5 years respectively). I think that's fine. If you have a net worth in the six or seven figures, you can easily afford to park €50,000 or more of that into an account for 5 years when in return you're getting 6%. If your cash net worth is more like €80,000, then I would suggest sticking to the One or Market accounts.
My Thoughts
I think Iban Wallet need to improve their wording and make a clear distinction between the basic Iban account and the rest of their investment options. There are some restrictions on the other other accounts that should be made clearer from the start. For example, on all accounts apart from the Iban account, you have an early termination fee of 2.5% (exceed the accrued interest at the time of the cancellation, so you always keep your initial investment).
Having said that, I think this platform is an excellent alternative to keeping money in the traditional bank accounts which don't give us any interest anymore, and on top of that charge fees like monthly fees, set up fees, closing fees and transfer fees.
Banks are no longer the safe havens they once were; we've all seen how many of them went into trouble during the past financial crisis. They are still safe places to store money, but nowadays I try to diversify as much as possible, especially now that I'm young and I am chasing returns rather than just parking my money somewhere and letting it be devalued through the effects of inflation.
That's why I think that it's a great idea to put money into a platform like Iban Wallet, which is a slightly riskier place to put your cash compared to a bank, but on the other hand gives much higher returns.
Campaign of the month
We are about to finish October, but the promo code TRYIBANNOW is still active. Every reader who joins Iban with this code and invests 200€ (or more) will get a 1% bonus on their Iban Account for 3 months! Remember the code needs to be inserted after the registration process, at "top up the account" step.