Today I want to share some information about the Pomodoro Technique. It has helped me improve my work productivity and I think it can help you too.
For those whose Italian language skills are close to non-existent, the word Pomodoro means 'Tomato' in English. Why? Because we will use a kitchen timer in the shape of a tomato for this technique.
Pomodoro is a technique of getting the best out of your working or study time. One Pomodoro is defined as a period of 25 minutes. Between each Pomodoro, a 3-5 minute break is taken, while with every set of 4 Pomodoros a 25-30 minute break can be taken. The most fitting metaphor for managing breaks is long-distance runners. At the start of the marathon, they know they have the energy to run faster, but they also know their limits and the difficulty of the challenge ahead. They manage their resources to achieve the best result at the finish line.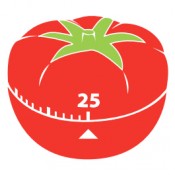 Apart from helping you plan your day, keep track of effort expended on each task, and work more efficiently in bursts, the Pomodoro technique also helps you minimize distractions. These can be either internal (e.g. the urge to get up and get something to eat) or external (e.g. colleague asks you to watch a movie tonight).
I also found this technique useful in breaking down complex tasks. As a rule, no task can take more than 5-7 Pomodoros, where each Pomodoro is 25 minutes long. On the other hand, small tasks can also be joined together under one Pomodoro.
The Pomodoro Technique has been successfully applied in various types of activities: organizing work and study habits, writing books, drafting technical reports, preparing presentations, and managing projects, meetings, events, conferences, and training courses. I find it lends itself particularly well to web development, as it is fairly easy to break down web development tasks into Pomodoro-sized chunks. It is also terribly easy to get distracted while working on the net all day, so Pomodoro is just perfect for keeping a controlled and disciplined environment.
At the end of the day, chances are you will be more satisfied with what you've achieved, be able to look back and see exactly what you did during the day and be able to make better plans for the coming days.
Once you learn the Pomodoro technique, it is estimated that it takes 7-20 days to master it well, so keep trying and don't expect revolutionary results after only the first day, remember your mind and body need to assimilate to this new way of working, and such changes are never instant.
Always remember that the Pomodoro technique is used to improve your productivity and work method, and not as a means of subjecting yourself to pressures of finishing a particular task within a preset timeframe. If it takes more Pomodoros than planned, your task is to ask why this happened and see whether you can improve the work process next time round, without getting yourself down for not 'succeeding' in your plan. Remember, the aim is continuous improvement, not competition or pressuring yourself.
Goals of the Pomodoro Technique
Alleviate anxiety linked to becoming
Enhance focus and concentration by cutting down on interruptions
Increase awareness of your decisions
Boost motivation and keep it constant
Bolster the determination to achieve your goals
Refine the estimation process, both in qualitative and quantitative terms
Improve your work or study process
Strengthen your determination to keep on applying yourself in the face of complex situation
The Technique in 5 Steps
Choose a task to be accomplished
Set the Pomodoro to 25 minutes (the Pomodoro is the timer)
Work on the task until the Pomodoro rings, then put a check on your sheet of paper
Take a short break (5 minutes is OK)
Every 4 Pomodoros take a longer break
Useful Software (instead of a kitchen timer)
[amazon link="B06XS1SSQ5″ title="Pomodoro Miracle Cube"]
Do you already use the Pomodoro technique? Did the technique help you develop faster? Let us know in the comments section!
If you enjoyed this post, make sure to subscribe to WPMayor's RSS feed.