Robo advisors are slowly but surely becoming a mainstream option in the investment sector – making it possible for everyone to access low-cost financial guidance. As the number of online robo advisors continues to rise, so does the range of available services. 
InbestMe is one such automated investment platform currently available in the online retail trading market. Although based in Spain, its fintech solutions extend to investors from across the globe. 
In this review, I run through the fundamentals of InbestMe, covering its core features and whether it measures up as a reliable financial platform for your investment needs. 
What is InbestMe?
InbestMe is an automated online investment management platform that allows you to create a personalized portfolio based on your financial goals. 
In other words, the platform designs an investment plan that fits your risk profile, values, and objectives. This is achieved thanks to a dedicated algorithm – which is capable of calculating the future profitability of different scenarios based on historical data, market analysis, news, and other contributing factors.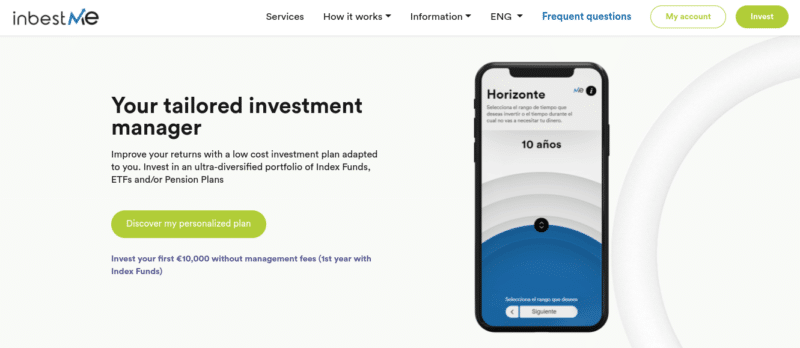 Put another way, InbestMe will do all the legwork involved in the investment journey. It will do sufficient research on your behalf and manage your funds – resulting in a passive experience. 
Currently, the platform offers investment strategies for index funds, ETFs and pension plans. This gives you the opportunity to invest in a low cost and burden-free manner while giving you access to financial growth and diversification. 
How InbestMe Works
InbestMe follows a strict methodology that allows the system to gather sufficient information about the client and devise a personalized investment strategy. 
The platform works as follows:
You Enter your Risk Profile
The first step is to complete a brief test. This part involves filling in information such as your age, annual income, the type of investment you seek, the level of risk you feel comfortable taking, the duration of your investment, and more. 
InbestMe uses this data to calculate your risk profile on a scale of 0 to 10 – 0 being the most conservative, and 10 the most adventurous. 
Select your Portfolio Plan
After analyzing your risk profile, InbestMe will offer you a range of personalized investment plans. The site features over 100 portfolios based on different assets and capital requirements. You can choose a strategy that aligns best with your requirements, financial goals, and attitude to risk.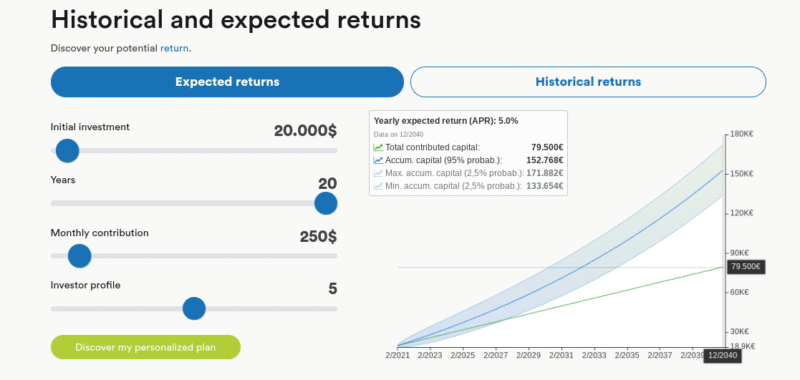 Start Using InbestMe Services
When you have selected the type of investment plan you like the look of, you will be asked to  open an account with InbestMe. 
This means that the platform will essentially become your investment manager – granting permission to access your funds, distribute them accordingly, monitor your portfolio, manage contributions, and essentially handle your investment strategies. 
InbestMe Services
Below I discuss the many services offered by InbestME.
Index Fund Portfolios
InbestMe index funds allow you to invest in a diversified and balanced portfolio. There are two options on this asset class. 
InbestMe Index Funds
InbestMe Index Funds SRI 
The investment strategy for both plans is the same; the only difference is how they choose the funds. For example, the SRI portfolio focuses more on socially responsible funds. 
If you invest less than 5,000 euros, you get access to four index funds. For an investment of over 5,000 euros, your portfolio can be further diversified with up to 15 index funds. 
InbestMe ETF Portfolios
ETF portfolios are available in both euros as well as dollars. There are, in total, four different InbestMe ETF plans to choose from:
InbestMe ETFs: This is based on a long-term strategy made up of approximately 21 ETFs, which includes both fixed 

and variable income instruments from across the world. Investments for this portfolio starts from 5,000 euros and over. 

InbestMe ETFs SRI: This is a portfolio that comes with the socially responsible investments. Other than that, the conditions are the same as the InbestMe ETFs discussed above – so the minimum investment is 5,000 euros. 

InbestMe ETFs Dynamic: The dynamic portfolio allocates 50% across core ETFs similar to the above portfolios, and the other 50% will be adjusted periodically. Based on the investment amount, your portfolio will contain between eight and 16 ETFs. The minimum investment for this portfolio starts at 10,000 euros. 

InbestMe ETFs Value: This portfolio identifies value assets and requires an investment of 15,000 euros and more. 
InbestMe Pension Plans
The Pension Plan is the latest addition to the InbestMe platform. The portfolio starts at 250 euros and combines two different plans – a fixed income plan and a pure equity plan. Combined, you get access to up to 11 different pension investment portfolios. 
These pension funds are designed for investors that are seeking high long-term returns through low-cost ETFs. Each plan offers broad diversification and invests mainly in the financial, industries, public, technology, and healthcare sectors. 
InbestMe Plus
Although most of you might opt for the convenience of automated services, some prefer to work with financial managers. InbestMe Plus is designed to offer you personal assistance in your investment endeavors. 
Your personal manager will give you tailored advice suited to your financial situation and present you with an investment proposal. They will also keep you posted about the upkeep of your portfolio and update you with all strategic information. 
In order to be eligible, you should invest at least 100,000 euros or more on InbestMe. 
Along with the personalized service, you also get access to lower commissions and fees. 
InbestMe Fees
InbestMe has a dynamic fee plan that changes based on the amount you invest with the platform. The higher your capital, the lower the fees you will pay.
Here is an overview of the fees involved with various investment plans. 
Index Funds
Management costs – From 0.13% to 0.45%. 
Trading costs – 0.14%
Average built-in cost – 0.13%
 Index Funds ISR
Management costs – From 0.13% to 0.45%. 
Trading costs – 0.145%
Average built-in cost – 0.18%
ETFs
Management costs – From 0.13% to 0.45%. 
Trading costs – 0.2%
Average built-in cost – 0.19%
Dynamic ETFs
Management costs – From 0.15% to 0.55%. 
Trading costs – 0.2%
Average built-in cost – 0.19%
ISR ETFs
Management costs – From 0.15% to 0.45%. 
Trading costs – 0.2%
Average built-in cost – 0.23%
Value ETFs
Management costs – From 0.15% to 0.55%. 
Trading costs – 0.2%
Average built-in cost – 0.25%
InbestMe Pension Plans
The commissions charged on Pension Plan portfolios are included in the price of the respective plan. 
This includes:
Management fee – 0.60%
Deposit cost – 0.10%
Average cost of assets -.0.05%
Average cost of other services: 0.11%
Apart from this, as I mentioned earlier, InbestMe Plus customers also get additional discounts. 
There are also no further costs involved with deposits and withdrawals on the platform. However, fee-free withdrawals are limited to once a month, and you should maintain the minimum balance in your account. This amount will depend on the type of investment portfolio you have chosen. 
InbestMe Regulation and Safety
InbestMe has several security measures in place that ensures the safety and protection of investors' funds. Firstly, the platform is established as a Security Agency regulated by the CNMV in Spain. 
Furthermore, your wallets are protected up to the first 100,000 euros via the Investment Guarantee Fund. 
There is also the added protection of up to 20,000 euros offered by ICCL for European clients and a 500,000 US dollar guarantee provided by SIPC for clients outside the European Economic Area.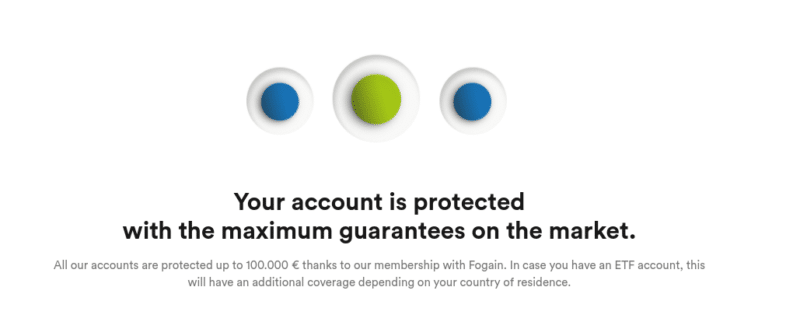 In addition to this, InbestMe also functions as an independent custodian for your funds. The platform relies on Interactive Brokers for ETF portfolios and GVC Gaesco for Index Fund Portfolios – in order to act as the custody platforms for your positions. 
In other words, you maintain complete control over your portfolio and account at all times. You can switch to another manager or cancel your account at any time. 
Therefore, although it is almost impossible to confirm the security of a financial platform with any certainty, it appears that InbestMe has managed to take sufficient steps and precautions for the safety of customer funds. 
InbestMe Pros and Cons
InbestMe is a very well-thought-out platform that offers a good balance between diversification and passive investing. 
Below you will find the platform's main benefits and drawbacks. 
InbestMe Pros:
Access to global investment management companies
A diverse selection of assets offered, combining ETFs, and index funds
Completely automated online investment journey
Support for 18 different currencies 
Customer support through telephone 
InbestMe Cons
High minimum investment of 5,000 euros
It might be challenging for beginners to understand the complex products offered
InbestMe Review: My Verdict?
InbestMe is a notable addition to the online passive investment scene. The platform offers reasonable fees, as well as access to a wide range of portfolios. 
As these portfolios are built as per your individual profile, you can find one that best fits your needs. It also offers a range of other financial services that include automated management, rebalancing, and more. 
Most importantly, InbestMe offers a range of safeguards that strive to keep your funds secure. 
Ultimately, if you are looking to invest in the financial markets on more of a hands-off approach, and you know what your investment goals are – then InbestMe is worth considering.