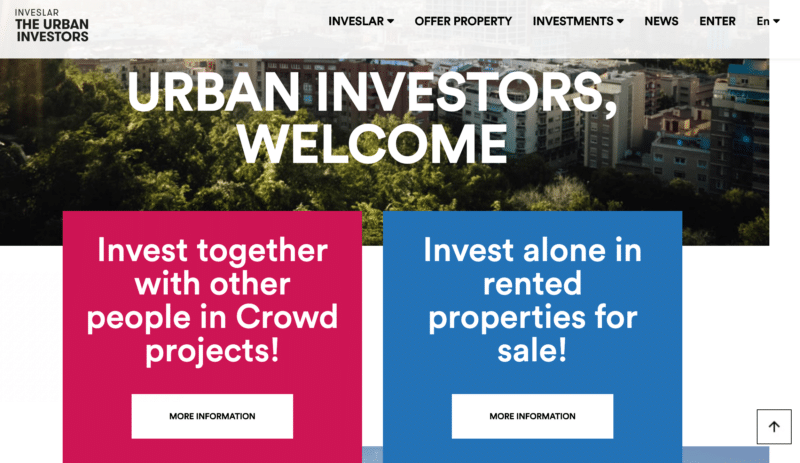 In this review, I'll talk about my experience with investing in the Spanish real estate crowdfunding platform Inveslar.
I've already introduced Inveslar in my earlier post about the best Spanish property crowdfunding platforms, but in this post, I would like to focus on my real-life experience with the projects I've invested in on this platform.
Internationalization
The platform is open to all European and non-European investors, although you will have to obtain a NIE from the nearest Spanish embassy to be able to invest. It's a minor inconvenience, but once you've got your NIE you will also be able to invest in other Spanish platforms too.
The properties available on Inveslar are all in Spain, with a specific focus on Barcelona and surrounding areas.
The website itself is available in several languages:
Spanish
Catalan
French
English
German
That covers all the big markets in Europe for investors. The original languages of the site are Spanish and Catalan, and the translations are not perfect but decent enough.
Email Support
Whenever I emailed Inveslar I always got a reply within 2 days, and sometimes comprehensive replies from the CEO himself, so I am very satisfied with that aspect of the experience.
Types of Investment Available
As an investor, when you visit the site and click on the Investments menu item, you will see the following options:
Crowd projects
Crowd marketplace
Properties for sale
Inveslar has also recently announced that they will start putting up projects related to auctioned properties, which I am very interested in. The first auction projects should be available in the coming months.
Let's take a look at them one-by-one.
Crowd Projects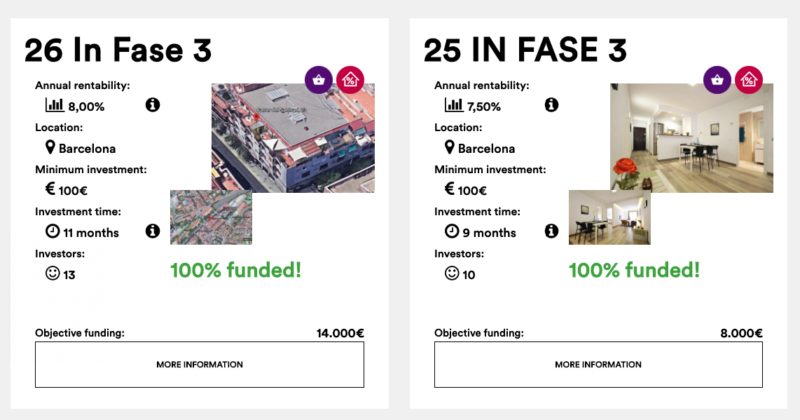 These are the typical crowdfunding platform projects, where several investors pool their resources in order to secure a project.
The minimum investment is €100 and you can also eventually resell your shares in the marketplace. So let's talk about that next.
Crowd Marketplace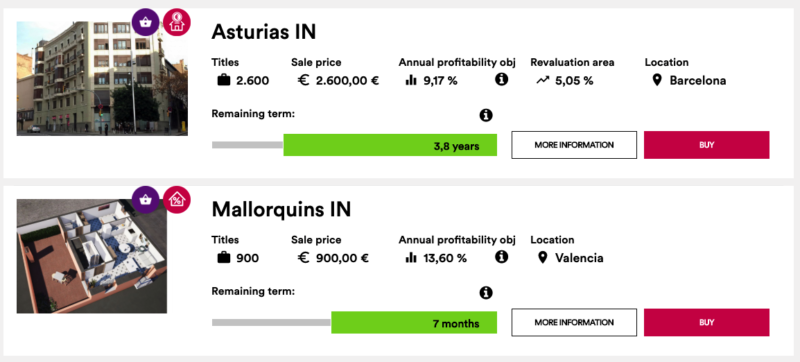 This refers to the typical secondary market that many platforms offer nowadays. You can sell your shares to other investors on the platform.
While this feature promises a good degree of liquidity for investors, I tried selling a number of my investments and did not find any buyers, so in reality, actual liquidity (excluding heavy discounts) is low.
There are currently a ton of properties in the crowd marketplace, which supports my theory that there are many investors trying to sell their shares but very few buyers. Interestingly, none of the properties in the marketplace are trading at a discount.
Inveslar takes a commission of 0.9% of the shares sold, which the seller pays to the platform.
Properties for Sale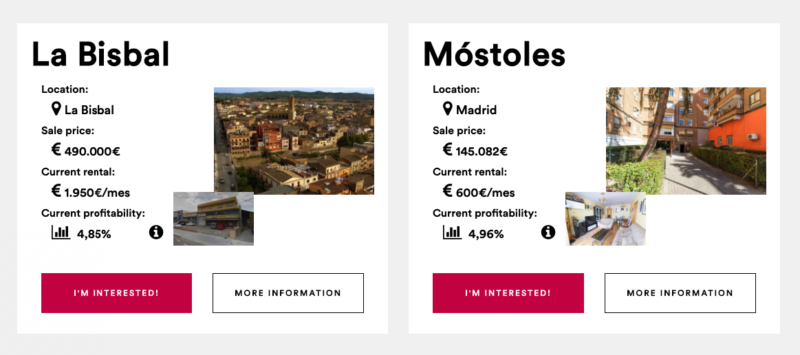 This is a more recent addition to the Inveslar platform. It's meant to give investors easy access to properties that have already been vetted by Inveslar and are already returning a certain percentage every year.
Instead of using the crowd, the investor would purchase the property directly, so this section of the Inveslar website is ideal for those who already have significant funds to invest and don't need to use the crowd in order to obtain properties.
While I think this is an interesting concept, it's not interesting to me as I do not want to own properties directly and prefer the diversification benefits of investing via crowdfunding.
My Results with Inveslar
I invested in 8 projects on this platform over the past few years.
Buy-to-let: Raval IN, Sagrada Familia IN, Asturias IN
Buy-to-sell: Kubik IN, Sant Cugat IN, Rosamar IN, Maternitat IN
Development loans: Bisbal IN
Before we dive into the results, I want to mention that I decided to invest in the three different types of projects indicated above as part of my learning process.
Development loans are straightforward, with your major risk being that the developer/borrower not being able to repay on time. The interest rate and term are known when you invest.
Here's what you should know about Buy-to-let VS Buy-to-sell:
Buying-to-let gives you regular monthly cash flow to your bank account, and it's relatively low risk. Being low risk also means that you are going to get rich much slower, so if rapid growth is your target you should probably go for buy-to-sell projects.
With letting you are going to have to fork out periodic payments for maintenance and also possible tenant issues. Finally, you are also tying up your cash for a considerable amount of time.
With buy-to-sell properties, you don't have the monthly income, but you can potentially make a lot of money very quickly if the project is successful. You don't have any maintenance and tenant issues, so that's one headache less.
You are however susceptible to delays in planning permits and contractor delays and problems. You also have a higher risk as the complications can throw your budget off course. Market changes can also mean that your property eventually doesn't sell for the price you were hoping for or it takes much longer, which reduces your yearly return.
With that out of the way, let's take a look at my investment results.
In the Buy-to-rent section, Raval IN, Asturias IN and Sagrada Familia IN are both rented out and producing monthly cashflow, so I'm happy with those projects.
Bisbal IN was a 6% 12-month loan that was repaid before the term was up, so again I'm happy with that investment.
In the Buy-to-sell section, results honestly haven't been that great, so I'm not very satisfied. Rosamar IN experienced delays for permits and now is under construction. Sant Cugat IN has been for sale for many months with no serious buyer interest. Same situation for Kubik IN.
Maternitat IN has been reserved and the sale will hopefully be completed in August 2019.
Here I would like to mention the worst part of my Inveslar experience so far. While Inveslar issues reports about each property every few months, they are extremely sparse.
Here's an example: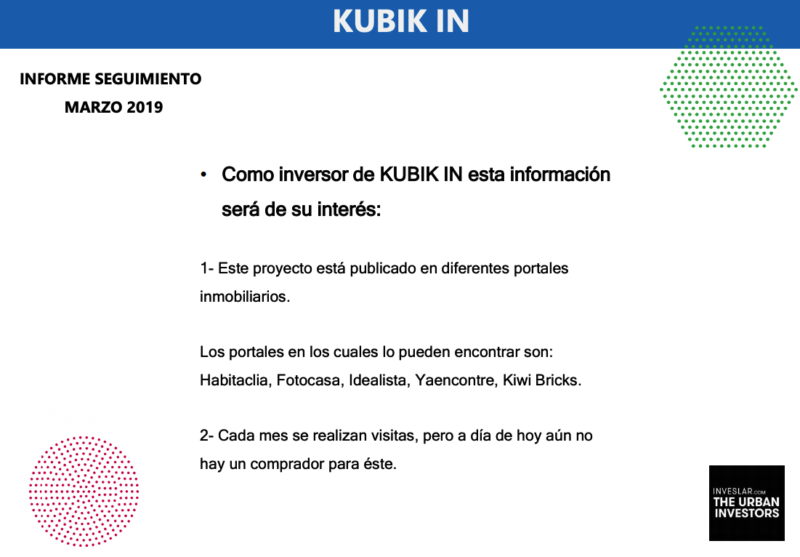 For the buy-to-sell properties, there seems to be little concern for the fact that investors have been waiting longer than the projected term for a sale and returns. All Inveslar tells us is that the properties are listed on the property portals and that they haven't found a buyer yet.
As an investor, I would like to know why it is taking longer than anticipated to find a buyer, and what extra steps are being taken to make the property more attractive to buyers.
Would I Recommend Inveslar?
As of 2019, I would recommend Inveslar if you want to invest specifically in buy-to-let property in Spain.
The property flipping market in Barcelona is really slow at the moment and there is also quite a bit of political instability together with anti-capitalist sentiments from the regional government. Other regions of Spain are doing better on this front, however I still prefer buy-to-let at the moment, I feel it's a lower risk than buy-to-sell.
I would, therefore, advise against investing in any properties that require refurbishment to be later put on sale. I've experienced long delays on those types of properties, and this problem is not only limited to Inveslar but also extends to other Spanish platforms.