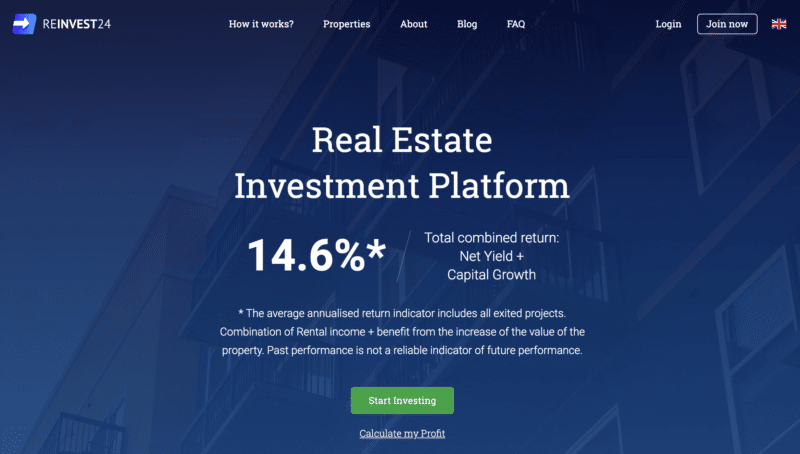 Real Estate always was and will be a valuable asset, that is why property investments are considered by shrewd investors to be the most secure way of investing. Real Estate investments have high requirements for legal paperwork and steep entrance fees, but property crowd investing platforms like Reinvest24 are changing this.
Rental properties but investors will also benefit from capital appreciation.
This platform specializes in Baltic real estate, and therefore we need to focus on the economic outlook of this region before we talk about investing there. The hottest cities in the Baltics at the moment Tallinn (Estonia), Riga (Latvia) and Vilnius (Lithuania). Reinvest24 has a special focus on Tallinn at the moment, so let's talk about some of the reasons why this is so.
The average salary in Tallinn has almost tripled in the past twelve years and that's a great indicator for the purchasing power of the local population and consequently the demand for quality real estate. A lot of people are moving to Talinn from the countryside and other countries because of the growing market in the city.
That brings us to the ecosystem of Estonian startups, which is really healthy. Think about Monese or TransferWise to mention just two. There are many more that have been successful in obtaining funding and thus we are seeing expat high net worth individuals moving there or at least seeking a temporary base for when they are there to overlook the operations of their investments.
So we have an organically growing market with increasing salaries and an increase in industry, rather than an artificial bubble. Over the past 15 years, there has been an average rental yield of 9%, which is among the highest in European countries, especially when we factor out currency risk and focus only on those countries which use the Euro as their currency.
The whole Baltic region has been independent for less than 30 years so the market is still young, which therefore makes a comparison against a more established market quite interesting. If we compare the house prices in Sweden or UK and compare it with the charts for Estonia we can see some similar patterns but Estonia is of course much later, so we can use the other countries' charts as an indicator of what's possible. The prices have more than tripled in the UK since their previous bubble, and the latest bubble in Estonia was in 2009, so there's plenty of growth ahead.
Reinvest24 focuses on fast-developing areas, for example, those that are near to new developments or infrastructure, and also invest a lot in the renovations and refurbishments to build a lot of value there. They typically can obtain properties lower than the market price due to their extensive network of contacts, plus they also add a ton of value due to the renovations. They can also obtain high rental yields for their investors by using platforms such as Airbnb and Booking.com for short term rentals.
One thing I really like about Reinvest24 is the involvement of their CEO into all aspects of the business, personally replying to many customer emails and being absolutely available for any questions. The problem with many similar platforms is that they are strong on promoting a project at launch, but then provide very few and sparse updates. Not so with Reinvest24, they even provide video updates that are really helpful for us non-local investors who might not be that familiar with Talinn and the new developments there. Check out the following video which is from my latest investment in Reinvest24 (Majaka 54):
Reinvest24 helps you to multiply your investments and grow your portfolio without taking big risks and putting all your eggs in one basket. In 2018, I took a trip to the Baltics to see what all the hype was about, and I was definitely convinced of the growth potential here.
Many people still unfortunately associate the cities in this region with Soviet times where the general situation was pretty dire, but those days are long gone and what I saw was a young population that is enthusiastic about its prospects and governments (especially Estonia) that are very pro-active in moving their citizens to the digital age and usher in a new era of prosperity.
I would highly recommend that you look into investing in the Baltics and thereafter using Reinvest24 as your platform of choice for real estate investing in this region. As from 2018, Baltic properties have been part of my real estate portfolio, together with property in the UK, Spain and Germany.
As always, I will keep updating this post with my results, but for now I can say that my real estate investments in the Baltics have been my best performing ones this year, so you should definitely check out Reinvest24 and read about the Baltic market overall.