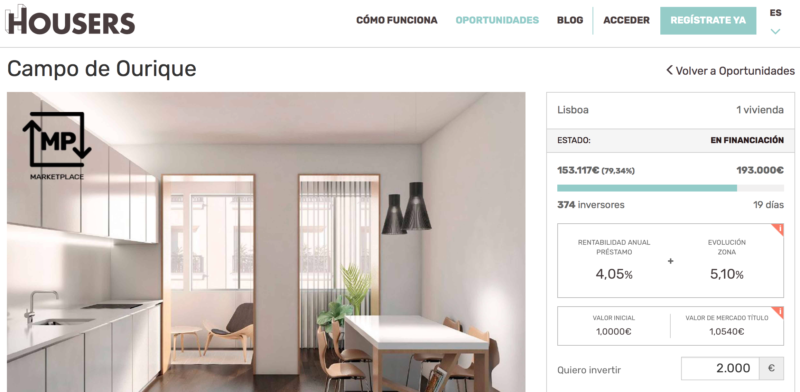 The best platform I have found for investing lower amounts and building a diversified portfolio of Portuguese property is Housers. Apart from investing in Portuguese real estate, with Housers you can also invest in Spanish and Italian property. I've had some issues with my Spanish investments, but the Portuguese investments have done well.
So how do you go about it?
The first step is to join Housers. When clicking this link you get a free 50 Euros to invest. This platform is open to all European investors, and it's very easy to join.
Once you have created your account, you can take a look at all the investment opportunities that are available at that point in time. Keep in mind that most opportunities are filled pretty quickly, so don't dwell on things too long. My strategy is to invest small amounts in many properties. In this way, I can briefly skim through the financials and plans for each property and make a quick decision, knowing that in the worst case I wouldn't be hit with a big financial loss.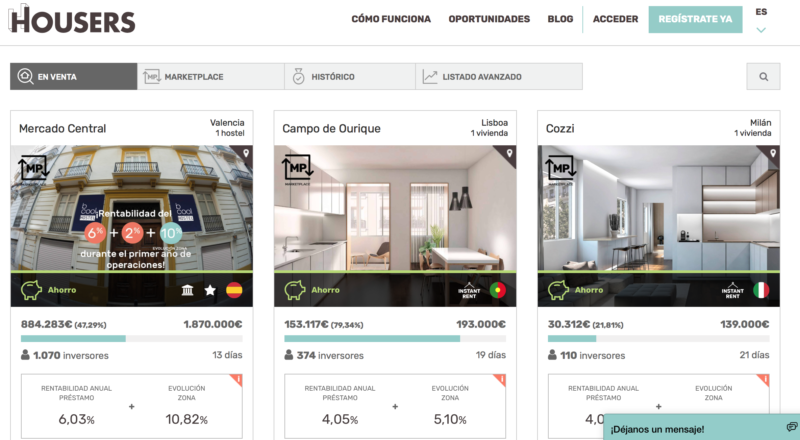 As you can see in the screenshot above, there are different types of opportunities and they each present different rates of return. At the moment, Housers you can invest in properties in Spain, Portugal and Italy. No doubt more countries will be added later on.
Let's use our Portuguese investment as a case study. To invest in the Campo de Ourique property, you would need to click on the opportunity and you will be taken to the details page. Here you will be able to check out the plans for this apartment including graphical renders as well as financial projections. You can then take a decision on what amount of money you wish to invest.
In this particular case, Housers is looking for a total of 193,000 Euro in order to finance the purchase and refurbishing of the property. The plan is to sell after 5 years, so this is a property that will be refurbished and rented out, giving us a monthly return (dividend). As you can deduce, this is the same as buying a property, renting it out and collecting the monthly rent. With Housers however, you don't have to worry about maintenance and all the other administrative tasks, plus you get the opportunity to diversify over many different locations, types of buildings and countries.
The listing includes location information, building plans and renders. The annual return is projected to be around 4%, which is quite good considering what the banks are currently offering for savings accounts. Of course, you are assuming more risk than when you leave money in the bank account, but you are being well compensated for it.
Keep in mind that your profits from Portuguese Housers investments will be taxed at 28% at source, but you can credit that against the tax payable in your country of residence. Portugal might also have a double taxation treaty in place with your country which reduces the tax rate further, but you'd have to claim that from the Portuguese authorities which isn't very practical.
So once you're ready to invest, you enter the amount, in this example 2,000 Euro. You can then finance the purchase of shares using your Housers account or using your bank's credit/debit card. Once that selection is done, you can go ahead and confirm the investment. That's it, you're now an investor in Portuguese property. You will be updated regularly with new developments about the property.
Let me know if you have any questions about investing in Portuguese real estate via Houses, and I'll be happy to help based on my experience.