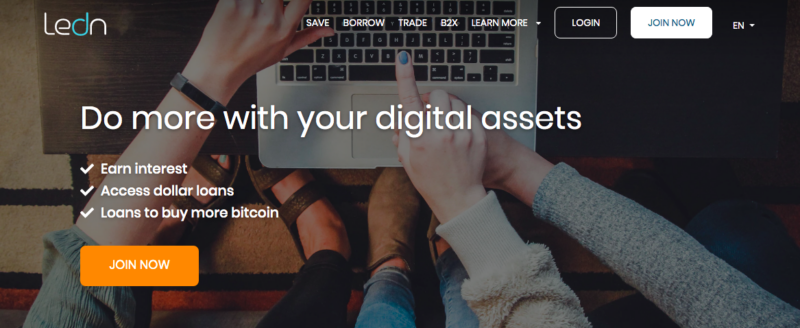 Cryptocurrencies are exponentially increasing in popularity. Since the epic rise of Bitcoin in 2017, cryptocurrencies caught the public eye. Serious investors began adding cryptocurrencies to their portfolios and exploring how to capitalise on their crypto investments.
From an insignificant start, crypto growth has been outstanding. There are now over 5,000 listed cryptocurrencies. In 2020, the combined cryptocurrencies had a market capitalisation of 193 billion US dollars. But, by the end of January 2021, the market capitalisation for cryptocurrencies was over 1 trillion US dollars.
Over the past few years, there's been a growing number of online crypto lending providers where you can make the most of your cryptocurrencies. Ledn is one example of a digital financial platform allowing you to maximise your Bitcoin holdings by expanding how you can use Bitcoin for profits.
If you are holding Bitcoin, you may want to know how to get the most out of it. In the past, the only way to profit from Bitcoin was to sell it at a higher price than you bought it.
With Ledn, you can now earn interest on your Bitcoin and even access a loan against your holdings. You can also create a passive income stream with your Bitcoin. And you can increase your portfolio by buying more crypto assets.
Adam Reeds and Mauricio Di Bartolomeo founded Ledn in August 2018. They set out to build a world-class financial product platform with industry-leading rates to help people save on digital assets.
Their headquarters are in Toronto, Canada. They provide a global service through Bitcoin and digital assets.
In this review, I provide an in-depth analysis of the financial products available with Ledn. I will discuss the process of setting up an account with the Ledn platform so that you can start making passive income from your Bitcoin holdings or borrowing against the Bitcoin you currently own.
Remember that I also interviewed Ledn's co-founder Mauricio on my podcast Mastermind.fm, so do check out that episode if you want to learn more about Ledn.
Ledn Products
Ledn has three flagship products –
Bitcoin and USDC savings accounts
Bitcoin-backed dollar loans
Bitcoin balance doubling service (B2X)
I want to guide you through each of these carefully as it is very important to understand what each product consists of and where it can be most useful. We need to keep in mind that these are relatively new products in the finance space, and therefore utmost diligence is required before you use them.
I am personally very bullish on such services, but as with anything crypto, the first investment you should do is in your own education. That will prevent you from making bad decisions.
Without further ado, let's dive in.
Bitcoin and USDC Savings Accounts

Interest with traditional banks for fiat currency is hardly worth considering. But, if you have Bitcoin holdings, Ledn offers high-interest savings accounts, which they can do through their collaboration with Genesis.
Genesis Capital offers high-level service to elite groups of institutions, offering the ability to buy large quantities of digital currencies such as Bitcoin and USDC.
In 2019, Genesis processed over $3.1 billion in digital asset loans and has the best processing standards for lending and reporting. Ledn savings accounts have such high interest because they lend Bitcoin to Genesis.
Interest on Bitcoin and USDC saving accounts is paid monthly by Ledn with compound interest.
The potential interest on a Ledn Bitcoin savings account could be as high as 6.25% APY (annual percentage yield) paid in Bitcoin.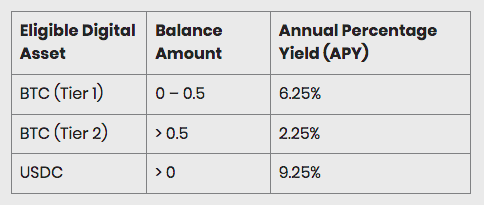 For USDC savings accounts, the potential interest is 9.25% APY and paid in USDC.
Note that these rates can change at any point due to market conditions.
Ledn complies with high standards of consumer protection and privacy and, as such, is incorporated under Canadian Federal Laws. Ledn provides a purpose-built, highly-qualified platform for digital assets storage and has undoubtedly one of the most comprehensive insurance policies for the crypto industry.
Note: the Canadian Deposit Insurance Corporation doesn't cover USDC savings accounts. Nor are USDC savings accounts covered by any other deposit protection policies.
The Benefits of Bitcoin and USDC Savings Accounts
There is no minimum balance requirement, and your investment is not locked in, meaning you can withdraw your funds at any time. The beauty of this is the availability to all investors, not just those with significant capital investment.
Your savings aren't affected by the traditional money market issues, such as market crashes etc.
You earn compound interest, meaning your savings account grows exponentially. Your compound interest payout is monthly.
Should you wish to send Bitcoin or USDC to another Ledn account, the transaction is free.
For the USDC savings account, there is a $10 USDC fee for withdrawals. There are no fees to use the Bitcoin savings account. When you withdraw, the transaction fee on the Bitcoin blockchain deducts automatically, and this is equivalent to the mining fee. Ledn does not charge any extra fees on withdrawals apart from the mining fee that applies to any BTC transaction. There is also a minimum withdrawal limit of 0.0005 BTC or $10 USDC.
Ledn savings accounts are available worldwide with the exception of a list of countries and a few US states. Refer to the Q&A section under the 'Save' menu for more details.
Bitcoin-Backed Dollar Loans

Bitcoin-backed loans facilitate liquidity for investors who are hodling (buy and hold) their assets. It's an efficient and fast service to use your Bitcoin as collateral and receive dollars without selling your Bitcoin.
Loan terms are twelve months, but you can apply for an extension of the loan when the original loan term ends. The maximum LTV (maximum loan-to-value) ratio is 50%. So if you had $10,000 of Bitcoin as collateral for the loan, you could borrow up to $5,000.
On the Ledn website, you can access a Bitcoin-backed loan calculator. The minimum loan is $500.
You cannot pay off your Bitcoin-backed loan by instalments. When you pay the loan, you are required to pay the total amount owing. There are no penalties for early repayment.
There are multiple benefits to Bitcoin backed loans –
Your Bitcoin still belongs to you, and, as there is no sale, there are no taxable transactions. Most Bitcoin investors wish to hold long-term but want to access cash and build up their Bitcoin holdings. Once you pay the loan, your Bitcoin returns to you.
Your Bitcoin is safe. Ledn uses BitGo, the world's first qualified, purpose-built custodian for storing digital assets. BitGo has one of the most comprehensive industry insurance policies and has recently been acquired by Galaxy Digital in the industry's first $1bn+ acquisition.
Approval for Bitcoin-backed loans is fast, with funds available within 24 hours of approval from Ledn. There is no mandate for payment and no necessity for monthly installments. You can pay off your loan any time – with dollars or Bitcoin – without penalties.
How to Apply for a Bitcoin Backed Loan
It's surprisingly simple to apply for a Bitcoin-backed loan. As you'd expect, you have to share your personal information to prove your identity. Ledn request the following four documents –
A copy of a government-issued document such as a driving licence or passport
An image of you holding the above
Proof of address, such as a recent utility bill
Your bank details
Subject to your documents being in order, the approval process is a matter of a few minutes.
What Happens if the Price of Bitcoin Drops?
Like all cryptocurrencies, Bitcoin is volatile. For instance, the Bitcoin price was $64k in May 2021 but promptly dropped to below $30k in less than a week. A similar drop occurred more recently, from $68k in November 2021 to $35k in January 2022.
Bitcoin is sensitive to media coverage by large investors.
Recently, the price of Bitcoin dropped 10% overnight, following a tweet by Elon Musk (owner of Tesla and a prominent investor of Bitcoin) regarding the energy-intensive resources of Bitcoin mining. He is concerned about the damage to the environment and consequently has removed Bitcoin payment options for vehicles until Bitcoin becomes less energy-dependant.
If a significant price drop like this occurs, Ledn asks you to add more collateral to your wallet or make an appropriate payment on the principal loan. If you fail to fulfil these requirements, Ledn has the right to sell part of your Bitcoin to meet the loan to value ratio levels. It's similar to a margin call.
Therefore, before you consider a Bitcoin-backed loan, you must assess the risk for this potential scenario and have backup funds available if necessary.
If Bitcoin prices rise, you get to keep the gain in value, and the amount you owe for the loan does not change.
B2X: Bitcoin Balance Doubling Service

If you want to make the most from your Bitcoin, B2X is a Ledn service that allows you to increase your Bitcoin holdings through a Ledn Bitcoin-backed loan purchase and an equal purchase of Bitcoin.
The concept is simple. You apply for a dollar loan and then purchase Bitcoin equal to the value of your current holdings. The result is, you have twice as much Bitcoin and a Bitcoin-backed loan.
Who would Benefit from B2X?
If you believe in the value of Bitcoin increasing over the coming years, B2X doubles your exposure, potentially doubling your Bitcoin gains. If you already have a Ledn Bitcoin savings account, you can use funds from that. The process takes less than a minute.
You can check the B2X calculator on Ledn's website. There doesn't appear to be a minimum requirement for transfer, although a Bitcoin-backed loan requires a minimum of $500 of Bitcoin.

What are the Risks of B2X?
As you know, Bitcoin is volatile. If the price rises, your gains increase, doubling your Bitcoin. But, if the price of Bitcoin falls, you're exposed to double the risk.
Should the latter happen, the procedure is the same as a regular Bitcoin-backed loan. You are required to add funds or pay off some of the principal of the loan. And, Ledn has the right to sell some of your Bitcoin holdings if you fail to take either of the above actions.
B2X is for the investor who is not risk-averse and has the capital to back up a shortfall in the price of Bitcoin if needed.
A few countries have B2X service-related restrictions. These details may be subject to change, but the current (February 2022) list is below.
Iran
Libya
North Korea
Syria
United States
Africa
Uruguay
The product is thus not available in those countries at the moment.
How to Register for B2X and Repayment Process
It's easy to access B2X by simply opening an account with Ledn and verifying your user profile.
You can deposit any amount you wish into your Bitcoin savings account to use for your B2X loan. After making your deposit, go to the B2X products page to make your selections
Repayment of your B2X loan is hassle-free because you can repay the loan at any time you wish without penalties, but Ledn payment requirements are to pay the loan in full with one payment. In addition, interest accrues daily, so the quicker you pay off the B2X loan, the less interest you pay.
Proof-of-Reserves Standards

Before investing your Bitcoin in platforms like Ledn, the first question you should ask is if your investment will be safe. Ledn is the first to launch the Proof-of-Reserves standards initiated at the beginning of 2021.
Proof-of-Reserves allows Ledn to prove how much Bitcoin they could spend without exposing themselves to the risks of moving funds and without the need to generate a live transaction.
In short, Proof of Reserves means that Ledn is financially viable, with enough Bitcoin to support their platform.
Ledn assures their clients of Proof of Reserves Standards with their statement, "Ledn is the only digital asset lending company to have performed a Proof-of-Reserves attestation by an independent top-25 public accountant, Armanino LLP. As such, Ledn clients can take comfort that their bitcoin and USDC are being properly and accurately accounted for – to the satoshi, and to the cent, at all times."
To check whether your Bitcoin assets are in the Proof of Reserves, log in to your Ledn account and look for the report's details at the bottom of the page, where you will find a hashed ID and a link to Armanino LLP's TrustExplorer website.
Enter your hashed ID to confirm your balance at the time of the Proof of Reserves attestation.
If you had assets on Ledn on 31st January 2022, you were automatically included in the Proof of Reserves attestation.
Ledn plans to conduct independent Proof of Reserves attestations every six months. Ledn clients will receive timely notifications.
Ledn Customer Service
Customer service feedback and support is essential as a measurement of what you might expect as a client of Ledn.
I'm a happy user myself, and all my support interactions were pleasant and timely. To be fair, I haven't needed much help as I'm used to such products. So let's take a look at the next best thing to gauge customer service levels – TrustPilot.
Ledn opened a TrustPilot account in October 2020 and since then received 433 reviews.

Overall, the reviews for Ledn's service and support is good. They currently have a TrustPilot score of 4.5-star compared to a score of 4-star in early 2021. Happy customers are delighted with their service and customer response. Notably, if a difficulty occurs, Ledn is quick to solve it, even if it's a user error.
For instance, Ledn quickly resolved an account holder issue when a client couldn't access his account. The client reported the efficiency and helpfulness of Ledn support staff.
Upon scanning through the negative reviews it seems that lately there have been a number of instances where clients claimed they have not received their referral bonus. I am not sure what happened in this case but I did notice that Ledn's customer support followed up a number of these claims. In this regard I suggest that prior to giving a referral you double check on the terms of the referral program directly with Ledn.
Other customers who posted one-star reviews failed to grasp how Ledn works, such as thinking they were borrowing Bitcoin with a Bitcoin-backed loan.  As a result, they were upset when they received dollars but admitted they hadn't clarified the details before requesting the loan. This information is fully transparent to readers on the Ledn website. The latter negative reviews are unfair as they are due to user ineptitude rather than Ledn's service.
I would recommend that Ledn's customer service team keep tabs on their TrustPilot and respond to reviewers, especially those who had a perceived negative experience. This would enable other visitors to understand better what went wrong and be able to judge for themselves whether there is any valid concern with Ledn's offering or not.
Is Ledn Secure?
Ledn is a security-centric platform, and they take the privacy of their clients seriously. They have two-factor login authentication and for specific actions on the platform when logged in.
The website has AES-256 website encryption. Ledn addresses all the layers that could possibly fall prey to security threats.
Ledn does not want to monetize client data. They offer a high level of client protection, so your data is not stored on Ledn local servers. Instead, your data is stored in private networks with strong security protocols.
What index does Ledn Use for Bitcoin Prices?
Ledn uses the  Coindesk Bitcoin price index to determine loan-to-value ratios for Ledn loans. Therefore, before investing your Bitcoin with Ledn, you can check the current Bitcoin price with Coindesk.
How do I Open a Ledn Account?
Opening an account with Ledn is easy.
To register for a Ledn account, click on join at the top of the page and enter your first and last name, email address and phone number. You then have immediate access to your account.
From that point, once you choose the desired service, you will need to provide proof of identity with the documents detailed on how to apply for a Bitcoin-backed loan earlier in the article. In addition, you may also have to provide your date of birth.
Ledn Alternatives
Ledn is one of the best options for a Bitcoin-specific loan or savings account. They are committed to Bitcoin and do not offer other crypto offerings. While this can be a negative point to some, I appreciate the fact that they are not going after the shiny (but less secure) crypto flavors of the day and focusing on Bitcoin. This allows them to focus all their energies on securing one cryptocurrency, which makes sense to me.
For other cryptocurrencies, my favourite crypto lending platforms are YouHodler and BlockFi.
Similarly to Ledn, you can earn interest on your crypto holdings with a savings account with YouHodler or BlockFi, or use your crypto as collateral for a loan. Thus, if you are HODLing other cryptocurrencies, YouHodler and BlockFi are also excellent platforms for making the most of your crypto holdings and generating a passive income.
BlockFi is a more conservative platform than YouHodler when it comes to cryptos and services offered, and so I believe they are more of a direct competitor with Ledn. Check out my head-to-head review of the two services where I determine which one is best for what.
I believe that all top platforms end up specialising in certain products or services, and therefore it's important to understand that it's not a winner-takes-all situation but rather a case of choosing the right platform for your needs. I personally use both BlockFi and Ledn, for example. One straightforward reason for using Ledn over BlockFi that I could mention is that rates on Ledn for Bitcoin deposits are significantly higher than BlockFi's if you are depositing bigger sums of BTC. So if you only hold Bitcoin and have significant sums, it pays to use Ledn instead of BlockFi.
Of course, you could also play the hedging game and decide to split your holdings between 2 or 3 platforms to protect against the unlikely case of one of these platforms having problems in the future.
Ledn Review – The Verdict?
Ledn is a robust and secure platform where you can maximise your Bitcoin holdings, earn more Bitcoin or secure a loan against your Bitcoin without selling it.
With crypto industry experts predicting that Bitcoin could one day hit $500,000 or more, a platform such as Ledn is a superb way to build your Bitcoin holdings from earning interest or doubling up your Bitcoin with the B2X.
Ledn's fees are low, but their security is high, and they have insured custody from industry leader BitGo and the backing of Genesis Capital.
Ledn is one of the leading Bitcoin lending services available today. Regardless, when investing your assets with any third-party services, you should always perform due diligence and proceed with caution.
You can access Ledn services via the website or by downloading the Ledn app from the Google Play store or Apple's App Store.
Whilst I have described every aspect of Ledn in this guide, always check the current details on the Ledn website.
Please note that the above information is not providing advice on tax, investment, or financial services. I offer the above information without consideration for risk tolerance and a specific investor's financial circumstances.
Trading or investing in Bitcoin may not be suitable for all investors. It does involve risk and the possibility of a loss of capital.
Summary
Ledn is an excellent platform with three unique services for Bitcoin investors. You can invest with a low-risk savings account, borrow a dollar loan against your Bitcoin or take the higher risk option of the B2X service to double your Bitcoin holdings.
Pros
Simple to open an account with Ledn
Fast approval for loans
Easy funding and withdrawals
Low fees
Compound interest on savings accounts and paid daily
Transparency – proof of reserve, independent attestations bi-annually
High-interest returns
High security – Insured custody with BitGo
Backing from industry-leading Genesis Capital.
Cons
No installment payments for Bitcoin backed loans
The minimum deposit for loans is $500
Limited to Bitcoin currently, but Ledn have plans to add other cryptos