In the current financial landscape, identifying the right investments for your risk profile can be a complicated process. After all, there are dozens of asset classes and thousands of financial instruments at your disposal. In addition, obtaining professional advice can be somewhat expensive.
Moneyfarm was designed to help you discover a smart and simple way to invest.
In this review, I am going to talk about Moneyfarm from top to bottom. On top of covering how the platform works, I'll also explore what its charges are and how you can use the provider to benefit from its diversified investment products.
Moneyfarm – An Overview
MoneyFarm is a digital wealth manager that is now based in London. The platform was first founded in 2011 in Italy in order to offer savings management services post the 2008 financial crisis. After its initial successful years, the company opened its UK branch – receiving authorization from the Financial Conduct Authority (FCA) along the way.
Today, the company has emerged as a pan-European digital investment manager with over £1 billion worth of assets going through the platform. Moneyfarm aims to offer you active management tools for your investment funds. Meaning, the platform will build you a diversified portfolio based on your unique financial goals and change it according to your evolving needs.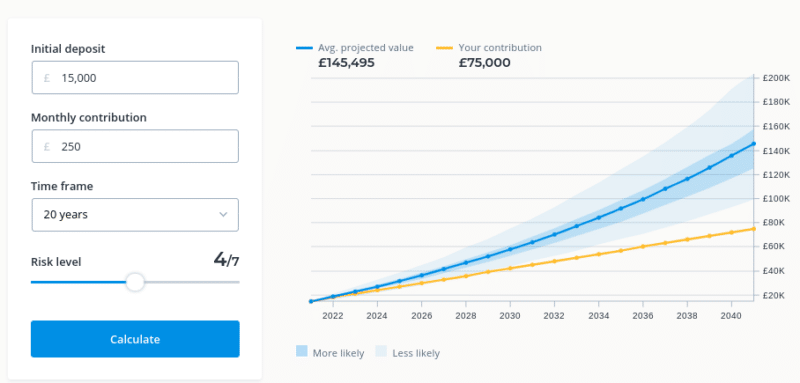 In addition, the Moneyfarm team will make adjustments to your portfolio based on the current shape of the wider financial markets. In order to achieve this, the platform requires you to complete a survey when you join the platform. The data collected will be used to gauge your risk appetite and then develop a portfolio that matches your profile.
You can then choose to invest a lump sum amount or set up monthly contributions. Once you have activated your profile, the in-house team at MoneyFarm will professionally manage your portfolio and rebalance it as and when required.
How Moneyfarm Works
MoneyFarm has a total of seven pre-designed portfolios that are actively managed by its investment experts. These are defined based on the risks involved – from level one to seven.
Each portfolio is made up of Exchange Traded Funds (ETFs) from market-leading providers. You can see the performance of each ETF in great detail directly on the website, including the investment strategies used by MoneyFarm to make financial decisions.
Notably, the one thing common across all the different portfolios is that each one is heavily diversified. This is to save you from excess volatility and thus – ensure that you are not overexposed to a single marketplace.
In order to get started with MoneyFarm, you will have to complete the following steps:
Step 1: Build your Investor Profile
After creating your account by providing your email address and password, you will be required to complete a short survey. This includes some simple questions such as the range of your income, your risk tolerance, and your attitude towards investing.
Note that you will always have the option to change your priorities at any point in time – even after you have already invested. The team at Moneyfarm will then make the required adjustments in your portfolio to meet your current needs.
Step 2: Invest in your Matching Portfolio
Once you complete the questionnaire, Moneyfarm will point out which type of portfolio will be most suited to your investing style. As I mentioned before, MoneyFarm has seven globally diversified portfolios – each containing a handpicked mix of ETFs.
The platform will then recommend a portfolio that is perfectly matched to you. You will also be given two additional options so that you can decide if you want to adjust your priorities. At this stage, you can select a portfolio and make the investment.
Moneyfarm allows you to fund your account using bank transfer and Direct Debit. Crucially, if you already have other investments, Moneyfarm can actually help you consolidate them on the platform. This service allows you to transfer any ISAs and pension funds you might have already invested in with other providers.
This will make it easier for you to keep track of your investments while lowering your overall costs. Moreover, this service is provided for free on Moneyfarm.
Step 3: Benefit from Active Management
Once you have funded your portfolio, your money will automatically be put to work as per the ETF investment choices outlined to you. Depending on continuous market analysis and performance tracking, the team at MoneyFarm will actively manage the entire process for you.
In addition, you will also have access to a dedicated Moneyfarm investment consultant who will be at your disposal if you have any questions at all.
Moneyfarm Investment Products
At the moment, MoneyFarm offers three financial products that will comprise your portfolio. You can choose to invest in one or diversify based on your investment approach.
Stocks and Shares ISA
For those unaware, the term ISA is used to describe an Individual Savings Account – a tax-free account in the UK that allows you to invest and save money. There are different types of ISAs available in the financial market, and the right one for your portfolio will depend on your specific needs and current circumstances.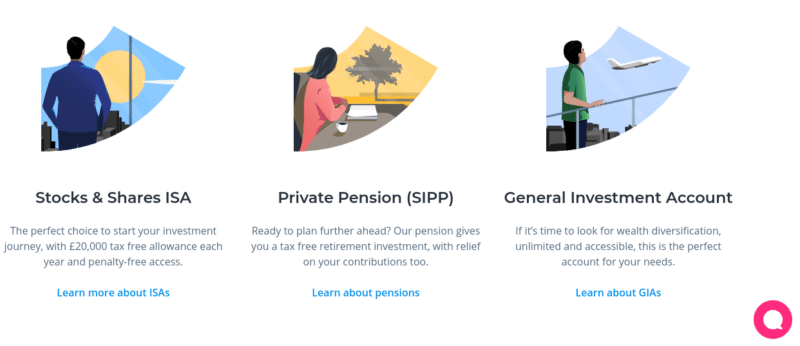 As you can imagine, Stocks and Shares ISAs allow you to invest in a variety of traditional assets like shares, trusts, and bonds. It can be one of the best ways for you to grow your money over the long term in a tax-efficient manner.
That said, when you invest in ISAs – the only condition is that you can put up only up to £20,000 per year. This can also vary depending on UK government regulations.
Moneyfarm Pensions
Investing in Moneyfarm Pensions is another way to secure your future while claiming tax relief. Depending on your tax status, you can instantly claim up to a 25% boost. You can plan the Pension portfolio based on when you are aiming to retire.
The Moneyfarm team will manage your portfolio to maximize the returns for the target date while reducing the risk as retirement approaches. From the age of 55, you will have the option to withdraw up to 25% of your pension on a tax-free basis.
Moneyfarm also offers the flexibility of investing in a pension fund by yourself or setting up employer contributions. You can also transfer pensions from other accounts, including from SIPPs and workplace schemes – as long as you haven't started collecting the income from them.
General Investment Accounts
If you want to look past ISAs and pension funds, then that is where the true power of Moneyfarm lies. As I mentioned earlier, the platform will allow you to choose from one of its pre-defined portfolios based on your risk appetite. You can choose to make a single investment or set up direct debits from your bank account.
Moneyfarm Minimum Investments
With Moneyfarm, you will need to make a minimum investment of £5,000. Alternatively, you can also choose to invest £1,500 first and pay the rest through direct debits each month.
Now, if you are wondering why they need that level of money – it is primarily because the platform is trying to build you a fully diversified portfolio with active management.
How Moneyfarm Manages Portfolios?
As an investor, one of your prime concerns might be what the investment strategy of Moneyfarm is. In order to answer your concerns, Moneyfarm is completely transparent regarding the guidance it offers. According to the website, each Moneyfarm portfolio is made of liquid investments spread across global equities, corporate bonds, and commodities.
Every financial decision the team makes is based on research and data gathered from quantitative techniques and qualitative judgment. In addition, the team also takes into account the volatility of each asset and how any political or economic developments might affect its market. To facilitate transparency – the platform clearly presents a breakdown of each of its portfolios, based on the percentage of your funds allocated to which financial instrument.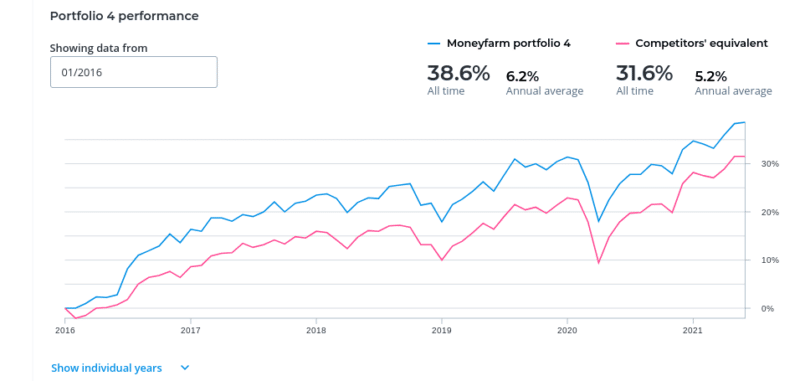 You can also review the returns available from each option. This will include the annual returns, an all-time average, and its competitors' equivalent. You can also analyze the performance of portfolios based on any specific period of time. Moreover, Moneyfarm also gives you access to its previous years' earnings reports so that you can compare them to other financial platforms and make your own decision.
At this point, it is crucial to remember that Moneyfarm is actually making you a recommendation. Now, compared to the other financial advisor platforms, this makes Moneyfarm unique. As the platform is regulated by the FCA, it has to strictly follow regulatory guidelines before suggesting any investment plans to you.
Moneyfarm Pricing
In terms of the costs associated with Moneyfarm – the platform charges only charges a single monthly fee. This will depend on the amount you are investing. In order to give you a better understanding, this fee is based on two different charges.
One is the management fee, which covers the cost of actively managing your assets. And the second is based on the market rates of your chosen investment. For instance, when you invest in ETFs, you will be required to pay a fund fee as well as a market spread.
According to Moneyfarm, its fee structure is broadly classified into four categories:
Up to £10,000 – 0.75%
From £10,000 to £50,000 – 0.60%
From £50,000 to £100,000 – 0.50%
Above £100,000 – 0.35%
As you can see, the higher your investment amount, the lower the fees. If you need a more accurate list of charges, Moneyfarm also has a fee simulator. This will offer you the exact fees involved with your specific investment amount.
Moneyfarm Customer Service
Perhaps the most important aspect that sets Moneyfarm apart from its competitors is its customer service. Although almost all financial platforms allow you to access support, not many offer you the chance to speak to an expert who can actually offer you financial guidance.
Now, as I mentioned earlier, Moneyfarm has dedicated financial consultants that can offer you more information on your investments and how you can maximize your returns. You can fix an appointment with an advisor by selecting a convenient date and time through the platform.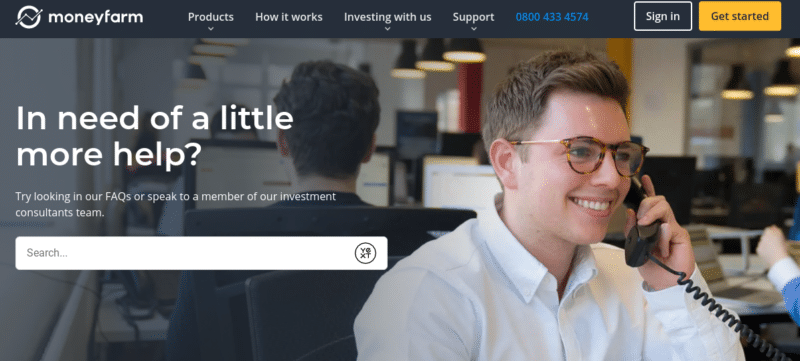 Alternatively, you can also connect with the service team through live chat or email. This feature can be crucial if you are a beginner in the financial space that is seeking help to make an investment decision. This demonstrates that Moneyfarm is entirely different from the typical robo-advisers you will commonly find these days.
In addition, the platform also has an extensive set of guides and ebooks that can help you with investment choices, no matter your experience. Moneyfarm also has a mobile app through which you can assess all its features and contact customer support with ease.
Moneyfarm Security
Needless to say, when considering this financial platform, it is crucial to analyze the security and safety features offered. And as it goes, Moneyfarm has advertised prominently on its website that it is regulated by the FCA, and you are also covered by up to £85,000 via the UK's FSCS.
In fact, Moneyfarm makes it clear that all your personal capital is deposited and protected by Saxo Bank, a Danish investment bank with operations in 180 countries around the world. This implies that your funds are safe in a separate client money account, with a reference unique to you.
Put otherwise, if the worst happened and Moneyfarm goes out of the business, then you can rest assured that your deposits are secure under this scheme.
Moneyfarm – The Verdict?
Moneyfarm is best suited for those who do not have sufficient time to research the markets regularly and make informed investment decisions. This platform allows you to invest your money without the hassle of having to pick assets or monitor things by yourself.
As Moneyfarm offers active management, you can be sure that during a market downturn, your portfolio will be automatically adjusted in order to minimize potential losses. Moreover, the advantage of direct access to an expert financial consultant is not a feature that is commonly available across financial platforms today.
For the charges you pay, what Moneyfarm offers is potentially worth considering. All in all, if you want to allocate money knowing that it will be in the hands of an experienced financial advisor, then there is no reason why Moneyfarm cannot be your go-to investment platform.