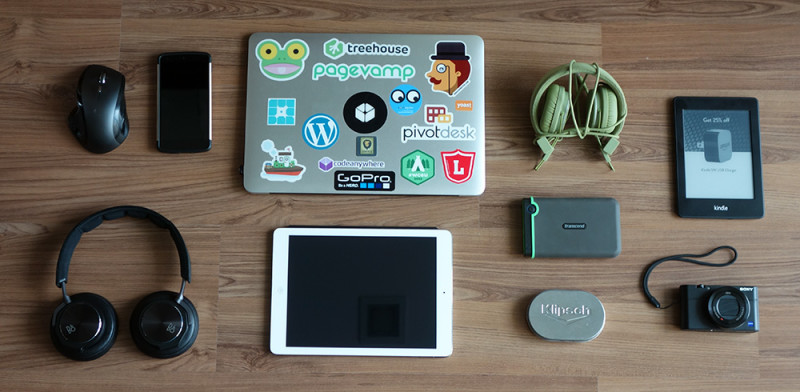 This is the hardware that makes up my portable office. These items are all I need to run my business from wherever I am around the world.
Macbook Air (13 inch, mid-2012)
Logitech MX Revolution
Klipsch S4 in-ear headphones
UrbanEars plattan on-ear headphones
The Macbook is where all the serious work gets done. The iPad is used mostly during mornings for reading articles that I'd have clipped onto Evernote during the previous day. I use the Kindle exclusively for books, as I now send all my articles to Evernote (on iPad) instead.
As you've probably deduced, audio (music, podcasts or audiobooks) is my constant companion. During my workouts I tend to listen to podcasts by hooking up the UrbanEars to the Nexus (or to my new addition the wireless iSport).
While working it's usually the Klipsch S4 plugged into my Mac (streaming music from Spotify or Focusatwill). If I'm watching movies or want a high quality sound experience I'll use the Beoplays, they really sound wonderful and are also very comfortable for long stretches.
While cycling I use the Aftershokz Bluez2 as they use Bone Conduction technology which means I can keep my ears open for any important sounds such as traffic, which is a safety concern.
The Nexus has proven itself to be excellent value for money, although after experiencing the superior (in my opinion) iOS platform on my wife's iPhone 6 I will switch to an iPhone at some point in the future. For now the Nexus 5 covers my needs, although battery life is quite poor and photo performance is very basic.
Whenever I need good quality photos I use the RX100 which is a really amazing camera, especially considering its size. The GoPro is used for more adventurous stuff like hooking it to my helmet while riding the scooter in Chiang Mai.
So there you have it, my mobile office for 2015.