NEO Finance started out in 2015, and is managed by a team of Lithuanian and Dutch individuals and issues consumer loans to Lithuanians.
Lithuania is one of the European countries with the best profitability / risk binomial in this regard – in a model similar to that of other consolidated platforms such as Bondora in Estonia, but with one caveat: it offers for its loans the possibility of contracting a Guarantee Fund that would cover possible loan defaults.
NEO Finance is a fintech startup, which manages and administers one of the leading P2P (peer-to-peer) lending and investing platforms in Lithuania, named Paskolu klubas (Lithuanian for Loan Club). NEO Finance offers consumer loans, and is an intermediary between the borrowers who are in the need of loans up to 15.000 EUR, and the lenders (investors), who are willing to earn additional money. This enables us to offer lower annual interest rates (starting from 6%) for the borrowers, as well as higher annual returns for the lenders (12.00% on average).
NEO Finance holds an Electronic money institution (EMI) licence which allows operations in entire European Union. The licence has been issued by the Financial supervisor authority (FSA) of Lithuania, i.e. the Bank of Lithuania, and allows operations in P2P and consumer credit markets. NEO Finance is under the supervision of the Bank of Lithuania, which means that the company is obliged to perform an external audit at least once a year, and constantly present to the Bank of Lithuania mandatory reports.
The company owns and operates under three separate brand names:
Paskolų klubas (www.paskoluklubas.lt): the brand that encompasses a set of products used to address retail borrowers and retail investors in the Lithuanian market.
NEO Finance (www.neofinance.com): the brand that encompasses a set of products used to address retail investors in the EU and the EEA markets, investing in Lithuanian consumer credits.
Neopay (www.neopay.lt): the brand that represents company's payment initiation service (PIS), an online real-time payment collection tool for e-commerce entities.
In 2018, NEO Finance embarked on a crowdfunding campaign via the Seedrs platform, managing to easily raise the €200,000 it was seeking from investors.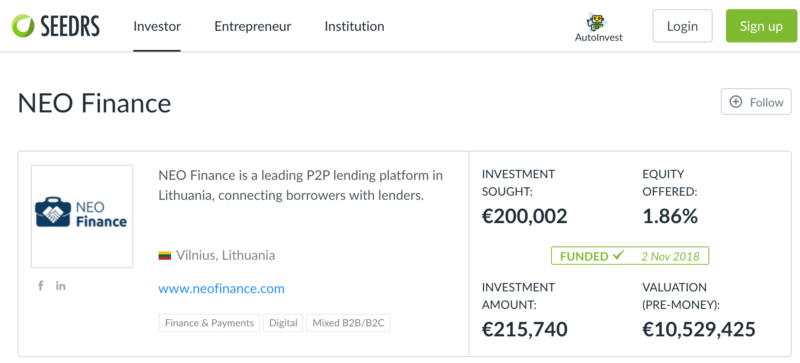 The platform has continued to grow in 2019 and as of January 2020 boasts the following figures:
9,527 active investors
7,866 active borrowers
€45m+ loans financed
17.28% average interest rate
49 months average loan term
That's some good growth to a decent size, but it's still worth saying that it's a small platform compared to market leaders like Mintos, Twino and Bondora.
The NEO Finance platform has also raised money via its IPO which was run as a Dutch auction, quite interestingly. The IPO period is now concluded, so you can no longer buy shares in the platform.
NEO Finance shares are publicly traded on the Nasdaq First North Baltic stock market.
Platform Health for NEO Finance
There are four main revenue sources for NEO Finance:
Installment fee for the borrowers.
Every borrower is charged a fee on their installment, which on average is approx. 5%. The installment fee is distributed throughout the loan period, i.e. up to 60 months (5 years).
Secondary market fee.
When an investment is bought or sold in the secondary market, NEO Finance earns a transaction fee of 1%.
Interest on investments.
NEO Finance co-invests in consumer credits in the same way as the currently registered investors do, therefore, the company earns interest on investments.
The company has been successful in raising money both via a crowdfunding campaign and also via an IPO as mentioned earlier.
If we look at the financials, we will see that the platform is growing steadily, and there are no obvious warning signs to mention.
What I like about the information provided on their website is that they are very open about how things work and the potential risks and procedures to be implemented in case of a downtrend or bankruptcy of the platform.
You can check out the links provided in the footer of the website that relate to the "Debt recovery procedure" and "Business continuity plan".
I would highly encourage new investors to read those sections as they will help you understand the risks and potential eventualities for not only this platform but most other P2P lending platforms.
How is NEO Finance Different from Other Platforms?
I would say there are three points that stand out to me when comparing this platform to others:
It is regulated
Investors' funds are segregated. Your account balance is kept in Lithuanian Central Bank.
No fake promises like 100% Buy-Back.
Team
NEO Finance seem to have a strong team. It's composed of mature and experienced individuals and they have considerable experience in finance.

We can see all the key people for NEO Finance on their website, so that earns them plus points for transparency as well. We don't only get photos but also information about each and every team member and advisor.
Statistics
While we are on the topic of transparency, you'll be happy to know that NEO Finance offers many statistics about the performance of its loans and investors' returns.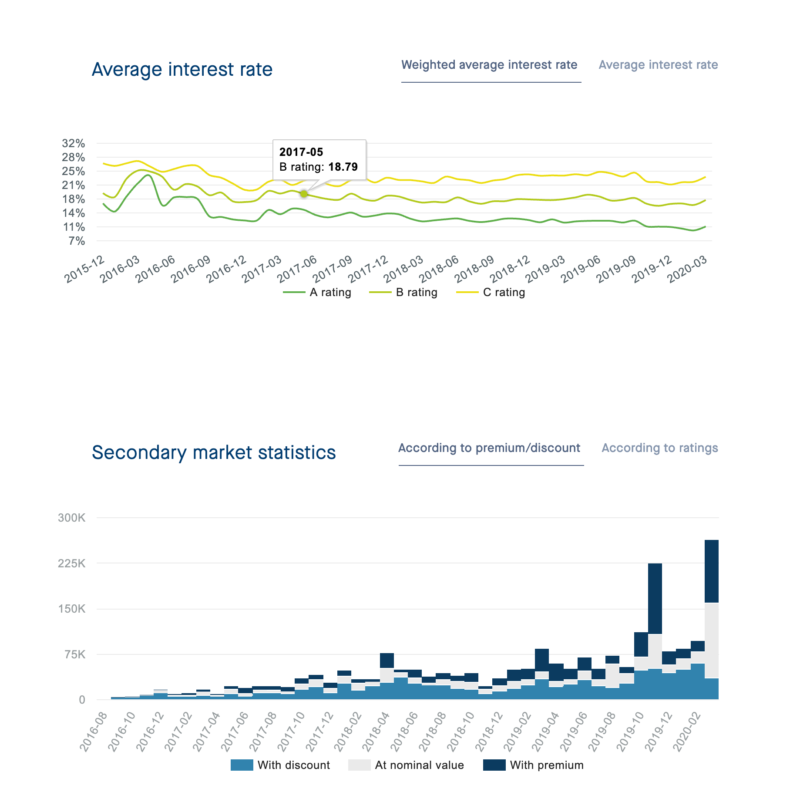 Head over to the statistics page and you will see the full set of statistics.
Loans available on NEO Finance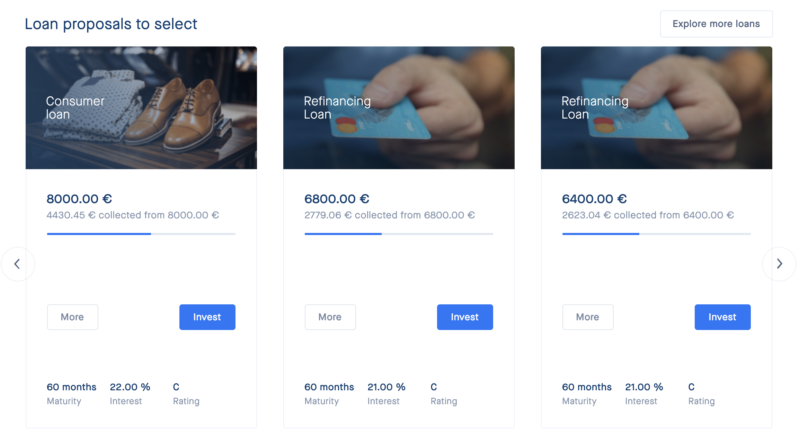 As an investor, you can manually select loans to invest in. When clicking on a loan proposal, you will see further information about the loan and the borrower, which should help you make an informed decision on whether to invest or not.
As of late April 2020, there are only 15 loans available, which to me is too low. Many of them are refinancing loans and the maturity date is between 28 and 80 months, which is quite long.
I would prefer to see more loans available for me to invest and diversify in, and some shorter-term ones too.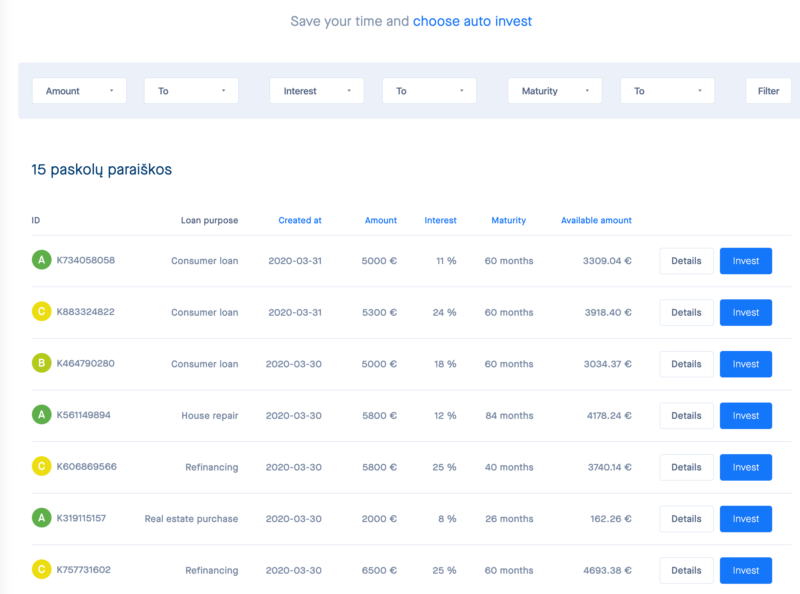 You can also use Auto Invest and the platform will invest automatically for you based on your chosen criteria.
The investor can invest in the following categories of consumer loans through NEO Finance platform:
Home Repair Loans
Car Loans
Wedding Loans
Credit card refinancing
Personal loans
Other types of consumer loans
Secondary Market
Investors can also buy and sell loans on the secondary market, which is essential since loans are longer-term on this platform and you are more likely to want or need to sell before the maturity date.
When buying and selling investments in the secondary market, a brokerage fee of 1% is applied. It is calculated with respect to the investment sale price. When you set loans for sale on the secondary market, the sale announcement is valid for 30 days.
Average Interest Rates
It's interesting to take a look at the average interest rates, which have been changing over the years. We can see that the A-rated loans have taken a dip in interest rates, while the B and C loans have been more stable or even grown slightly. It will be interesting to see how the interest rates for A-rated loans change in 2020. I feel that an interest rate of 8-9% for A-rated loans is too low, but that's based on a dip in the last quarter of 2019, so hopefully, things will pick up in 2020.
Fees for Investors
NEO Finance charges zero commissions to the investor, except for a 1% commission on secondary market transactions and 0.29 euros for each withdrawal of funds from the platform to a bank account. There are therefore no fees account opening, nor for portfolio management, nor for the deposit of funds.
Taxes for Non-Residents
Being based in Lithuania, NEO Finance needs to deduct taxes from loan interest income to foreign investors.
You can fill in some forms to get a tax refund or reduced tax rates, and you can find all the information on their website.
This is a big turn off for me, as taxes are complicated enough without introducing further complications in dealing with P2P platforms.
Since other platforms do not deduct any taxes, I see no reason to complicate things unnecessarily for myself because there is no significant upside for me. You might have a different opinion though, so think about it and decide. You can read about the basic principles of P2P taxation here, and I've also written a specific post for Spanish residents.
VIP Investor Benefits
You can become a VIP investor if you meet certain criteria. Below are the types of VIP statuses you can reach on NEO Finance.
VIP Bronze: Active investment portfolio contains more than € 5,000;
VIP Silver: Active investment portfolio contains more than € 15,000;
VIP Gold: Active investment portfolio contains more than € 50,000;
VIP Platinum: Active investment portfolio contains more than € 125,000.
Being a VIP investor has several advantages. These benefits include a lower fee structure along with getting priority over others in support matters.
The platform also permits VIP investors to sell delinquent loans with a 10% higher coefficient compared to non VIP investors.
My Recommendation
There are currently too few loans listed, however, the platform seems to be doing OK. A-rated loans are currently being offered at interest rates below 10% which is too low in my opinion.
NEO Finance is limited to European citizens, so if you're a resident outside the EU you're out of luck and won't be able to invest in this platform.
Due to the tax complications, I would only recommend investing in NEO Finance if you are investing in many platforms as part of a diversification strategy, and even then, I would only invest a small part of that portfolio. Hopefully, the platform will grow and consolidate and be able to attract more loans, which would make it more attractive for the investor.
Summary
There are currently too few loans listed, however, the platform seems to be doing OK. A-rated loans are currently being offered at interest rates below 10% which is too low in my opinion.
Pros
Auto investing feature
Provision fund
Diversity of loan types
Regulated
Cons
Lack of diversification
Only available to European investors
Tax complications
Few loans available