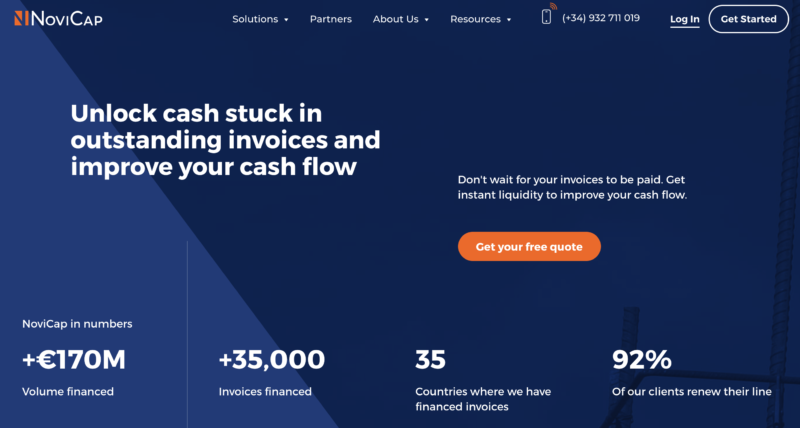 NoviCap is a fintech company that operates a tech-driven, customer-centric invoice finance platform, which enables institutional investors to make attractive returns by investing in verified invoices sold by Spanish and Dutch SMEs.
Through NoviCap, SMEs can access working capital and improve their cash flow in a fast and flexible way thanks to the platform's intuitive front end, automated onboarding, and ability to make real-time credit decisions.
NoviCap was founded with the help of Barclays Bank in 2014 and has become the leading invoice finance platform in EU backed by venture capitalists including ACE & Company, Partech Ventures and Techstars.
If you've got high liquidity and you're looking for a relatively safe investment, NoviCap may be the solution you are looking for.
It's quite a unique platform that offers good returns of 5-7% with low risk.
What is Marketplace Lending & Quality of the origination
Marketplace Lending (MPL) is the practice of connecting borrowers and lenders through an online platform.
Invoice finance, also called factoring or receivables finance, is an attractive form of MPL because SMEs (borrowers) are able to finance their outstanding invoices while investors (lenders) benefit from having access to short-dated invoices due by creditworthy debtors.
NoviCap focuses on debtors that are either investment grade corporates or public entities, thus ensuring a greater quality of the trade receivables originated and purchased by investors.
As a consequence, this translates for investors on the platform into superior risk-adjusted returns, which are non-volatile and uncorrelated with other asset classes.
Why Invest in NoviCap
There are plenty of good reasons to invest in NoviCap if you've got enough capital to join the platform.
And here comes the potential deal breaker. In order to join as an investor, the minimum capital contribution is €159,000. This is out of reach for most private investors, but I think it's ideal for companies that are doing well with their main line of business and are looking for a way to avoid having their money sitting idle in a bank account.
So let's take a look at the benefits:
Short-term
Invest in short-dated invoices (avg. of 60 days)
No lock-ups mean high liquidity and control
Compelling returns and diversification
Attractive, stable returns can be achieved at low risk and very low volatility
Transparent, fixed price trading – know the return on every invoice
Self-liquidating asset allows passive trading and compounds interest over time
Invoices are syndicated among multiple investors
Diversify your investment over 1,000s of Invoices
Secure
Investor funds are held on segregated client money (trust) accounts at Barclays Bank Every transaction is a true sale of the invoice with payment collected directly from the debtor
Efficient and detailed reporting and full visibility over underwriting performance.
Investor's identity is never disclosed to SMEs
NoviCap's Track Record
NoviCap has a very good track record in its first 5 years of business:
Invoice book target yield: 4-6% / year
Completed transactions: ~20,000 (€100mn)
Average duration: 60 days
Aggregate default rate: <50bps
Typical SME Profile
Has creditworthy, recurring customers (debtors)
Is a B2B company, typically in retail, manufacturing or service industry
Is a limited liability company incorporated in EU Is facing long payment terms, avg. 60 days
How to join NoviCap
It bears reminding that the minimum capital contribution is €159,000. As I said earlier, NoviCap is for those individuals or companies that have significant money to invest and definitely not for beginners.
If you're just starting out with investing in loans, I would recommend you take a look at Mintos and other European P2P lending platforms.
There are two ways you can join NoviCap.
Direct deposit on the platform
NoviCap dedicated RAIF Fund
If you choose the direct deposit method, you can set up an auto-invest system with your preferred parameters that will automatically invest your money in invoices as they become available on the platform.
In the case of the fund, it functions like a traditional mutual fund with a cost of less than 1% per annum. Its target return is 5% and you get an annual dividend distribution based on the returns of the invoices that the funds invests in.
Both options are good, although due to having existing experience with other P2P lending platforms that use Autoinvest systems, I prefer putting the direct deposit method. That way I can also put money in and take money out of the platform as needed depending on my needs at the moment.