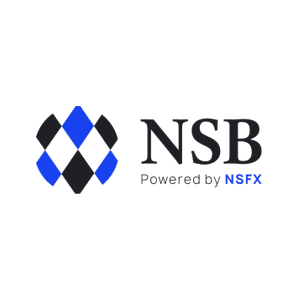 If you're planning to trade assets online – it's crucial that you choose a platform that meets a set of strict criteria.
This includes competitive fees and spreads, heaps of tradable instruments, support for your preferred payment method and of course – a strong regulatory standing.
In this review, I am going to explore whether or not NSBroker is a trading platform worth your consideration. I'll cover each of the aforementioned metrics – as well as factors such as trading tools, leverage, customer support, and liquidity.
What is NSBroker?
NSBroker is an online trading platform that allows you to buy and sell financial instruments from the comfort of your home. The platform supports a variety of asset classes – all of which are represented by CFDs (contracts-for-differences). This includes indices, metals, energies, cryptocurrencies, and forex.
As I cover in more detail shortly, trading these instruments via CFDs comes with several benefits. For example, NSBroker allows you to choose from a buy or sell position on all of its markets. Put simply, this means that you can speculate on the value of the asset going up, as well as down.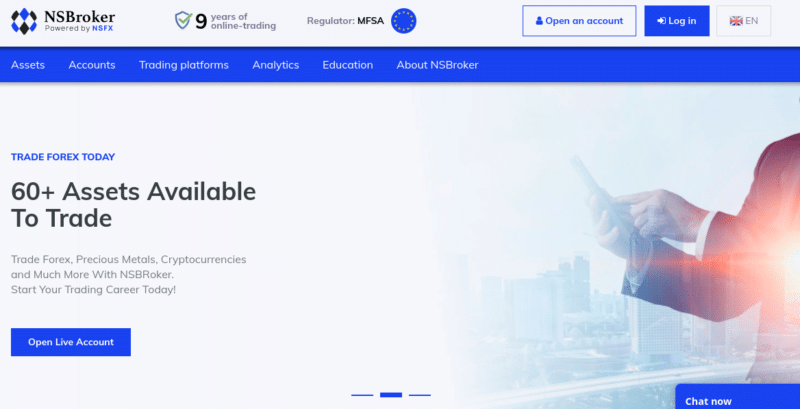 Additionally, all CFD markets at NSBroker can be traded with leverage. This means that you can access your chosen market with more money than you have in your account. As a trading platform based in Malta, NSBroker is required to comply with the European Securities and Markets Authority (ESMA).
This means that retail clients are capped to leverage of 1:30 when trading major forex pairs – and less on other asset classes. In terms of the trading platform itself, NSBroker offers full support for MetaTrader 5 (MT5). This is a third-party platform that can be accessed online, through desktop software, or via a mobile app.
What can you Trade at NSBroker?
In total, NSBroker gives you access to 60 tradable assets. This is minute in comparison to what other online CFD trading platforms offer. For example, the likes of eToro, IG, Plus500, and Capital.com each offer thousands of tradable markets across a wide variety of asset classes.
Note: CFDs are tasked with tracking the real-world price movement of an asset. The CFD instrument does not give you ownership of the respective asset, as you are merely speculating on whether it will increase or decrease in value. 
Nevertheless, here's a break down of what you can trade at NSBroker.
Forex
With 40 forex pairs supported by NSBroker, this covers two-thirds of the platform's entire asset suite. From what I can make out, this covers all major pairs like GBP/USD and EUR/USD and all minor pairs such as AUD/CAD and GBP/NZD.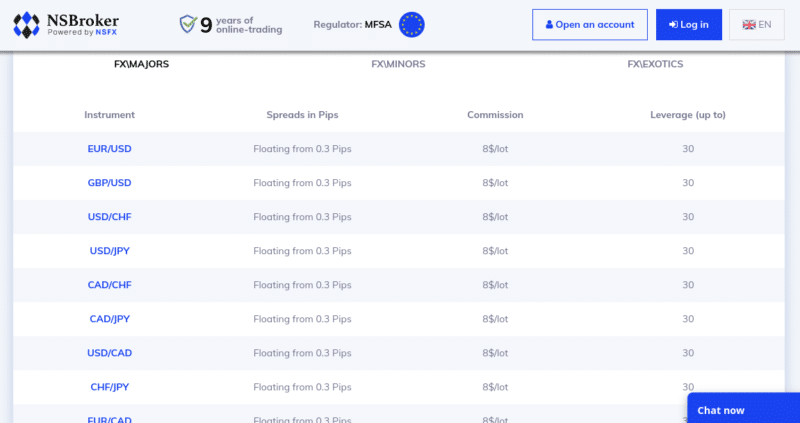 This is industry standard, as the entire collection of majors and minors is something typically offered across most forex trading sites. As such, it's worth taking a closer look at what platforms offer in the way of exotics. In the case of NSBroker, you'll have just 12 exotic pairs to trade.
In terms of quote currencies, this includes:
Turkish lira
Hungarian forint
Polish zloty
Singapore dollar
South African rand
The above exotic currencies can be traded against the euro or US dollar.
Precious Metals
When it comes to precious metals, just two markets are offered by NSBroker – gold and silver. These are traded in the form of XAU/USD and XAG/USD pairs, respectively. By signing up with this platform, you will be missing out on platinum and palladium.
Indices
Indices (otherwise referred to as indexes) allow you to trade the movement of the wider stock markets. At NSBroker, you'll get to trade eight different indices. This includes:
Australia 200
France 40
Japan 225
FTSE 100 (UK)
Germany 30
S&P 500 (US)
Dow Jones 30 (US)
NASDAQ 100 (US)
Energies
NSBroker offers two markets in the energy trading arena – all of which center on crude oil. This includes the WTI Benchmark (US) and the Brent Crude Benchmark (Rest of World). Unfortunately, you won't be able to trade natural gas here.
Cryptocurrencies
The final asset class supported by NSBroker is that of cryptocurrencies. To clarify, you'll be trading digital currencies in the form of CFDs, meaning that you won't own the underlying asset.
Nevertheless, NSBroker offers five cryptocurrency markets – all of which are priced against the US dollar. This includes Bitcoin, Ethereum, Litecoin, Bitcoin Cash, and Ripple.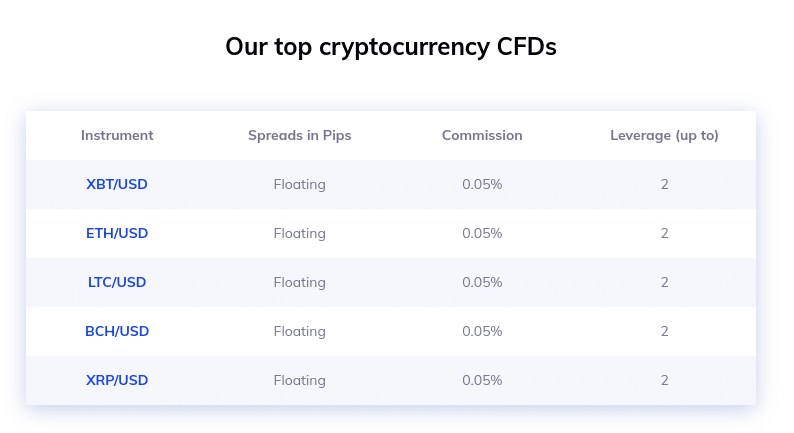 All in all, the number of markets available at NSBroker is very poor. Although the most traded instruments in the investment arena – such as forex, oil, gold, and major indices are covered, the variety of markets is extremely limited. In particular, you won't be able to trade stock CFDs – which in my view, is somewhat disappointing.
Commissions at NSBroker
While the number of tradable markets at NSBroker is thin on the ground, this might not necessarily be a problem if the platform is competitive in the fee department.
NSBroker charges a commission on each and every CFD market that it offers. Although you might think that this is industry-standard, it actually isn't. On the contrary, there are heaps of regulated platforms in the online space that allow you to trade CFDs in a 100% commission-free environment. Among many others, this also includes eToro.
Nevertheless, the commissions charged by NSBroker are very competitive. The specific amount and structure will, however, depend on the market that you wish to trade.
Cryptocurrencies and Indices – 0.05%
Cryptocurrencies and indices can be traded at a fixed commission percentage of 0.05%. This will be charged at both ends of the trade.
So, a $1,000 buy position on BTC/USD would cost you just $0.50 in commission
Then, if you closed the position when the order was worth $1,100 – you would pay $0.55.
This is extremely cost-effective – even if you are chasing super-thin margins in the form of scalping.
Forex, Energies, and Precious Metals – $8 per lot
All other asset classes at NSBroker – so that's forex, energies, and precious metals, are charged at $8 per traded lot. Paying a commission for every lot that you trade is a bit more complex than simply working things out on a 0.05% basis.

Here's how it works:
In the world of forex, 1 lot is usually equal to 100,000 units of the base currency. For example, if you were to trade USD/CAD – then 1 lot would be $100,000.
However, you likely won't be trading a full lot, so you need to take the value of your position into account
To keep things simple, we'll say that you trade 1/100th of a lot, which is $1,000
As such, we'd need to divide the $8/lot fee by 100 – which leaves us with $0.08
As you can see from the above, not only is this competitive, but it ensures that you can trade small volumes without getting hammered by flat fees. Much like the fixed percentage commission model that you'll pay with cryptocurrencies and indices, NSBroker will charge this when you enter a position and again when you close it.
In addition to trading commissions, you also need to factor in the spread. This is especially the case when engaging in short-term trading and targeting of small margins. For those unaware, the spread is simply the gap between the buy and sell price of the asset you wish to trade.
This gap is how NSBroker ensures it makes money regardless of which way the markets move. From your perspective as a trader, the spread is an indirect fee. As such, the higher (or wider) the spread, the more than it costs you and thus – the more you need to make just to break even.
Here's a super-basic example of what the spread is and how it can impact your potential profits:
You are trading EUR/USD
The 'buy' price of the pair is 1.17734
The 'sell' price of the pair is 1.17740
The difference between the two prices is 6
Because the broker offers its EUR/USD market with 5 digits after the decimal point, this means that the spread is 0.6 pips
In simple terms, you need to make at least 0.6 pips just to break even on this trade.
Forex Spreads
NSBroker charges just 0.3 pips when you trade major forex pairs. This is actually very, very competitive. In fact, you will struggle to find a tighter spread than this. The spreads on minors and exotics are, of course, wider. The former comes out at 0.5 pips and the latter at 1.9 pips. Once again, in comparison to the industry average, this is very competitive.
Other Spreads
Outside out of the forex department, NSBroker offers the following spreads:
Gold at $1.5 and silver at $0.02
Indices will vary quite considerably, with the FTSE 100 at 0.7 GBP, Japan 225 at 7 JPY, and the Dow Jones 30 at $5
The Brent Crude Benchmark and WTI Benchmark at $0.12 and £0.04, respectively
Cryptocurrencies come with a floating spread that can and will vary throughout the day depending on market conditions
Deposits and Withdrawals at NSBroker
Unless you decide to use the provider's demo account facility (more on this later), you will need to deposit some funds if you wish to trade at NSBroker. In this respect, you have two options. Most traders will deposit funds with a debit or credit card – as this is processed instantly. Supported issuers include Visa, Mastercard, Maestro, and Visa Electron.
Alternatively, you can transfer funds from your bank account. This will, however, take several days for the funds to arrive, meaning that you won't be able to trade until this is settled. When it comes to withdrawals, the same two payment options are supported, so the funds will either go back to your debit/credit card or bank account.
Check out my reviews of N26, Revolut and TransferWise if you want a low-cost bank account or debit card, they are my favorites.
The good news is that NSBroker does not charge any deposit or withdrawal fees – irrespective of your chosen payment method. While debit/credit card withdrawals are usually processed within 1 working day, bank account requests take an extra day.
NSBroker Trading Platforms
NSBroker has not designed its own proprietary trading platform. On the contrary, the only way that you can access the provider's trading suite is via MT5. For those unaware, MT5 is a popular third-party trading platform that sits between you and your chosen broker.
The MT5 platform comes jam-packed with trading tools and features, such as:
A huge selection of technical indicators and chart drawing tools
Ability to fully customize your trading screen. This includes metrics like multiple charts, candlestick time-frames, and colour schemes
You can install fully-automated trading robots and EAs (Expert Advisors)
Copy other users of the MT5 platform
And much more
In order to trade at NSBroker via MT5, you have three options – desktop software, a mobile app, or the web trader. If opting for the latter, you can access this directly from the NSBroker website. Either way, you will need to log into MT5 with your NSBroker credentials.
Demo Account
NSBroker allows all account holders to trade via a demo facility. This is facilitated via MT5 and comes pre-loaded with a $20,000 paper trading balance. This is beneficial for two key reasons. Firstly, the demo account facility at NSBroker is suited to those of you that have little to no experience of trading online.

As everything mirrors real-world trading conditions, you can get a real feel for how things work. At the other end of the spectrum, the NSBroker demo account facility is also suited for seasoned traders. This is because the platform allows you to test out new trading strategies. It also allows you to test-drive automated-trading systems and robots.
NSBroker Account Types
NSBroker keeps things simple when it comes to account types. You will either be opening a standard account or the previously discussed demo account.
Leverage Facilities
As is often a minimum expectation when trading at a CFD platform, it goes without saying that NSBroker offers leverage facilities on all of its markets. This falls in line with the limits imposed by ESMA – which were put in place to protect non-professional traders from losing more than they had anticipated.
As such, NSBroker leverage limits are as follows:
1:30 on major forex pairs
1:20 on minor/exotic pairs, gold, and indices
1:10 on energies and silver
1:2 on cryptocurrencies
If you feel that you need higher limits and you're based in the UK or Europe – then you'll need to use an offshore broker. If you're based outside of the UK/EU region, then other CFD brokers in the space usually offer much higher limits. Plus500, for example, offers leverage of up to 1:200. This will, however, depend on your location and trading experience.
News, Research, and Analysis
Fundamental research is crucial in the world of online trading. This simply refers to real-world news events and how the story can impact the value of a specific asset.
This is virtually non-existent at NSBroker, with the most recent financial news publication being posted three months prior to writing this review. As such, you will need to obtain your fundamental research materials from a third-party. Yahoo and Bloomberg are good in this respect.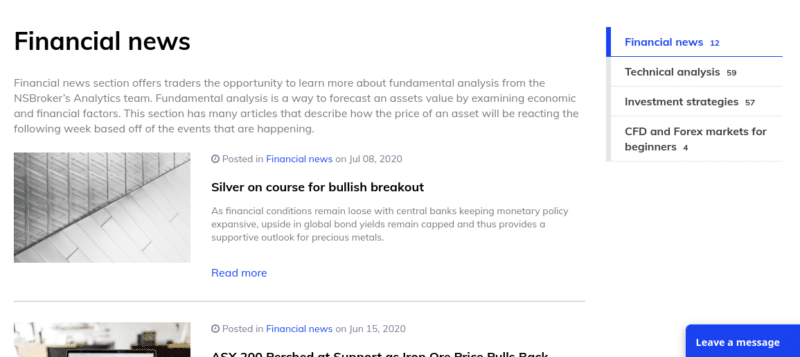 When it comes to technical analysis – this is even more important when trading the short-term price movement of CFDs. Fortunately, you will be using MT5 when trading at NSBroker – meaning that by default you will have access to an abundance of technical indicators and chart drawing tools.
Educational Tools
NSBroker is relatively good when it comes to newbie-friendly educational tools. In particular, this includes lots of video guides. This covers everything from forex trading, market analysis, trading psychology, strategies, and cryptocurrencies.
Additionally, NSBroker also offers several eBooks to help you get to grips with forex and CFD trading, alongside a glossary explaining key investment terms.
Is NSBroker Safe?
As is the case with any online brokerage site that you are considering joining, it is fundamental that you assess how safe your money is. In the case of NSBroker, the platform holds one trading license and that is with the Malta Financial Services Authority (MFSA).
So what protection does this offer? Well, the MFSA requires all brokers and trading platforms that it regulates to keep client funds in segregated bank accounts. This means that your money must be separated from the working capital of NSBroker.
Additionally, all brokers are required to comply with regional anti-money laundering regulations – meaning that KYC (Know Your Customer) is a minimum expectation. On the other hand, the MFSA does not offer a conventional deposit protection scheme such as those offered by the FSCS in the UK (up to £85,000).
In addition to being regulated by the MFSA, NSBroker is registered with the FCA (UK), BaFin (Germany), ACP (France), CNMV (Spain), and FINANSTILSYNET (Denmark). Being registered with the aforementioned bodies simply means that NSBroker has the remit to offer trading services to residents based in the respective countries.
Customer Support
The customer support team works 7 days per week between the hours of 8 am and 8 pm (GMT +3).
You can choose from the following contact methods:
Live Chat
Phone: +44 (208) 089-08-14 – London / +43 (720) 02-25-09 – Austria / +356 (27) 78-15-65 – Malta
Email: [email protected]
Online Contact Form
How to get Started at NSBroker?
If you like the sound of NSBroker and think that the platform is conducive for your personal trading needs, here's what you need to do to get started with an account today.
Step 1: Open an Account
To get the ball rolling, visit the NSBroker website and elect to open an account.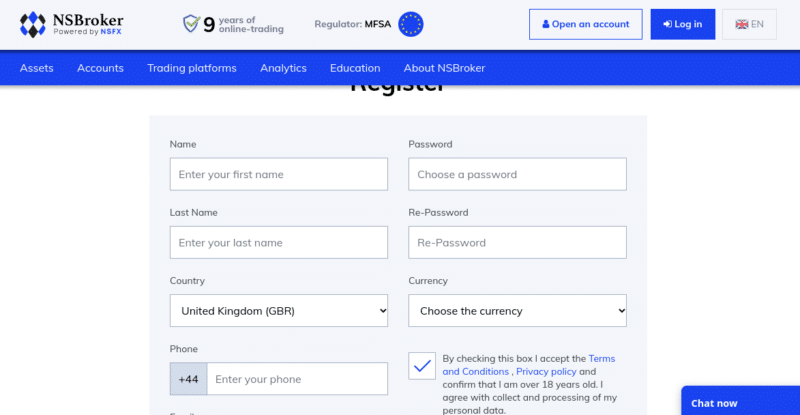 Here, you will need to provide some personal information. This includes the usual – such as your full name, country of residence, and mobile number. You'll also need to choose your base account currency – which can either be USD, EUR, or GBP. On the next page, you will be asked for your date of birth and home address.
Step 2: KYC
As noted a moment ago, NSBroker is required to initiated KYC controls on all new account holders. This will require you to upload a copy of your government-issued ID, which can either be a passport or driver's license.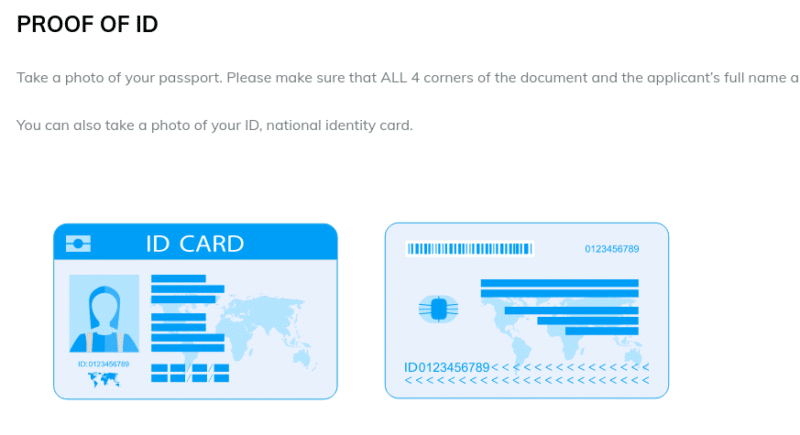 You will also need to supply a document that verifies your residency status. This can be a utility bill or bank account statement issued within the last 3 or 6 months, respectively.
In addition to the above, you will also need to provide a copy of the front and back of your debit/credit card – should you decide to deposit in this manner. Make sure you cover the middle 8 digits and the CVV.
Step 3: Deposit Funds
You will now be asked to deposit some funds. You can choose from a debit/credit card (instant) or bank wire (3-5 working days). As previously noted, there are no fees to deposit or withdraw funds.
Step 4: Choose Your Trading Platform
Once your deposit has been credited, you then need to choose which MT5 platform you wish to use. If you want to trade directly from the NSBroker website, there is no requirement to download or install any software.
On the other hand, if opting to trade via the MT5 desktop software, you will need to download this on your device. Additionally, if you are also planning to trade on your phone, there is an MT5 app for both iOS and Android devices.
And that's it – once you are logged into MT5 on your chosen platform – you can start trading straight away.
NSBroker Review: The Verdict?
All in all, NSBroker has its good and bad points – much like any online trading provider. In terms of the good points, the platform is actually very competitive in the fee department. Sure, it doesn't offer a commission-free trading structure like other brokers in the space – but the commission charged is minute.
For example, trading cryptocurrencies and indices will cost you a commission of just 0.05%. Spreads at NSBroker are some the tightest I have seen, with major forex pairs coming out at just 0.3 pips. It is also notable that you will have access to MT5 -which comes pre-loaded with useful trading tools and features.
I also like the fact that you will have access to a demo account, which comes with a $20,000 paper trading balance. On the flip side, NSBroker likely won't be for you if you want access to a highly diverse asset library. At just 60 financial instruments, this is extremely thin on the ground.
The platform is also lacking when it comes to e-wallet support, and financial news and analysis is virtually non-existent. Finally, and perhaps most importantly – although NSBroker is regulated by the Malta Financial Services Authority – this particular licensing body is not as reputable as the likes of the FCA (UK), ASIC (Australia), CySEC (Cyprus), or MAS (Singapore).
Summary
NSBroker broker with great forex spreads and low commissions on trading. The demo account is a good way to practice trading and help you if you are still learning how to trade these instruments.