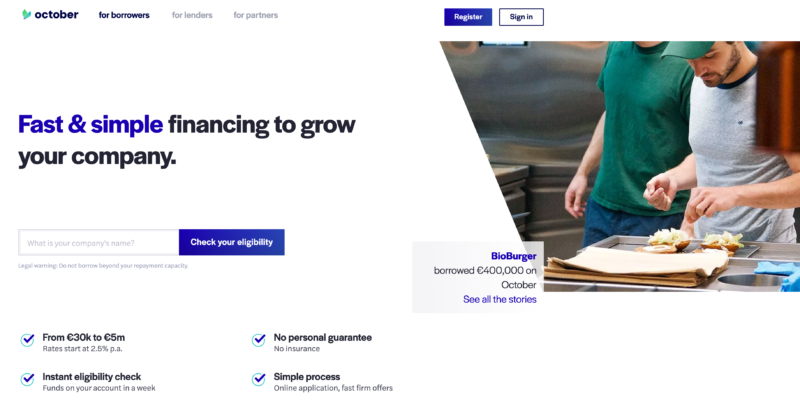 With October (formerly known as Lendix) you don't lend money to other people but to small businesses. I find this site to be very well structured and organized. Their chat is very helpful if you have any questions or doubts about any of the investments.
This peer-to-peer lending site is available in English, Italian, French and Spanish. All European investors are welcome to join and invest.
The minimum investment per project is €20 and there is no secondary market. You can expect returns between 5% and 9% per year.
I've been investing with October over the past three years and have had very good results. The loan offerings are very well presented, and each loan is fulfilled very quickly, sometimes in a question of hours. This shows that investors really trust this platform and that the loan offers themselves are very attractive.
The businesses asking for the loans are very diverse and come from the four countries I mentioned. As an entrepreneur myself, I not only enjoy the returns from October, but I also enjoy reading about the various businesses that appear on this site and observing their financial statements.
One thing to keep in mind is that most of the loans are fairly long-term, with the shortest being for 2 years. I try to keep the loans I invest in between 2 and 3 years out of personal preference for shorter loans and higher liquidity in my portfolio.
When you click the link below to start investing with Lendix and invest your first €500, you will receive an extra €20 to invest on the October platform.
Start investing with October today and get €20 to invest
Summary
The platform does things well and has been in operation for several years now without any significant problems. It's a no-fuss platform that focuses more on quality than on marketing, unlike other platforms. That is a very positive sign for me as an investor. My results have been positive, with zero defaults in my investments so far.
Pros
Great reputation
French-guaranteed loans
Cons
Might not be as user-friendly as other platforms