In Spain, there are several big supermarkets that have good quality products. In general, I'm really happy with the products on offer and the supermarkets themselves. We usually buy all our food fresh but also need the usual household from supermarkets such as cleaning liquids, paper for wrapping foodstuffs, drinks etc.
For a while after settling here in Barcelona, I used to look forward to going to the supermarket, especially since I was still exploring the area and trying out different supermarkets. It grew old after a while though, and as always I turned to the fantastic online world to find a solution to this weekly problem. Thankfully, we have several sites in Spain where you can do your online shopping at your favorite supermarkets and have it delivered at your home within 24 hours or less.
This is the best site I've come across. Lolamarket incorporates all the supermarkets around you and you get a personal shopper who will go and do the shopping for you and bring it to your apartment or house.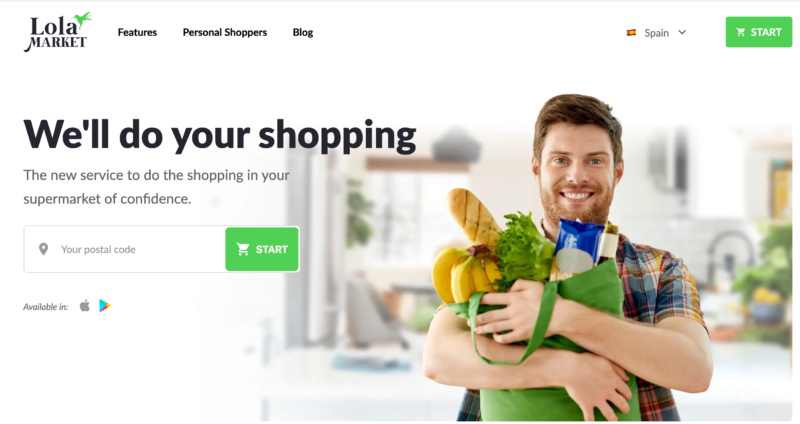 They can deliver to you in one hour. All you need to do is choose your products and your time slot for delivery and you're good to go.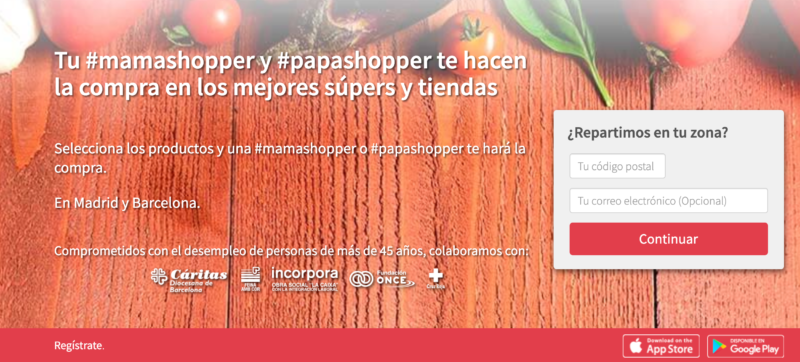 Deliberry is a similar service, they advertise their personal shoppers as mama shoppers giving it a friendly feel.
You can see these "mums" shopping in supermarkets as they wear red t-shirts with the Deliberry logo printed on them. I've used Deliberry and found it quite good as well, although I prefer Lola Market.
Get your next order with Deliberry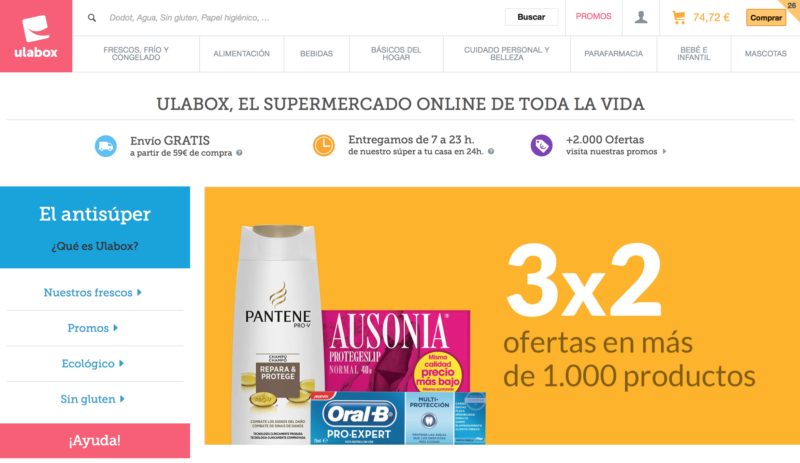 Ulabox has a very clean user interface, great search facilities and also good support if you need it. They have some very good offers on product combinations, and you will likely also find some discount coupons that will grant you a significant discount and make the total price you pay less than if you had actually gone to the supermarket yourself.
Use this link to create an account and make your first purchase on Ulabox and you will get €10 off your first purchase.
Sign up to Ulabox and get €10 discount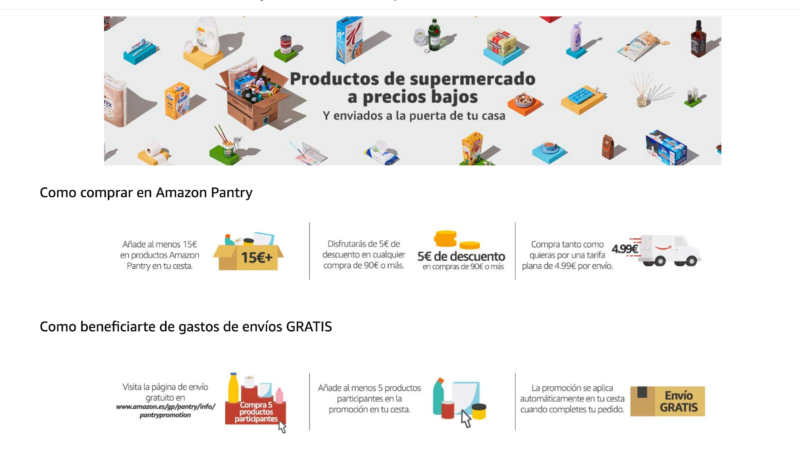 Honestly, one of the best things about living in Spain for me is how good Amazon works here. You get deliveries within the day and you can find an amazing array of items on Amazon. I have been a Prime user since the day they launched the service, so I don't even pay for deliveries. For food items, you can head over to Amazon Pantry which is a valid alternative to the other options I've already mentioned, although it is more limited (I also highly recommend signing up to Amazon Prime while you're at it).
I am really happy to have found a good way to get my supermarket shopping done conveniently from the comfort of my couch, especially since I don't own a car and transporting heavy bags back home is quite an annoyance.

Considering that supermarket shopping is something that I do at least once a week, shopping online saves me a lot of time and is much more comfortable. I would therefore wholeheartedly recommend Deliberry and Lolamarket if you're interested in saving time and money on your supermarket shopping.
For your pharmacy needs, I can also recommend Promofarma. You can find some much better prices than if you buy from local pharmacies.
You can try all the options I mentioned above, as sometimes one of them won't have the products you usually buy, or prices may vary between them.